You're a 5-minute read away from learning how to write a perfect scholarship resume. Just give this a thought first—
To learn that you've been accepted to the college of your dreams is a truly wonderful feeling, right? All that hard work you've put it is finally paying off.
But hold up a sec.
What about actually paying for your studies?
Usually, you'll need to apply for a college scholarship. And to be successful with your application, you have to make a stunning scholarship resume.
Why?
Selection committees often look at your scholarship resume before they start reviewing other documents.
Yes, you read that right. If they don't see what's relevant for them on your resume, they might even decide not to review the rest of your scholarship application, that you've spent so much time working on.
Fret not. Read on, and you'll learn how to make the best scholarship resume in the pile.
This guide will show you:
A scholarship resume sample better than 9 out of 10 other resumes.
How to write a resume for scholarships step by step.
A complete scholarship resume template you can use to make your resume.
How to describe your academic experience on a resume for college scholarships to get any scholarship you want.
Here's a free college scholarship resume sample made using our resume builder.
Want to save time and have your resume ready in 5 minutes? Try our scholarship resume builder. It's fast and easy to use. Plus, you'll get tips and right vs. wrong examples while writing your resume. See 20+ resume templates and create your resume here.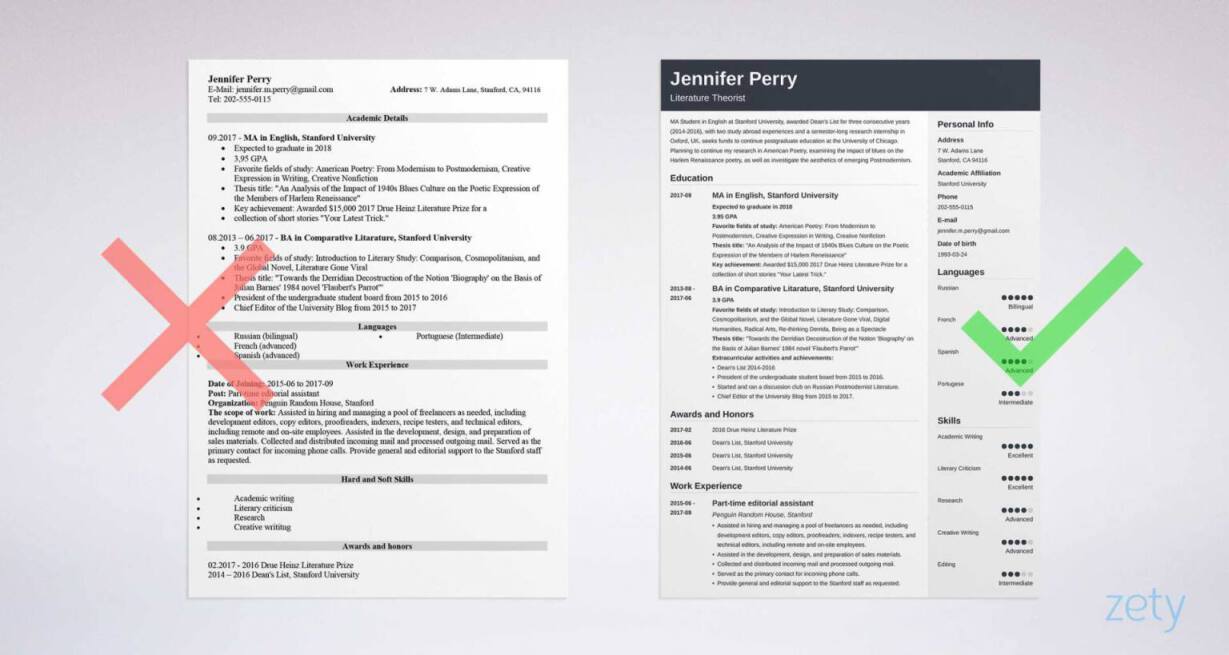 Public Scholarship Resume Sample - See 20+ resume templates and create your resume here.
If you've got a lot of academic experience, you'll probably need to write an academic CV, not just a regular scholarship resume. Learn how to do it here: Academic CV: Example, Template & Writing Guide [with 20+ Expert Tips]
1
What is the Best Scholarship Resume Template
Selection committees have to review thousands of scholarship applications.
Now, guess how much time it would take to read this many personal statements, study or research objectives, transcripts of records, and scholarship resumes.
Too much time.
That's why scholarship committee members don't read every document they get. They skim them, searching for most relevant information.
And you know what?
For you, that's an opportunity. Choose a right scholarship resume template, and you'll be able to serve the committee what they're looking for on a silver platter.
How?
Begin with dividing your scholarship resume into five sections:
Sample Academic Scholarship Resume Outline:
Contact Information
Resume Objective (or a Career Goal)
Academic Experience
Awards and Honors
Work Experience
In each section, list your experience in reverse chronological order, starting with your current or most recent activities.
Make the section headings in bold and slightly larger than the rest of the text. Be consistent with your headings format and with the layout of each section.
Use clear, legible fonts. Make your scholarship resume look, well, scholarly. Don't cram it with gimmicky graphics. White space is your friend - decision makers need some breathing room!
Pro Tip: Once you've finished writing your application resume, save it as a PDF to make sure the layout stays intact.
How to put scholarships on a resume?
Have a look at our dedicated guide and find out how to list your academic and professional achievements on your resume: Achievements to Put on a Resume - Complete Guide (+30 Examples)
2
How to Write a Career Goal or an Objective for a Scholarship Resume?
First things first.
What's a career goal or a scholarship resume objective?
A brief, concise paragraph just below your contact information in which you outline your academic plans and goals, as well as give an overview of your educational background.
True, you've already discussed your educational plans at length in your personal statement and your study or research objective - but you still need to reiterate them on your resume.

Why?

Because it's the best way to immediately catch the selection committee's attention - to make it irresistible for them to read your whole resume.
How to write a scholarship resume objective?
The three key messages you have to get across are:
Your strong academic record
Your relevant extracurricular activities
Your sense of purpose in continuing your academic career
Let's have a look at these examples of objectives for scholarship resumes for graduate applicants:
Sample Scholarship Resume Objectives for Graduate Student
wrong
English student with a very strong academic record, extensive international experience and 5 months of internship experience seeking funds to obtain further graduate education in American Poetry.
Why is it so bad?
Because it doesn't include any specifics. It's got nothing but generic information without any evidence to support it.
"Extensive international experience"?! What does it even mean? Working in an international company, taking part in study abroad programs, or just travelling?
Have a look a properly written sample scholarship resume objective:
Sample Objective for a Scholarship Resume
right
Student in English at Anytown University, awarded Dean's List for three consecutive years [Show your strong academic record], with two study abroad experiences and a semester-long research internship [Highlight extracurricular activities] seeks funds to continue graduate education at XYZ University. Planning to continue my research in American Poetry, examining the impact of blues music on Harlem Renaissance poetry [Refer to specific future academic plans].
See the difference?
This candidate doesn't tell the scholarship committee that she's a great pick to receive funding. She shows it by providing examples of her verifiable achievements and clearly stating her future study and research plans.
That's exactly the way you should do it when writing your scholarship resume objective.
Pro Tip: Research the institution from which you're hoping to receive a scholarship to find out about their values and mission - make a list of the top qualities required, based on the mission statement, website, and accepted students. Remember to refer to those values while writing your personal statement or research objective to show how you fit the scholarship's requirements.
Our resume builder (you can create your resume here) will give you tips and examples on how to write your resume objective or any other section. You can easily copy them straight into your resume - it will save you a ton of time.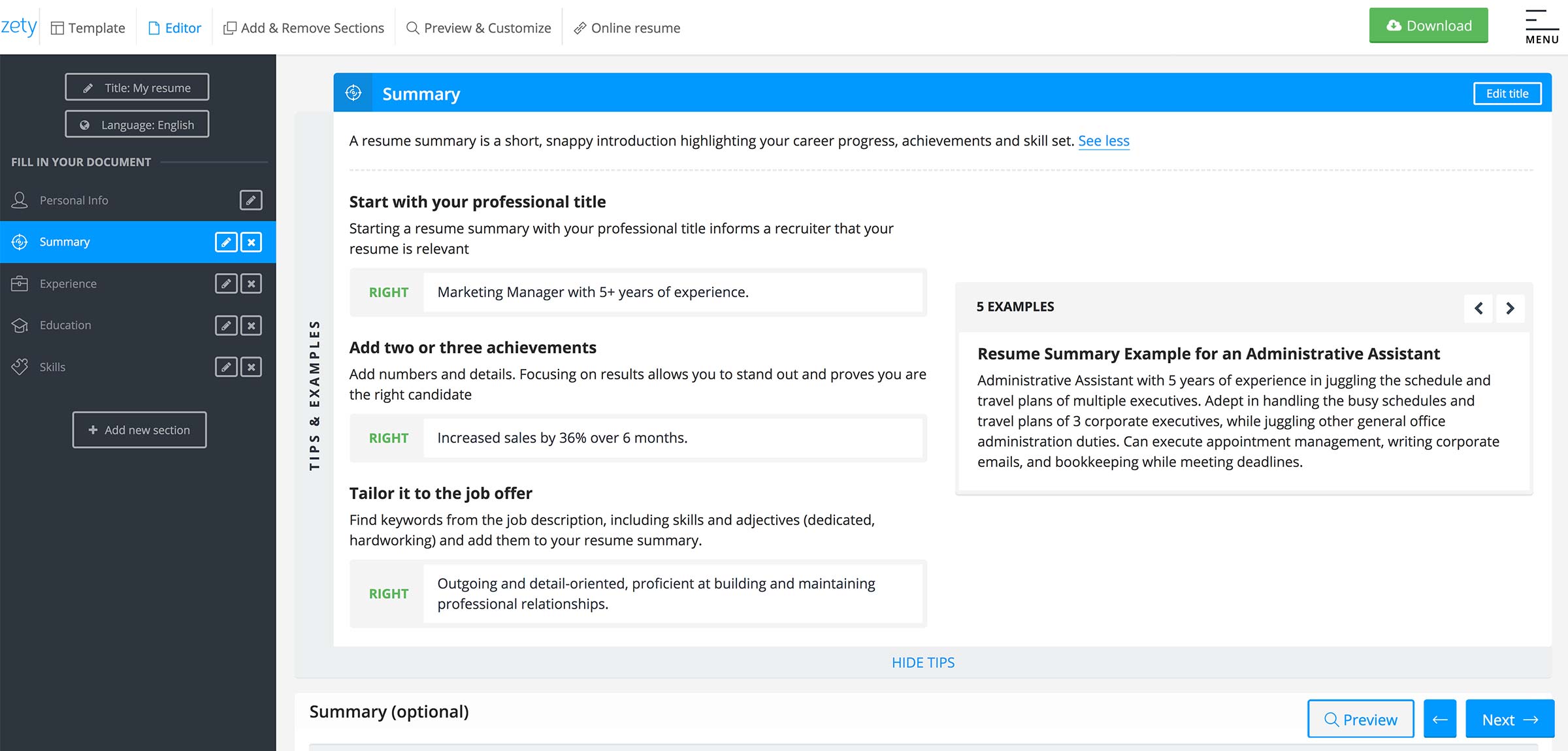 Inside Zety's resume tool you will find tips and examples for your resume.
Want to make sure you didn't forget anything when writing your scholarship resume? Get our free checklist and learn what makes a successful resume: 46 Things You Need To Do Before You Send Your Resume
Need more ideas for your scholarship resume objective? Read our guide: +20 Resume Objective Examples - Use Them On Your Resume (Tips)
3
How to Describe Your Academic Experience?
It's pretty obvious that your academic experience section is the most important part of your scholarship resume, right?
But does that mean that you have to list every educational institution you've attended alongside detailed descriptions of all courses you've taken?
Of course not.
So —
What do you put in a scholarship resume academic experience section?
Your major
Your minors (if applicable)
Your graduation date, or expected graduation if you're still studying
The name of your institution
Your GPA
All of the above are absolute must-haves. But you should also include the following to truly make your student scholarship resume stand out:
Key academic achievements
Extracurricular activities
If you're applying for a freshman scholarship, put only your high school in your academic experience section.
If you're writing a graduate scholarship resume, leave your high school off, unless it's very prestigious or you've scored some amazing achievements there.
Writing a postgraduate or a PhD scholarship resume? List both your bachelor's and master's degrees.
Don't forget that the scholarship committee has full access to your transcript of records - that's an ultimate data sheet comprising most of the necessary details about your past education.
But "most" doesn't mean "all."
In your academic experience section, include the information that your raw transcript of records cannot contain.
Show the committee that your academic performance so far has not only been about the impressive numbers, but that you're also passionate about your field of study.
Every academic institution is eager to accept candidates who, apart from having flawless grades, display the following qualities:
Curiosity and self-motivation (1)
Enthusiasm for what they study (3)
These are solid examples of skills to put on a scholarship resume.
How to highlight these qualities?
Have a look:
Sample Resume for College Scholarship - Academic Experience Section
right
Bachelor of Arts in Comparative Literature
Expected to graduate in 2018
University of Pennsylvania, Philadelphia, PA
3.9 GPA

Favorite fields of study (3): Introduction to Literary Study: Comparison, Cosmopolitanism, and the Global Novel, Literature Gone Viral, Digital Humanities, Radical Arts

Extracurricular activities and achievements:
President of the undergraduate student board (2) from 2015
Started and ran a discussion club(1, 2, 3) on Russian Postmodernist Literature
Chief Editor of the University Blog(2) from 2015 to 2017
"She's exactly the kind of student we're looking for!"
This academic experience section is guaranteed to bring this kind of response from the selection committee.
Pro Tip: If you're just beginning to put together your scholarship application, remember to prepare a separate document in which you'll record your academic references. List your references' names, positions, relationships to you, and the number of years you've known each other. And don't forget to inform your references that you've listed them!
Hungry for more information on how to list academic experience on your resume for college scholarship? Make sure to read our handy guide: How to Put Your Education on a Resume [Tips & Examples]
4
Is Your Work Experience Section Underperforming? It Might Be
Resumes for scholarships are different from typical, professional resumes. More often than not, your education section will be much more important for the selection committee than your work experience.
Does that mean you can omit the latter?
Hell no!
Your work experience section is still crucial. It shows scholarship directors two things:
That you have organizational skills which helped you manage your time between academics and a job
That you're persistent and productive
In this section of your scholarship resume, list your work experience in reverse chronological order. Start with your current or most recent job and follow it with all previous jobs.
Remember that you're not expected to have done dozens of amazing internships in international corporations or to have held a senior position.
Don't be ashamed of your work history. Mention every job you've done, even volunteer experience or part-time gigs.
In each entry, list the name of your position, the company, the location, and dates worked. Underneath every job, add up to four bullet points that describe your responsibilities.
Like this:
Work Experience Section on a Scholarship Resume Example
right
Summer Intern: Security Command Center
Metro-North Railroad, 06-2017 - 09-2017
North White Plains, NY
Assisted Security Department in security assessment and data review.
Developed desktop manuals: procedures, quick reference cards, reference materials.
Performed additional tasks both in the field and in the office.
Pro Tip: In your work experience section, use action words to talk about your responsibilities. "Assisted," "developed," or "performed" sound much better than "responsible for assistance, development, and performing other tasks as assigned."
Want to learn more how to make the most of your work experience section on a scholarship application resume? Here's a dedicated guide to walk you through listing your work experience: How to List Work Experience on Your Resume [+20 Examples]
5
How to Add Awards and Honors on an Effective Scholarship Resume
In the final section of your scholarship resume, it's time to do some bragging. And it could well be the best selling point of your whole resume.
It's just that, this section quite often falls flat.
Why?
Because scholarship applicants don't know how to make their awards meaningful.
A typical entry on an "Awards" section might look something like this:
Sample Scholarship Resume Awards Section
wrong
1st Place, Innovation Award (2009)
The problem?
This award will mean nothing to the selection committee. Alright, so you won. But what was the competition? How prestigious is the award? What are the numbers behind it?
Keep in mind, that committees don't know every single award in the country backwards. You have to give them some context.

See this:

Sample Scholarship Resume Awards Section
right
2016
1st Place, Innovation Award
Awarded $10,000 for the best senior project (out of 400+ projects) by faculty vote.

Now, that's impressive!

And yes, listing how much you won for your award is a good idea.

$10,000? Wow. That means something. Even if I don't know what exactly the award is, I'm aware that they don't just throw ten thousand bucks at anyone.
Struggling for ideas on what's worth putting on a scholarship resume?
Have a look at some suggestions. All of these will make great entries on your scholarship resume:
What To List in a Scholarship Resume Awards Section
Scholarships (yes, list previous scholarships on a resume)
Honor Rolls inclusions
Dean's Lists
Subject-related awards
Science fair awards
Publications in student journals
Perfect attendance awards
Non-academic professional awards
Volunteer-related awards
If you've graduated with honors, resume awards section is a perfect place to list it.
Writing an athletic scholarship resume?
List all the individual or team trophies you've won. If it's a team award, write down the name of your team, the division in which you played and your position.
Done with writing a resume, but still haven't written your scholarship resume cover letter or a letter of motivation? Learn how to do it in our comprehensive guide: How To Write A Cover Letter [Complete Guide With Examples]
Key Takeaway
It's a make-or-break moment of your scholarship application, when the scholarship selection committee starts reviewing your resume.
If you want to make sure your scholarship resume impresses the committee members, keep in mind the key strategies we covered:
Choose a legible, clear format for a scholarship resume.
Below your contact information, give a summary of your academic goals and motivation in a scholarship resume objective.
Don't ignore your work experience section. List all your past jobs in reverse chronological order.
Quantify whenever possible - make your achievements and awards measurable and meaningful.
All check? Then I'm sure you're going to make your resume work for you!
What are your experiences with writing a scholarship resume? Do you have any questions on how to make the most of your resume for a college scholarship? Give us a shout in the comments and we'll get back to you!