20+ High School Resume Templates [Download Now]
They don't you teach this at school. What does a good high school resume template even look like? Find out now with our resume template cheat sheet.
Write a resume and get a job. Your parents, your teachers, pretty much every older person is on your case.
And before you can say "OK Boomer," you've got some career expert writer offering his advice, too.
But don't worry, this isn't a lecture. I'm here to help. You already know why getting a job is a great idea. More money in your pocket. Enough said.
Problem is, you've never so much as had a job let alone write a resume. So I'm going to show you some high school resume templates that'll make things easier.
This guide will show you:
More than 20 examples of high school student resume templates that'll land you a job faster than you fall asleep in advanced trigonometry.
Expert tips on what you need to include in a resume template for high school students.
Want to save time and have your resume ready in 5 minutes? Try our resume builder. It's fast and easy to use. Plus, you'll get ready-made content to add with one click. See 20+ resume templates and create your resume here.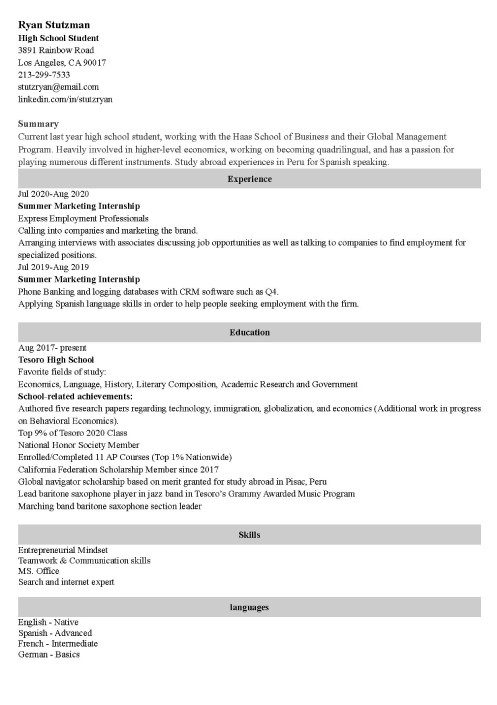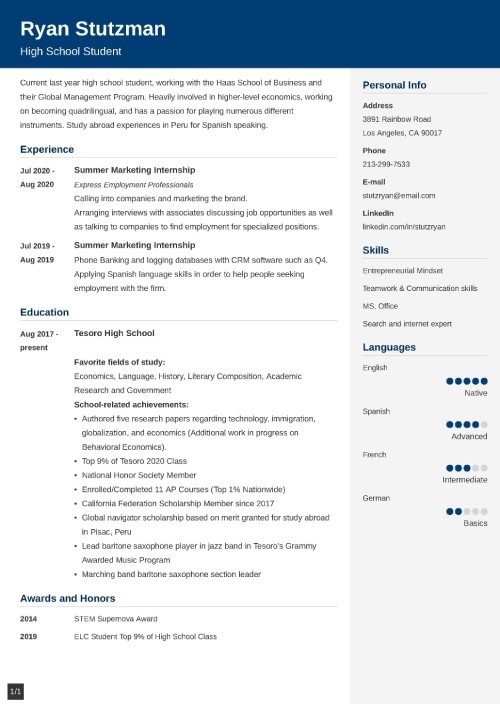 Sample resume made with our builder—See more templates and create your resume here.
It's a tough job market out there and teen employment is hovering around 29%, much lower than when your parents were at school. So I want to make sure you can do it just right.
Take a look at these and you'll find everything you need to write the best high school resume template going.
High School Resume Template: What Sections to Include
This is a SparkNotes version of what to include in your high school resume template. Be sure to read to the end of this section for a link to our complete guide before you start writing.
Just want to see some well-designed high school resume templates you can fill in in no time? Scroll down to the next section.
Here's what you need to include in a high school resume template:
Contact Details
It's obvious, right? An employer needs to know how to contact you. Here's the resume contact information to include.
Your name
Email address as a clickable link
Phone number
For your email address, make sure it's sensible. Brodog999@gmail.com just doesn't work for a resume, sorry.
Your mailing address actually isn't necessary, but the phone number is essential. Don't worry, it's not like that creepy guy in math class who keeps asking for your number. You actually want this sort of phone call.
How about social media? Not needed on a resume template for high school students. But do check your online presence and make your settings private. You don't want an employer seeing anything embarrassing.
Let's move on.
Resume Objective
Resume objective. It sounds like something you'd be forced to write for a term paper. But I promise this is much less painful.
It's just a brief introductory statement for your resume. This is what you do.
Specifically mention the job you're applying for.
List your skills and achievements that make you suitable.
Include your goals and the experience you want to get from the job.
Objectives are perfect for a high school resume because they focus on skills and goals, not work experience.
Though if you do have work experience we recommend you use a resume summary. Which brings us to the next resume section.
Work Experience
If you don't have any, leave this section out and don't worry. Hiring managers will understand you don't have 10+ years experience as CEO of a tech startup.
However, if you do have some work experience, then you must include it. Doing so will make you stand out from other high school students and employers love hands-on experience.
Do it like this.
Put your most recent job first, going backwards in order for any others. This is called chronological resume format.
Include place you worked, job title, and period of employment. Just the month and year is fine.
Write up to six bullet points that don't just list your duties, but help to show off achievements and skills. Employers don't want to just know what you do, but how you did it well.
That said, be reassured, all the examples will also work as a resume template for high school students with no work experience.
Now for a section relevant for every high schooler.
Education
If only you could get away with being too cool for school. There's no avoiding it though, you're still a student. Education is your full-time gig and work is goning to be a side hustle for now.
Don't be tempted to leave out your education section. It's what you spend most of your time doing!
Here's how to list it properly:
Highlight academic achievements like a good GPA. If it's 3.5 or higher, put your GPA on your resume, if not then leave it out.
Make this section first if you haven't got work experience.
With our resume builder, you can just leave the work experience section out to make your education come first.
Now to add some skills.
Skills
No, I don't mean your ability to communicate only in memes, though I love a good cat meme myself. I mean the key skills that'll make an employer say "You're hired."
Here's what you need to know.
Don't just google skills and go copypaste crazy though. That'll make you as popular as a week of fish stick tacos for lunch.
Be smart about it, there's actually a free cheat sheet you can use and it's called the job ad. Just read it, note the skills the employer wants and if you have that skill put it on your resume.
That's how you create a targeted resume. Incidentally, ever thought about lying on your resume? Don't. Ultimately, you will be caught.
Additional Sections
Everybody loves a little something extra and employers are no exception. A high school student resume template without additional sections is like an Oreo without a filling, nobody wants that.
When you've got no work experience employers need a little more convincing that you're a good candidate. Additional sections do just that.
Here are some ideas.
Stick to ones that show off employment skills. Do you play team sports? This shows off teamwork and leadership skills. Into chess? This shows intelligence and strategic thinking. Clown cosplay? No. That's just weird and scary. You get the picture.
A great choice, because 82% of managers look favorably on volunteering experience. 85% will even overlook other faults on your resume if you show you're a volunteer.
Languages
Always include resume language skills. Speaking another language is a big plus, especially for customer-facing jobs.
Some stuff doesn't fall neatly under the sections above. Activities like academic clubs and other high school organizations are perfect to include, too.
And that's what you need to include on a high school student resume template.
As a little bonus. One thing you should never include. A resume photo. You look great and all, but including your picture could get your resume trashed.
One last tip. The best resume file format is PDF. That way all your good formatting and design stay intact. But do keep another format just in case the job requires it.
Ok, school's out. Now for the fun part. A selection of high school resume templates for you to choose from. Most of them are ours, but there are a few from other sources, too.
1
Vibes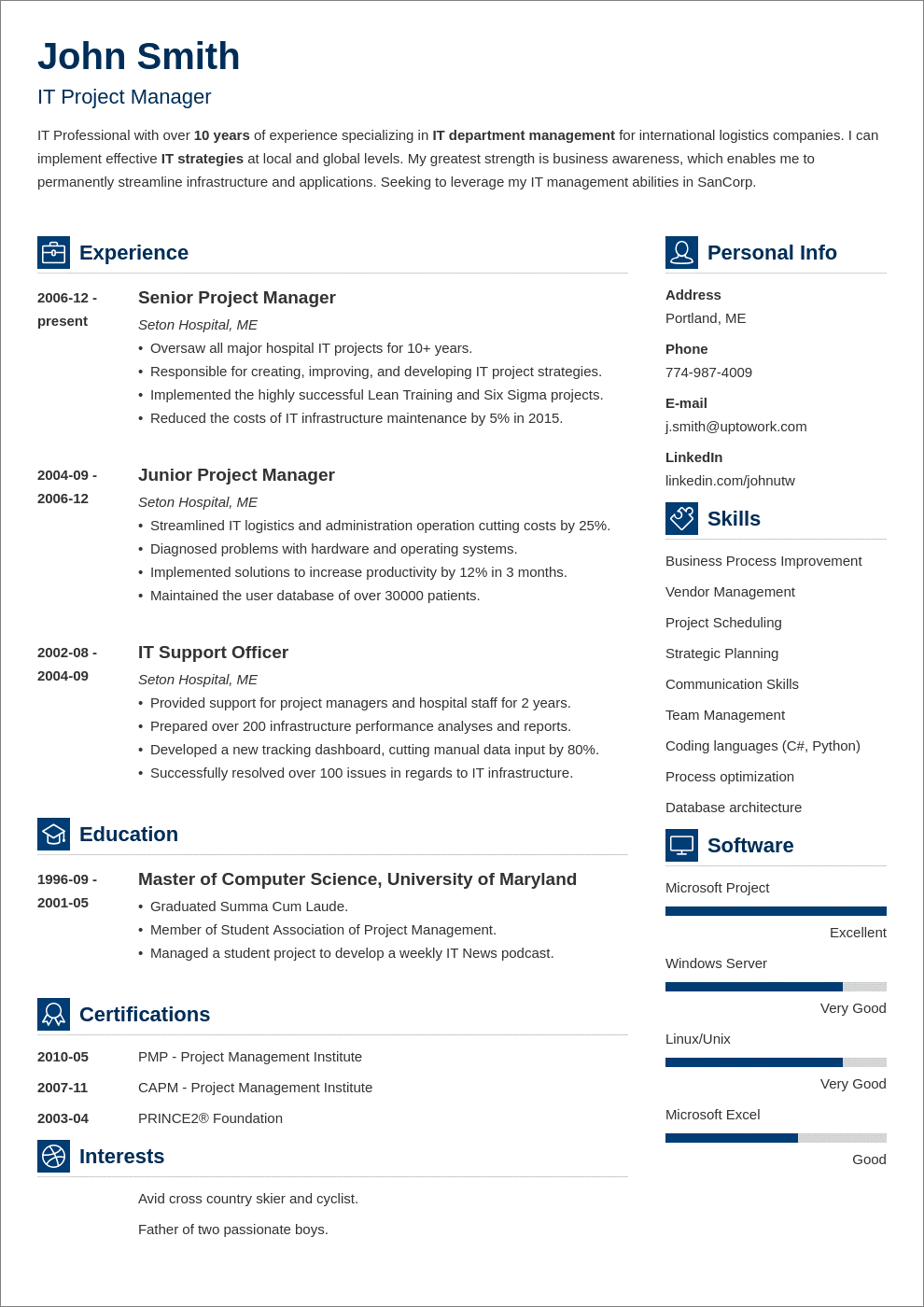 Ok, it does sound a little like a kind of sneaker, but I promise, this is not one of Kanye's latest business ventures. It's actually a perfect resume template for a high school student. The most important stuff, like your education and achievements, get plenty of room in a nice wide column.
The other details like your personal info are safely tucked away to the side, visible but not in your face. It also helps employers find important info easily. The section titles have helpful icons and are in a different color text to help guide their eyes to what they want to see.
2
Enfold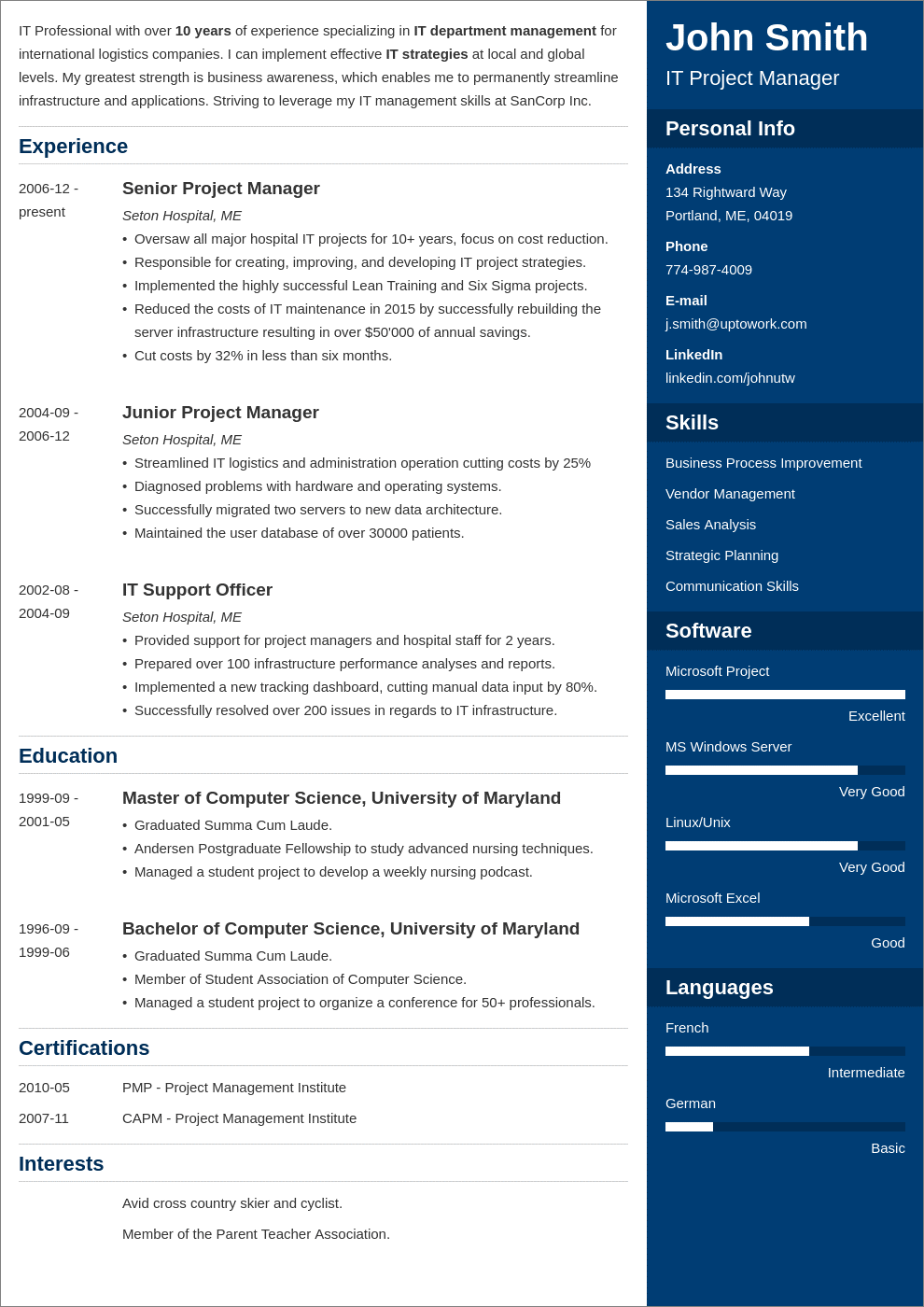 Enfold is another excellent resume template for high school students. It's set out in two-column format, which keeps it feeling nice and modern. It's also one of our most colorful templates. The two-tone effect is really eye-catching with dark text on white to the left and white text on dark to the right. Combine that with the skills bars and you get a feel that's like a well-designed app or website. It's youthful and fresh, but professional too, just like you.
3
Cubic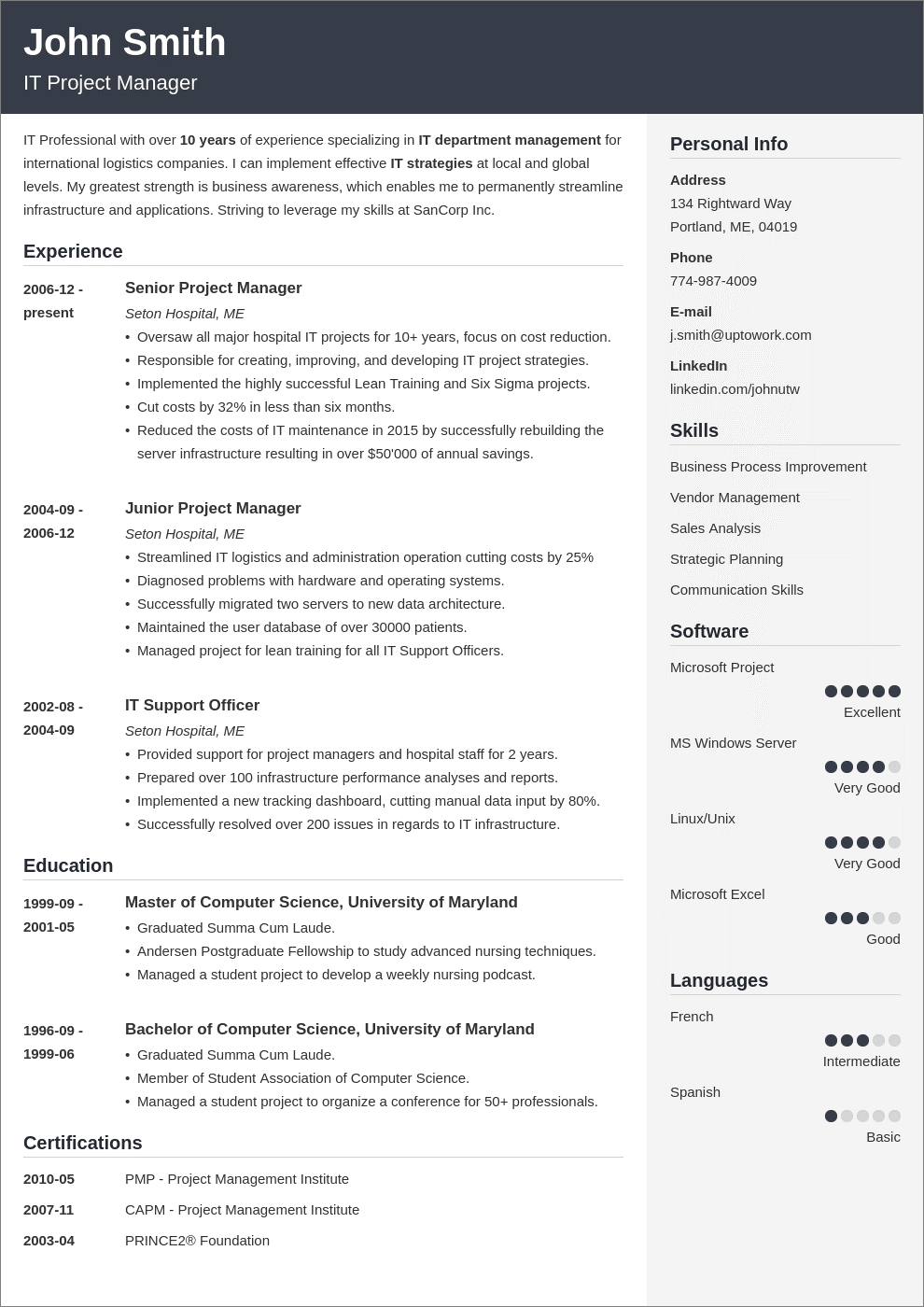 Don't worry, this isn't math class and you don't need to calculate the volume of this cube. It's another colorful and contemporary high school resume template. The two-column format is used to good effect again, but this time in a calm duck egg blue. Hiring managers won't forget your name as it's boldly set out in a dark header. Great visuals and very professional looking too, it's one of my personal favorites.
4
Minimalist Orange
This example comes from Resume Genius and it's called Minimalist Orange. The name and the color scheme looks like something James Charles could've come up, but keeps it looking very professional. You can easily edit this free high school resume template in Word.
Here's the link to this template.
5
Diamond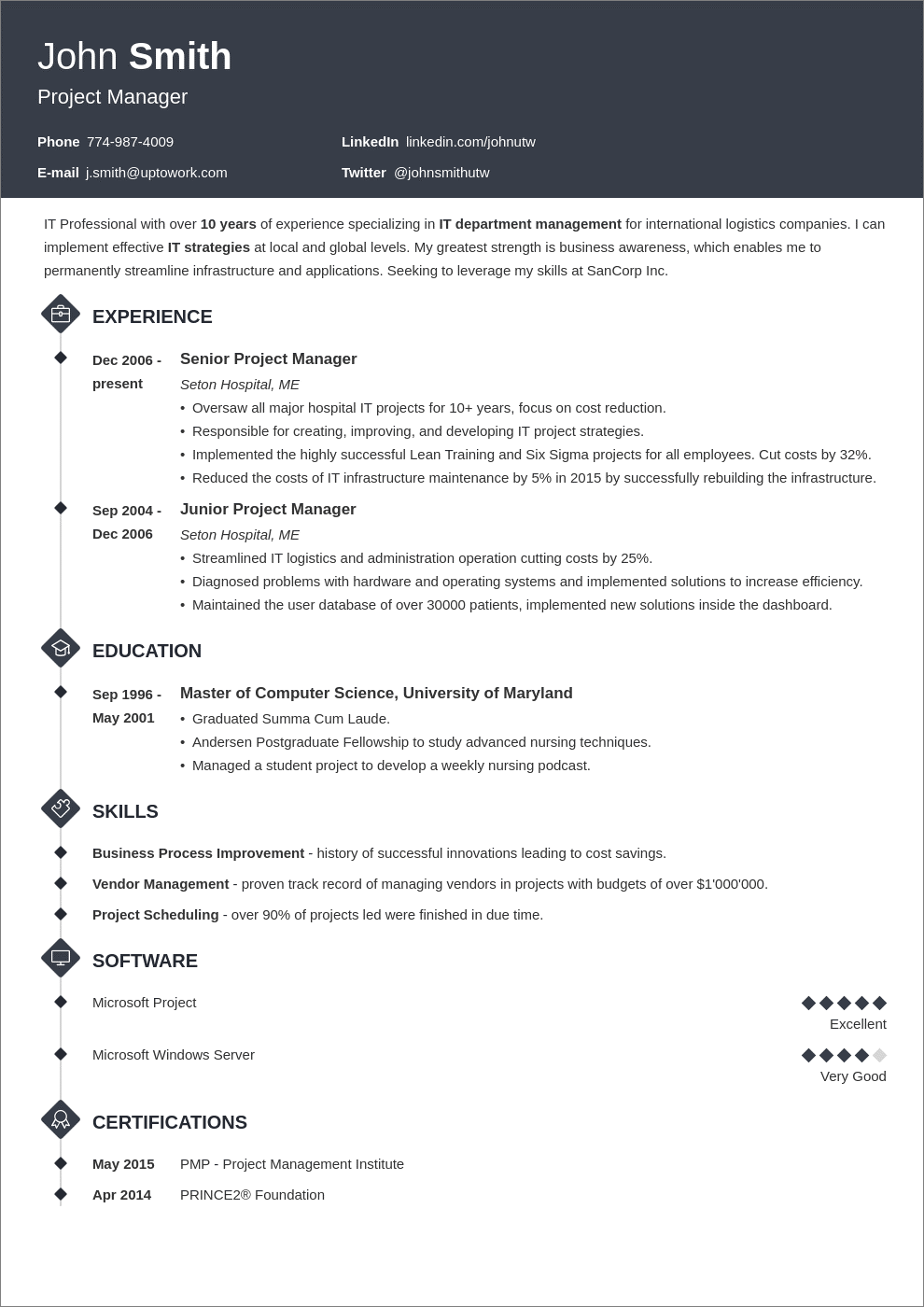 Diamond by name, diamond by nature. The jewel-shaped resume icons give this one a very distinctive and distinguished feel. When you think of diamonds you think of beauty and value. This high school resume template will suggest those qualities to anyone who reads it.
The single-column format gives you lots of room to fill with job-winning info and the dark header provides a perfect contrast. My favorite feature is the little diamond necklace timeline to the left. Look how it guides your eye down the page. It really is a gem of a template.
6
Muse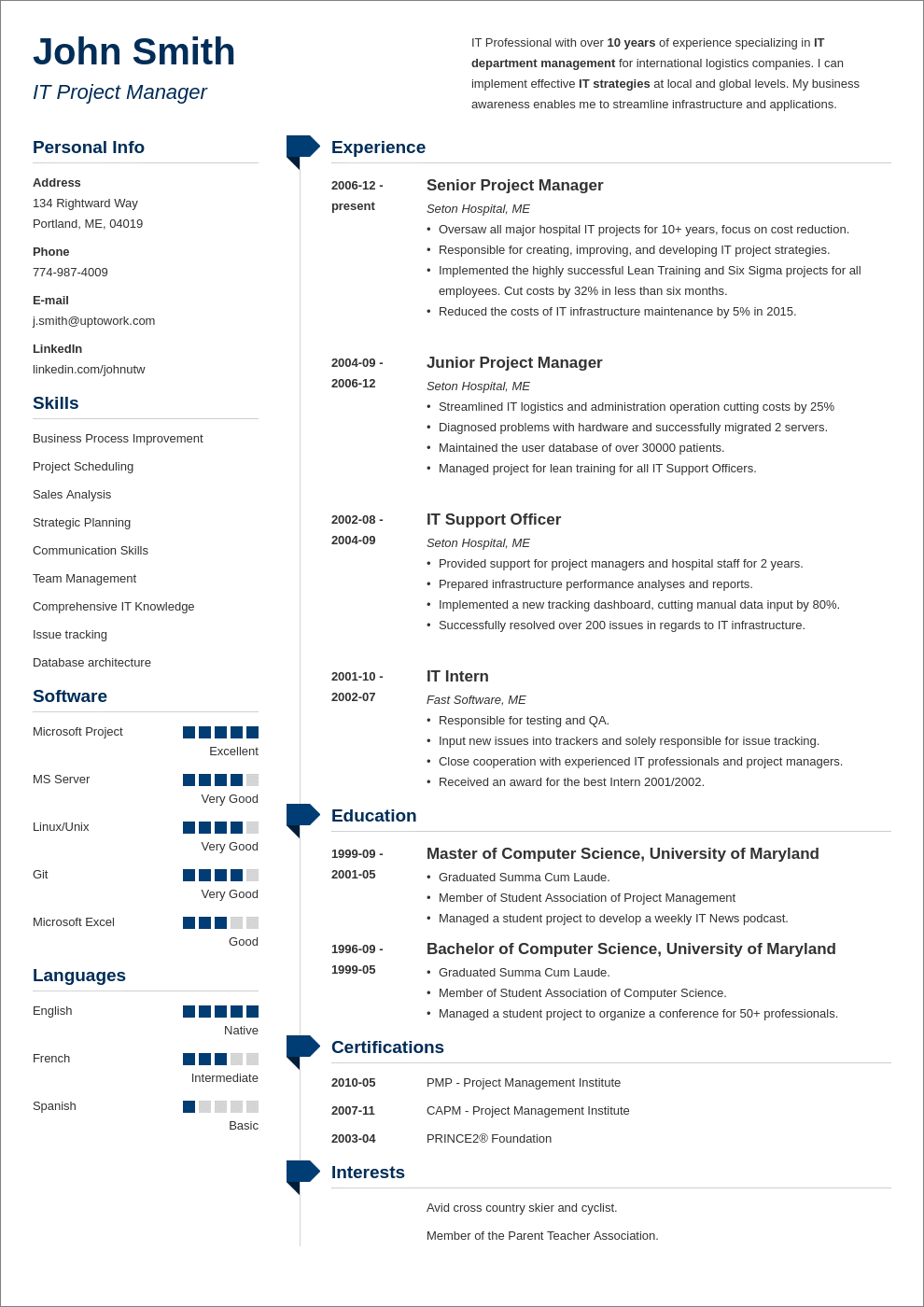 Muse isn't just a British band that your parents used to listen to. It's another design that's a great choice for a high school student resume template. This one leaves out the header bar and goes back to two-column format but, it's also got another trick up its sleeve.
It's the graphics. Those uniquely shaped little icons do two things. First they point you to the title of the section and then they point you down to the content. Clever isn't it?
7
Newcast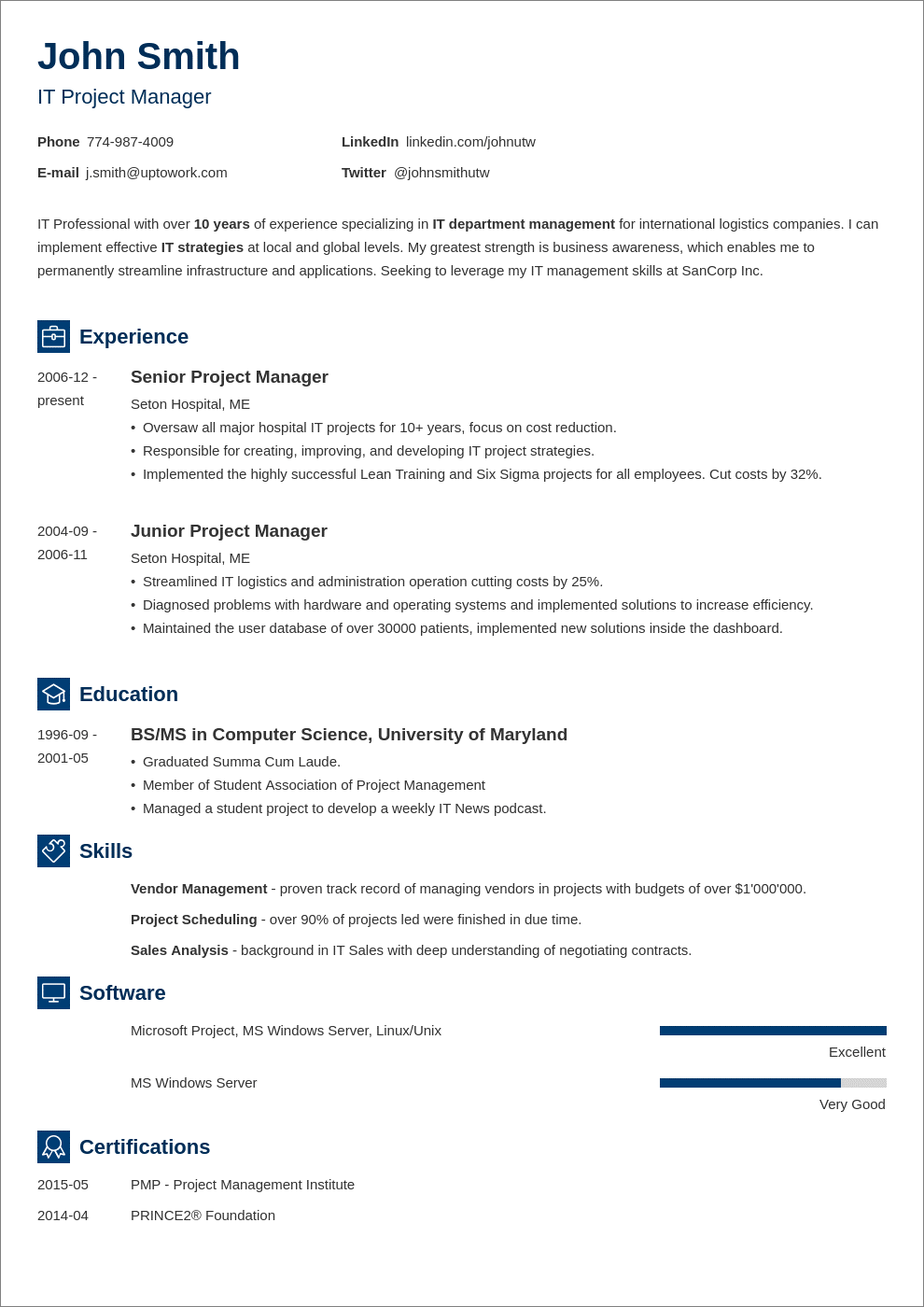 Back to Zety's own templates now with Newcast. Quite simple overall with a single column and no fancy header. Look closely though and there's a very neat twist. Look at the icons, each one is a little infographic of the section it goes with. They're subtle, but infographics make your resume more persuasive. A great way of improving your chances in your job hunt.
8
Red Lines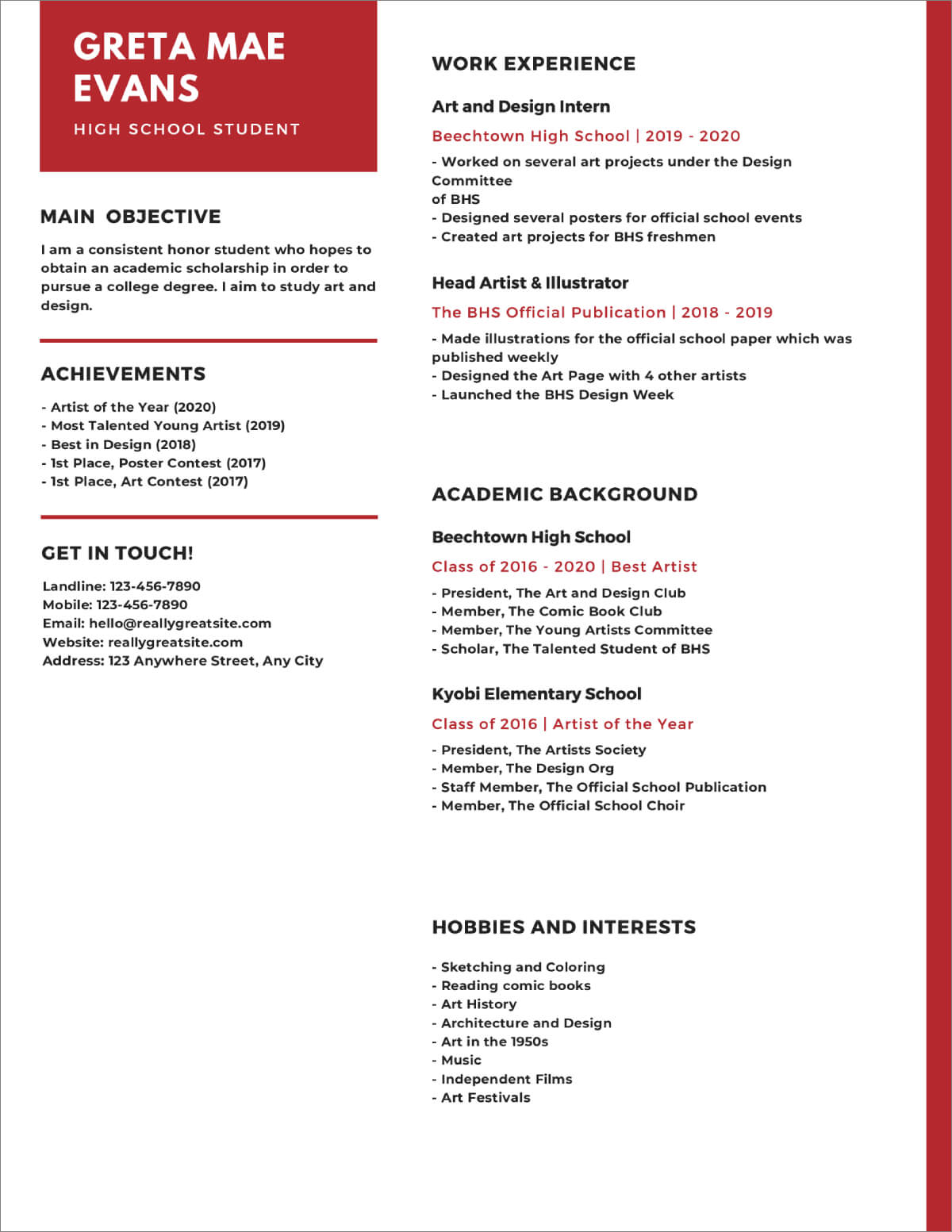 A very simple but very eye-catching template from Canva. It uses similar visual tricks to Zety but with interesting differences. The sidebar is reduced to a narrow stripe and the resume header is a neat little box. Then the red theme continues with horizontal lines to the left and red text to the right. Colorful but still professional and tasteful.
Here's the link to this template.
9
Primo
Quite a different feel to this one, can you see it? It goes for two columns like many of our other templates, but uses a circular theme for the icons. It does away with the dark header and instead puts your initials into a large round seal. It brings to mind a mark of quality, another clever way of influencing the hiring manager to mark you as the best candidate.
This one also looks amazing on fancy resume paper, the monotone color scheme makes sure of that. Perfect for when you need to hand out copies of your resume.
10
Modern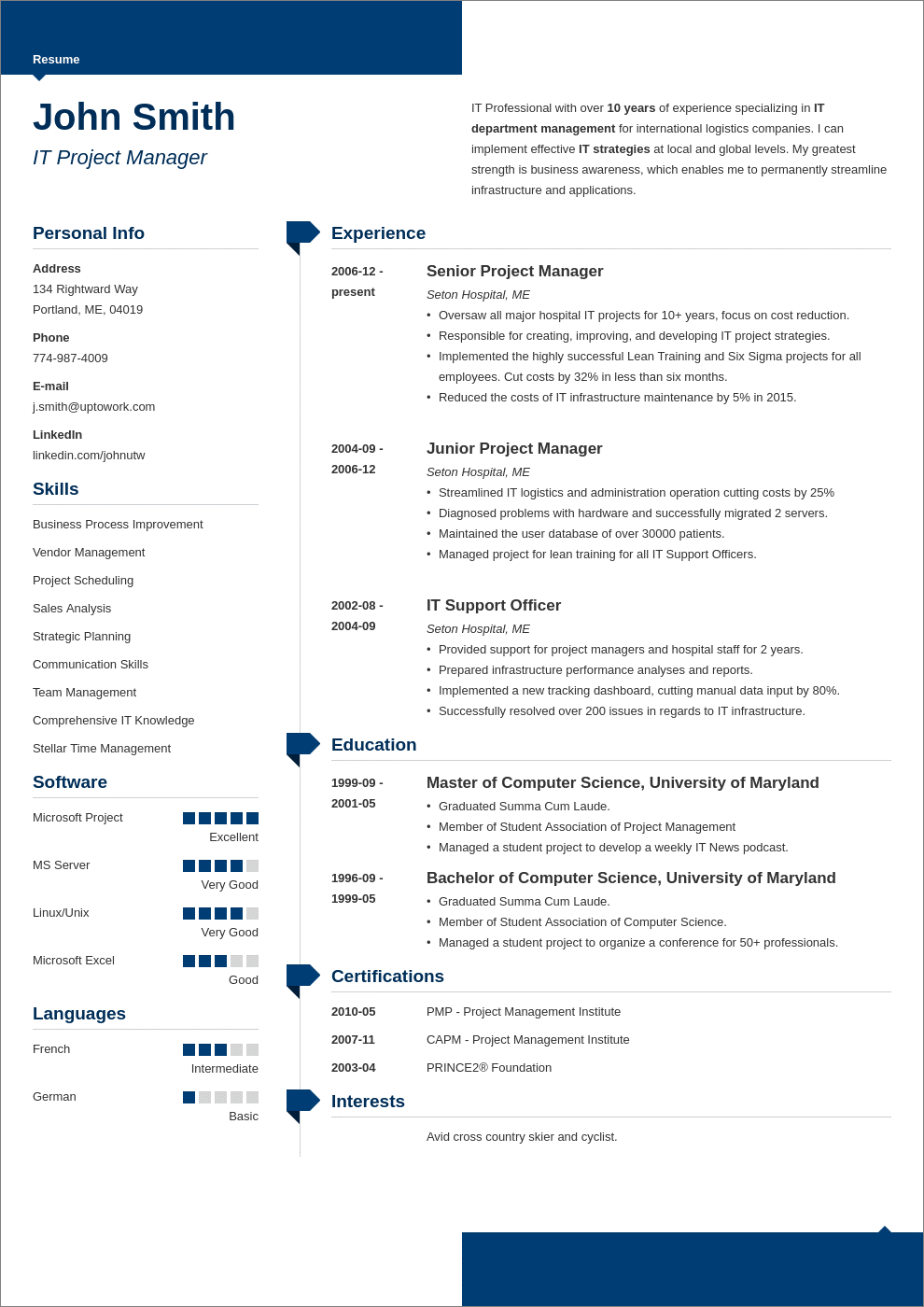 If I had to go for a number one choice for a high school student resume template, I'd go for this one. Its name says it all, fresh and modern. Just right for a youthful job seeker. The half-width bars on top and bottom give it a nice balance and the layout adds to that balanced feeling. Very pleasing on the eye. Try it for yourself.
11
Crisp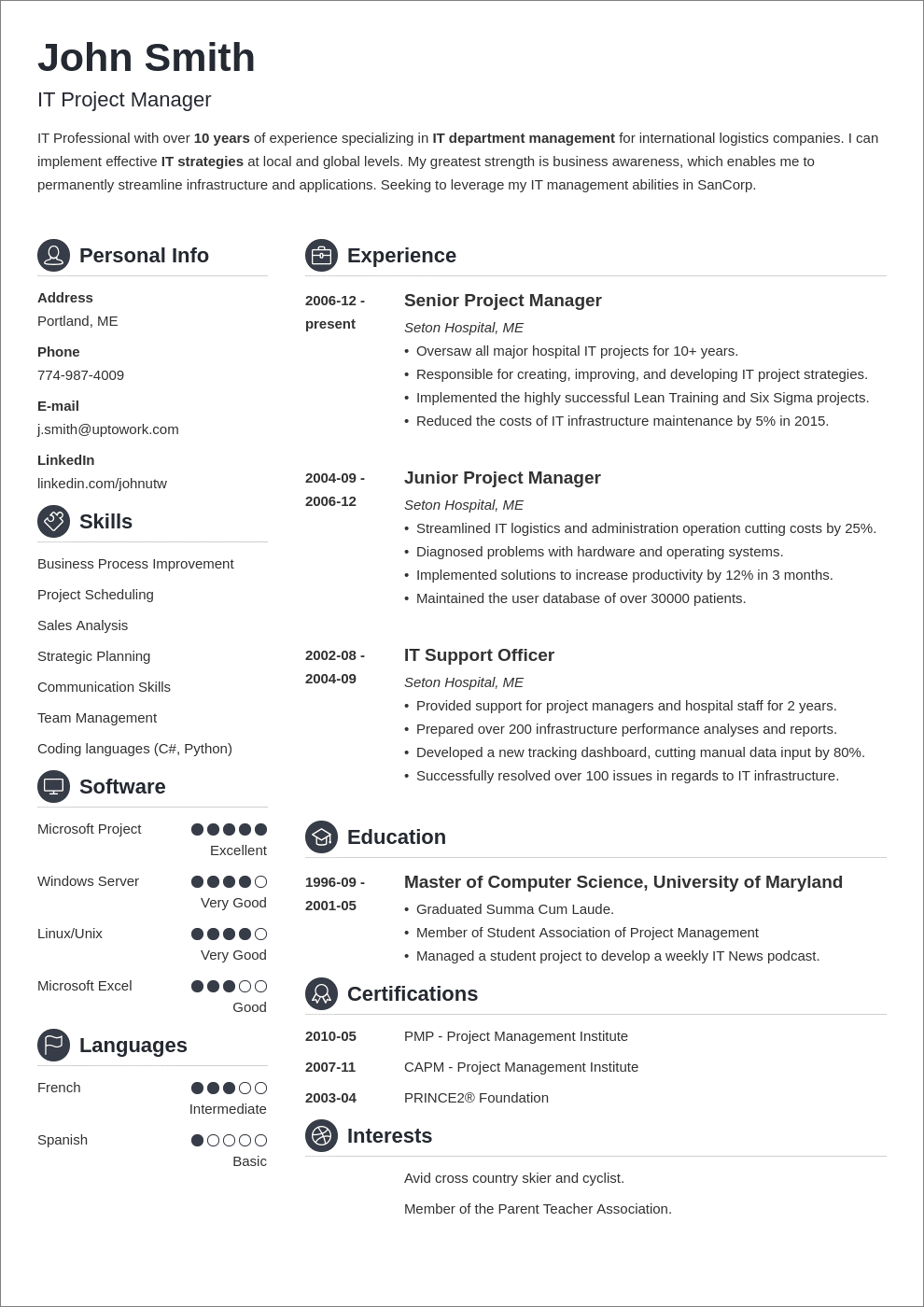 Crisp is another great choice as a high school job resume template. It's a smooth and clean monochrome design, so it's another one that looks great on paper. With no dark bars to the side or on top it makes good use of white space. That's layout speak for the blank sections on the page and it helps to make your resume easy to read. It also helps to make all the sections nicely separated and easy to locate. White space is powerful stuff. That's why all our templates use it well.
12. Spearmint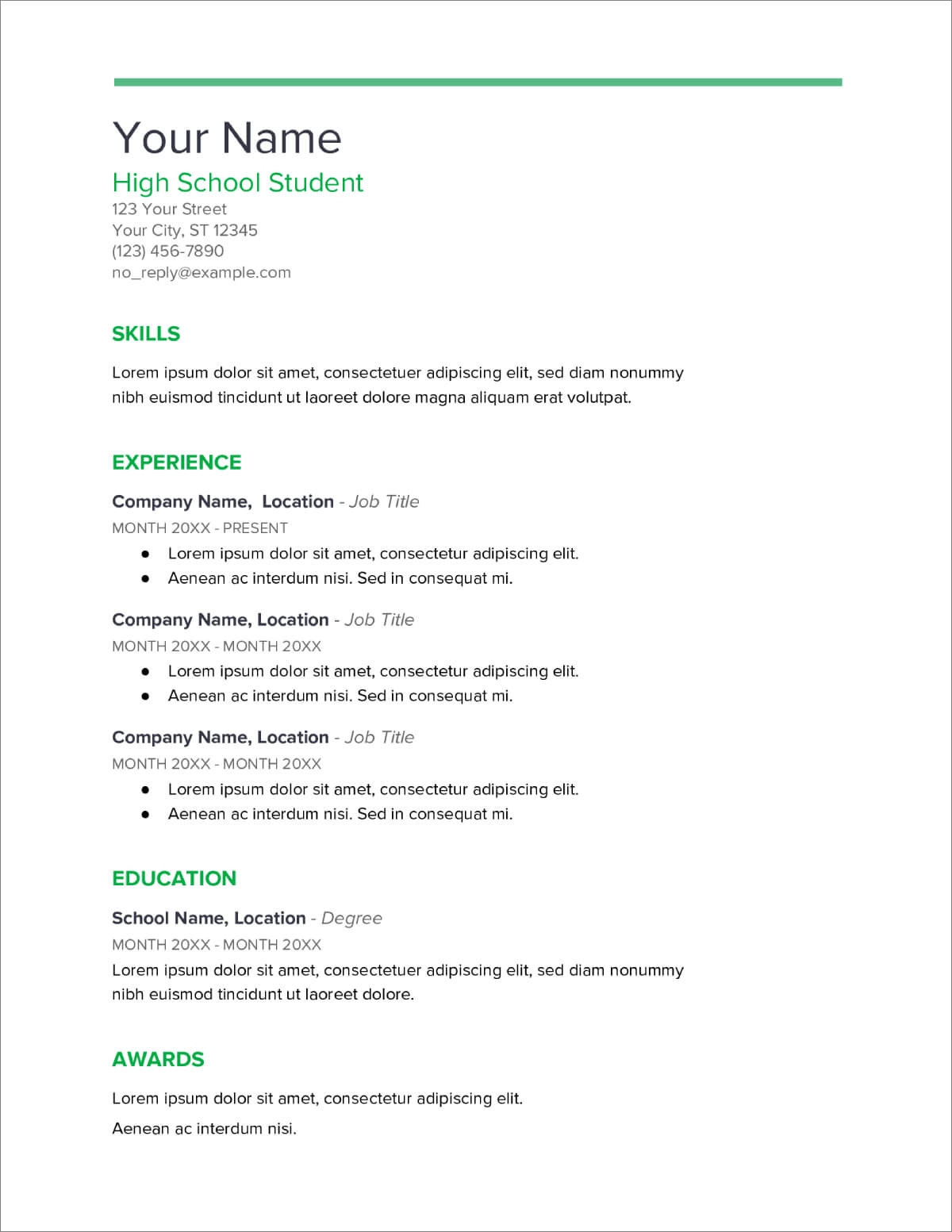 Everyone is using G Suite these days. It's what I used to write this guide. So by popular demand here's a high school template for Google Docs. It uses simple and attractive fonts, it's got a nice uncomplicated resume layout, and the green color accents are pure class. Just make sure you've got an account with Google and you're set.
Here's the link to this template. You'll see it under "resumes."
13
Concept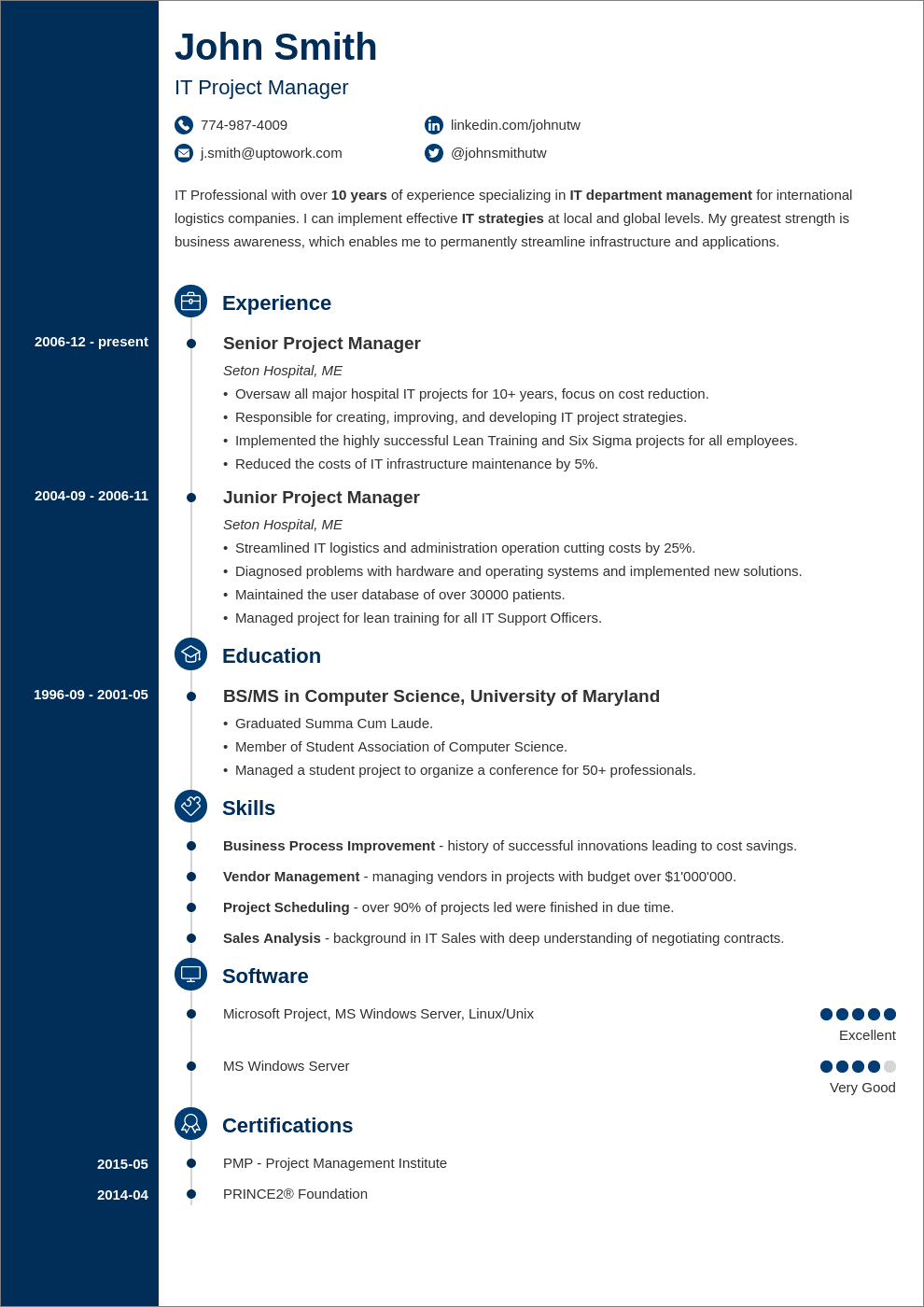 A resume template for high school students that'll give an excellent first impression. This one makes good use of a timeline format with dates included in the column to the left. Then round icons and bullet points connect the dots, guiding the eye so every section gets read. It'll make you stand out as a professional and well-organized candidate for any job.
14
Cascade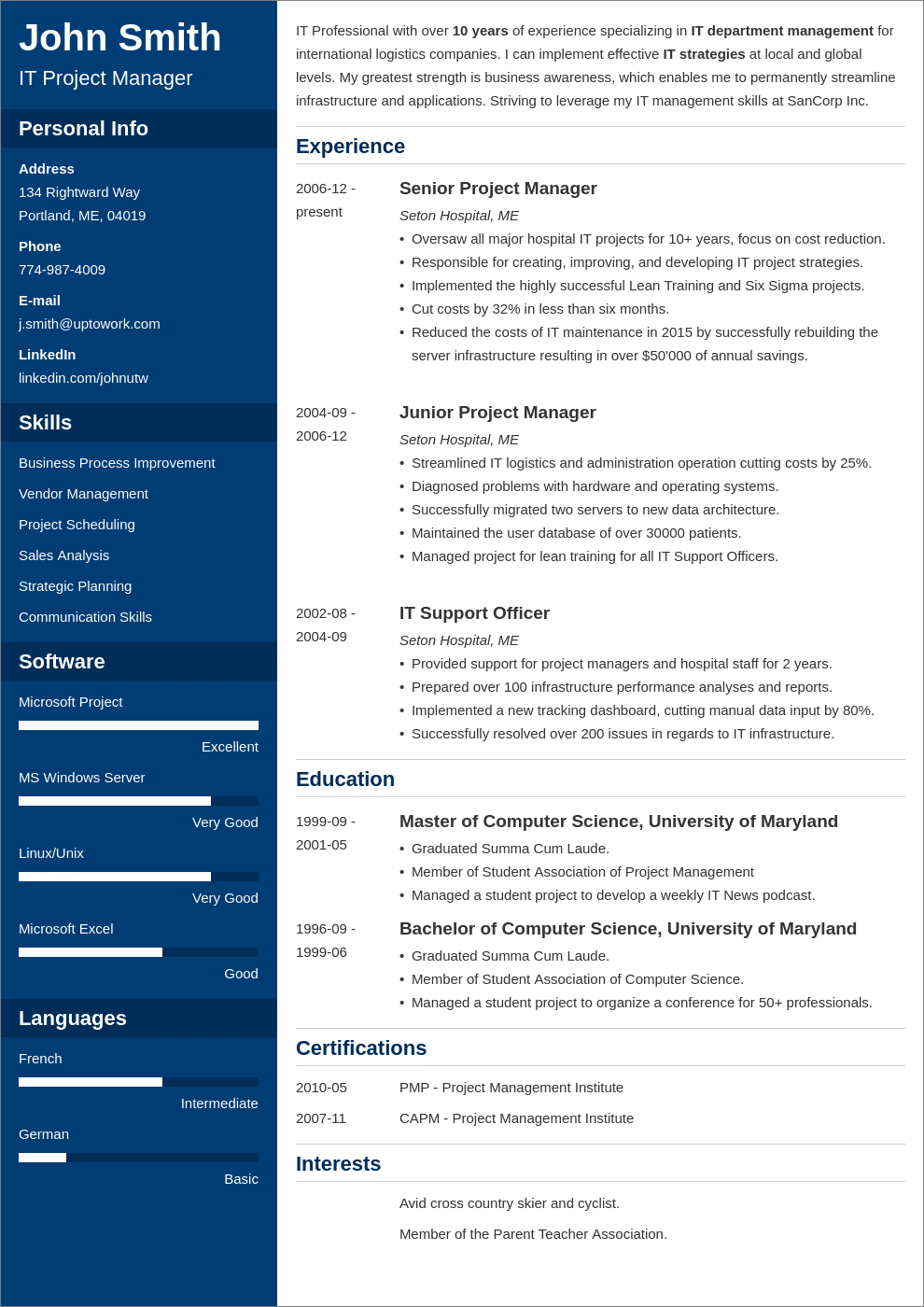 If you've got plenty to say then this is the high school resume template for you. The sidebar isn't just a design feature, it's full of information, too. Think of the bottom half of the left column as a health bar in a game. The higher it is, the better it looks so choose abilities that you can really level up with.
When making a resume in our builder, drag & drop bullet points, skills, and auto-fill the boring stuff. Spell check? Check. Start building a professional resume template here for free.
When you're done, Zety's resume builder will score your resume and tell you exactly how to make it better.
15
Iconic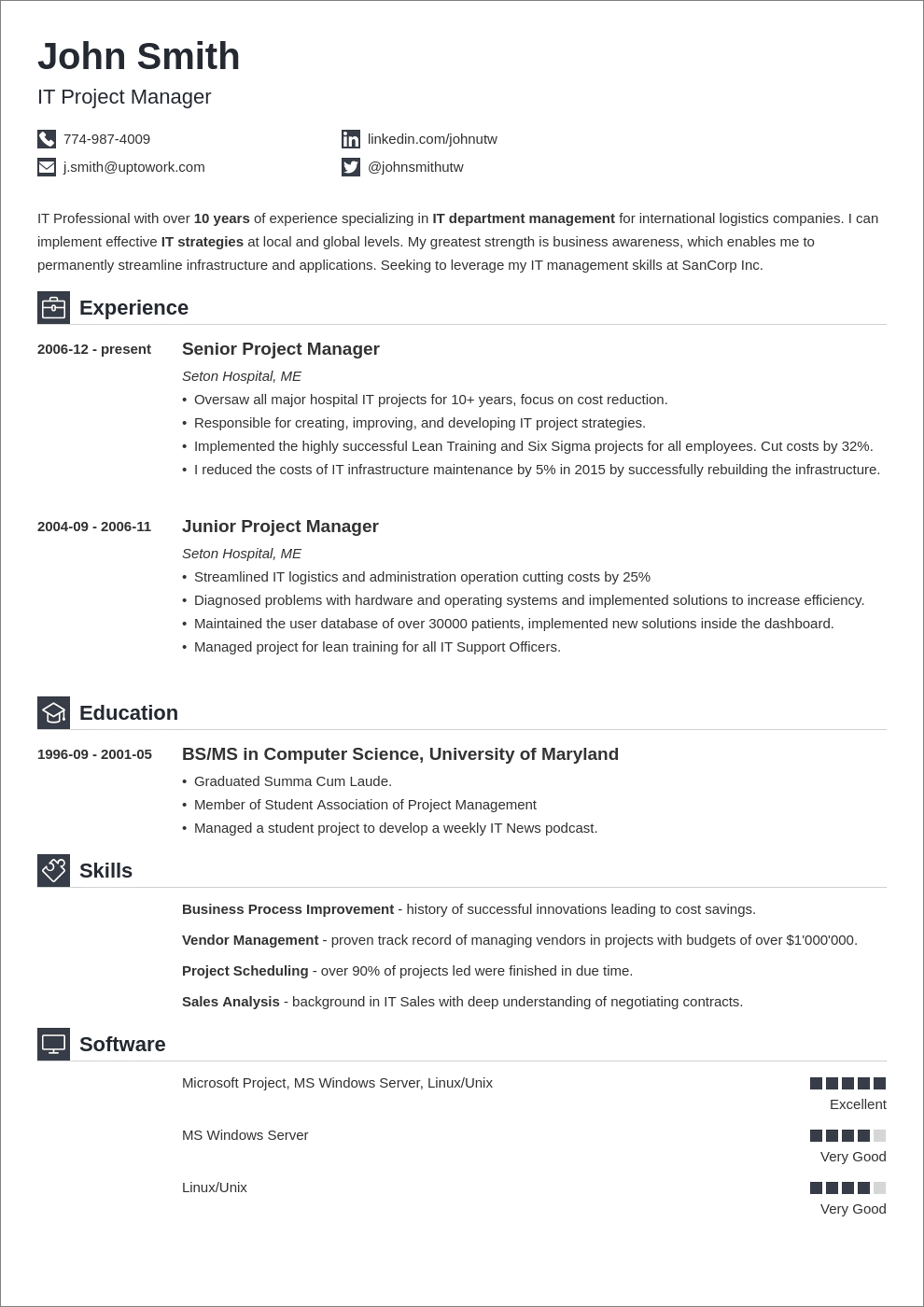 Icons are a big part of modern resume layout. So important that we've named this template iconic. The icons feature right from the start in the header details then accompany each section heading. Apart from the iconic accents, it's a simple single-column format that looks great in print. Perfect for using if you're applying for a job with a more conservative employer.
16. Polished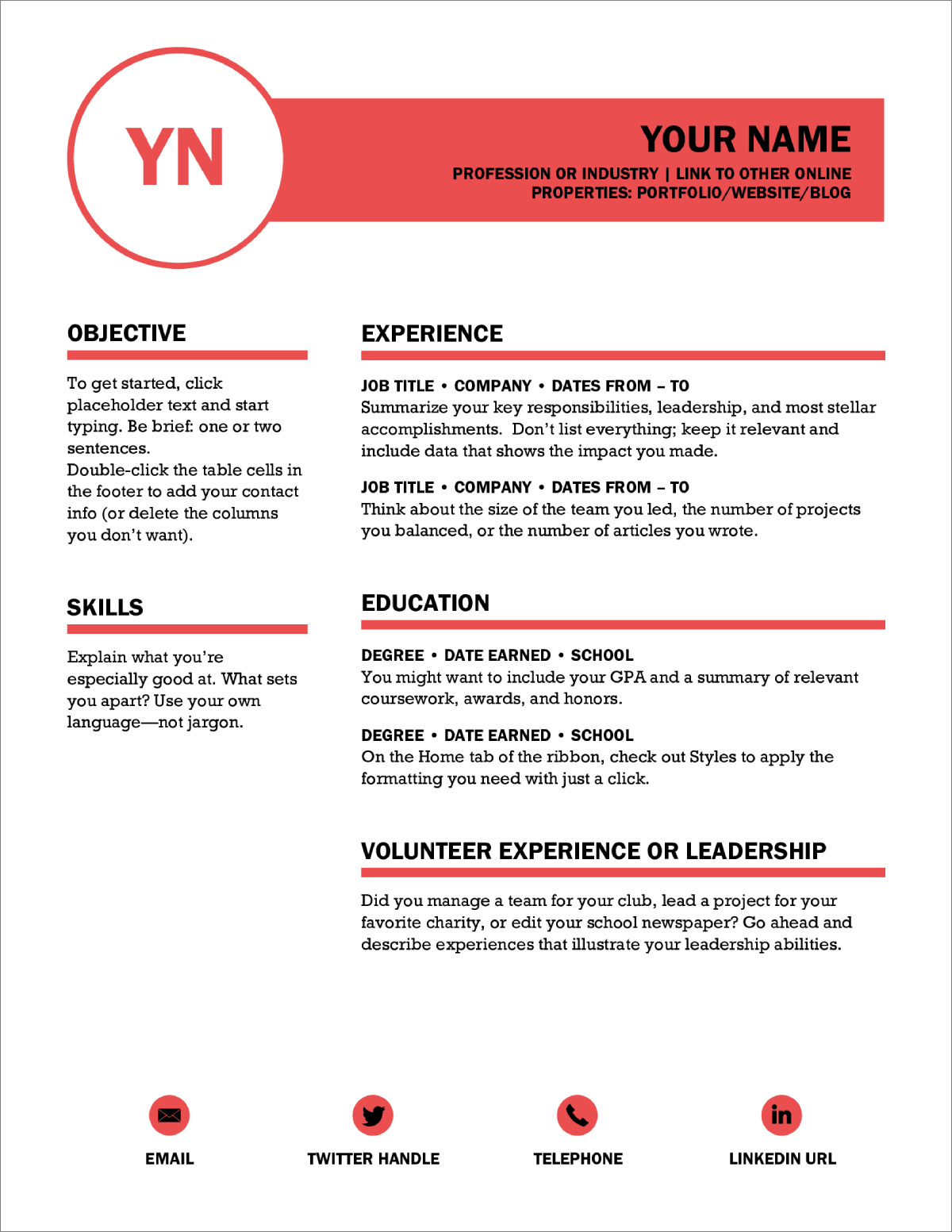 If you want a high school resume template in Word, then give this one a try. It's called Polished and it's available within Word. Just create a new file and search for "Polished resume" if you don't see it straight away in the suggested results.
The color is a nice light red, so it's not too aggressive. The combination circle and rectangle header looks super modern and the layout looks so neat and tidy, too. It's obvious that a lot of thought went into this design. Just be careful to save your high school resume template in PDF and check everything still looks good.
17
Influx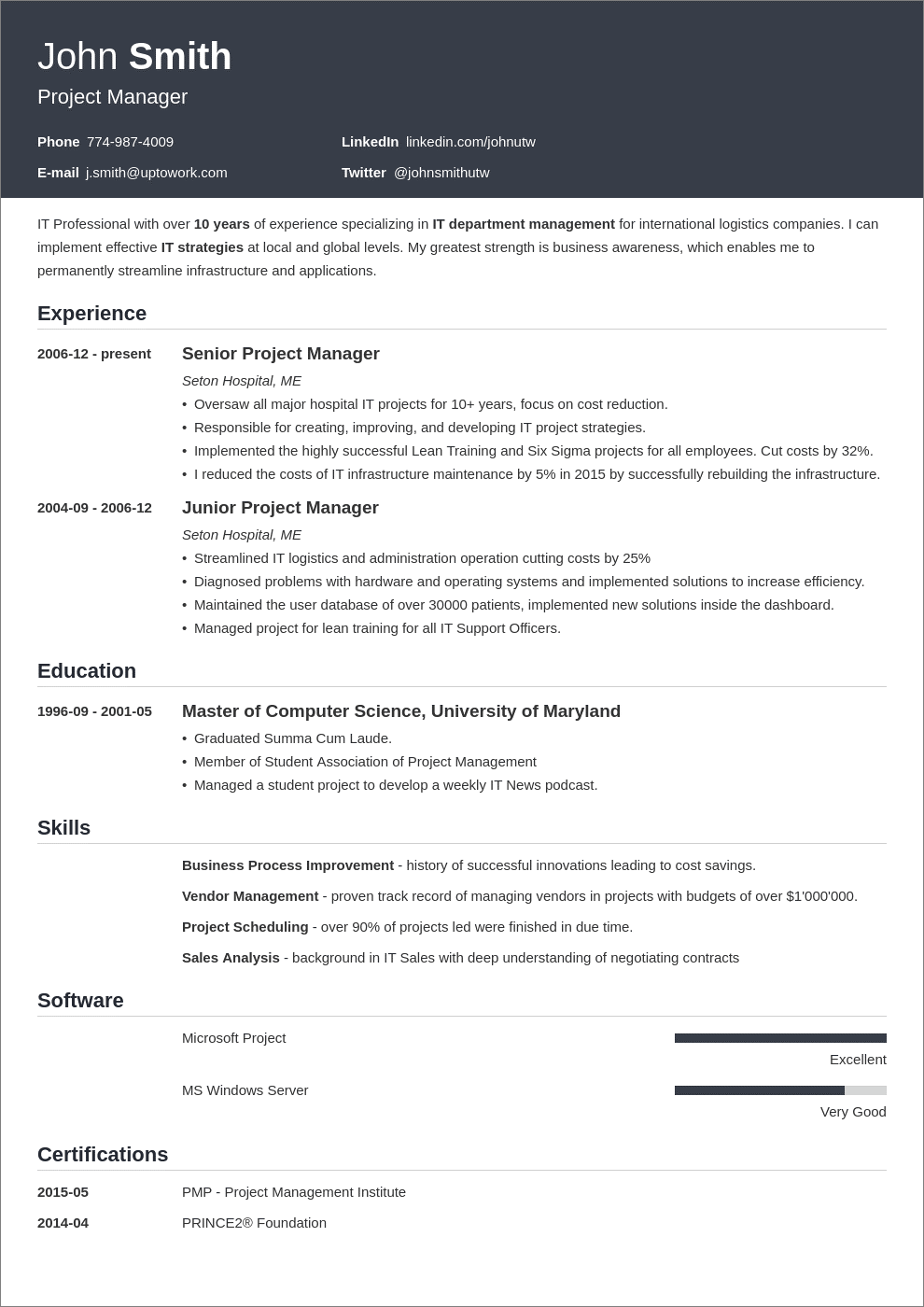 An influx is a large number of people or things arriving at the same time. Use this resume template for high school students and you can be sure of an influx. An influx of job interview requests that is. There are no fancy icons, but it's saved from being plain by the dark header and a couple of well-placed health bars. Another choice that'll make you look accomplished and professional beyond your years.
18
Initials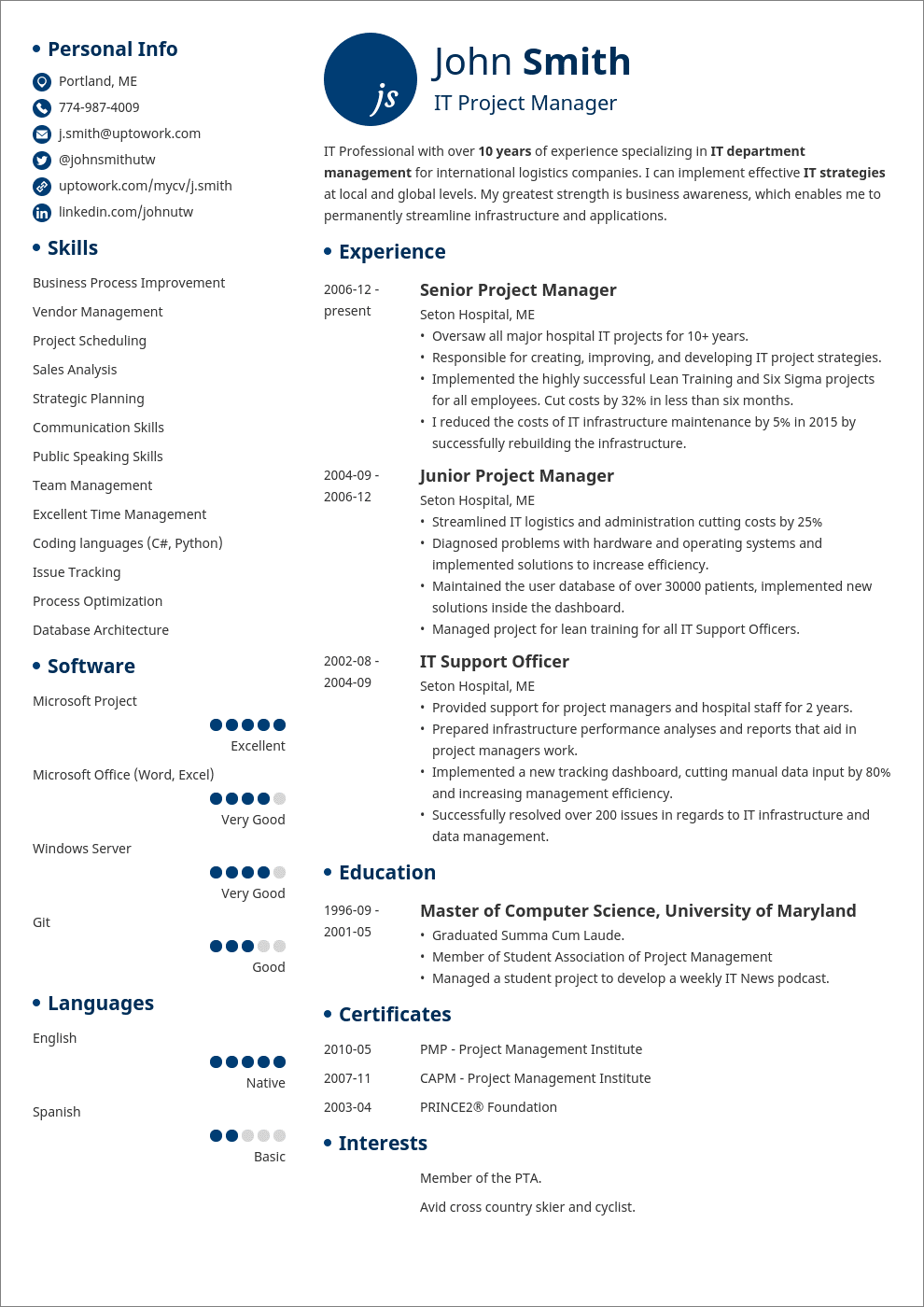 No need for bad jokes with this one. The name does exactly what it promises. There are your initials, stylishly stamped beside your name. There's so much going on with this template, but it avoids looking complicated. There are two columns filled with info, infographic icons, health bars, and to top it off there's even a pop of colored text. It's amazing how much you can fit into one page.
19
Simple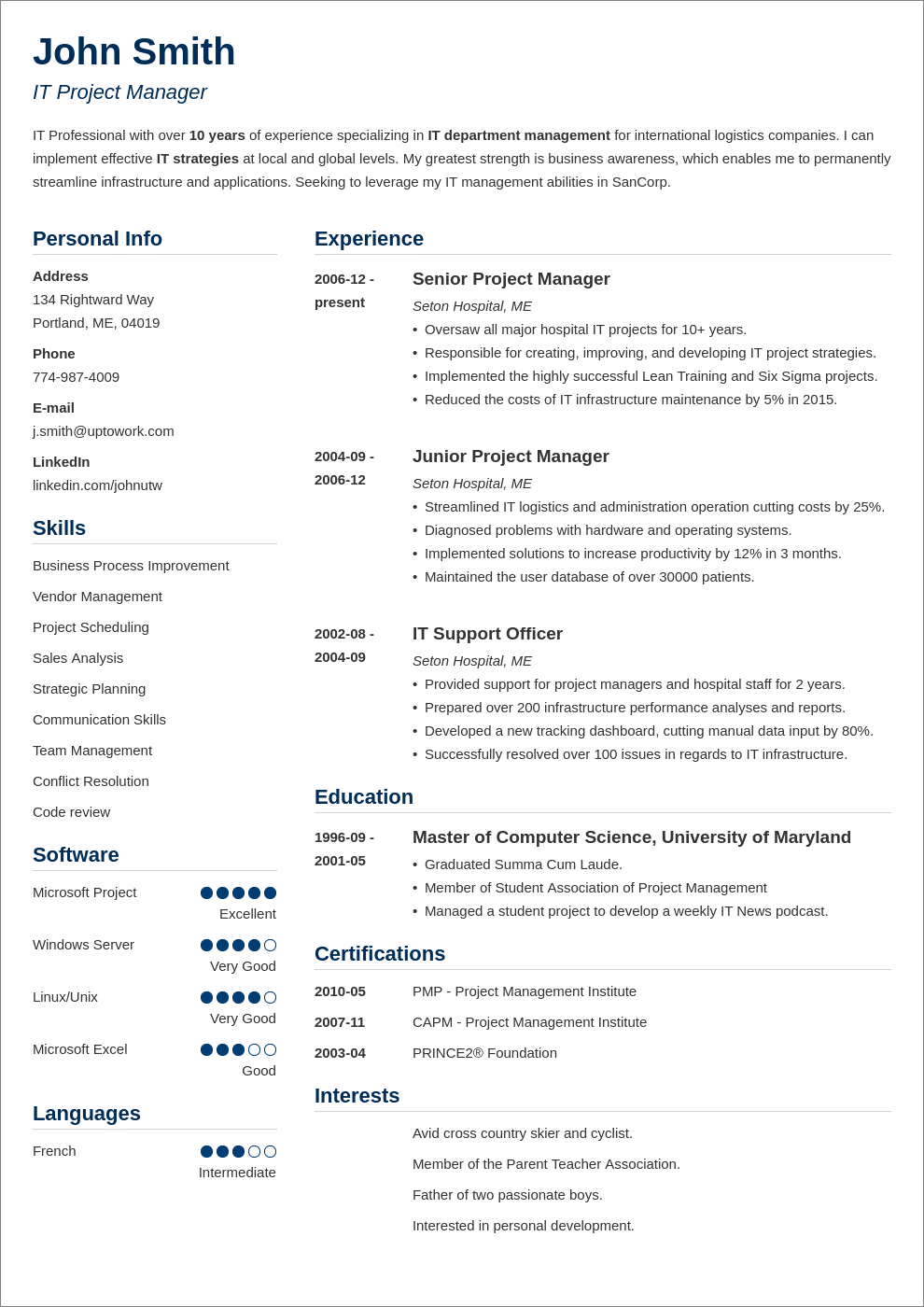 As simple by nature as it is by name. Two columns with minimal graphics and lots of room to include everything an employer needs to know. If you like keeping it understated, then this is an excellent choice for your high school student resume.
20
Minimo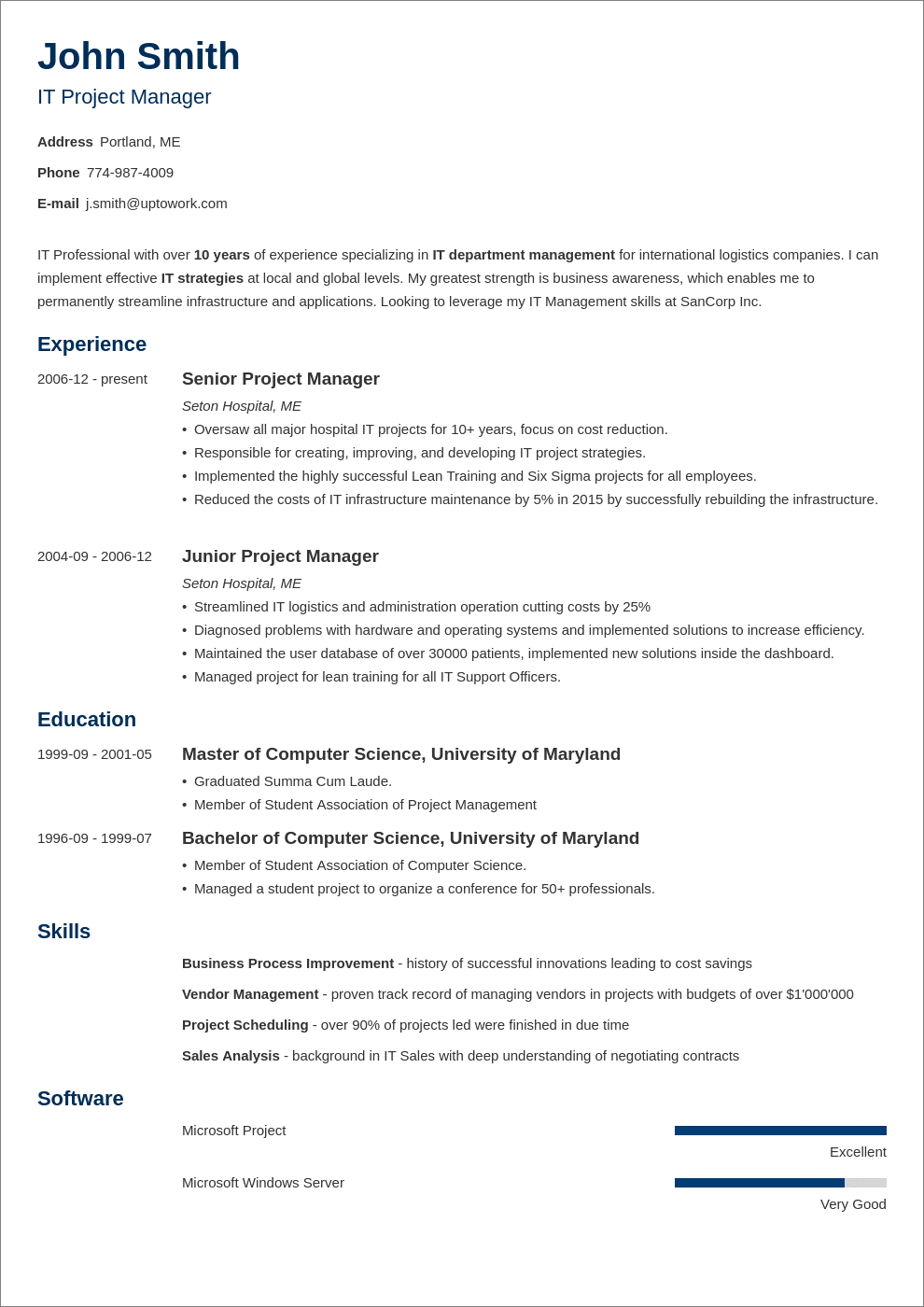 When you get to level 36, it evolves to Blastoise. No, wait, that's Pokemon sorry. This is just a very simple but still very effective high school resume template you can use to help get you a job. It's stopped from being too plain with the addition of some text color and a couple of health bars.
21
Nanica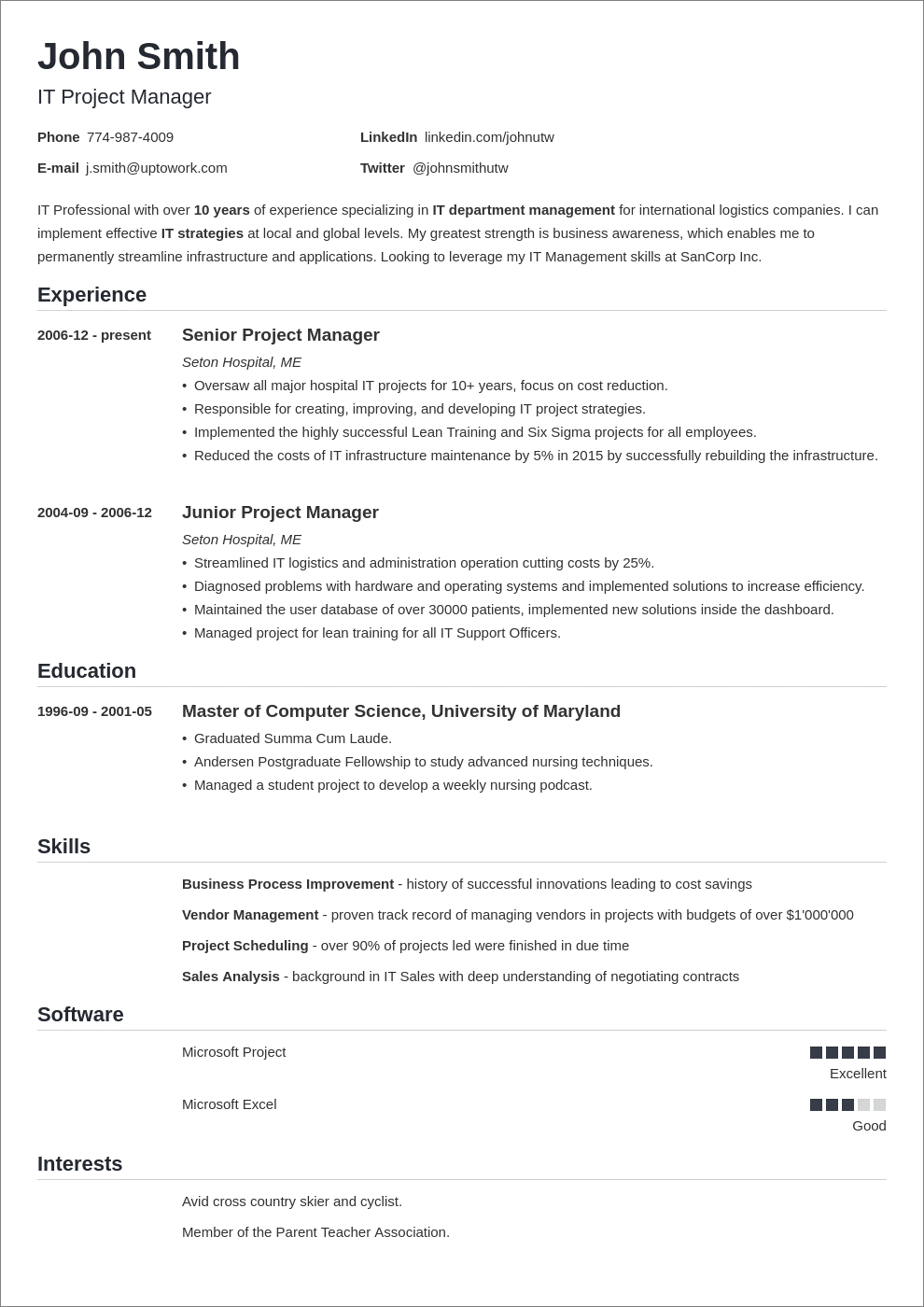 At first glance it looks like our Minimo template, but this one strips it back even further. Just a single color for text and the health bars have been switched to square icons. There's plenty of white space too so you can be sure it'll be easy to read.
22
Valera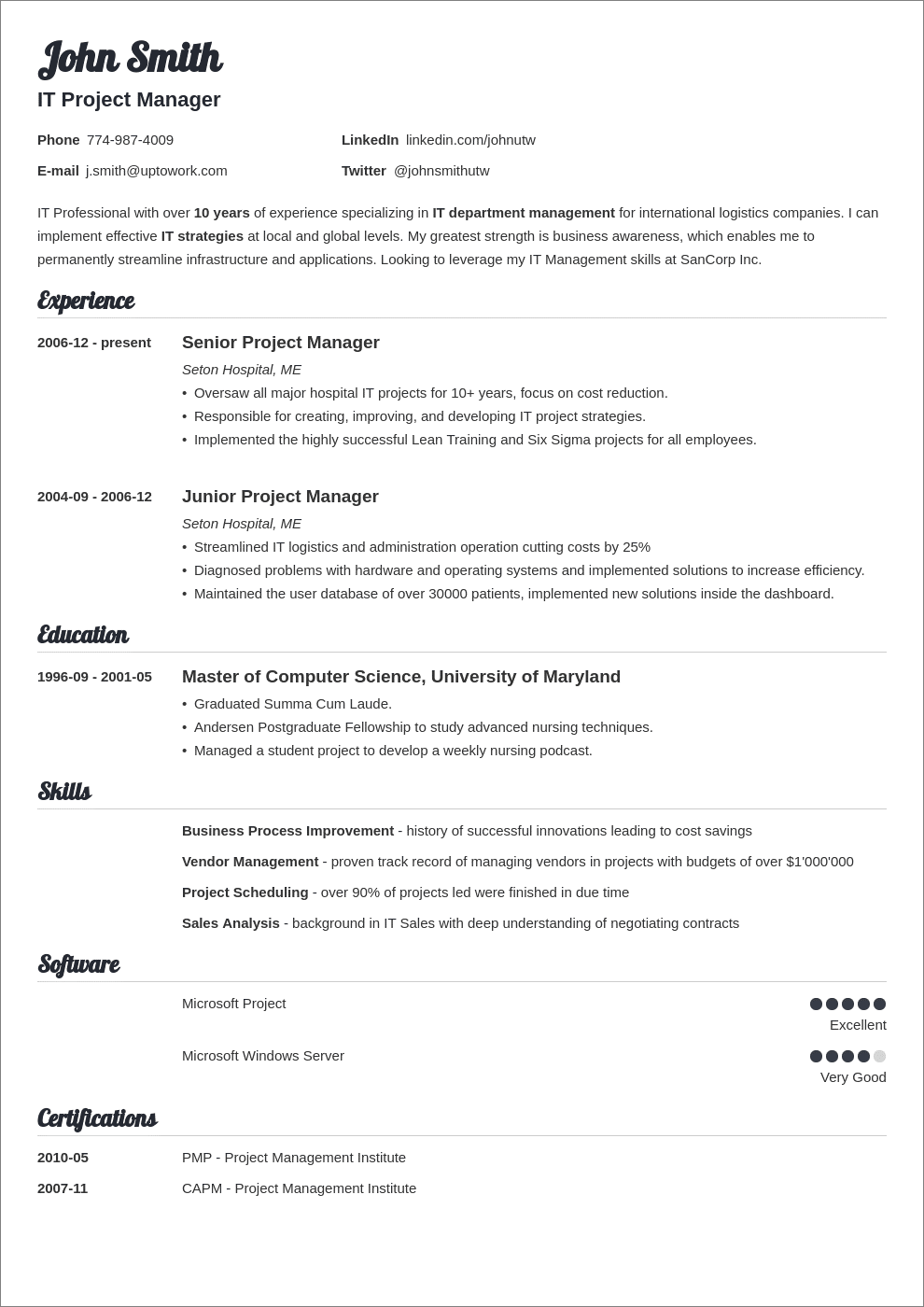 This is the last of our high school resume templates. We've saved a special one for last. It makes use of font pairing. See how the cursive script for the headings looks just right paired up with font in the sections themselves? That's good font pairing. Just like you've got a best friend at school, fonts also have pairings that just work. If you ever want to use this trick yourself, try out fontjoy to get an idea of attractive pairings.
Plus, a great cover letter that matches your resume will give you an advantage over other candidates. You can write it in our cover letter builder here. Here's what it may look like: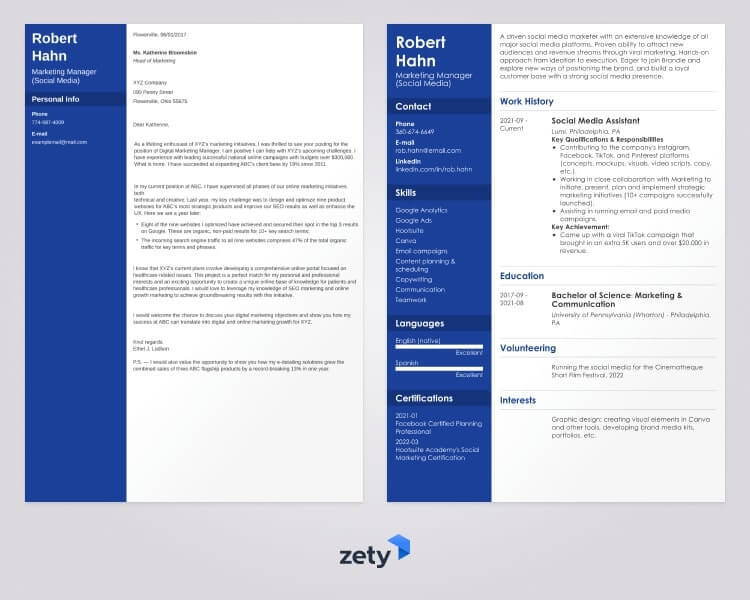 See more cover letter templates and start writing.
Key Takeaway
As you can see, we've got a great choice of resume designs that all work well as high school resume templates.
There's plenty of other sources of high school student resume template out there too, if you do some digging. But if you choose Zety, they're all in one place. Plus our resume templates are all ATS-scannable.
Good luck in your job search!
Have you got any free high school resume templates that are worthy of inclusion? Not sure if the resume you've chosen is a good one? Use the comments section and ask away. Thanks for reading.