Our customers have been hired by:
If you're about to write an account manager resume, you already know that the best jobs for account managers come with great perks. But in order to land these positions, you need more than just confidence. Hiring managers want to see you're the crème de la crème—they want somebody who can nurture relationships even with the most demanding clients.
So, how do you prove your worth with only a job application? It's simple—you do it by sending them an account manager resume that exceeds all KPIs.
This guide will show you:
A account manager resume example better than 9 out of 10 other resumes.
How to write an account manager resume that lands more interviews.
Tips and examples for how to put skills and achievements on an account management resume.
How to describe your experience on a resume for an account manager to get any job you want.
Here's a sample resume for an account manager made using our resume builder.
Want to save time and have your resume ready in 5 minutes? Try our resume builder. It's fast and easy to use. Plus, you'll get ready-made content to add with one click. See 20+ resume templates and create your resume here.
Sample resume made with our builder—See more resume examples here.
Targeting other jobs in marketing, sales, or general management too? See our other guides:
Account Manager Resume Example
Kyle Earnhardt
Account Manager
123-456-7890
kyleearnhardt@email.com
linkedin.com/in/kyle.earnhardt
Summary
Dynamic Account Manager with over 7 years of experience in cultivating client relationships and significantly increasing performance metrics. Eager to leverage my strong negotiation and relationship-building skills in an Account Manager position at Cyberspace Solutions. Successfully increased sales by 35% over two years at Innoviz Dynamics.
Experience
Senior Account Manager
Innoviz Dynamics, Louisville, KY
August 2015–Present
Key Qualifications & Responsibilities
Managed and grew a portfolio of 50+ high-value accounts.
Coordinated cross-departmental teams to meet client needs.
Implemented a new customer relationship management strategy, leading to a 35% increase in sales over two years.
Trained a team of 5 junior professionals.
Key Achievement:
Increased sales by 35% over two years.
Account Manager
Astra Technologies, Louisville, KY
June 2011–August 2015
Key Qualifications & Responsibilities:
Developed and maintained relationships with 25 key clients.
Successfully upsold products, resulting in a 20% increase in client spend.
Collaborated with Sales and Marketing departments to align strategies and maximize client satisfaction.
Key Achievement:
Upsold products, leading to a 20% increase in client spend.
Education
Bachelor Degree in Business Administration
University of Kentucky, Louisville
September 2007–May 2011
Relevant extracurricular activities
Elected Member, University Business Club.
Volunteer, Local Entrepreneurship Summit.
Skills
Strong communication skills
Negotiation
Relationship-building
Strategic account development
Knowledge of CRM software
Sales forecasting
Problem-solving
Team leadership
Certifications
Certified Strategic Account Manager (CSAM), Strategic Account Management Association, 2012
Awards
2018, Account Manager of the Year, Innoviz Dynamics
Memberships
Member of the American Association of Inside Sales Professionals since 2013
Developed and presented a workshop on "Strategic Account Management" during the 2017 AA-ISP Leadership Summit, Louisville
Languages
English—Native
Spanish—Intermediate
Interests
Mentoring young sales professionals in the local community.
Participating in local business networking events.
1
What's the Best Format for an Account Manager Resume?
When you get right down to it, account managers connect.
So, your account management resume must do that right away.
How?
By using the right account manager resume format.
The reverse-chronological resume layout sends the message fast.
It puts your most recent successes first.
That's ideal, because the average hiring manager skims each resume in just six seconds, according to our HR statistics report.
Want to put yours in the David Ogilvy zone?
Add perks like the best resume fonts and strategic white space. Include generous headings to keep your message crisp.
Last, should you send a PDF or MS Word resume?
Applicant Tracking Software used to skip old-style PDFs.
Modern PDFs are machine readable. So, send a key account manager resume PDF unless the ad says not to.
Pro Tip: Switching careers from customer service or sales? Use the combination resume format. It'll help you show key achievements from non-account-manager jobs.
Want to check the full spread for account management resume formats? See our guide: 3 Resume Formats: How to Choose the Best One [Examples]
2
How to Write an Account Manager Resume Objective or
an Account Manager Resume
Summary
Imagine the juiciest account manager job on Earth.
It's got stock options. Full dental and medical. An expense account so plush you could play golf on it.
Between you and that job sits a hiring manager named Alan.
He's busy. He's got 30 clients climbing up his chair legs and a to do list like War and Peace.
Meanwhile, your account manager resume is buried in a pile of others on his desk.
Get his attention with a resume summary or a resume objective.
A resume summary shows accomplishments. Use it if you've got more experience than Roger Sterling from Mad Men.
A resume objective shows your passion. It works best for rookies and career changers.
Stuff either with enough achievements to make Billy Mays say, "Wow!"
These senior account management resume examples show how:
Account Manager Resume Examples [Resume Summaries]
The first of these accounts manager resume examples fails to please:
wrong
Enthusiastic account manager seeks new position. Skilled in building relationships, Salesforce, and communication. I think my 7 years of experience give me a solid footing to grow your customer base.
That's not Willy-Loman-bad, but it won't haul in a pile of interviews.
The next senior account manager resume summary will:
right
CSAM IT Account Manager with 7+ years' experience. Seeking to leverage proven relationship-building and problem-solving skills to grow ROI for KQM Systems. Managed 5 associate account managers and 25 accounts at Goldpanel Tech. Slashed customer complaints 20% in 1 year and grew revenue by 32%.
That's whalebait. Remember our hiring manager, Alan? If he's not looking for your contact info, he's got issues.
When making a resume in our builder, drag & drop bullet points, skills, and auto-fill the boring stuff. Spell check? Check. Start building a professional resume template here for free.
When you're done, Zety's resume builder will score your resume and our resume checker will tell you exactly how to make it better.
But what if you don't have those kind of chops? In that case, check out these entry-level account manager resume examples:
Two Entry-Level Account Manager Resume Objectives
Are you a junior account manager with no experience?
Many experts say, show passion with a resume objective:
wrong
Passionate junior account manager. Will take entry-level job. I haven't yet held an account manager title, but I'm very skilled in communication, collaboration, and problem solving.
That reads like a cleaned-out desk.
You need detailed achievements to make a customer account manager resume objective like this:
right
Energetic account manager, aiming to raise customer retention for Abernathy Tech. As a customer rep at SteelGamut Solutions, boosted retention 25% through attention to client needs. Commended 5 times by management for skill at handling difficult clients.
Pow. Don Draper's in the house, and he'll soon be sleeping on a bed made out of money.
Where did a fledgeling account manager find experience like that? I'll show you the steps next.
Pro Tip: Write your sales account management resume objective or summary last. That'll give you plenty of accomplishments to pick from.
Want an account manager resume summary Larry Ellison would love? See our guides: How To Write A Resume Summary: 21 Best Examples You Will See and +20 Resume Objective Examples - Use Them on Your Resume (Tips)
3
How to Describe Your Account Manager Experience
Let's get back to our hiring manager, Alan.
As he gently bounces on his yoga ball, he has one question: Can you make his clients happy?
Answer "yes" with your experience. List your most recent job first.
Add 3-5 achievements that fit the account manager job description like a key account fits revenue creation.
Let these technical account management resume examples guide you:
Account Manager Job Description for a Resume
The first of these key account manager resume examples do it well:
right
Goldpanel Technical
Account Manager
2015–2018
Managed 25 accounts in high-earning IT firm.
Led 5 account managers to drive down time to resolve issues, resulting in a 15% boost in key client retention. This led to 32% more revenue per year.
Collaborated with marketing and analytics to determine root causes of customer complaints. Achieved 20% lower customer complaints across the business.
Nice. The hiring manager just dropped his copy of The Trusted Advisor. Your technical account management resume just blew his gold toe socks off.
But don't do this:
wrong
Goldpanel Technical
Account Manager
2015–2018
Managed multiple accounts for an IT firm.
Tasked with resolving issues in a timely fashion.
In charge of reaching client retention goals.
Collaborated with marketing and analytics to resolve customer complaints.
That's like an empty client account list. All hope and no delivery.
A strategic resume for an account manager has to show achievements.
But what if your resume is in the no work experience zone?
See the two customer account manager resume examples below.
How to Write a Resume for Account Manager with no Experience
If you don't have experience, can you still write a great resume for account management?
Well, what does an account manager do?
She builds relationships, serves customers, and does a little project management.
So, even if you've never held an account manager title, add achievements in those areas.
For instance, see the entry-level account management resume examples below.
Two Account Manager Resume Samples [No Experience]
The first of our sample accounts management resume experience sections will get dumped:
wrong
Account Manager Experience: Haven't held the title yet, but I'm a rapid learner.
Other Experience:
Feels phoned-in, doesn't it? How would you judge that applicant at serving clients?
But add details, and you've got an account manager resume sample like this:
right
Account Management Experience
SteelGamut Solutions Customer Service Rep
2017–2018
Managed 153 long-term customer relationships in a busy IT firm.
Increased customer retention by 25% across my client list.
Boosted customer satisfaction ratings 30% among repeat clients.
Commended 5x by management for exemplary handling of difficult clients.
That's an account management resume Dale Carnegie could love. Yet the applicant has never been an account manager.
She just found account manager responsibilities from past non-account-manager jobs.
With a little digging, you can write bullet points like those right now.
Pro Tip: Are you fresh out of school? Stuff your resume for account management with academic achievements. Those can include fellowships or just kudos from professors.
The hiring manager is your biggest key account. Perk him up with resume action words. See our guide: +80 Examples of Resume Action Words for Every Profession
4
Impress Your Recruiter with a Perfect Education Section on Your Account Manager Resume Sample
For account managers, experience is everything.
But your educations section is key real estate.
Start with:
College Name and Location.
Years in School.
Degree.
Then add accomplishments that show you fully understand the job.
The next two marketing account management resume examples show how:
Account Manager Resume Examples [Education]
These two sample account manager resume sections are vastly different. Yet both target a job requiring communication, marketing, and interpersonal skills.
right
BS in Business Administration
Penn State, 2007–2011
Pursued a passion for

communication

coursework.
Excelled in marketing classes.
Wrote a regular column in the school paper on interpersonal skills.
Wow. The hiring manager feels like he's known you all his life.
The next of our account executive resume examples is too generic:
wrong
BS in Business Administration
Penn State, 2007–2011
Completed all core business coursework.
GPA 2.79
That's the account management resume equivalent of, "I'm sorry, I forgot your name."
But add details, and you're speaking the hiring manager's language again.
Pro Tip: Do you need a bachelor's degree on a resume for account management? In most cases, an associate's degree plus experience works just as well.
Should you show your GPA on a resume for an account manager? What about pending diplomas? See our guide: How to Put Your Education on a Resume [Tips & Examples]
5
Put Relevant Skills on a Resume for an Account Manager
Remember our hiring manager, Alan?
He wants to know if you can walk the talk.
Prove it in your account manager resume bullet points. They should tie you to the job like repeat business to ROI.
Our next national account manager resume examples fit a job that wants requirements gathering, relationship building, and HubSpot skills.
Account Manager Resume Examples [Skills]
This sample account manager resume skills list works like putting a key client on hold for half an hour:
wrong
Account Management Skills: Interpersonal Skills, Communication, MS Office, MS Excel, SalesForce, Leadership, Problem Solving, Negotiation, Speed, Detail Oriented, HubSpot, Account Planning, Everything Under the Sun Skills...
Huh. That applicant has every skill since the invention of the wheel.
She should have focused on the ones shown in the account manager job description.
Then she should have proven them, like this:
right
Dazzled 6 client accounts in a high-volume IT business.
Worked with cross-functional teams to improve customer satisfaction 35% through better requirements gathering. Slashed client complaints by 28%.
Forged alliances with key vendors to pass 20% cost savings on to customers.
Leveraged Hubspot to automate repetitive CRM tasks, cutting wasted time 30%.
Wow, right? You can almost hear your Lifetime Value getting bigger.
Use the sample account manager resume skills list below to get your resume off and running.
List of Skills to Put on an Account Manager Resume
The account management skills below aren't comprehensive.
They all make great account manager resume keywords, but don't use them all at once.
Plus, seek more in job offers online.
Account Manager Resume Skills

| | |
| --- | --- |
| Soft Skills | Hard Skills |
| Interpersonal Skills | Salesforce |
| Relationship Building | HubSpot |
| Communication | MS Office |
| Collaboration | Account Planning |
| Problem Solving | Data Analytics |
| Negotiation | Social Media Skills |
| | Phone Skills |
| | Email Skills |
| Efficiency | Spreadsheets |
| Organization | Industry-Specific Skills |
Use the strategy above with your insurance or advertising account management resume. You'll look like Jerry MaGuire, back on the job hunt.
Pro Tip: How long should a resume be for an account manager? One page? Two? See our guide: How Long Should a Resume Be? Ideal Resume Length for 2023 (+Tips)
Want your account manager resume skills to wine and dine the hiring manager? See our guide: +30 Best Examples of What Skills to Put on a Resume (Proven Tips)
6
Add Other Sections for an Effective Accounting Manager Resume
All the hiring manager wants is experience and education, right?
Wrong.
A great account manager resume shows so much more.
It shows your passion.
It proves you're all the best parts of Spock and Ron Popeil, not to mention J.A.R.V.I.S.
How? By showing "other" achievements that stand out like a 99% margin.
See how that's done in the next two technical account management resume examples.
Account Manager Resume Examples [Other Sections]
Hey, more power to you, but do those interests make you a great account manager?
The ones in the next account manager resume example do:
right
Certifications
CSAM Account Manager Certification - SAMA
CCNA - Cisco
Additional Activities
Member, Strategic Account Manager Association.
Volunteer public relationship manager, Boone County Animal Shelter.
Take 6 hrs/year of continuing ed in technical topics.
President, Lutherville Kayaking Club.
Conferences
2017 SAMA Account Management Conference
2015 Hadoop Summit
Publications
2017 Article on Cloud Computing appeared in BizTechMagazine
2016 Article on Security appeared in Enterprise Irregulars
The hiring manager will knock down his bronze bust of Tommy Boy to get to your contact info.
But with a little digging, you can probably write a resume for an account manager like that.
Pro Tip: Do you need a certification on a resume? Senior applicants don't need them. Still, they look great on an entry-level account manager resume.
Do you have lots of volunteer experience? Are you bilingual? Sweeten the deal in your account management resume. Use this guide: Resume Sections to Include on Your Resume: Guide (+20 Examples)
7
How About a Cover Letter for an Account Manager?
Everybody "knows" you don't need a cover letter.
That's why you'll get the interview, while "everybody" is still waiting for the phone to ring.
Most account manager cover letters are too generic.
Make yours personal and passionate by:
Using the hiring manager's name
Showing you understand the need
Proving you can fill that need
That's all it takes to start a cover letter, and then sew it up.
This sample account manager cover letter shows how:
Account Manager Cover Letter Example
I'd love to work for a team that puts clients first like KQM. Your Customer Relationship Management Excellence Award win in 2017 was well-deserved.
I boosted key client retention 15% at Goldpanel Tech, and grew revenue by 32%. I firmly believe the interpersonal and problem solving skills that got me there would serve KQM's needs exceptionally well.
End your cover letter with a request. Try, "Could we discuss growing KQM's revenue by 25% in the coming year?"
Pro Tip: What's the most powerful way to keep your clients happy? Become an authority in your industry. That means classes, trade shows, networking, and publishing. As luck would have it, all look great on an account manager resume.
Plus, a great cover letter that matches your resume will give you an advantage over other candidates. You can write it in our cover letter builder here. Here's what it may look like: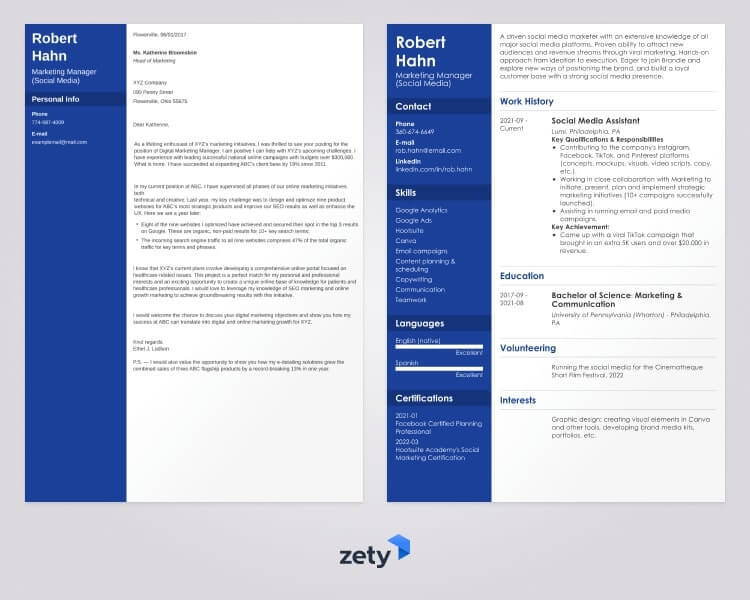 See more cover letter templates and start writing.
Need more specifics to write a great account manager cover letter for your resume? See our guide: How To Write A Cover Letter in 8 Simple Steps (+12 Examples)
8
Add Contact Info to Your Account Manager Resume
Adding contact info to an account manager resume is easy, isn't it?
Well, not so fast.
Everybody knows to list:
Full Name
Updated Phone Number
Professional Email Address
Like this:
Kate Philani, Account Manager, katephilani@gmail.com, 816-304-3318
But to land a fat key account manager salary, add your LinkedIn address too.
These days, no less than 87% of hiring managers hire from LinkedIn.
Plus, a LinkedIn profile adds a personal touch.
That's key in a field where "personal" is everything.
Pro Tip: Add plenty of account manager resume keywords to your LinkedIn profile. Learn how in our guide to optimizing LinkedIn profiles.
Get more great tips to build a crowd-pleasing resume for account management. See our guide: How to Make a Resume: A Step-by-Step Guide (+30 Examples)
Key Takeaway
Does making a great resume for an account manager seem tricky? Just remember:
The best account manager resumes focus on achievements. List relationships you've built and other metrics you've improved.
Link your account management resume to the job description like a key client to a direct phone line. Do that with accomplishments that match the account manager job description.
Use "other" sections to show you're more than just a sheet of paper. Fill them with certifications, publications, and association memberships.
Do you have questions on how to write a great resume for an account manager? Not sure how to describe your skills or achievements? Give us a shout in the comments! Let's start the conversation.
About Zety's Editorial Process
This article has been reviewed by our editorial team to make sure it follows Zety's editorial guidelines. We're committed to sharing our expertise and giving you trustworthy career advice tailored to your needs. High-quality content is what brings over 40 million readers to our site every year. But we don't stop there. Our team conducts original research to understand the job market better, and we pride ourselves on being quoted by top universities and prime media outlets from around the world.