EMT (Emergency Medical Technician) Cover Letter Examples
You can stop a gushing head wound or assess appendicitis, but how do you write an EMT cover letter that gets jobs? This guide will help you show your EMT skills are A&Ox3.
Oh no. An EMT cover letter? Your strengths are in the ambulance—not at a desk. But if you can't get those strengths across stat, hiring managers won't give your resume a fighting chance. So—make them want to read your resume with a cover letter for EMT jobs that passes the mirror test.
This guide will show you an EMT cover letter sample. Plus—the best tips on how to write a cover letter for emergency medical technician jobs step-by-step.
Want to write your cover letter fast? Use our cover letter builder. Choose from 20+ professional cover letter templates that match your resume. See actionable examples and get expert tips along the way.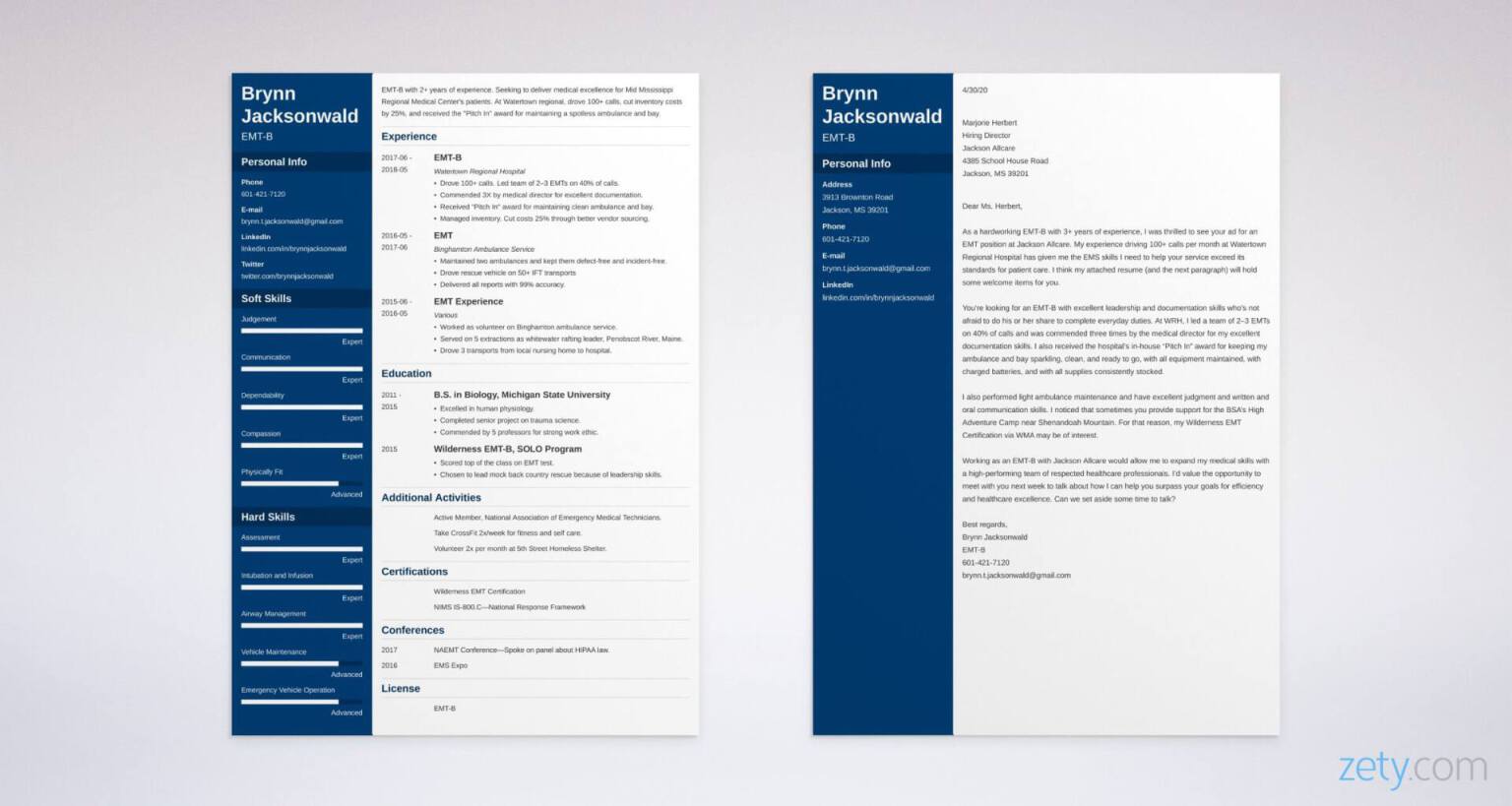 Sample cover letter for a resume—See more cover letter examples and create your cover letter here.
EMT Cover Letter Sample
Brynn Jacksonwald
EMT-B
3913 Brownton Road
Jackson, MS 39201
601-421-7120
brynn.t.jacksonwald@gmail.com
linkedin.com/in/brynnjacksonwald
4/30/20
Marjorie Herbert
Hiring Director
Jackson Allcare
4385 School House Road
Jackson, MS 39201
Dear Ms. Herbert,
As a hardworking EMT-B with 3+ years of experience, I was thrilled to see your ad for an EMT position at Jackson Allcare. My experience driving 100+ calls per month at Watertown Regional Hospital has given me the EMS skills I need to help your service exceed its standards for patient care. I think my attached resume (and the next paragraph) will hold some welcome items for you.
You're looking for an EMT-B with excellent leadership and documentation skills who's not afraid to do his or her share to complete everyday duties. At WRH, I led a team of 2–3 EMTs on 40% of calls and was commended three times by the medical director for my excellent documentation skills. I also received the hospital's in-house "Pitch In" award for keeping my ambulance and bay sparkling, clean, and ready to go, with all equipment maintained, with charged batteries, and with all supplies consistently stocked.
I also performed light ambulance maintenance and have excellent judgment and written and oral communication skills. I noticed that sometimes you provide support for the BSA's High Adventure Camp near Shenandoah Mountain. For that reason, my Wilderness EMT Certification via WMA may be of interest.
Working as an EMT-B with Jackson Allcare would allow me to expand my medical skills with a high-performing team of respected healthcare professionals. I'd value the opportunity to meet with you next week to talk about how I can help you surpass your goals for efficiency and healthcare excellence. Can we set aside some time to talk?
Best regards,
Brynn Jacksonwald
EMT-B
601-421-7120
brynn.t.jacksonwald@gmail.com
That's a Swiss Safe of a cover letter sample. But—is your resume on life support? See our guide: EMT Resume Sample
Seeking non-emergency medical jobs? See these guides:
EMT Cover Letter Template
Here's how to write a cover letter for an EMT job application:
1. Select the right EMT cover letter format and layout
Here are the best tips for your cover letter design:
Read more: Cover Letter Outline
2. Make a professional EMT cover letter header
List your contact info first.
Start with your name and job title.
Add your address, email, phone number, and LinkedIn.
Add the date next, with a blank line above it and below it.
End your cover letter header with the hiring manager's contact information.
Read more: Best Cover Letter Address Examples
3. Write an engaging first paragraph with a personal greeting
Don't use "To Whom It May Concern" in your cover letter, start with "Dear [Hiring Manager Name]," instead.
Very quickly list the job title you're interested in.
Provide the most impressive fact about your EMT work history.
Mention your resume.
Read more: How to Start a Cover Letter
4. Show EMT accomplishments in your second paragraph
Reiterate a few key EMS duties from their job ad.
List a few resume achievements that prove you're perfect.
Add percents or other numbers to show your skills are Mayo-Clinic-level.
Do you need a cover letter? See our guide: Are Cover Letters Necessary?
5. Explain why this EMT job matters to you
Give them a reason to believe you'll take this EMT role seriously.
You can mention their standards, reputation, or employee development program.
Can't think of anything? Find their mission & vision statement online.
There are 262,100 EMT jobs in the U.S., per the U.S. Bureau of Labor Statistics. But according to the NREMT, there are 366,525 EMTs! Your cover letter needs to be a lifesaver.
6. End your EMT cover letter with an offer
Show the hiring team you'd value the chance to speak with them.
Offer something they want—like a discussion about how you'll help.
Ask for a meeting.
Don't add your salary requirements to your cover letter. You'll have the opportunity to discuss it later in your interview.
Read more: Top Ways to End a Cover Letter
7. Add a professional signature to your letter
Finish with a cover letter closing salutation like, "Best regards,".
Include a digital version of your signature to stand out.
Repeat your name, job title, email address, and number.
Read more: Perfect Cover Letter Example for Any Job
When making a resume in our builder, drag & drop bullet points, skills, and auto-fill the boring stuff. Spell check? Check. Start building a professional resume template here for free.
When you're done, our online resume builder will score your resume and our resume checker will tell you exactly how to make it better.
Questions? Concerns? We're here for you. If you're still wondering how to write a Harvard-Health-worthy cover letter for EMT jobs, drop me a line in the comments.
About Zety's Editorial Process
This article has been reviewed by our editorial team to make sure it follows Zety's editorial guidelines. We're committed to sharing our expertise and giving you trustworthy career advice tailored to your needs. High-quality content is what brings over 40 million readers to our site every year. But we don't stop there. Our team conducts original research to understand the job market better, and we pride ourselves on being quoted by top universities and prime media outlets from around the world.
Sources