Registered Nurse (RN) Cover Letter Samples (20+ Examples)
Writing an RN cover letter seems easy. Until you get down to writing it. Don't worry. We'll show you how to nail yours whether you are an experienced or new grad registered nurse.
From the moment you pick up your assignment sheet to when you finish your handover report, you're 100% there for your patients. But when you read through your resume, nothing truly shows your potential.
That's what your RN cover letter is for! You can tell the hospital recruiter exactly why you're the only choice for this high-end, well-paying RN job with a few carefully examined sentences. Let's get started—I promise this won't hurt a bit.
This guide will show you an RN cover letter example, plus the best tips on how to write a registered nurse cover letter step-by-step.
Want to write your cover letter fast? Use our cover letter builder. Choose from 20+ professional cover letter templates that match your resume. See actionable examples and get expert tips along the way.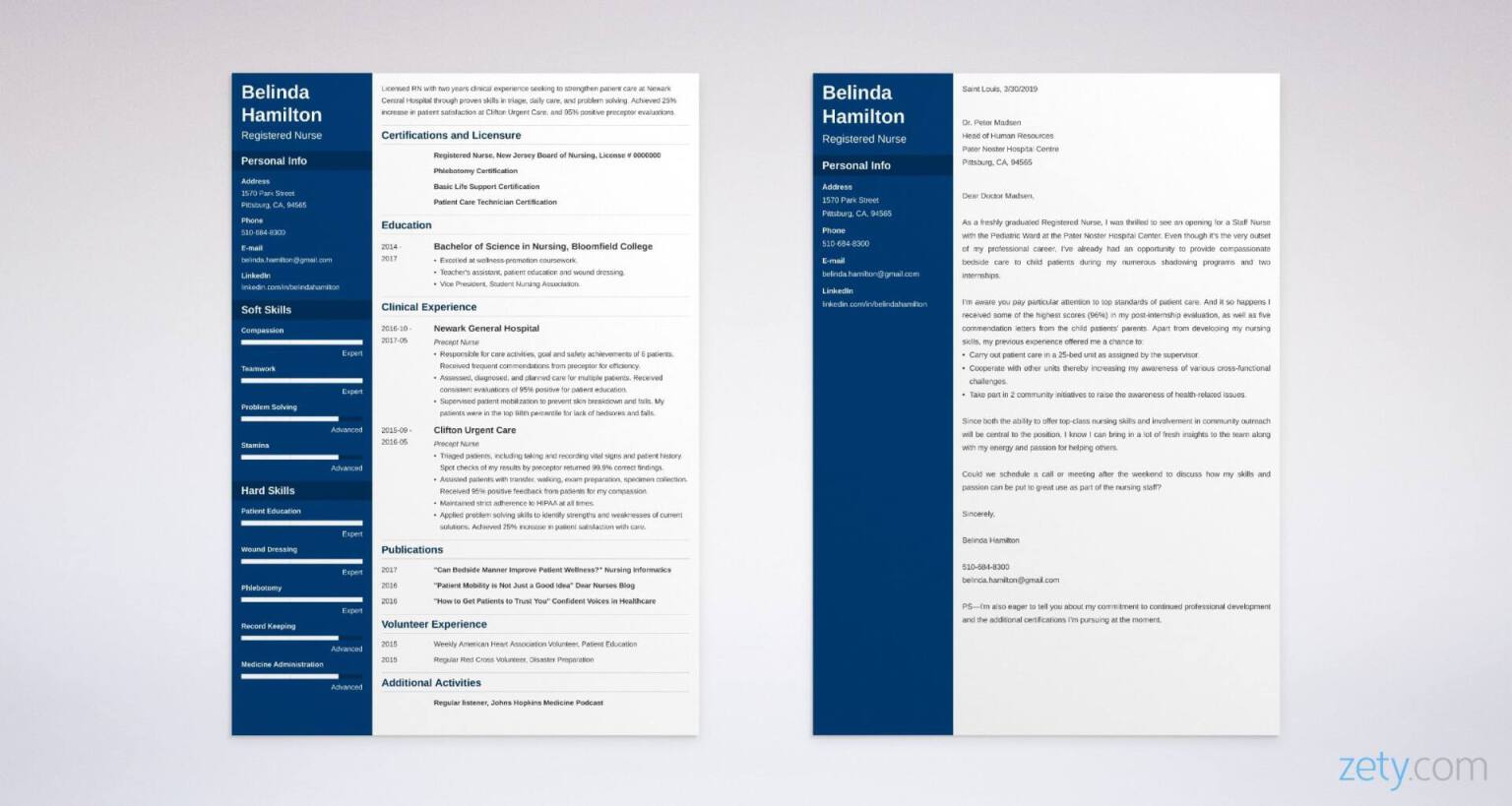 Sample cover letter for a resume—See more cover letter samples and create your cover letter here.
If you're fresh out of school, you may want to check out this: New Grad RN Cover Letter Writing Guide
And don't forget that your RN cover letter will only work if you pair it up with a great resume. So head straight to our guide: Nursing Resume Template & Guide [Examples of Experience & Skills]
Considering similar positions in the medical field? See other cover letter examples for jobs in your industry:
RN Cover Letter Template
Belinda Hamilton
Registered Nurse
1570 Park Street
Pittsburg, CA, 94565
510-684-8300
belinda.hamilton@gmail.com
linkedin.com/in/belindahamilton

Saint Louis, 3/30/2019

Dr. Peter Madsen
Head of Human Resources
Pater Noster Hospital Centre
Pittsburg, CA, 94565
Dear Doctor Madsen,
As a freshly graduated Registered Nurse, I was thrilled to see an opening for a Staff Nurse with the Pediatric Ward at the Pater Noster Hospital Center. Even though it's the very outset of my professional career, I've already had an opportunity to provide compassionate bedside care to child patients during my numerous shadowing programs and two internships.
I'm aware you pay particular attention to top standards of patient care. And it so happens I received some of the highest scores (96%) in my post-internship evaluation, as well as five commendation letters from the child patients' parents. Apart from developing my nursing skills, my previous experience offered me a chance to:
Carry out patient care in a 25-bed unit as assigned by the supervisor.
Cooperate with other units thereby increasing my awareness of various cross-functional challenges.
Take part in 2 community initiatives to raise the awareness of health-related issues.
Since both the ability to offer top-class nursing skills and involvement in community outreach will be central to the position, I know I can bring in a lot of fresh insights to the team along with my energy and passion for helping others.

Could we schedule a call or meeting after the weekend to discuss how my skills and passion can be put to great use as part of the nursing staff?
Sincerely,
Belinda Hamilton
510-684-8300
belinda.hamilton@gmail.com
PS—I'm also eager to tell you about my commitment to continued professional development and the additional certifications I'm pursuing at the moment.
Want to explore your options further? See our full selection of cover letter examples for every career:
Professional Cover Letter Examples
RN Cover Letter Template
Here's how to write a registered nurse cover letter:
1. Use the best registered nurse cover letter format
Set the margins to 1 inch on each side.
Use single line or 1.15 line spacing.
Make sure you choose readable font (11 to 12pt).
Learn more: How to Format a Cover Letter
2. Put relevant information in your RN cover letter header
Put your name and contact info in the top left corner.
Add your phone, email address, and your LinkedIn profile URL.
Put the city and date right below.
Add the addressee's contact information.
Pro Tip: If you don't know who the recipient is and you haven't been able to track them online, you can call the company's reception desk and find out.
Learn more: Who to Address a Cover Letter To
3. Craft a riveting opening paragraph
Use Dear + Hiring Manager's Name formula to start the letter.
State what position you're seeking.
Highlight some of your key achievements to catch the recruiter's eyes.
Learn more: How to Start a Cover Letter
4. Show you fit the position perfectly
Tailor your experienced or new grad registered nurse cover letter to the job description.
Add more of your achievements that address the needs of the company.
Do your best to quantify your achievements and show your real impact.
Provide a statement about why you are qualified for the position. List relevant experience and skills that are transferrable to the position, and include information about your past roles and how they have prepared you for this role. Review sample cover letters and resumes to ensure you've included all relevant information and positioned it well. Finally, see to it that your cover letter and resume are relevant to the role you are seeking by including words and phrases that match keyword searches—adjust terms and phrases accordingly.
5. Clarify why you want to join the company
Make sure your registered nurse cover letter says why you like the company.
Assure the hiring manager you're aware of the expectations and requirements.
Show them you're ready to join and know exactly what value you can bring.
Learn how to dose just the right amount of information. Learn How Long a Cover Letter Should Be
6. Offer your skills and call the reader to action
Suggest a specific yet flexible time-frame for a meeting.
Make an offer and specify how you will contribute to the team.
Learn more: The Best Cover Letter Closing
7. Write a strong RN cover letter conclusion
Sing off with using your full name.
Add your electronic signature right next to it.
Put your basic contact details once again.
This isn't where it ends. After sending your cover letter for RN positions wait about a week. If you don't get a reply, send a follow up message: How to Follow up on a Job Application.
When making a resume in our builder, drag & drop bullet points, skills, and auto-fill the boring stuff. Spell check? Check. Start building a professional resume template here for free.
When you're done, our easy resume builder will score your resume and our resume checker will tell you exactly how to make it better.
Do you have any more questions about writing a cover letter for RN positions? Maybe you've just written your new grad RN cover letter, and want to share some advice? Give us a shout out in the comments below. We're always happy to help!
About Zety's Editorial Process
This article has been reviewed by our editorial team to make sure it follows Zety's editorial guidelines. We're committed to sharing our expertise and giving you trustworthy career advice tailored to your needs. High-quality content is what brings over 40 million readers to our site every year. But we don't stop there. Our team conducts original research to understand the job market better, and we pride ourselves on being quoted by top universities and prime media outlets from around the world.
Sources