Registered / Clinical Dietitian Nutritionist Cover Letter
Healthy food improves your sleep, so why are you an insomniac? Oh. You can't get a job. This dietitian cover letter writing guide will help you get back on track.
Feeling like a spiralized zoodle from the number of job applications you sent out?
You almost started thinking you're immune to landing a job.
Worry no more.
Find healthy hacks to write a dietitian cover letter, letting you pursue the career of your dreams.
This guide will show you a nutritionist / dietitian cover letter example and the best tips on writing a cover letter for a dietitian step-by-step.
Want to write your cover letter fast? Use our cover letter builder. Choose from 20+ professional cover letter templates that match your resume. See actionable examples and get expert tips along the way.
Sample cover letter for a resume—See more cover letter templates and create your cover letter here.
Feel free to read other guides from the health & wellbeing industry:
Dietitian Cover Letter Example
Mary R. Gooden
Dietitian
320-202-1554
MaryRGooden@jourrapide.com
linkedin.com/in/maryrgooden
Thousand Oaks, 9/29/2021
Keith L. Hill
Registered Dietitian
Your Health Clinic
1357 Wolf Pen Road
San Jose, CA 95113
Dear Keith,
I've been practicing nutrition & dietetics for over 5 years and have helped more than 400 customers. Some of them are professional athletes who've started working with me 2 years ago. Today, thanks to the well-combined training and nutrition plan, they have a real chance of competing in national championships.
Cath Alexandre, with whom I've been practicing yoga at your fitness center, advised me to apply for the nutritionist position. She said you were looking for a person with experience in gathering dietary information, creating detailed nutritional plans, and managing a portfolio of clients. Here's my experience to date:
Collection of dietary information

—Gathered necessary information from clients, including their dietary restrictions, lifestyle, and health-related goals.

Designing meal plans

—Created detailed and personalized nutrition plans for over 400 clients.

Client relationship management

—Managed a nutritional portfolio of 15 professional athletes.
FitnessDial is known for the experienced and professional staff of personal trainers and nutritionists, and I'm sure I belong there with you.
Let's set up a call to discuss my qualifications and how my experience in sports nutrition will benefit FitnessDial.
With kind regards,
Mary Gooden
P.S.—I'd also love to tell you about my guest lecture at California State University on the topic of "Nutrition in sports."
That's a great dietician cover letter—
Remember to compliment yours with an equally healthy resume. See our guide here: Dietician Resume: Sample & Writing Guide
Dietitian Cover Letter Template
Use the below best tips on writing a registered dietitian cover letter:
1. Implement Layout-Plan to Your Dietitian Cover Letter
Nothing works better than probiotics for the overall gut health and balance.
Look what builds balance like fermented foods in a cover letter structure:
Read more: Cover Letter Formatting Tips
When making a resume in our builder, drag & drop bullet points, skills, and auto-fill the boring stuff. Spell check? Check. Start building a professional resume template here for free.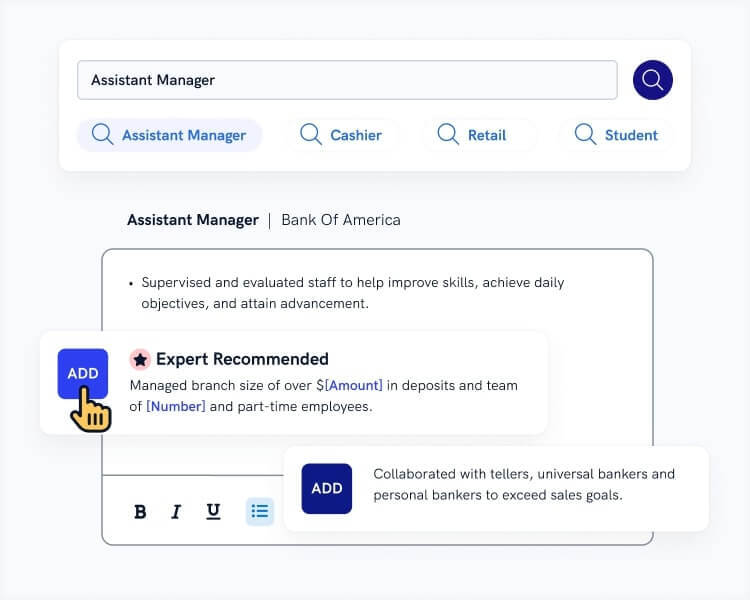 When you're done, our online resume builder will score your resume and our resume checker will tell you exactly how to make it better.
2. Adjust Detail Intake in the Cover Letter Header
IIFYM diet must be a nutritionist's nightmare—it doesn't matter what you eat as long as you stay within calculated macros.
Yeah, right.
What about micronutrients and energy values?
Find below essential sources of nourishment for a cover letter header to make sure it's well-balanced:
Add your contact information first in the top left corner: full name, phone number, email address, and a LinkedIn URL.
Check your online presence to make the social media handle work for you, not against you. Recruiters do take a look at social media profiles during the hiring process.
Write the city and date.
Lastly, put your hiring manager's name and job title, and company details, including name and address. If you can't find the name of your recruiter, call the place. It's important because it gives you points for personalization.
Read more: How And Who To Address The Cover Letter To?
3. Write a Success-High Cover Letter Opening
You'd definitely not recommend food high in refined sugars, but—
I mean…
Chocolate can really take your mood elsewhere.
Give your recruiter an endorphin rush in a candied cover letter opening, so they feel excited about the next parts:
Greet the addressee with a cover letter salutation using their name, as I did here: Dear Keith. Never choose "Dear Sir or Madam" or "To Whom It May Concern."
Open the first paragraph with a professional accomplishment that you're proud of.
You can also show off an award for professionals in the industry or the one you received for your exceptional results at work or school.
As a recent food and nutrition graduate, you can appeal to values you and the hiring manager share.
Read more: How To Start A Cover Letter?
4. Manage Experience Quantity in The Cover Letter Middle
To stay relevant in your job application, you need to refer to the qualities and qualifications your employer wants you to have. And—
Just like you shouldn't be afraid to consume more fat on a keto diet, go for as many keywords as you can target from the job ad. The more you use, the better.
See how to write the body part of your clinical dietitian cover letter:
The cover letter should give away your personality, so go deeper into what helped you succeed.
Don't copy everything from your resume. Elaborate on one of the achievements or awards and talk numbers. Quantifying attracts attention, and you need it to get an interview.
Speak only about the experience and skills your hiring manager mentioned as keywords in the job posting.
And don't lie in your job application. They'll know.
Read more: What To Include In A Cover Letter?
5. Recommend Yourself as a Wholesome Candidate
Some of your favorite delicacies have ingredients that you don't want to see on the label. That's why you call them your guilty pleasures.
What is it about the company that makes you pleased to work for them?
See how to write about motivation in your registered dietitian cover letter:
Say what made you interested in joining the company. Is it specializing in sports or perhaps eating disorders?
Express your excitement about the prospect of growing your knowledge under the company's wings.
Prove you've done your research by commenting on their recent events or press releases. Or—
That you have a solution to their problems.
Read more: How To Sell Yourself In A Cover Letter?
6. Arrange Further Consultations
So you explained how everything works, but you also need to verify the results.
"Meaning?"
Meaning, you schedule a check-up with the patient.
But in a cover letter, you ask for an interview.
Look below how to do it:
Ask about the time and date you can meet or have a phone call.
Add "this week" to put more pressure on the recruiter.
Write again about the goals you have for once you join the company.
Read more: What Your Cover Letter Should Say?
7. Close the Session in the Cover Letter Ending
Sign off with one of these formal sentiments:
Kind regards
Best regards
With best / kind regards
Thank you
Sincerely
Add your full name or a digital signature right under.
Oh! You can drop an energy-ball in a postscript if you have one more achievement up your sleeve.
If you've done your job right, your nutritionist cover letter should work like ACV, making your recruiter feel sated enough not to consume one more application.
Read more: How To End A Cover Letter?
Plus, a great cover letter that matches your resume will give you an advantage over other candidates. You can write it in our cover letter builder here. Here's what it may look like: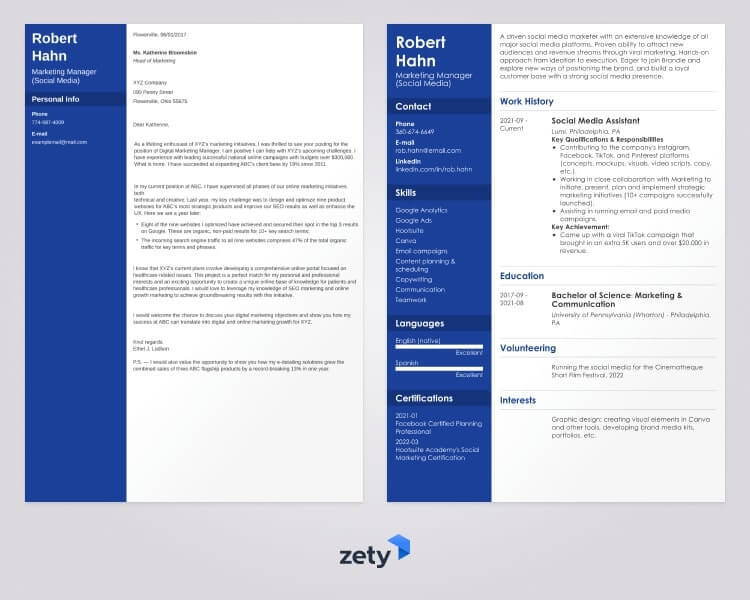 See more cover letter templates and start writing.
Thanks for reading!
What do you think of this clinical dietitian cover letter example? Are there any tips you think are missing? How do you feel about a call to action in entry-level dietitian cover letters?
Let us know in the comments below!
About Zety's Editorial Process
This article has been reviewed by our editorial team to make sure it follows Zety's editorial guidelines. We're committed to sharing our expertise and giving you trustworthy career advice tailored to your needs. High-quality content is what brings over 40 million readers to our site every year. But we don't stop there. Our team conducts original research to understand the job market better, and we pride ourselves on being quoted by top universities and prime media outlets from around the world.