Veterinarian / Veterinary Cover Letter: Example & Guide
All writing guides use high-pitched baby talk, and you don't have a clue what they're saying. You're not a pet. This veterinary cover letter guide uses a voice that speaks to you.
"Not only was it super hard to get a residency, now it's impossible to get a job!"
I hear ya.
What if I told you it doesn't have to be so hard?
You've just got your paws on a few-minute read that'll give you possibilities. So, for the love of pets, follow the veterinarian cover letter guide and get to enjoy a new job.
A good belly-up sleep guaranteed afterwards.
This guide will show you a sample cover letter for veterinary and the best tips on writing a cover letter for a veterinarian step-by-step.
Want to write your cover letter fast? Use our cover letter builder. Choose from 20+ professional cover letter templates that match your resume. See actionable examples and get expert tips along the way.
Veterinarian cover letter for a resume—See more cover letter templates and create your cover letter here.
Are you looking for another cover letter guide? Cool! See below:
Veterinary Cover Letter Example
Claude Chien
Veterinarian
804-2860-443
claudechienzety@gmail.com
Richmond, 03/04/2021
Heather Anderson
Department Head
Independence Animal Hospital
2749 White Pine Lane
Winchester, VA 22601
Dear Heather,
I truly cannot believe I've treated up to 64,000 animal patients in my 7-year veterinary career, which I wouldn't change for the world. I'd be honored to have the opportunity of continuing that path under your leadership at the Independence Animal Hospital.
My friend Susannah Gold—a senior vet in your department—says you're looking for a veterinarian able to work well under pressure, with a successful track record of surgical procedures, and who can lead a clinical team of veterinary residents. Let me prove to you how well I fit that description:
Stress resilience—treated ca. 30 patients a day as the only veterinarian on duty in the clinic.
Experienced in surgical procedures—Conducted both laboratory and surgical procedures, including dental extractions, spay/neuters, bone fracture repairment, and all kinds of vaccinations and diagnostics.
Leadership—Led a team of 3 veterinary assistants and 2 technicians, maintaining the highest quality of care and service.
What I find most rewarding in the veterinary field are the messages from the owners with pictures of their recovering pets. That's how you know you've built a trustful relationship, plus the gratitude and love on the pets' faces are almost blinding.
I'm confident you'll find my experience in companion animal emergency and critical care beneficial to the department, so let's schedule a meeting this week to discuss my skills further.
With kind regards,
Claude Chien
Veterinary Cover Letter Template
Use the below best tips on writing a veterinarian cover letter:
1. Create a Safe Format In Your Veterinary Cover Letter
Recruiters assess your cover letter's TPR once it arrives in their hands. So don't forget to nourish your cover letter formatting to keep its vitals in check. Here's how:
Read more: How To Make A Cover Letter Right?
When making a resume in our builder, drag & drop bullet points, skills, and auto-fill the boring stuff. Spell check? Check. Start building a professional resume template here for free.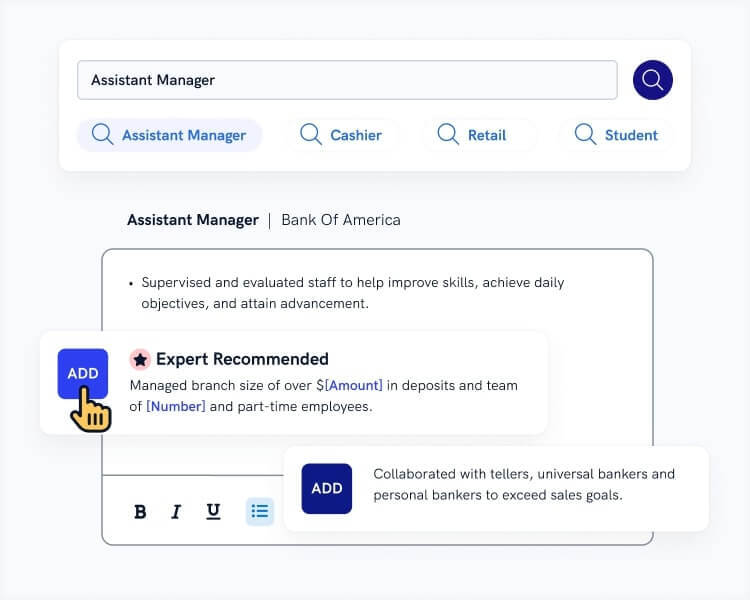 When you're done, our free resume builder will score your resume and our resume checker will tell you exactly how to make it better.
2. Help the Recruiter Find You With Your Personal Info
Design a cover letter header as if you were making a name tag for your furry friend. Both your details and those of your recruiter should be there.
Read more: How To Design A Cover Letter Header?
3. Start the Cover Letter for a Veterinarian With a Hook
Use the cover letter opening as a catnip to draw the reader in. How else are they supposed to find out about your achievements and skills later on?
Here's a list of attractive opening strategies for you:
Read more: Cover Letter Opening Ideas
4. Roar About Your Achievements and Skills
Cover letter central paragraphs should describe your cat's-nose-pad experience and skills.
Say what?
Yeah. Cats' nose pads are unique like fingerprints, so use that uniqueness to set you apart from other candidates.
Have a look at the job description.
Mark the keywords, highlighting the experience and skills your employer wants you to have. That way, it'll be easier for you to tailor your application to the job ad.
Drop the flakes of keywords at the surface, mid, and bottom ranges of your cover letter. You must show how well you fit the perfect candidate image with every line of your application.
Don't write about everything you'll disclose on your resume. Get into the details of one or two achievements to describe your approach to challenges and show your personality.
If you're writing an internship cover letter and don't have much experience, refer to activities you've done in the past and are relevant to the tasks you'll be doing during the internship. Those can be customer service, relevant coursework at a university or college, or volunteering at a shelter.
Read more: Say All Those Things With Your Cover Letter
5. Prove Your Motivation for the Veterinary Profession
It's time to shift focus from the employer needs to yours—
There are so many places out there you can work for, but you chose that particular one. Let your employer know they're your bright-alert-responsive choice.
This can't be a generic part of your cover letter. Your employer won't believe you that they're your only choice. Instead—
Say how relatable their mission statement and values are.
Explain what exactly keeps you running.
Tell how you'll come in beneficial in the upcoming program and why you find it exciting.
Reinforce your confidence by asking directly for an interview.
Read more: Everything You Need To Include In Your Cover Letter
6. Close the Veterinary Cover Letter
You're almost done.
Make sure you sign the letter with one of the below sentiments:
Sincerely
Thank you
With best / kind regards
Best / Kind regards
Respectfully yours.
Write your full name right under.
*scanning noises in the background*
No Abnormal Findings.
So, that's it!
Read more: How To Close A Cover Letter?
Plus, a great cover letter that matches your resume will give you an advantage over other candidates. You can write it in our cover letter builder here. Here's what it may look like: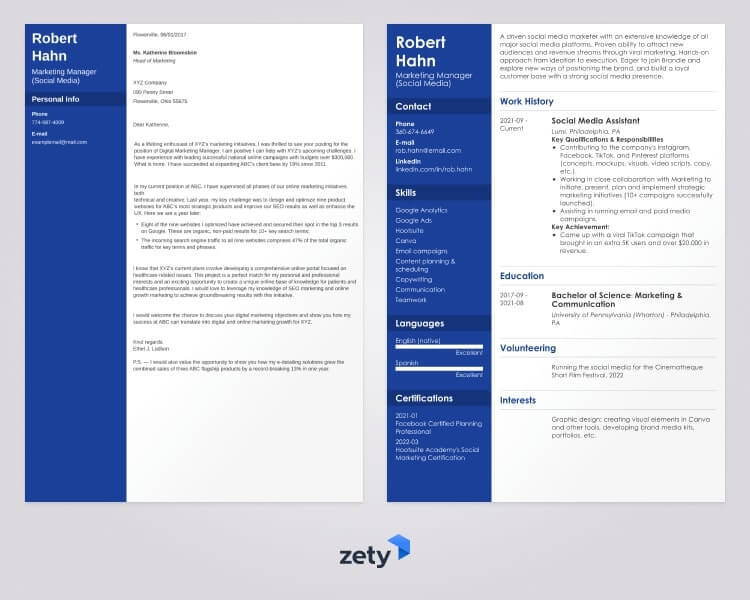 See more cover letter templates and start writing.
Thanks for reading!
What do you think of that cover letter for a veterinarian? Are there any tips you think are missing in our cover letter examples for veterinary jobs? Perhaps you would like to read more about a veterinary internship cover letter?
Let us know in the comments below!
About Zety's Editorial Process
This article has been reviewed by our editorial team to make sure it follows Zety's editorial guidelines. We're committed to sharing our expertise and giving you trustworthy career advice tailored to your needs. High-quality content is what brings over 40 million readers to our site every year. But we don't stop there. Our team conducts original research to understand the job market better, and we pride ourselves on being quoted by top universities and prime media outlets from around the world.