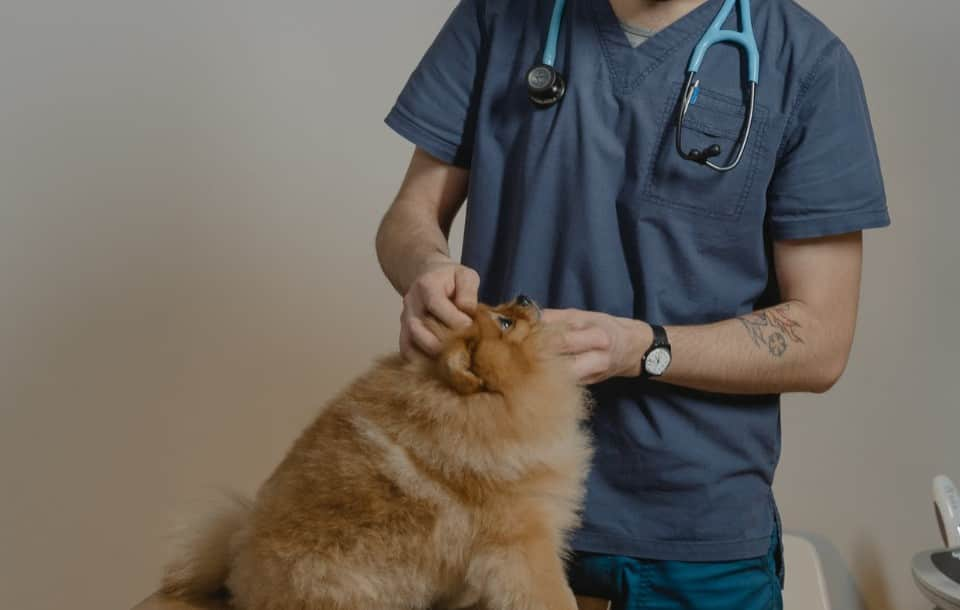 Veterinary Assistant Cover Letter Sample & Guidelines
Are you stuck on a wild goose chase? No more. Put your love of animals to work with these veterinary assistant cover letter writing tips.
When you were little, you couldn't hide your excitement when you saw a dog, and you felt heartbroken when the owner wouldn't let you pet them.
Now, you're striving to advance in your vet assistant career. We're here to help write your veterinary assistant cover letter.
This guide will show you a vet assistant cover letter example and the best tips on writing a cover letter for a veterinary assistant step-by-step.
Want to write your cover letter fast? Use our cover letter builder. Choose from 20+ professional cover letter templates that match your resume. See actionable examples and get expert tips along the way.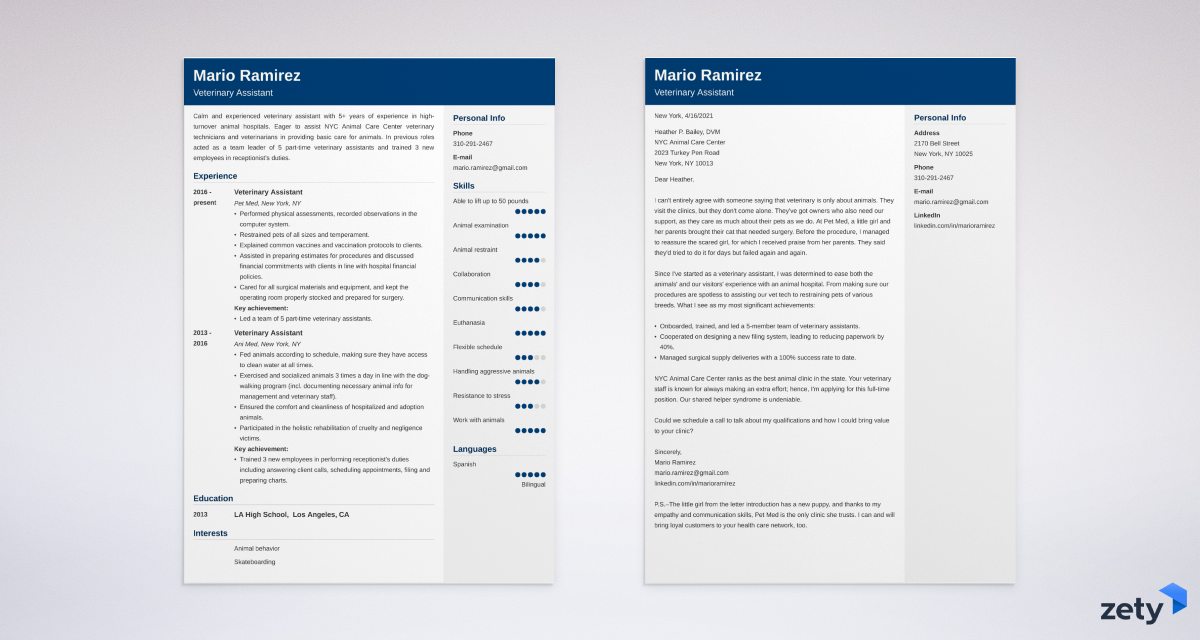 Sample Cover Letter for a Resume—See more cover letter templates and create your cover letter here.
See our other assistant jobs writing guides here:
Sample Cover Letter for a Veterinary Assistant
Mario Ramirez
Veterinary Assistant
2170 Bell Street
New York, NY 10025
mario.ramirez@gmail.com
310-291-2467
linkedin.com/in/marioramirez
New York, 4/16/2021
Heather P. Bailey, DVM
NYC Animal Care Center
2023 Turkey Pen Road
New York, NY 10013
Dear Heather,
I can't entirely agree with someone saying that veterinary is only about animals. They visit the clinics, but they don't come alone. They've got owners who also need our support, as they care as much about their pets as we do. At Pet Med, a little girl and her parents brought their cat that needed surgery. Before the procedure, I managed to reassure the scared girl, for which I received praise from her parents. They said they'd tried to do it for days but failed again and again.
Since I've started as a veterinary assistant, I was determined to ease both the animals' and our visitors' experience with an animal hospital. From making sure our procedures are spotless to assisting our vet tech to restraining pets of various breeds. What I see as my most significant achievements:
Onboarded, trained, and led a 5-member team of veterinary assistants.
Cooperated on designing a new filing system, leading to reducing paperwork by 40%.
Managed surgical supply deliveries with a 100% success rate to date.
NYC Animal Care Center ranks as the best animal clinic in the state. Your veterinary staff is known for always making an extra effort; hence, I'm applying for this full-time position. Our shared helper syndrome is undeniable.
Could we schedule a call to talk about my qualifications and how I could bring value to your clinic?
Sincerely,
Mario Ramirez
mario.ramirez@gmail.com
linkedin.com/in/marioramirez
P.S.–The little girl from the letter introduction has a new puppy, and thanks to my empathy and communication skills, Pet Med is the only clinic she trusts. I can and will bring loyal customers to your health care network, too.
Now you know that Mario wouldn't hurt a fly and will hear his phone buzzing with the recruiter on the line. Yes, it's a rhyme.
So, even if you're a busy bee, this cover letter for a vet assistant guide will help you make some qu(a)ck tweaks to your cover letter writing.
Remember lots of good things come in pairs—your cover letter won't make much of a scene without a killer resume to back it up, like the one here: Vet Assistant Resume Example
Vet Assistant Cover Letter Template
Find here the best tips on how to write a cover letter for a veterinary assistant.
1. Build Your Veterinarian Assistant Cover Letter on a Good Foundation
Organization skills are at the core of your job description. Use them to arrange a veterinary assistant cover letter format and give it a groomed look.
Use your full name, job title, and hyphens or underscores to title the cover letter file.
Find a professional cover letter design that suits you and matches your resume design.
Type in using the best font for a cover letter, namely Times New Roman, Calibri, or Verdana, and make it 12pt.
Set your cover letter line spacing to 1.15 and margins to 1".
Bolding is fine, but don't cross a line. Less is more.
Structure your cover letter. There's a method in a successful cover letter outline. Grab the attention with your intro, clench it, hold it with your achievements, and crush it with a call to action.
Read more: Modern Cover Letter Templates
When making a resume in our builder, drag & drop bullet points, skills, and auto-fill the boring stuff. Spell check? Check. Start building a professional resume template here for free.
When you're done, our free resume builder will score your resume and our resume checker will tell you exactly how to make it better.
2. Introduce Yourself and Address Your Hiring Manager With a Header
Make sure your potential future employer knows who they're about to take on. Step out of your comfort zone and be proud of your name. Stop meowing. Start roaring.
Include your full name and current contact details. We don't wish you to have a job offer delivered to your doorstep by US mail, but to be prepared is half the victory.
Optionally, add your current job title.
Mention the place and date you're working on your veterinarian assistant cover letter, and space it out.
Prove your research skills and put your cover letter addressee's details in, such as full name, job title, and address information.
Show some good manners and salute the hiring manager in your cover letter. Forget about To Whom It May Concern and think twice before writing Dear Hiring Manager.
Read more: Cover Letter Header Examples
3. Make a Statement in the Opening of Your Veterinary Assistant Cover Letter
A veterinarian's day at work may be chaotic, so don't poke the bear with irrelevant details, mental shortcuts, or half-baked ideas in the cover letter. Go straight to the point. Don't waste the precious space of your one-page-long cover letter.
Think about your strategy. Decide whether you kick off with an accomplishment, showing your appreciation towards the veterinary clinic, or referring to their current state. There's no other good way to start a cover letter.
Make a sprint and trap the reader in with the accomplishment statements.
Launch an attack by mentioning which position you're applying for and using relevant keywords from the job application.
Read more: Does Your Cover Letter Say It All?
4. Prove Your Worth With Your Experience
Your favorite daytime activity used to be laying on the couch and listening to Sir David Attenborough's soothing voice guiding you through his nature documentaries. Well, too much relaxation won't get your vet assistant career to another level. Don't worry, though. You've got the skills to boast about.
Read the job description carefully and understand what qualities your hiring manager requires.
Refer to them by showing how you handled situations, using the mentioned skills or what experience you have in the related fields.
Numbers are a man's best friend. They'll add even more value to your key accomplishments at work.
Highlight your self-development path, such as completing an associate degree program in veterinary or other.
Read more: Killer Cover Letter Examples
5. Go Big or Stay Home–Show Your Motivation in Your Veterinarian Assistant Cover Letter
All-in. That's how you should play this high-stakes game. Deciding whether you're willing (and able) to tackle the challenges coming your way is the lion's share of the process.
Looking for some inspiration in the search results? Don't lie. Period.
Avoid generic statements in your cover letter. Your hiring team will think they're one of many.
Communicate sharing or familiarity with the company mission, vision, or values.
Express your enthusiasm towards joining and growing with the company.
Reinforce why you're the perfect fit.
Read more: What Goes Where In A Cover Letter?
6. Call to Action and Sign off With the Ending Paragraph of Your Cover Letter
Make the first move and ask for scheduling a call or a meeting to discuss your application.
Sign your vet assistant cover letter with your full name.
Add your contact information—e-mail and LinkedIn link will do—right below your signature.
Impress with one more achievement in the optional postscript.
If you attached any additional documents, mention them in the enclosure of your cover letter.
Read more: Ways To End A Cover Letter
Plus, a great cover letter that matches your resume will give you an advantage over other candidates. You can write it in our cover letter builder here. Here's what it may look like: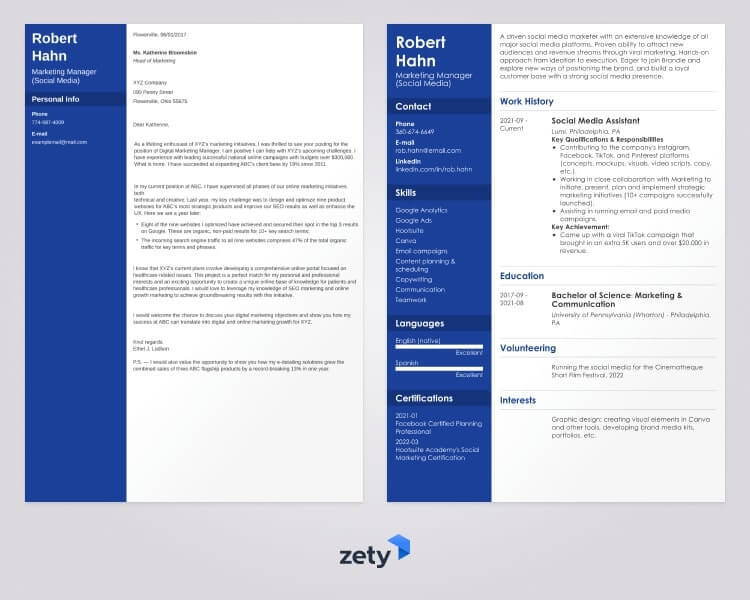 See more cover letter templates and start writing.
There are different types of organized people. Yet, you do have one thing in common. And that's checklists. Double-check your cover letter content and tick the boxes to stay worry-free.
Thank you for reading!
What do you think of this sample veterinary assistant cover letter? Are there any tips you think are worth adding?
Let us know in the comments!
About Zety's Editorial Process
This article has been reviewed by our editorial team to make sure it follows Zety's editorial guidelines. We're committed to sharing our expertise and giving you trustworthy career advice tailored to your needs. High-quality content is what brings over 40 million readers to our site every year. But we don't stop there. Our team conducts original research to understand the job market better, and we pride ourselves on being quoted by top universities and prime media outlets from around the world.
Sources