Veterinary Assistant Resume Example + Vet Assistant Duties
The first step to getting a vet assistant job is writing a resume that will pass the strictest vetting procedures. F(er)ret not. We're here to assist you.
Being a veterinary assistant sounds like a dream job if you love animals. After all, you get to hang out with pets and take internet-worthy selfies with kittens in your pockets!
But to land a job like this, you'll need to present a veterinary assistant resume that really is the cat's whiskers.
This guide will show you:
A veterinary assistant resume example better than 9 out of 10 other resumes.
How to write a veterinary assistant resume that will land you more interviews.
Tips and examples of how to put skills and achievements on a veterinary assistant resume.
How to describe your experience on a resume for a veterinary assistant to get any job you want.
Want to save time and have your resume ready in 5 minutes? Try our resume builder. It's fast and easy to use. Plus, you'll get ready-made content to add with one click. See 20+ resume templates and create your resume here.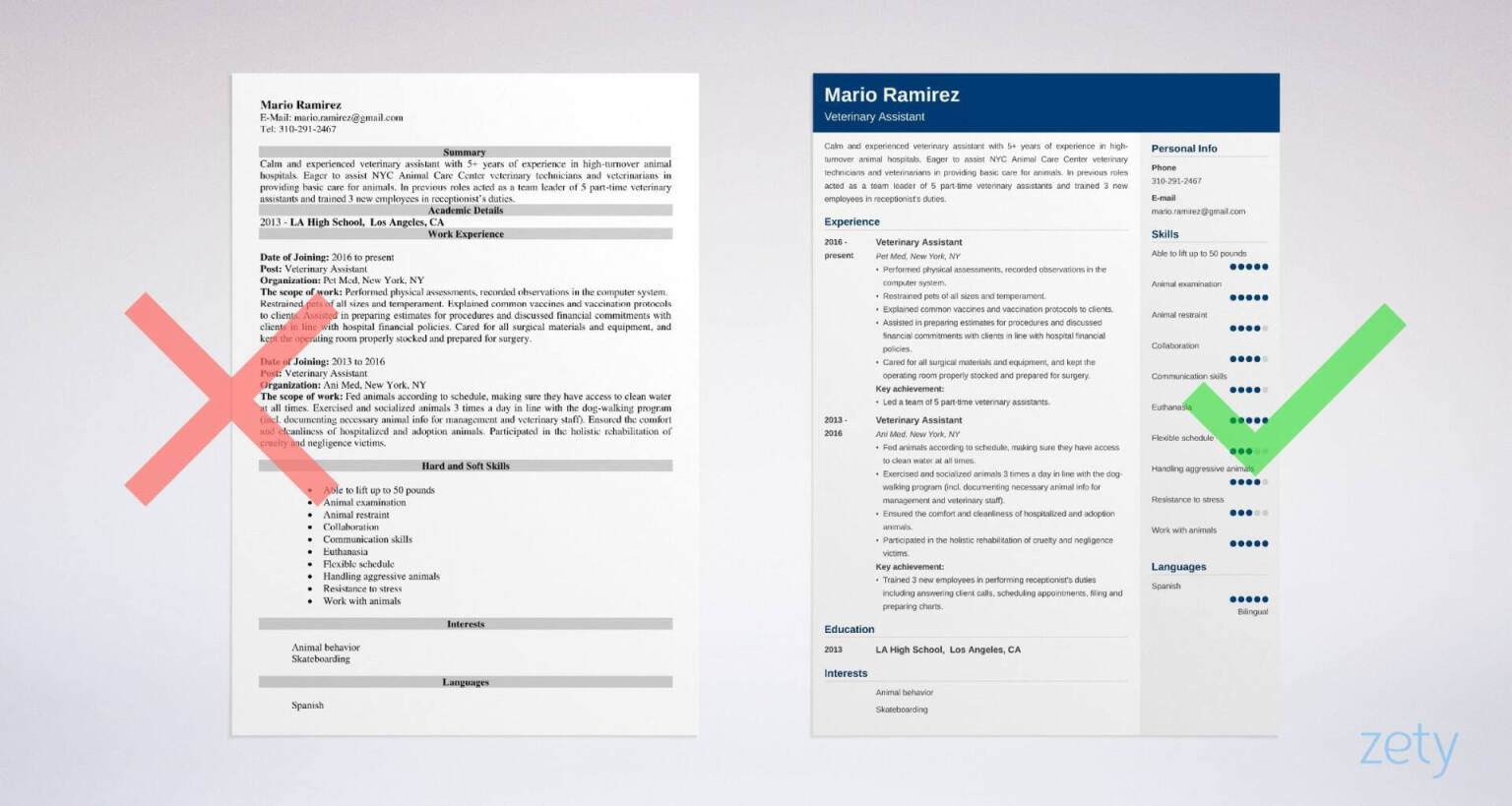 Sample resume made with our builder—See more resume samples here.
Looking for other resume writing advice? Check out:
Vet Assistant Resume Sample
Mario Ramirez
mario.ramirez@gmail.com
310-291-2467
Objective
Calm and experienced veterinary assistant with 5+ years of experience in high-turnover animal hospitals. Eager to assist NYC Animal Care Center veterinary technicians and veterinarians in providing basic care for animals. In previous roles acted as a team leader of 5 part-time veterinary assistants and trained 3 new employees in receptionist's duties.
Work Experience
Veterinary Assistant
Pet Med, New York, NY
2016–
Performed physical assessments, recorded observations in the computer system.
Restrained pets of all sizes and temperament.
Explained common vaccines and vaccination protocols to clients.
Assisted in preparing estimates for procedures and discussed financial commitments with clients in line with hospital financial policies.
Cared for all surgical materials and equipment, and kept the operating room properly stocked and prepared for surgery.
Key achievement:
Led a team of 5 part-time veterinary assistants.
Veterinary Assistant
Ani Med, New York, NY
2013–2016
Fed animals according to schedule, making sure they have access to clean water at all times.
Exercised and socialized animals 3 times a day in line with the dog-walking program (incl. documenting necessary animal info for management and veterinary staff).
Ensured the comfort and cleanliness of hospitalized and adoption animals.
Participated in the holistic rehabilitation of cruelty and negligence victims.
Key achievement:
Trained 3 new employees in performing receptionist's duties including answering client calls, scheduling appointments, filing and preparing charts.
Education
LA High School
Los Angeles, CA
Graduated in 2013
Key Skills
Able to lift up to 50 pounds
Animal examination
Animal restraint
Collaboration
Communication skills
Euthanasia
Flexible schedule
Handling aggressive animals
Resistance to stress
Work with animals
Languages
Interests
Animal behavior
Skateboarding
Here's how to write a veterinary assistant resume that will resolve every recruiter's pet peeves:
1. Choose the Best Format for Your Veterinary Assistant Resume
You can learn a lot about your furry patient's temperament with a single glance.
Likewise, a recruiter can infer quite a lot about you by quickly scanning your resume.
Here's how to turn your veterinary assistant resume into a jaw-dropper:
2. Write a Vet Assistant Resume Objective or Summary
Your veterinary assistant should start with a professional resume profile.
What's this?
Let's say it's an elevator pitch that's supposed to introduce you to the recruiter, and show them your best professional side.
The resume profile can have either of the two forms:
A resume summary statement—a great option for experienced candidates. A resume summary focuses on your experience and achievements.
A career objective statement is suitable for a veterinary assistant resume with no experience. The focus of a resume objective is on your skills.
To maximize your resume profile's impact, try to include numbers that demonstrate your efficiency and effectiveness.
Pro Tip: You don't have to start writing your resume with this section. In fact, it's much easier to leave writing it for the very end. This way it will be much easier for you to choose the best parts.
3. Create the Perfect Veterinary Assistant Job Description for a Resume

Listen:
You must learn how to add experience in your resume so that it clearly shows you're the one who knows how to get the job done.
Start by tailoring your resume to the job offer:
Put your latest position first. Let the previous jobs follow in a reverse-chronological order.
Make sure each entry mentions your job title, company name, company location, as well as dates worked.
Don't describe your experience in paragraphs. Bullet points are easier to navigate.
Write up to 6 bullets in each entry, and make sure your bullets contain resume words, such as performed, restrained, led, fed etc.
Focus on your relevant experience. Do not list everything you've ever done.
Pro Tip: Not sure you've got everything right? Keep calm and read our guide on resume do's and don'ts.
4. Make Your Veterinary Assistant Resume Education Section Roar
The job offers for veterinary assistants tell you exactly what level of education is expected of you.
See to it that your resume education section delivers.
If you have more than 5 years of experience list your degree, school name, school location, and graduation year. Done.
Less experience? Consider adding info on your extracurricular activities, academic awards and achievements, as well as relevant coursework.
If you happen to have any job-related certifications and licenses put them all in a separate section on your resume.
Pro Tip: If you graduated less than three years ago, you might also want to add your GPA score if it's above 3.5.
5. Highlight Your Veterinary Assistant Skills
Your skills are just as important as your experience.
The list below may be helpful in identifying what you're great at.
Veterinary Assistant Resume Skills—Examples
Able to lift up to 50 pounds
Adaptability
Animal examination
Animal restraint
Computer skills
Euthanasia
Flexible schedule
Handling aggressive animals
MS Office
Resistance to stress
Typing skills
Work with animals
Here's how to cherry pick the best skills for your veterinary assistant resume:
Make a long list of all your resume skills. Think of all your soft skills, hard skills, and technical skills.
Reread the job add to see what skills the employer has mentioned specifically.
Go back to your own list and find these skills there.
Pick out up to 10 of your strongest skills and put them on your resume under a key skills heading.
Sprinkle your skills throughout your entire resume. Put some of them in your resume profile and the job description section.
Pro Tip: Make sure your vet assistant resume focuses on your strongest skills exclusively. Leave out the skills you only have a basic knowledge of to avoid the presenter's paradox.
When making a resume in our builder, drag & drop bullet points, skills, and auto-fill the boring stuff. Spell check? Check. Start building a professional resume template here for free.
When you're done, our free resume builder will score your resume and our resume checker will tell you exactly how to make it better.
6. Add Other Sections to Your Veterinary Assistant Resume
Show the recruiter you're unique.
Think about adding additional sections to your veterinary assistant resume:
7. Attach a Veterinary Assistant Resume Cover Letter
50% of the candidates think they don't but 50% of the recruiters expect to read yours.
So you can easily beat the lazy candidates and please the recruiters by writing a cover letter.
Here's how to write your cover letter quickly and painlessly:
Make sure the length of your cover letter is just fine.
Pro Tip: It's always a good idea to send a job application status email to show you're serious about getting the job.
Plus, a great cover letter that matches your resume will give you an advantage over other candidates. You can write it in our cover letter builder here. Here's what it may look like: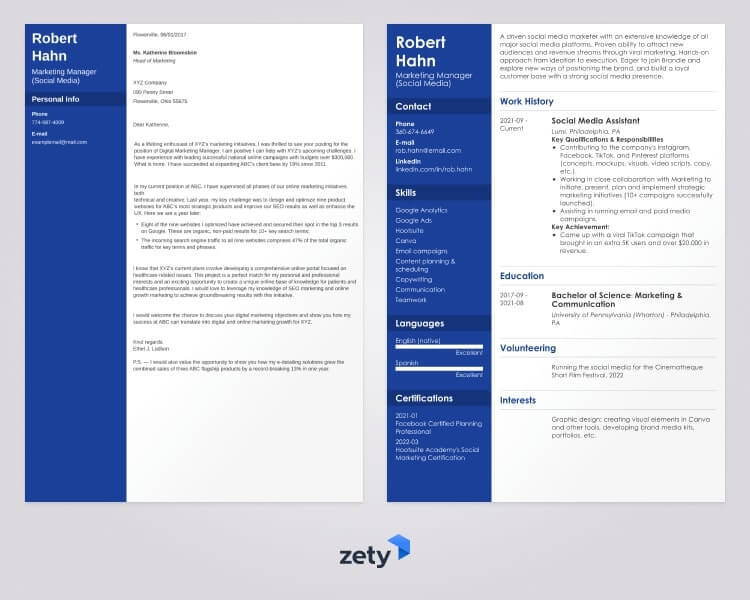 See more cover letter templates and start writing.
This is it!
This is how you make a job-winning resume for veterinary assistant positions.


Are you writing a veterinary assistant resume for the first time? Or perhaps you're a seasoned pro eager to help the rookies out? We'd love to hear from you, leave your comment below!
About Zety's Editorial Process
This article has been reviewed by our editorial team to make sure it follows Zety's editorial guidelines. We're committed to sharing our expertise and giving you trustworthy career advice tailored to your needs. High-quality content is what brings over 40 million readers to our site every year. But we don't stop there. Our team conducts original research to understand the job market better, and we pride ourselves on being quoted by top universities and prime media outlets from around the world.
Sources