Veterinary Technician Resume: Samples for a Vet Tech in 2022
You love all the fuzzy creatures and you'd do everything to help them. The problem is your vet tech resume should be anything but fuzzy. Learn how to crush it in the resume world.
Vet Tech Resume Sample
Linda Ebersole
linda.ebersole@gmail.com
706-329-3312
Objective
Caring and compassionate veterinary technician with 6+ years of experience in an extremely fast-paced and busy veterinary clinic. Eager to support NY Pet Hospital in its mission to improve the quality of life for patients. In previous roles assisted in over 500 spay and neuter surgeries, mastered multiple medical and behavior techniques, and redesigned exam room to boost work efficiency.
Work Experience
Veterinary Technician
P.E.T. Animal Hospital, New York, NY
2016–
Triaged, admitted, and treated patients under a veterinary doctor's supervision.
Perform physical examinations of various medium-sized to large patients.
Placed IV catheters, assisted with surgical procedures and sterilized instruments.
Monitored and provided treatments to current in-patients (incl. calculating drug doses, collecting blood and urine samples, and running in-house laboratory tests).
Maintained a positive and collaborative attitude under stressful situations.
Key achievement:
Redesigned the examination room to improve client and patient care.
Assisted in 500+ spay and neuter surgeries.
Veterinary Technician Assistant
Aardvark Pet Center, New York, NY
2013–2016
Ensured the necessary documentation and kept it up-to-date so that procedures met requirements set by federal and state agencies.
Received and checked in materials, as well as placed them into stock in accordance with established procedures.
Assisted with surgical prep, anesthesia administration, monitoring, and the monitoring of the post-surgical recovery period.
Performed routine diagnostic tests as required (e.g. parasitology, serology), labeled test samples to ensure correct identification.
Conducted daily rounds to observe and document the condition of animals.
Key achievements:
Excelled at handling large dogs and feral or semi-feral cats, dealt with 20+ of such.
Learned a large variety of medical and behavior techniques.
Education
BSc, Veterinary Technology
Hudson Valley Community College, Troy, NY
2013
Key Skills
Able to lift 50+ lbs
Customer service
Emergency Department
Interpersonal skills
Leadership skills
Organizational skills
Pre- and post-op care
Punctuality
Teamwork and collaboration
Written and verbal communication skills
Certifications
New York State Veterinary Technician License
AALAS certification—LATg Level
Languages
Interests
Want to save time and have your resume ready in 5 minutes? Try our resume builder. It's fast and easy to use. Plus, you'll get ready-made content to add with one click. See 20+ resume templates and create your resume here.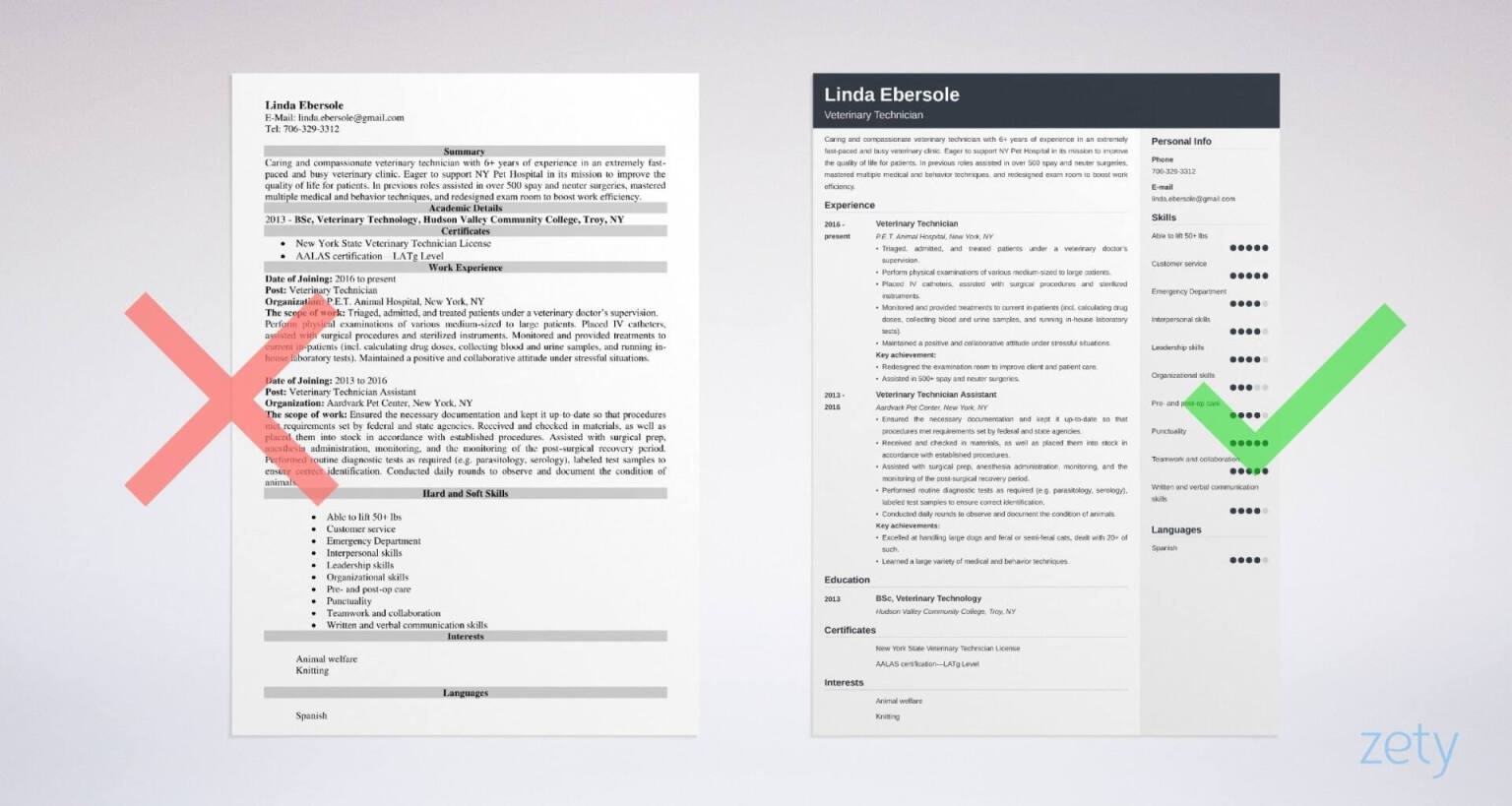 Sample Veterinary Technician Resume—See more resume templates here.
Looking for other resume writing guides? Check out:
Here's how to write a veterinary technician resume that shows you're a pro through and through.
1. Choose the Best Format for Your Vet Tech Resume
Veterinary technicians help veterinary doctors with such procedures as physical examinations, cleaning wounds, collecting blood and urine samples, administering medications, preparing animals for surgery, or updating documentation.
A seasoned recruiter will assess the condition of your resume with a single glance.
Make sure your veterinary technician resume is in perfect shape:
2. Write a Vet Tech Resume Objective or Summary
If you want to attract the recruiter's attention right away—
Learn how to write a resume profile that stands out.
Your professional profile is a kind of self-introduction in the style of an elevator pitch.
It can take either of the two forms:
A career summary is an option for candidates with at least 2 years of professional experience. A summary highlights professional experience and achievements.
A career objective is a good choice for a vet tech resume with no experience. It focuses on your skills and explains how they turn you into a perfect match.
It's a good idea to always include numbers in your resume profile, regardless of its form.
Numbers give a glimpse into your real-life impact.
Pro Tip: You can write this section at the very end. This way it will be much easier for you to pick out the things you want to put emphasis on, and show your best professional side.
3. Create the Perfect Veterinary Technician Job Description for a Resume

To get the job you want, you must know how to describe your work experience on a resume in a meaningful way.
In other words—
Show you'll get the job done better than anybody else.
How to do this?
Learn how to tailor a resume to a specific job:
List your most recent position first. The previous ones should follow the reverse-chronological order.
Don't forget to include your job title, dates worked, company name, and location in each job entry.
Avoid long paragraphs. Bullet points work much better. In each entry try to stay below 7 bullets.
Use powerful resume words in your resume bullets, such as triaged, monitored, performed, assisted etc.
Focus on your relevant experience. Don't list all your vet tech duties on a resume.
Pro Tip: To make sure your veterinary technician resume experience section is spick and span, give a read to our guide on resume dos and don'ts.
4. Make Your Vet Tech Resume Education Section Great
Yes, your resume education section counts—
If you make it count.
Here's how to get things in order:
If you have 5+ years of experience, list your degree, school name, school location, and the graduation year.
If you have less experience, your education section will benefit from adding info on extracurricular activities, academic honors and achievements, as well as relevant coursework.
Your professional certifications and licenses can go straight to a separate section on your vet tech resume so they're all well visible.
Pro Tip: Consider adding your GPA if it's higher than 3.5, especially if you've just graduated or you're preparing a vet tech student resume.
5. Highlight Your Veterinary Technician Skills on a Resume
Your vet tech resume skills are crucial.
Use the list below to identify yours:
Veterinary Technician Resume—Skills
Able to lift 50+ lbs
Able to push and pull 100+ lbs carts
Controlled drug inventory and log maintenance
Customer service
Emergency Department
Euthanasia
Heartworm, leukemia, fecal, etc. testing
Medication and vaccination administering
MS Office
Pre- and post-op care
Punctuality
Here's how to choose the best vet tech skills for a resume:
Make a long list of all your good skills to put on a resume, don't forget to include resume soft and hard skills, and technical skills.
With the list at hand, revisit the job offer to identify which skills from your list the employer mentioned in the job posting.
Choose your strongest skills and focus on them in your resume.
Select up to 10 of your top vet tech skills and put them on your resume in a key skills section.
Place your skills throughout your entire resume. Include some in your resume profile and put them in your experience section too.
Pro Tip: Focus on your top skills. Leave out all the others. This way you'll avoid the so-called presenter's paradox.
When making a resume in our builder, drag & drop bullet points, skills, and auto-fill the boring stuff. Spell check? Check. Start building a professional resume template here for free.
When you're done, Zety's resume builder will score your resume and tell you exactly how to make it better.
6. Add Other Sections to Your Vet Tech Resume
Show the recruiter how unique you really are.
Consider adding several extra sections:
7. Attach a Vet Tech Resume Cover Letter

Should I submit a cover letter?
Half of the candidates do, and half of the recruiters expect them.
So you can easily please 50% of hiring managers—and just as easily beat 50% of the candidates who're too lazy to write one.
Here's cover how to write a cover letter in four simple steps:
Double check your cover letter word count to stay within acceptable limits.
Pro Tip: Following up on your job application is always a good idea if you want to show you care.
Plus, a great cover letter that matches your resume will give you an advantage over other candidates. You can write it in our cover letter builder here. Here's what it may look like: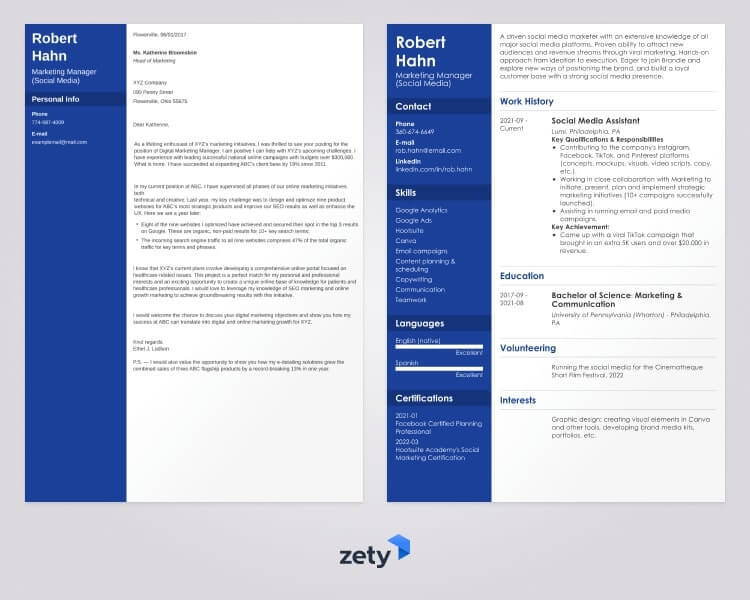 See more cover letter templates and start writing.
This is it!
This is how you make a job-winning resume for vet tech positions.


Are you writing a vet tech resume with no experience? Or perhaps you're a seasoned pro eager to help the rookies out? We'd love to hear from you, leave your comment below!