Physician Assistant (PA) Cover Letter Examples
You're capable of doing it all, from performing physical exams to coordinating patient care. Show the head physician you're the best associate with the best PA resume ever.
You are about to create a cover letter for physician assistant jobs. You know you'd be great, whether it's implementing non-invasive treatments or recommending rehabilitating exercise. But they don't know it. So—
Inform them you would be perfect for this medical job, with a physician assistant cover letter that'll jolt them awake like an epinephrine injection.
In this quick guide, we run through an awesome physician assistant cover letter example. Afterwards, we help you tweak your own PA cover letter with expert tips and advice.
Want to write your cover letter fast? Use our cover letter builder. Choose from 20+ professional cover letter templates that match your resume. See actionable examples and get expert tips along the way.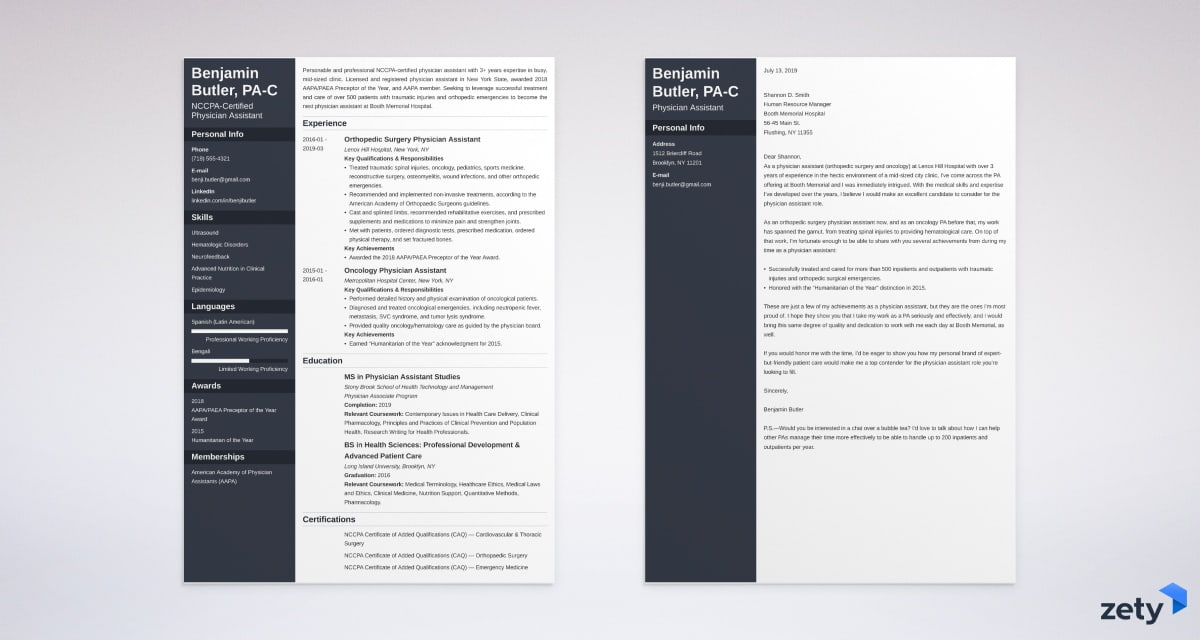 Sample cover letter for a resume—See more cover letter examples and create your cover letter here.
Just keep one thing in mind—
A high-quality PA cover letter is important to have, for sure. However, don't go easy on the PA resume. Check out this guide to make sure yours is ready for them to consider: Physician Assistant Resume Sample & Writing Guide
Maybe you need other PA-related cover letter examples? Have a look at these:
Want to explore your options further? See our full selection of cover letter examples for every career: Cover Letter Examples.
Here's our take on the best of all the physician assistant cover letter samples:
Sample Physician Assistant Cover Letter
Benjamin Butler, PA-C
NCCPA-Certified Physician Assistant
1512 Briercliff Road
Brooklyn, NY 11201

July 13, 2019

Shannon D. Smith
Human Resource Manager
Booth Memorial Hospital
56-45 Main St.
Flushing, NY 11355


Dear Shannon,

As a physician assistant (orthopedic surgery and oncology) at Lenox Hill Hospital with over 3 years of experience in the hectic environment of a mid-sized city clinic, I've come across the PA offering at Booth Memorial and I was immediately intrigued. With the medical skills and expertise I've developed over the years, I believe I would make an excellent candidate to consider for the physician assistant role.
As an orthopedic surgery physician assistant now, and as an oncology PA before that, my work has spanned the gamut, from treating spinal injuries to providing hematological care. On top of that work, I'm fortunate enough to be able to share with you several achievements from during my time as a physician assistant:
Successfully treated and cared for more than 500 inpatients and outpatients with traumatic injuries and orthopedic surgical emergencies.
Honored with the "Humanitarian of the Year" distinction in 2015.
These are just a few of my achievements as a physician assistant, but they are the ones I'm most proud of. I hope they show you that I take my work as a PA seriously and effectively, and I would bring this same degree of quality and dedication to work with me each day at Booth Memorial, as well.
If you would honor me with the time, I'd be eager to show you how my personal brand of expert-but-friendly patient care would make me a top contender for the physician assistant role you're looking to fill.
Sincerely,

Benjamin Butler
P.S.—Would you be interested in a chat over a bubble tea? I'd love to talk about how I can help other PAs manage their time more effectively to be able to handle up to 200 inpatients and outpatients per year.
Now it's time to resuscitate yours.
Keep reading for tips and advice on how to craft a great cover letter for physician assistant jobs.
Physician Assistant Cover Letter Template
How to write a cover letter physician assistant employers will love:
1. Format a Physician Assistant Cover Letter Template for Scannability
Have a look at our list of best cover letter fonts to select the best one for your situation.
Use 1-inch margins all around your cover letter for PA jobs.
Left-align all the text on the page, from your name at the top to your signature at the end.
Read further: How to Pick the Ideal Format for a Cover Letter
2. Write a Great Header for the Physician Assistant Cover Letter
In traditional business letter format, add your name and address at the top of the physician assistant cover letter.
Next, include today's date (or the date you'll send the PA cover letter).
Lastly, add the clinic's or hospital's information, including the name of the hiring manager, their job title, and their name and address.
Read further: How to Add Personal Info on a Cover Letter
3. Begin Physician Assistant Cover Letters With a Captivating Intro
In the opening salutation, address the employer or lead physician directly by name.
Introduce yourself and briefly talk about your background and how it's related to this particular physician assistant employment offer.
Officially let them know that you're throwing your hat in the ring and applying for this PA job.
If you're not able to find their name, all is not lost. Read this guide to learn some neutral greetings: How to Begin Covering Letters Right
4. Show The Head Physician That You're the Ideal Physician Assistant Applicant
Discern which skills and traits this hospital or clinic is searching for, which you can find in the physician assistant job description.
Then, detail how you go above and beyond the expectations they set forth.
Add a quantifiable achievement or other wins to prove you're as skilled and talented as you state you are.
Is your physician assistant new grad cover letter way too long or short? Read this guide to keep it just the right length: How Long Should Cover Letters Be?
5. Convince The Employer You're the Best Physician Assistant to Interview for the Job
Persuade the lead physician or head of hiring that this particular clinic or surgical ward is the only place you want to be employed at.
Display enthusiasm and excitement for the opportunity to work for them.
Tailor your cover letter for physician associate jobs—doctors will throw general cover letters straight into the biohazard bin.
Have you earned certification through an organization such as the National Commission on Certification of Physician Assistants (NCCPA)? Are you a member of the American Academy of Physician Assistants (AAPA)? These will definitely impress the hiring manager, so add them on your PA cover letters.
If this is your first position as a physician assistant, no need to worry. Simply talk up the most transferable skills you possess and job responsibilities you've had: Writing Cover Letters With No Experience
6. End a Cover Letter for Physician Assistant Jobs With a Compelling Proposal
The last paragraph on physician assistant cover letters should be short but catchy.
Sum up your letter of introduction neatly and briefly.
Remind them of the skills and medical expertise you'd bring to their hospital or medical facility.
Read further: 13+ Examples on How to Close Out a Cover Letter Right
7. End Your Physician Assistant Cover Letter Professionally
A common closing sentiment is best, such as "sincerely."
Type your full name below that, leaving a space in between.
Add more spacing if you plan on physically signing it (if you print it out).
Think about including a postscript, as it's a clever way to grab their attention once more.
Don't forget to reach out to them once more after sending your physician assistant resume and cover letter. Here's how: How to Follow Up After Sending an Application
When making a resume in our builder, drag & drop bullet points, skills, and auto-fill the boring stuff. Spell check? Check. Start building a professional resume template here for free.
When you're done, our free resume builder will score your resume and our resume checker will tell you exactly how to make it better.
Writing a new graduate physician assistant cover letter or one with plenty of experience and looking for more help? Need assistance with documenting medical achievements or hospital skills? Let's discuss below in the comments section, and thanks for reading!
About Zety's Editorial Process
This article has been reviewed by our editorial team to make sure it follows Zety's editorial guidelines. We're committed to sharing our expertise and giving you trustworthy career advice tailored to your needs. High-quality content is what brings over 40 million readers to our site every year. But we don't stop there. Our team conducts original research to understand the job market better, and we pride ourselves on being quoted by top universities and prime media outlets from around the world.
Sources