How long should a CV be? Here's a quick answer: A CV for a job should be between one and three pages long, depending on your relevant professional experience, career level, and skills. One-page CVs are most common internationally.
But there's a science to the perfect CV length. Sometimes you need to show your experience on one page, but sometimes a two-page CV is a minimum.
How long is a CV that has the hiring manager invite you for a job interview? Read on and find out!
This guide will show you:
How long your CV should be not to get passed up by recruiters.
The ideal CV length that contains exactly the right things and catches the recruiter's attention.
How to shorten your overly long CV without losing your key skills and accomplishments.
Want to save time and have your CV ready in 5 minutes? Try our CV builder. It's fast and easy to use. Plus, you'll get ready-made content to add with one click. See 20+ CV templates and create your CV here.
Sample CV made with our builder—See more CV examples here.
Learn more about succesfully applying for a job. Read our guides:
Let me just clarify this real quick, this article is about a CV for a job, otherwise known as a resume (especially in the United States).
Were you looking for what the right length of a resume should be? Look no more: How Many Pages Do You Need For a Resume?
1
How Many Pages Should a CV Be?
To be frank, your CV should be as short as it can be while still demonstrating your value. It's not the word count that's getting you that interview, it's the quality content.
The length of a CV conveys the level of your career experience and skills, but also how tailored it is to the given job opening. 3-page-long CVs for entry-level positions are obviously going to be overly fluffy while a 1-page CV for a senior management position looks oddly empty.
So how long should a CV be?
Let's take a closer look at the two types of CVs and see in which situations they're ideal for you.
CV for a Job
The page length here will vary depending on the jobs you're applying for and your own experience.
For the most part, one page is enough to fit in all your work experience, skills, and other necessary information, but two pages is also acceptable.
If you're straight out of grad school or simply new to the job market, one page is more than enough for your CV. Any more and the recruiter will be suspicious you're making stuff up.
For employees with up to around 5-7 years' experience, a one page CV should still suffice.
For employees with a lot of work experience (7+ years) or candidates applying for specialist or managerial roles, a two page CV is acceptable. If you're running into three pages, take a good look at your CV and see if it could do with a little editing to make it shorter.
Simply put, if your CV goes on for more than three pages, you stand the real risk of having your CV trashed or deleted without even reading through it. They're just way too long.
The reality is that recruiters take about 8 seconds to determine whether you're worth a call. Now think about it—how much of your 4-5 page CV do you think they'll cover in 8 seconds?
That said, there is one case in which a long CV could work.
Academic CV
The only type of CV that isn't restricted by any limit is the academic CV.
This CV is specifically for those pursuing a career in academia. This CV has all the parts of a work CV, but also requires additional information about publications, grants, teaching positions, research, conferences, etc.
There's no way to shorten that list since everything is relevant and hence several page academic CVs don't surprise anyone in the slightest.
Want to learn more about academic CVs? This great guide will help: How to Write an Academic CV
2
How Far Back Should Your CV Go?
This is probably the most common question job seekers ask.
That's not entirely the right question though. It's not about quantity, but quality when it comes to anything in your CV. A better question is—does this part bring value to my CV?
Let's take this example—you're applying for a retail sales position that requires at least two years of experience in in-store sales. The hiring manager is going to be very interested in the two years you spent working at Macy's, but probably not so much in the 6 months you worked bagging groceries at Safeway half a decade ago.
In short, you shouldn't go back further than 15 years in your professional experience on your CV.
However, like with most things, there are exceptions. This is especially true for those who are changing careers or returning to a previous career path after a long absence.
Let's say, for example, that you worked as a travel agent for a couple of years before switching to a career in marketing. After several years of different marketing jobs, you've decided to go back to being a travel agent. It would be beneficial for you to cover that experience on your CV even though it might go back rather far in your career history.
Read more: How Far Back Should a CV Go?
When making a CV in our builder, drag & drop bullet points, skills, and auto-fill the boring stuff. Spell check? Check. Start building a professional CV template here for free.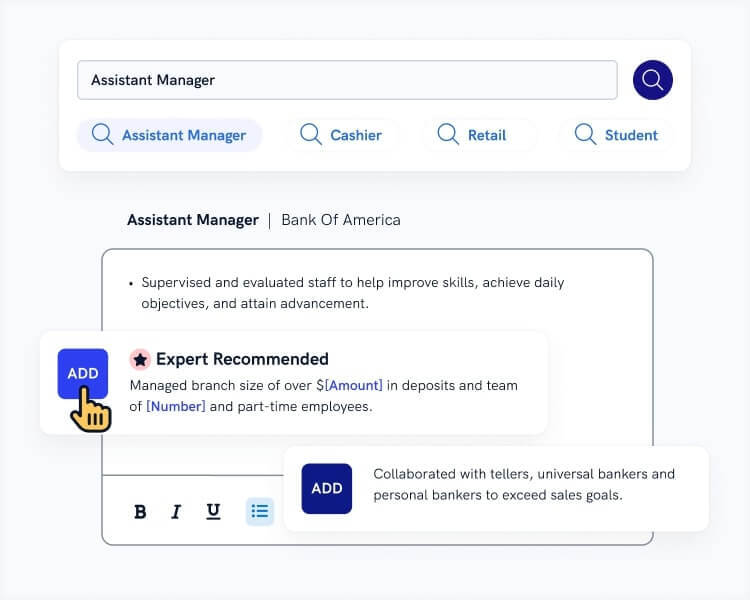 When you're done, Zety's CV maker will score your CV and tell you exactly how to make it better.
3
How Many Bullets Should You Add Per Position to Have a Perfect Lenght of a CV?
You're going to have to resist the urge to list every responsibility you ever had in order to prove how much you can do at work. Here, less is definitely more.
List up to 6 bullet points on your CV for your most recent job. Lower the number of bullets the further you go back in time.
Your oldest positions shouldn't have more than a maximum of 3 bullet points (honestly, not many people are going to be interested in what you were doing back when planes actually had enough leg room and served hot meals for free).
This way your current responsibilities, which interests the recruiter most, will stand out more.
Read more: Work Experience on a CV: Bullet Points with Examples
Have you implemented all this advice and still find your CV is too long?
Here are some of the most common mistakes that increase your CV page count and some tips on how to fix them:
Check Your Font Size
Check your font size. The best size font is 10 or 12 for the main body of your text. Make your headers to be bold and a little larger (14–16 font) to help them stand out more.
Remember that making your font size smaller just to cram all your text onto one page isn't a great idea. If a hiring manager needs a magnifying glass to read it, they'll just toss it instead.
Also, use simple, sleek CV fonts (e.g. Calibri, Helvetica). Some fonts can take up tons of space.
Measure Your Margins
Check to see the size of your CV margins. If they meet halfway on the page or you can't find them at all, you've gone overboard.
One inch margins all around should do the trick.
Take a Look at Your CV Template
If your CV looks like the aftermath of a five-year-old's birthday party, you've gone a little too far.
Unless you're trying for a creative role, consider changing your CV template to something simpler to clear up some space on the page.
Go From Hazzy to Crystal Clear
Your CV is a marketing tool designed to sell your candidacy to the hiring manager, not be your autobiographical chance at winning the Nobel Prize in Literature.
If you have everything including the kitchen sink mentioned in your CV, you're going to need to edit it. Ruthlessly.
Turn long, run on sentences into bullet points to stick to the important information. An added benefit is that it makes the CV much easier to read.
Job seekers often have a natural tendency to go particularly overboard on their CV profile. It might be the first thing the recruiter sees, but if it's a half a page long, no one is even going to try to finish it.
Keep your CV profile short and snappy, urging the recruiter to read on.
If you still feel an itch to elaborate on key points in your job experience, do that in your cover letter. That's exactly what it's for!
Reduce Redundancy
Make sure that the points mentioned in your CV are all individual points that demonstrate your value to the employer. Recycling the same experience or skills over and over will get your CV thrown out faster than flat Pepsi.
Read more: How to Format a CV (Examples and Tips)
Plus, a great cover letter that matches your CV will give you an advantage over other candidates. You can write it in our cover letter builder here. Here's what it may look like: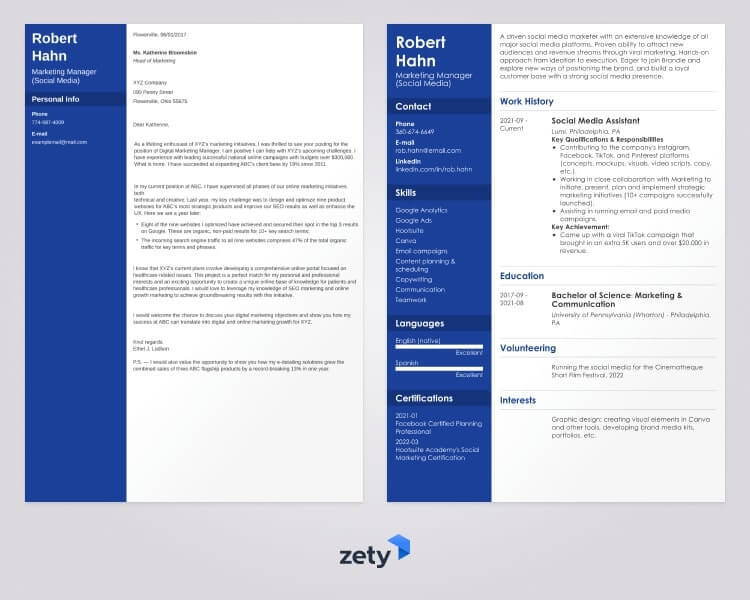 See more cover letter templates and start writing.
There are no absolute rules that govern how long a CV should be. But now you have the necessary advice and information to judge how long your CV needs to be.
Keep in mind these key points:
Tailor how long your CV is to the amount of experience the job requires and your own (i.e. no four-page CVs for an entry-level job).
Don't go back further than 15 years' work experience.
More recent positions in your career history should have more bullet points (around six), later ones fewer (around two to three).
Keep your CV relevant, legible, and clear.
Have any questions? Let me know in the comments section down below!
About Zety's Editorial Process
This article has been reviewed by our editorial team to make sure it follows Zety's editorial guidelines. We're committed to sharing our expertise and giving you trustworthy career advice tailored to your needs. High-quality content is what brings over 40 million readers to our site every year. But we don't stop there. Our team conducts original research to understand the job market better, and we pride ourselves on being quoted by top universities and prime media outlets from around the world.