Busser Resume: Job Description & Examples for 2023
You show up on time and do the dirty jobs with no complaints, keeping the waitresses happy. Prove you'll do it fast and cheerfully with this sparkling sample busser resume.
You're a busser, skilled at clearing tables and setting the stage for a perfect dining experience. Now, let's set the table for your job search with an impeccable busser resume!
Our expert guidance will help you craft a busser resume that shows that your skills are straight up bussin.
This guide will show you:
A busser resume example better than 9 out of 10 other resumes.
How to write a busser resume that will land you more interviews.
Tips and examples of how to put skills and achievements on a busser resume.
How to describe your experience on a resume for a busser to get any job you want.
Want to save time and have your resume ready in 5 minutes? Try our resume builder. It's fast and easy to use. Plus, you'll get ready-made content to add with one click. See 20+ resume templates and create your resume here.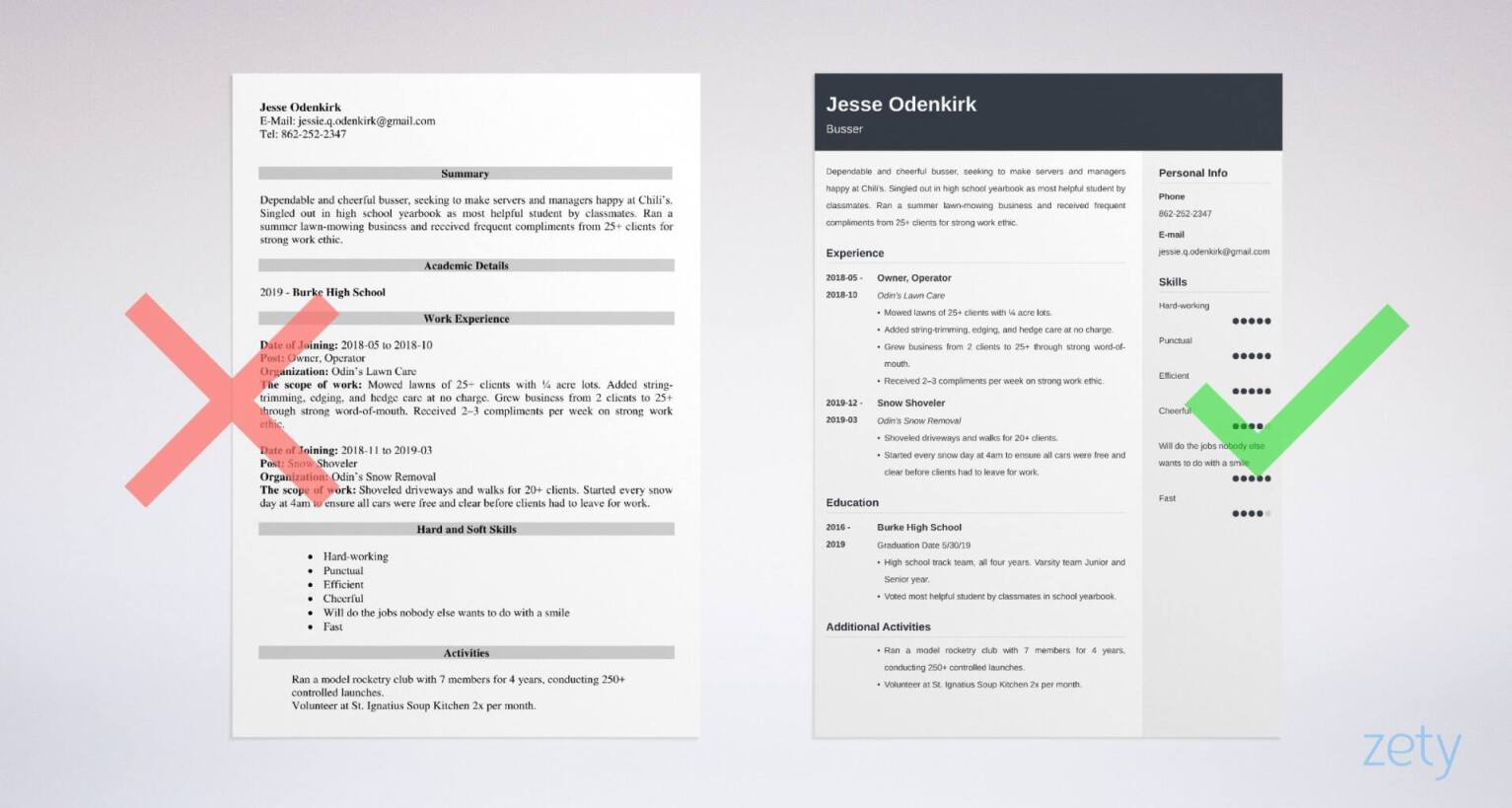 Sample resume made with our builder—See more resume examples here.
Looking for other jobs in food & hospitality industry? Try our other guides:
Busser Resume Sample
Jesse Odenkirk, Busser
jessie.q.odenkirk@gmail.com
862-252-2347
Professional Summary
Dependable and cheerful busser, seeking to make servers and managers happy at Chili's. Singled out in high school yearbook as most helpful student by classmates. Ran a summer lawn-mowing business and received frequent compliments from 25+ clients for strong work ethic.
Work Experience
Owner, Operator
Odin's Lawn Care
May 2018–October 2018
Mowed lawns of 25+ clients with ¼ acre lots.
Added string-trimming, edging, and hedge care at no charge.
Grew business from 2 clients to 25+ through strong word-of-mouth.
Received 2–3 compliments per week on strong work ethic.
Snow Shoveler
Odin's Snow Removal
December 2018–March 2019
Shoveled driveways and walks for 20+ clients.
Started every snow day at 4am to ensure all cars were free and clear before clients had to leave for work.
Education
2015–2019 Burke High School
Graduation Date 5/30/19
High school track team, all four years. Varsity team Junior and Senior year.
Voted most helpful student by classmates in school yearbook.
Skills
Hard-working, punctual, efficient, cheerful, will do the jobs nobody else wants to do with a smile, fast.
Activities
Ran a model rocketry club with 7 members for 4 years, conducting 250+ controlled launches.
Volunteer at St. Ignatius Soup Kitchen 2x per month.
Here's how to write a busser resume that gets jobs:
1. Choose the Best Busser Resume Format
Bussers whisk away dirty plates, flatware, and glasses from used tables in a restaurant. They wipe tabletops and bring soiled items to the dishwasher for cleaning. A busser resume should show you can keep things clean, restock supplies, and keep restaurants running smoothly.
Bussers have to be efficient.
So—prove it at a glance with a spiffy busser resume.
Format your resume with the chronological resume layout. It gives your work history in the proper order.
Make the heading in your resume big and readable. Your name on a resume should be in large font, with job title (busser) slightly smaller.
Don't have much to say? That's okay. White space is a plus. Just make sure what you do say is impressive.
When it's time to save your resume for busser jobs, use the PDF resume format unless the restaurant manager said not to in the job ad.
Pro Tip: What font should a resume be in? Calibri and Helvetica are good options because they're clear and economical. Use 10 or 12 point font size.
2. Write a Busser Resume Objective or Resume Summary
Explain why they should hire you fast.
Do it with a convincing summary on your resume for busser jobs.
That's your short version. Your "elevator speech." It's the most important parts of your resume in a paragraph beneath your header.
Since you don't have years of busser experience (who does?), call it a "resume objective statement." In it, put:
Job title (Busser)
Goal (make life easier for managers and waitstaff)
A couple of your finest qualities (hardworking, cheerful)
1–2 achievements that show you do great work.
Did a teacher or past boss give you lots of compliments for working hard? Put that in your summary to show you're not a load they need to carry.
Pro Tip: When should you write your busser resume objective? Make it the last part of the resume you write. You can't summarize if you don't know what you're summarizing.
3. Match Your Resume to the Busser Job Description for a Resume
Make them hire you.
Here's the secret:
Fit your busser resume work experience section to the job.
Here's how to tailor your resume:
For all your jobs, add job titles, company names, working dates, and 3–5 bullet points.
Look in the job ad to see the busser responsibilities.
Prove you can fulfill them by listing resume achievements. For example, did you get up at 4am to shovel driveways for money? That shows a strong work ethic.
Include numbers like, "25+" or "2–3."
Pro Tip: A resume for busser jobs is boring (let's face it). To keep the manager reading, use action resume phrases to spice things up. For example, "Added, grew, received."
When making a resume in our builder, drag & drop bullet points, skills, and auto-fill the boring stuff. Spell check? Check. Start building a professional resume template here for free.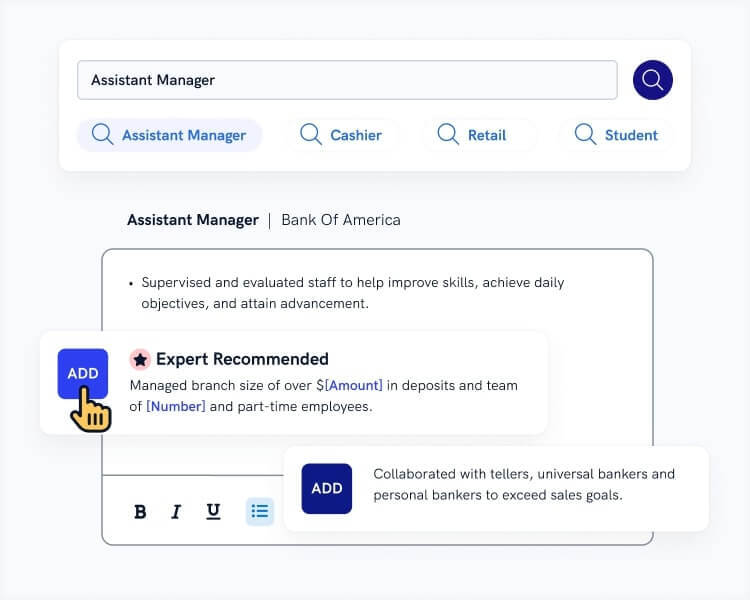 When you're done, Zety's resume builder will score your resume and our resume checker will tell you exactly how to make it better.
4. Juice Up Your Busser Resume Education Section
Knowing how to write education on a resume is key.
List your school and attendance dates. But then—
Include achievements that show good busser attributes.
Did you play sports? Do projects? Join clubs?
Say those things in your busboy resume. They prove you weren't playing Fallout your whole life.
Example: Running a small lawn-mowing business proves self-motivation. Employers love that!
5. Show Busser Skills in Your Resume
Use this busser resume skills list.
Busser Resume Skills
Hard Skills:
Bussing tables
Cleaning bathrooms
Sweeping
Mopping
Restocking
Soft Skills:
Energy
Cheerfulness
Physical fitness
Customer service
Punctuality
Dependability
Attention to detail
Efficiency
Perceptiveness
But—
Don't add every busser skill in the list.
Center on the qualities from the job posting (plus a few).
Pro Tip: What's the difference between soft vs hard skills? Hard skills are technical skills you use to do the job. Soft skills are personal qualities like work ethic or efficiency.
6. Add Other Sections to Your Busser Resume
Here's where you get hired.
Add a couple busser resume sections from the list below.
They'll make the restaurant manager see your true colors.
Activities
Volunteering
Clubs or groups (like 4H or BSA)
Sports activities
Praise from teachers or bosses
Awards or other honors
You can also show interests in a resume for busser jobs, like hobbies or other pastimes.
Pro Tip: Here's how to list volunteer work on a resume: If you did a lot, write it like a job, with bullet points. Did a little? Include it in an "Activities" section as a single bullet.
7. Send a Cover Letter With Your Busser Resume
Yes.
It's your best chance to stand out.
To make the best bus boy resume cover letter:
Use the proper cover letter format. That's the 3-paragraph letter.
Make your cover letter opening sentence shine. "I learned a lot about making people happy when I ran a lawn-mowing business with 25+ clients" works great!
In the middle, say why you want to work there. Add achievements that show busser qualities they need.
End your cover letter with a pitch. Ask for the interview and promise something like, "I'd like to tell you how I can make life easier for your waitstaff."
Don't make your busser cover letter too long. Stick to half a page.
Following up on a job application is vital. Do it in 3 days, 1 week, and again in 2 weeks. Think of each follow-up as another lottery ticket.
Plus, a great cover letter that matches your resume will give you an advantage over other candidates. You can write it in our cover letter builder here. Here's what it may look like: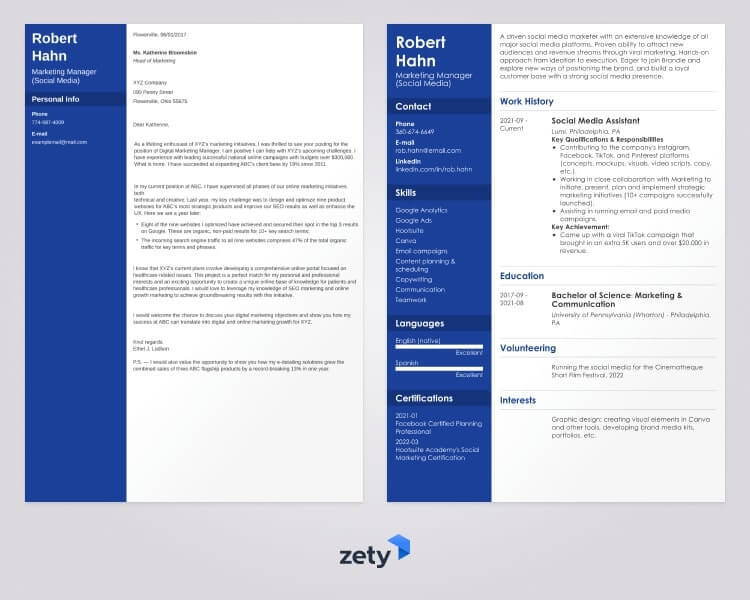 See more cover letter templates and start writing.
That's it!
That's how to write a busser resume.
Is your resume for busser jobs not working? Does your busboy resume get no respect? Give us a shout in the comments. We'd love to talk!
About Zety's Editorial Process
This article has been reviewed by our editorial team to make sure it follows Zety's editorial guidelines. We're committed to sharing our expertise and giving you trustworthy career advice tailored to your needs. High-quality content is what brings over 40 million readers to our site every year. But we don't stop there. Our team conducts original research to understand the job market better, and we pride ourselves on being quoted by top universities and prime media outlets from around the world.