How to Describe Yourself in an Interview [With Examples]
"How would you describe yourself?" Don't be fooled by this innocent-sounding question. There is a right answer. Learn how to describe yourself in an interview with these tips.
"I'm a perfectionist. I always go above and beyond at work."
*Crashing*
"I've always loved computers. When I was small, I used to sit at the computer all day and..."
*Burning*
When the interviewers asks "How would you describe yourself?", they're throwing you a soft ball. Learn how to describe yourself in an interview so you don't strike out from the start.
Read on to learn how to describe yourself in an interview and actually impress. You'll find out the intent behind interviewers asking you to describe yourself and see examples of a great response.
Want to save time and have your resume ready in 5 minutes? Try our resume builder. It's fast and easy to use. Plus, you'll get ready-made content to add with one click. See 20+ resume templates and create your resume here.
Sample resume made with our builder—See more resume examples here.
Have an important interview coming up? Check out:
How to Describe Yourself
Example: "I'm extremely passionate about what I do. I love tinkering with mechanical engineering projects both professionally and in my free time. As an undergrad, I developed the electric traction motor on the solar car team that helped us achieve third place at the American Solar Challenge. In my internship at GE, I helped increase an auxiliary turbine's fuel efficiency by 9% by redesigning a part."
1. Find Out the Intent Behind "How Would You Describe Yourself?"
Many interviews are kicked off with the hiring manager asking you to describe yourself. At first glance, the question seems like a benign and friendly way for the interviewer to get to know you.
And in many ways—it is. It's a light-hearted question that helps lighten the mood and warm things up before more difficult interview questions.
But—that doesn't mean there's no wrong way to answer it. In fact, there are many ways to screw your response up. To figure out what makes a good answer, it helps to know why interviewers so often ask some variation of "Tell me about yourself".
The two main things the HR manager is looking for is:
The best way to describe yourself will be fulfilling both of those requirements.
First things first, soft skills are important. Few positions don't require any kind of communication skills, and many require exceptional ones. The key to showing off your soft skills while answering this question, or any interview question, is to appear confident, remain calm, maintain eye contact, listen carefully, and respond succinctly without rambling.
The second key to describing yourself is to make sure you're answering the question in a professional way. You may be a very funny person, but describing yourself as a class clown won't help you land that software engineering job. Instead, use professional words to describe yourself and leave out any personal details.
It's also worth writing down your answer to this question and practicing saying it out loud a few times. If you don't have access to a VR job interview simulator, have a family member or friend ask you the question and give feedback on your response.
Trying to talk about yourself on a resume? See: How to Describe Yourself on a Resume the Right Way
When making a resume in our builder, drag & drop bullet points, skills, and auto-fill the boring stuff. Spell check? Check. Start building a professional resume template here for free.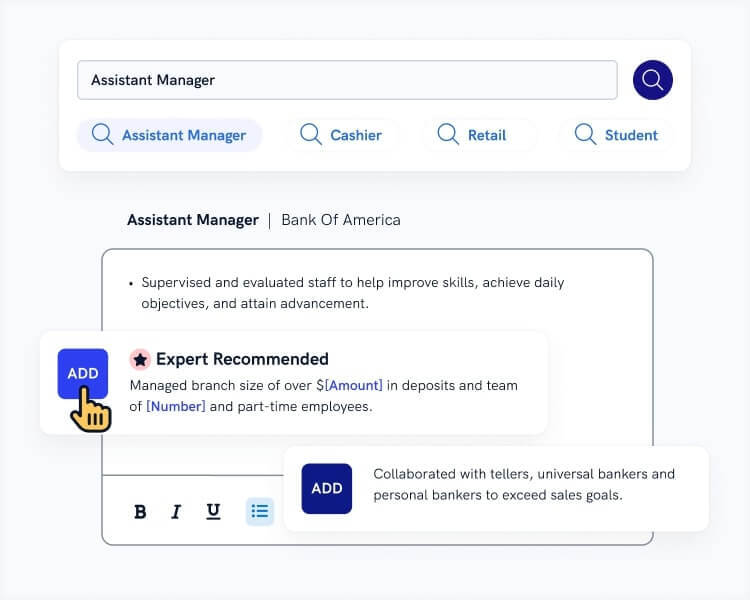 When you're done, our professional resume builder will score your resume and our resume checker will tell you exactly how to make it better.
2. Examples of How to Describe Yourself in an Interview
Let's get concrete. Here are some real life example of how to describe yourself in an interview:
As persistent
Example answer: "I'm persistent. Once I set my eyes on the prize, I work hard to achieve my goal. In my role as marketing coordinator at Boston & Borris, I organized marketing campaigns with budgets over $250,000. The bar was set very high for those campaigns in terms of OKRs, but I continuously analyzed our content metrics to suggest new ideas whenever the current strategy wasn't delivering."
Why it works: Find character traits that give you the opportunity to talk about your biggest career wins and achievements. Bringing up your accomplishments also provides an opportunity for the hiring manager to ask follow up questions and create a natural flow to the conversation.
As highly organized
Example answer: "I'm someone who loves to be organized. As the junior project manager at TechBubble, I was constantly creating and modifying existing project procedures to make our processes more efficient. When I saved my team 10 hours of collective work by simplifying the organizational structure in our project management system, I felt warm and fuzzy inside."
Why it works: The way to hit a home run when describing yourself in an interview is to figure out which skills are most important in the job ad, and highlighting the ones you embody. In this example, if one of the requirements was organizational skills, then this answer checked that box without a doubt.
As creative
Example answer: "I love letting my creative juices flow. When I was the graphic designer at Rainbow Media, I often led brainstorming sessions with clients to come up with new brand logos, icons, typography, and other marketing material. While there, I developed over 50+ complete brand strategies that satisfied even the most demanding clients. If you'd like, I could go into more detail on a few in my portfolio."
Why it works: Creativity is one of the most difficult job skills to provide proof of, and yet it's a must-have for many professional fields. Using your answer to bring up your portfolio or other pieces of evidence can turn creativity from something airy-fairy to a skill with real-world results.
Looking for more adjectives to describe yourself? See:Good Resume Adjectives, Power Words, and Action Verbs
As dedicated
Example answer: "I would have to say I'm dedicated. Although this will be my first year teaching full time, I've been tutoring students one-on-one for over six years. During that time, I've gone above and beyond helping students turn around their grades and receive competitive scores in standardized testing. The secret to my success is that I am internally motivated to help youth reach their goals."
Why it works: Describing yourself as passionate or dedicated can tell the interviewer that the job you're applying for is more than just a job to you. With that said, be careful with these terms. This is a trait often implied by candidates, so you can come off as dishonest if the HR manager is unconvinced of your authenticity.
As detail-oriented
Example answer: "Well, I'm detail-oriented. I have over 5 years of experience in nursing, and in that time I've developed a talent for noticing small details that could be otherwise easily looked over. As you know, this is one of those skills that is quite difficult when you're working in a fast-paced environment like a hospital. But I think my attention to detail is what allowed me to maintain 96% positive patient scores even with handing up to 10 patients at a time."
Why it works: Being detail-oriented is crucial for some jobs, and relating to the HR manager is a great way to build rapport and make a good impression. This works especially well when the hiring manager has been in the same role as the one you're applying for. Just remember not to oversell yourself, as an experienced professional is likely to catch whiff of your exaggerations.
As sociable
Example answer: "I'm a sociable person. I'm quite extroverted, so I get more energized when I'm in direct contact with people. As a customer service professional at XYZ Inc, I was constantly interacting with clients and I loved it. Being able to communicate with customers in a casual way was the best part of my day. I think that's part of why I was able to maintain a customer retention rate 25% above the average."
Why it works: You can't go wrong when describing yourself if you talk about your communication skills. They're the key job skill in many roles. Just remember—with this character trait, you'll have to walk the talk. You can't talk about your great communication skills while mumbling and looking at the interviewers feet.
Pro Tip: According to the American Journal of Nursing guide on interviewing, you shouldn't mention your hobbies or interests when describing yourself in an interview, unless the interviewer specifically asks. Remember to keep your personal description focused on your professional skills and experience.
Plus, a great cover letter that matches your resume will give you an advantage over other candidates. You can write it in our cover letter builder here. Here's what it may look like: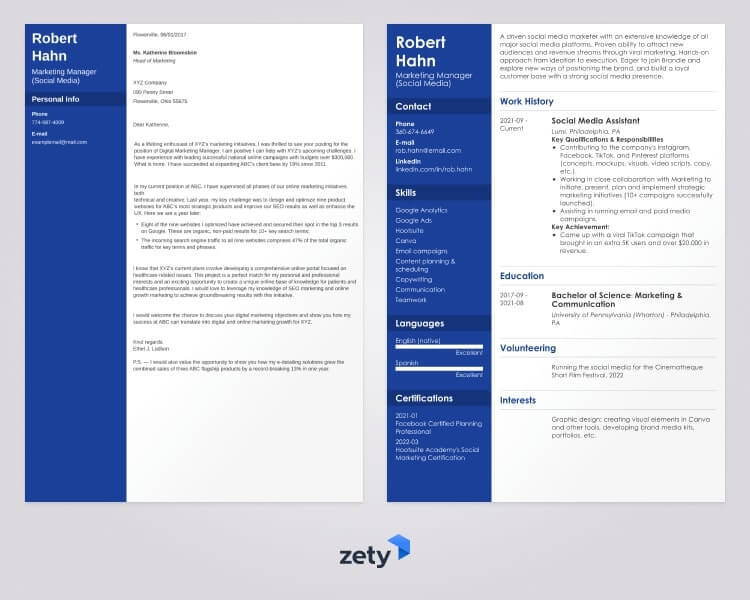 See more cover letter templates and start writing.
Thanks for reading! Do you have any thoughts or questions on how to describe yourself in an interview? How would you describe yourself? We'd love to hear from you. Let's chat in the comment section below!
About Zety's Editorial Process
This article has been reviewed by our editorial team to make sure it follows Zety's editorial guidelines. We're committed to sharing our expertise and giving you trustworthy career advice tailored to your needs. High-quality content is what brings over 40 million readers to our site every year. But we don't stop there. Our team conducts original research to understand the job market better, and we pride ourselves on being quoted by top universities and prime media outlets from around the world.
Sources