Dishwasher Resume Sample with Job Description & Skills
Why aren't you getting hired? They've got a lot of applicants and you don't stand out. Clean up your appearance with this sample dishwasher resume you can copy, adjust, and use.
Sample Dishwasher Resume Template
James Cooper
james.cooper@email.us
564-875-2996
Summary of Qualifications
Cheerful dishwasher with 1 year of experience in a busy chain restaurant. Employee of the month 3 times at Pizza Hut in Lewiston, Maine. Commended by boss 4x for punctuality and working all year without a single sick day. Favorite dishwasher of cooks and waitstaff because I always chip in to help with things that "aren't my job."
Work Experience
Dishwasher
Pizza Hut Inc.
March 2017–July 2018
Worked 40 hours a week washing dishes in a fast-paced chain restaurant. Commended by boss 4x for punctuality.
Operated Hobart dishwasher. Received frequent compliments from manager for speed and quality of work.
Restocked clean plates, cups, pizza pans, and silverware. Favorite of waitstaff because my dishes are so clean. The secret was changing the water on a schedule.
Chipped in to unload trucks, sweep and mop front of house, and do light-duty maintenance and construction tasks.
Education
2012–2016 Lewiston High School
Graduated with H.S. diploma
Complimented by 11 teachers for cheerful attitude and always pitching in to help.
Member, High School Swim Team, all four years.
Skills
Skilled in teamwork, communication, and learning from criticism. Strong work ethic and positive attitude.
Activities
Volunteer to walk dogs 4x per month at Lewiston Animal Shelter.
Work out at the gym 2 days per week for self-care.
Want to save time and have your resume ready in 5 minutes? Try our resume builder. It's fast and easy to use. Plus, you'll get ready-made content to add with one click. See 20+ resume templates and create your resume here.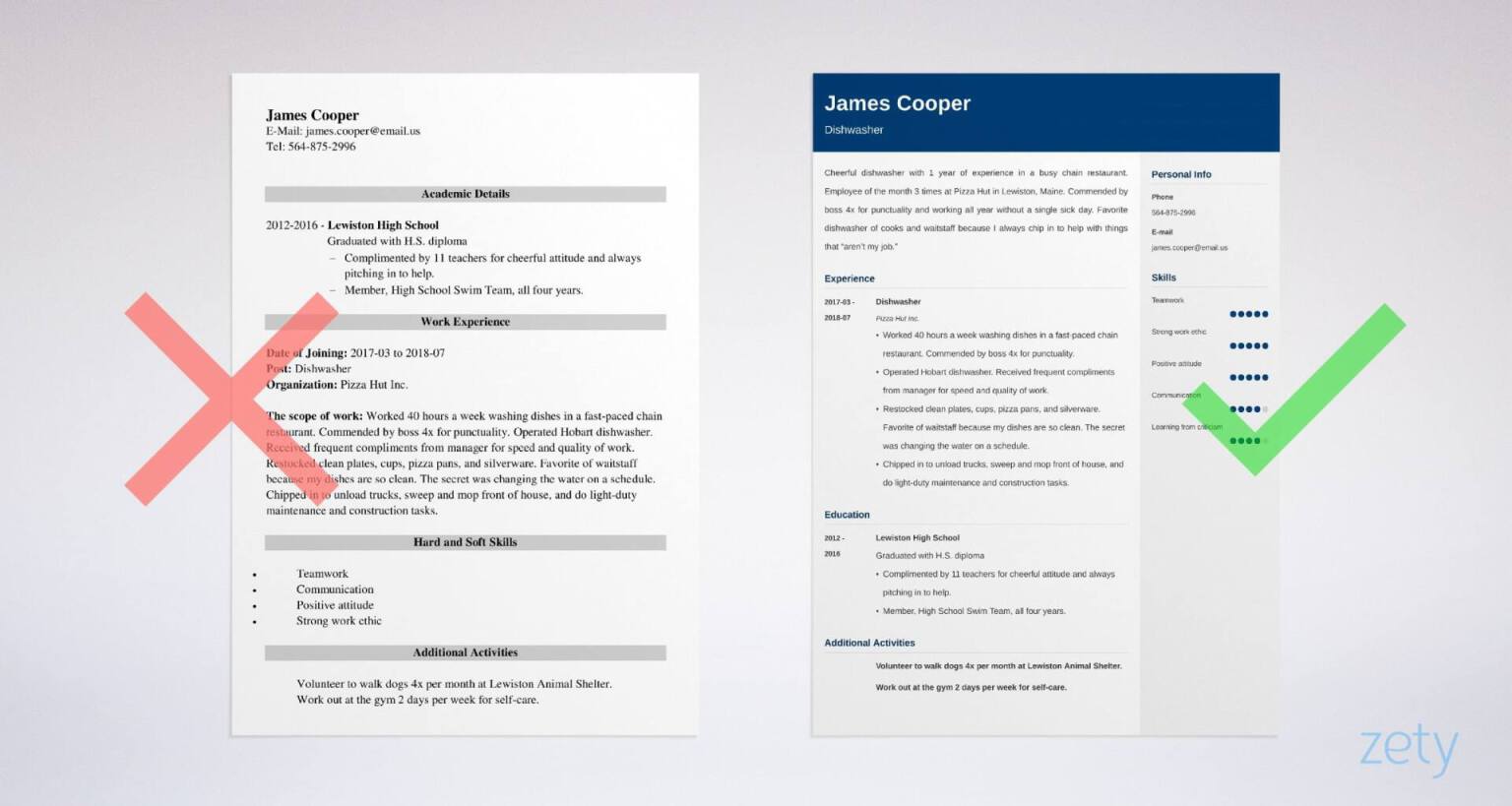 Sample Dishwasher Resume—See more templates and create your resume here.
Are you sure you need a resume for dishwashing jobs? Can you do more? See these guides:
Here's how to write a job-getting dishwasher resume:
1. Choose the Best Format for Your Dishwasher Resume
Restaurant managers spend just six seconds looking at each resume. Flag them down with your dishwasher resume. To do it, follow these resume formatting rules:
Pro Tip: PDFs are best unless they trip up the company's Applicant Tracking System. The job posting will say if they're not okay.
2. Write a Resume Objective or Resume Summary
What's a resume summary, resume objective, or resume profile?
It's a one-paragraph intro that starts your resume. Use it to explain why you fit the job like latex gloves. Think of it as your application's elevator pitch.
Use a resume summary if you have 2+ years of experience:
Write your summary after you've finished the rest of your dishwasher resume.
Put your 2–3 most eye-catching achievements in it.
Use a resume objective if you're new:
Share a couple accomplishments that show transferable skills.
Show something that proves work ethic or teamwork.
Pro Tip: Make your resume profile 3–4 sentences and put it up top. List the restaurant's name in it to catch the eye and show you're not just spamming.
3. Create the Perfect Job Description for Dishwasher Resumes
Your dishwasher resume experience section has to show you're perfect for the job:
Put your recent job first. List earlier jobs lower down.
List each job title, company name, and dates you worked there.
Add 3–5 bullet points to each position. Put achievements in them. Use them prove you can do the dishwasher duties in the job ad.
Add fewer achievements to each job as you go back in time.
Pack your bullet points with action verbs.
Don't just say what you did. Use numbers like "4x" to show how well you did it.
Use each achievement to show a skill the job description asks for. That's the way to adjust your resume to the job.
Pro Tip: Not getting any answer to online job applications? Consider walking in to the restaurant in person. Your dishwasher resume will move to the top of the rack.
4. Make Your Dishwasher Resume Education Section Shine
Does the education section of a dishwasher resume matter? Well, it could get you hired:
List school achievements that show a skill the job ad wants. (Like work ethic, cheerfulness, teamwork, or dependability)
Not sure what accomplishments to list? What about a compliment from a teacher or a sports team you were on? Whatever shows you can handle dishwasher responsibilities.
Pro Tip: Are you writing a resume with no experience? Add more bullets to your education section. Also, add sections for volunteer work or "Additional Activities."
5. Highlight Your Dishwasher Skills
Here's how to list skills on a dishwasher resume:
Build a separate list of all your professional skills: hard skills and soft skills.
Look in the dishwasher job description. Circle the skills they mentioned. Add those to your dishwasher resume.
Prove them with achievements in your experience and education sections.
Dishwasher Resume Skills
Cleanliness
Enthusiasm
Work ethic
Teamwork
Friendliness
Punctuality
Organization
Pro Tip: Don't have work experience? Prove skills with non-work achievements. If you've never missed a day of school, say that on your dishwasher resume.
When making a resume in our builder, drag & drop bullet points, skills, and auto-fill the boring stuff. Spell check? Check. Start building your resume here.
When you're done, Zety's resume builder will score your resume and tell you exactly how to make it better.
6. Add Other Sections to Your Dishwasher Resume
Make them want to hire you with extra sections in your resume.
Add a section for languages, compliments, hobbies, volunteering, additional activities, or anything that lets you add accomplishments.
Any way you can cram in one more achievement that shows skills is gold.
Pro Tip: Can't think of cool "other" sections for your resume? Do a few hours of volunteering. Volunteer work makes great resume fodder.
7. Attach a Cover Letter to Your Dishwasher Resume
Yes, you need a cover letter. Nearly half of employers won't read your resume without one.
Write your dishwasher cover letter with these tips:
Pro Tip: After you click "send," follow up on your job application. A nudge by phone or email at the right time can get you hired.
You're done!
Now you know how to write the perfect resume for dishwasher positions.
Got ideas to write a great professional dishwasher resume? Give us a shout in the comments section. Let's chat!