Dishwasher Resume Sample with Job Description & Skills
Why aren't you getting hired? They've got a lot of applicants and you don't stand out. Clean up your appearance with this sample dishwasher resume you can copy, adjust, and use.
Sample Dishwasher Resume Template
James Cooper
james.cooper@email.us
564-875-2996
Summary of Qualifications
Cheerful dishwasher with 1 year of experience in a busy chain restaurant. Employee of the month 3 times at Pizza Hut in Lewiston, Maine. Commended by boss 4x for punctuality and working all year without a single sick day. Favorite dishwasher of cooks and waitstaff because I always chip in to help with things that "aren't my job."
Work Experience
Dishwasher
Pizza Hut Inc.
March 2017–July 2018
Worked 40 hours a week washing dishes in a fast-paced chain restaurant. Commended by boss 4x for punctuality.
Operated Hobart dishwasher. Received frequent compliments from manager for speed and quality of work.
Restocked clean plates, cups, pizza pans, and silverware. Favorite of waitstaff because my dishes are so clean. The secret was changing the water on a schedule.
Chipped in to unload trucks, sweep and mop front of house, and do light-duty maintenance and construction tasks.
Education
2012–2016 Lewiston High School
Graduated with H.S. diploma
Complimented by 11 teachers for cheerful attitude and always pitching in to help.
Member, High School Swim Team, all four years.
Skills
Skilled in teamwork, communication, and learning from criticism. Strong work ethic and positive attitude.
Activities
Volunteer to walk dogs 4x per month at Lewiston Animal Shelter.
Work out at the gym 2 days per week for self-care.
Want to save time and have your resume ready in 5 minutes? Try our resume builder. It's fast and easy to use. Plus, you'll get ready-made content to add with one click. See 20+ resume templates and create your resume here.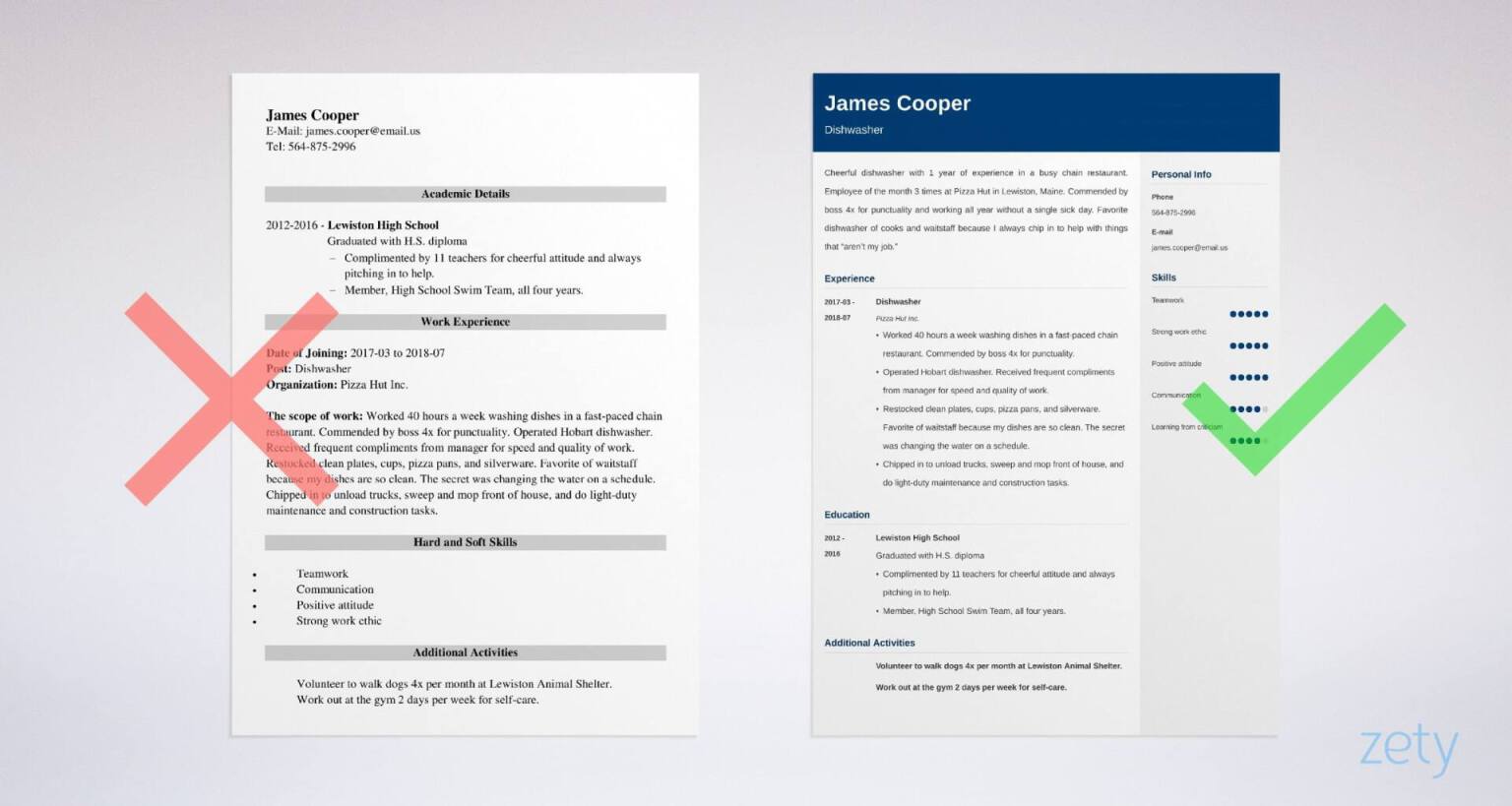 Sample Dishwasher Resume—See more templates and create your resume here.