Sonographer Resume: Example & Guide (also Entry-Level)
You expertly operate complex medical equipment to give ultrasounds. But if you're scanning the job market for opportunities, you'll have to take a closer look at your resume first.
In a moment, we'll show you a sonographer sample resume that will blow you away. The readings are off the charts!
As a health care professional, you need to garner trust among your patients. At the same time, your resume should, in a similar vein, impress the hospital/department director, and make them trust your sonography expertise to actually give you the front-line job.
So now—
Pretend we're doing a patient interview, and be honest.
Do you think your resume fits that criteria?
Time to dive deep and put your writing under the transducer.
This guide will show you:

A sonographer resume example better than 9 out of 10 other resumes.
How to write a sonographer resume that will land you more interviews.
Tips and examples of how to put skills and achievements on a sonographer resume.
How to describe your experience on a resume for sonographers to get any job you want.
Want to save time and have your resume ready in 5 minutes? Try our resume builder. It's fast and easy to use. Plus, you'll get ready-made content to add with one click. See 20+ resume templates and create your resume here.
Sample resume made with our builder—See more resume examples here.
Looking for different related resume guides? Have a look at some of these:
Sonographer Resume Example
Joy Flores
Sonographer
847-670-7636
JoyFlores@mediamail.com
Professional Summary
Meticulous and patient-oriented sonography expert with 6 years' experience performing high-fidelity x-rays and ultrasounds. Proven track record of reliable patient care with 92% diagnosis effectiveness. Seeking to use my expertise to provide the best possible standard of care and diagnostic services for St John's Hospital's patients.
Work History
Lead Sonographer
Mississippi General Hospital
May 2015–August 2019
Supervised team of 8 sonographers and radiologists, delegating tasks and managing shift assignments.
Offered consultancy to worried patients, explained procedures and clarified concerns.
Performed general and cardiovascular ultrasounds on roughly 200 patients per month.
Optimized patient positioning and utilized complex techniques to ultimately deliver the highest-possible quality imagery for patient diagnosis.
Key Achievement:
Trained over 30 residents and interns, with 26 of them commending my tutelage, and several advancing to full-fledged Mississippi General Staff members.
Sonographer
Barton Memorial Hospital
May 2013–March 2015
Performed necessary ultrasound procedures as ordered by the attending physician.
Coordinated with other medical staff to guarantee 100% satisfactory levels of patient care.
Recognized and differentiated between normal and abnormal readings.
Education
Bachelor's Degree in Applied Science
Lake Tahoe Community College
South Lake Tahoe, CA
Graduated: 2012
Key Skills
Patient Care
Advanced Anatomy
Cardiovascular Sonography
Empathy & Communication
Ultrasound Machinery Operation
Patient Education
Expert Organizational & Time Management
Memberships & Certifications
BLS (Basic Life Support), American Red Cross, 2013
Certified Cardiovascular Sonographer, ASE (American Society of Echocardiography), 2012
Active member of the Society of Diagnostic Medical Sonography since 2015
Let's get to it. This is how to write a successful sonographer resume:
1. Begin by Choosing the Best Format for a Sonographer Resume
Sonographers perform diagnostic procedures on patients. They work with ultrasound machines, consult with other medical staff, and take care of the patients before, during, and after the examination. A sonographer resume needs to show attention to detail and other soft skills, alongside relevant experience or education.
So—
Gloves on? Machine prepped and ready? Then let's get started:
The first step is using proper resume formatting rules. We've laid them out for you below:
Now, how many pages should a resume be? Well, reading it shouldn't take nearly as long as an ultrasound. Keep it down to a page.
Read more: Best Resume Templates to Download & Use
2. Introduce Your Best Self with a Sonographer Resume Profile
According to the BLS, job opportunities for medical sonographers are projected to grow by a huge 14% over the next decade or so—
Which is considerably faster than average and spells out not just more jobs, but also more competition as the field becomes increasingly attractive to new grads.
To stand out from the crowd, you need more than the impeccable resume format you've just set up for your document. You also need to fill it with eye-catching, job-winning contents.
Starting with a catchy resume profile.
It's a quick highlight reel consisting of 3–4 sentences that summarize the reasons you're worth hiring.
Got past sonographer experience? Great, summarize your resume with a quick breakdown of your best accomplishments and note-worthy career wins. Include your years of experience and add numbers when talking achievements to make them think you're Rick Sanchez (minus the crazy).
And if you're starting out, no worries: write a resume objective instead. Definitely focus on major professional achievements as well, but reach for relatable experience from unrelated positions and describe how the transferable skills and knowledge you have would translate.
Read more: Perfect Resume Introduction Writing Guide
3. Add Your Work Experience to Your Sonographer Resume
Unsurprisingly, how much care and effort you put into your work experience section can make or break the entire resume. Follow these steps to make sure you create a sharp and high-resolution image of your experience:
For each past position you decide to include, provide the job title, facility name, and dates worked.
Add between 3 and 6 bullet points that go in-depth into what you achieved while performing your tasks.
Use action words to capture attention and add number-backed achievements to keep it squarely on you. "Achieved 99% patient satisfaction and improved survey scores by 12%" sounds so much better than "Responsible for providing a positive patient experience".
Adding a "Key Achievement" in bold is a nice way to distinguish yourself even more.
Hands down, the best tip to be given here is to tailor your resume to the job, instead of sending a copy-pasted template. Like a poorly performed ultrasound, it's just not usable.
Read more: All You Need to Know about Writing a Targeted Resume
4. Include Your Degree on Your Sonographer Resume
Reports indicate that education plays second fiddle to professional sonography experience in determining wages. However, that in itself is no excuse to skip the education section on your resume. Presentation is key, and here's how to do it right:
If you have a few years of relevant professional experience, just list your highest level of education, including the names of the degree and the school, location, and years of attendance. And done: you can move on to the next section!
However, if you're writing a resume with no work experience or you've only been in the field for a short while, you'll want to include key highlights from your education. Your schooling is your best asset, so it makes sense to use it to its fullest potential.
So, under your degree, consider adding bullet points with your academic achievements, relevant coursework, GPA (if it was 3.5 or higher), or extracurricular activities. They all show off your skills, one way or another!
Lastly—
Got no relevant sonography experience at all? Move this section up, and move the work experience section down. Playing to your strengths is key.
Read more: The Right Way to Add Your GPA to a Resume
When making a resume in our builder, drag & drop bullet points, skills, and auto-fill the boring stuff. Spell check? Check. Start building a professional resume template here for free.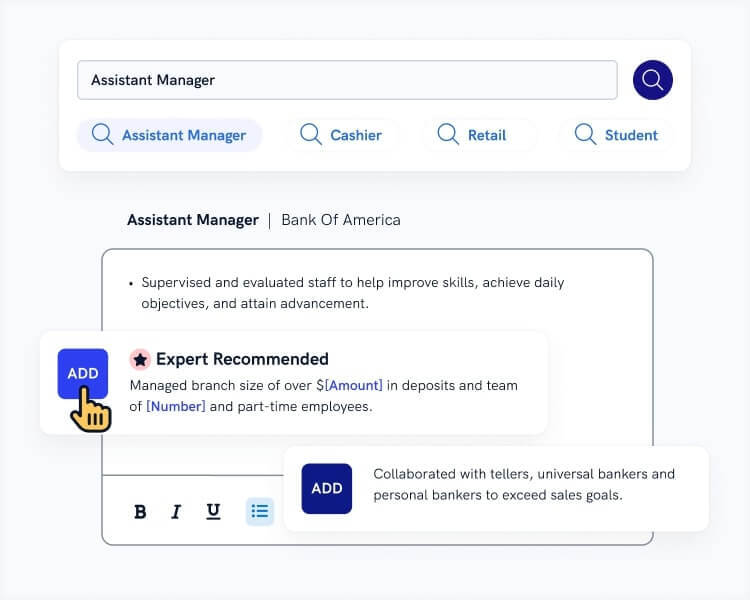 When you're done, our easy resume builder will score your resume and our resume checker will tell you exactly how to make it better.
5. Mention the Requisite Sonographer Skills
Here's a sample list of skills for a sonographer:
Cardiac Sonographer Resume Skills
Patient Care
Optimal Patient Positioning
Health Assessments
Insurance Knowledge
Patient Education
Ensuring High Image Quality
Basic Life Support
Hand-Eye Coordination
But listing all of these outright is bound to get you labeled as a false positive. Do this instead:
Make a note of all of your professional skills. Consider dividing them into categories like soft skills, technical skills, and hard skills.
Search the job posting for the skills embedded in the language. There are definitely those that the employer is looking for in particular, and having these resume keywords in your application boosts your chances tremendously.
When you find a match between your skills sheet, put it on your resume. This helps you make your resume ATS-friendly.
Read more: What Skills to Put on a Resume
6. Throw in Some Extra Sections for a Sonographer Resume
It's never a bad idea to add some extra flair to your resume. You are, after all, a human being, and not just the ultrasound machine. Make your application stand out with some additional resume sections!
Here's a few pointers if you lack inspiration:
Just make sure that whatever you include is somehow relevant to your application and/or shows skills you can use to your advantage.
Read more: What Should a Resume Say?
7. Remember to Add a Cover Letter to Your Sonographer Resume
Statistically speaking, including a cover letter boosts your chances of getting hired:
And it definitely helps you avoid rejection, as 45% of hiring managers won't even consider applications that don't include a cover letter.
That's why a cover letter is an absolute must, provided it's written with care and diligence.
Here's how:
Before you begin, make sure to follow proper cover letter formatting rules.
Set the cover letter spacing to 1 or 1.15, with more space between paragraphs.
Address your cover letter directly to the recruiter or hiring manager who'll read your application.
Write an engaging cover letter opening to grab their attention.
In the body, elaborate on what makes you a great employee, and why you want to work in that particular facility.
Lastly, finish off your cover letter, include a call to action and promise to deliver never-before-seen results.
See? Not so bad! Especially when you consider that the best cover letter length is 3 to 4 paragraphs, so under one page.
Plus, a great cover letter that matches your resume will give you an advantage over other candidates. You can write it in our cover letter builder here. Here's what it may look like: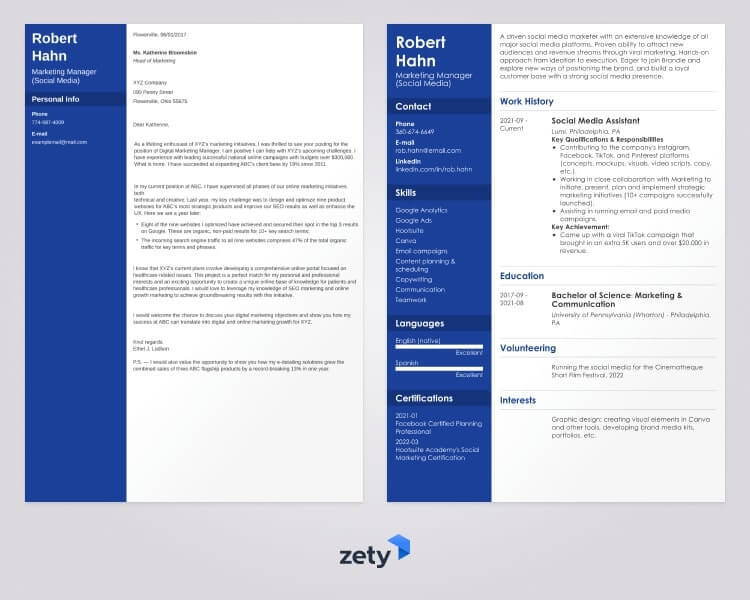 See more cover letter templates and start writing.
And you're done!
That procedure didn't hurt at all!
Thanks for reading. We'd love to hear your feedback, and answer any remaining questions on how to write a sonographer resume. We're waiting for you in the comments!
About Zety's Editorial Process
This article has been reviewed by our editorial team to make sure it follows Zety's editorial guidelines. We're committed to sharing our expertise and giving you trustworthy career advice tailored to your needs. High-quality content is what brings over 40 million readers to our site every year. But we don't stop there. Our team conducts original research to understand the job market better, and we pride ourselves on being quoted by top universities and prime media outlets from around the world.
Sources