Architecture CV Examples & Template for 2023
Your complete blueprint to writing an architecture CV worthy of the Pritzker Prize. Build a perfectly constructed job application and get more interviews.
As an architect, you know that the art of design can be transformative when properly applied. Careful planning can elevate a structure from mere functionality to true creative excellence and the same principles apply when you're targetting the best architecture jobs.
You need a blueprint for an architecture CV that would make Norman Foster proud. And for an investment of just five minutes of your time you'll learn how to write one.
Keep reading and you'll get architecture CV examples you can use to help write your own. You'll also get a set of plans for writing a CV for architecture jobs that'll get you more interviews than ever before.
First, take a look at this architecture CV sample made with our builder.
Want to save time and have your CV ready in 5 minutes? Try our CV builder. It's fast and easy to use. Plus, you'll get ready-made content to add with one click. See 20+ CV templates and create your CV here.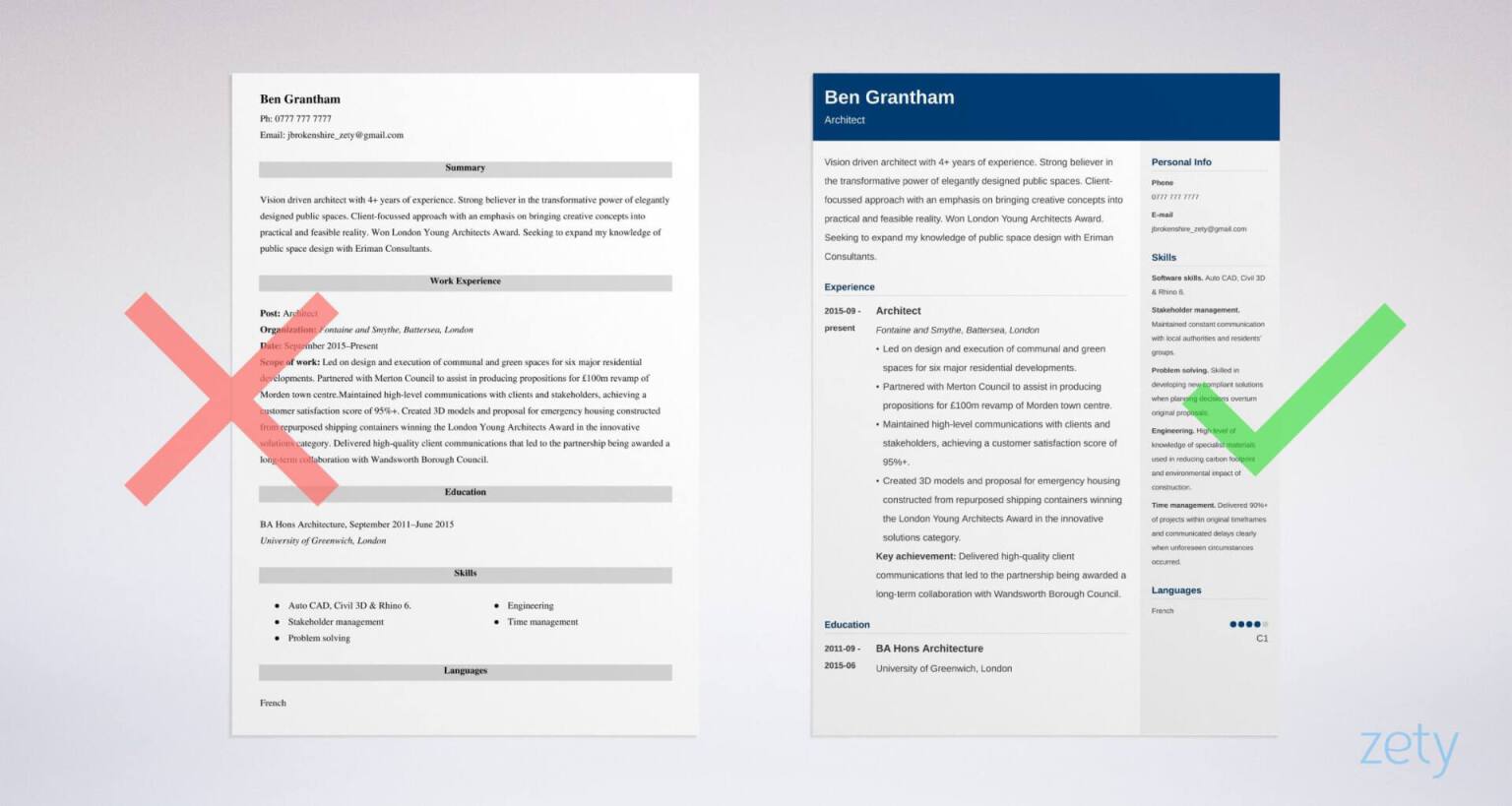 Architecture CV made with our builder—See more CV examples here.
And if you need CV samples for other careers, read more here:
Sample Architecture CV Template
Ben Grantham
Ph: 0777 777 7777
Email: jbrokenshire_zety@gmail.com
Vision driven architect with 4+ years of experience. Strong believer in the transformative power of elegantly designed public spaces. Client-focussed approach with an emphasis on bringing creative concepts into practical and feasible reality. Won London Young Architects Award. Seeking to expand my knowledge of public space design with Eriman Consultants.
Work Experience
Architect
Fontaine and Smythe, Battersea, London
September 2015–Present
Led on design and execution of communal and green spaces for six major residential developments.
Partnered with Merton Council to assist in producing propositions for £100m revamp of Morden town centre.
Maintained high-level communications with clients and stakeholders, achieving a customer satisfaction score of 95%+.
Created 3D models and proposal for emergency housing constructed from repurposed shipping containers winning the London Young Architects Award in the innovative solutions category.
Key achievement: Delivered high-quality client communications that led to the partnership being awarded a long-term collaboration with Wandsworth Borough Council.
Education
BA Hons Architecture, September 2011–June 2015
University of Greenwich, London
Skills
Software skills. Auto CAD, Civil 3D & Rhino 6.
Stakeholder management. Maintained constant communication with local authorities and residents' groups.
Problem solving. Skilled in developing new compliant solutions when planning decisions overturn original proposals.
Engineering. High level of knowledge of specialist materials used in reducing carbon footprint and environmental impact of construction.
Time management. Delivered 90%+ of projects within original timeframes and communicated delays clearly when unforeseen circumstances occurred.
Languages
Now here's how to write an architecture CV:
1. Choose the Best Format for Your Architecture CV
An architect designs the rooms, buildings and complexes in which people live, work, and play. So the purpose of your architecture CV is to show you've got the right mix of design skills, creativity and innovation to communicate your vision and develop viable construction plans.
But despite the complexity of your job, an average hiring manager spends less than 30 seconds considering each job application. So you need to make sure your architecture CV layout communicates your abilities clearly and effectively. Here's how to do it.
Use the right CV format. Chronological is the best choice for an architecture CV as it capitalises on your experience and it's the classic format that recruiters are most familiar with.
Create an effective CV structure. Set your page margins to one inch on all four sides, use left-alignment only, and double space between your CV sections. This creates white space, which makes your content easier to read.
Choose an easy to read CV font. Times New Roman, Helvetica & Georgia are all excellent choices.
Save your finished architectural CV in PDF format unless the job advert says otherwise. That way you keep your layout intact.
Never include personal info like your date of birth, marital status or a CV photo. It has no relevance to whether you're a good candidate and can create all sorts of problems with discrimination.
Read more: How to Layout a Professional CV
2. Design an Architecture CV Personal Statement
Imagine distilling the purpose and concept of a project into a brief paragraph, 3–4 lines long. That's what your architecture CV personal statement is. A brief summary of the CV that follows. It needs to catch the hiring manager's eye and convince them to keep reading the rest of your CV. Here's how to write it.
Start off by considering:
Who you are.
What you can offer to the employer.
What your career goals are.
You'll design your personal statement structure differently depending on what stage of your career you're at. Here are the plans for an experienced architect.
Start by writing down all of your professional experience and skills as an architect. Create a list of all your abilities that help you excel in your career.
Now refer to the job description, and match 3–4 points from your own list that match the requirements it mentions.
Then use these points to help write a personal profile targetted to the architecture job you're applying for.
If you don't have any professional experience, for example if you're writing an architecture student CV or architecture graduate CV, then use this plan instead.
Write down a list of the skills and knowledge you've gained through your education and any other work experience you've had. Then note down everything that's transferable to the architecture role you're applying for.
Next, write your personal profile by combining passion for the role and your prospective employer with your transferable skills to prove you'll make a good new addition to their team.
And although this section appears first on your CV, save writing it until last. Having your work experience, education and skills written and ready to refer to makes writing your CV summary much easier.
Read more: How to Write a Powerful CV Summary
3. Create a Well-Built Architecture CV Work Experience Section
Your work experience section is the foundation of your CV. Without it, your job application would crumble. Recruiters want to see you're able to roll up your sleeves and create brilliant designs with ease. Here's how to show them your foundation is rock solid.
Use reverse-chronological order, list your most recent job first and work back from there.
Include the same basic information for each role. The name of your employer, your job title and your dates of employment, using 'present' as the end date if you still work there.
Then write up to six bullet points describing each job you've listed. Start them off with a CV action word for added impact. E.g. instead of 'responsible for' try acted as, operated or prepared instead.
Ensure you include achievements quantified with numbers. It's vital you prove how well you did the job, not just describe what you did. Use the PAR technique and accomplishment statements to make your achievements look even more impressive.
And tailor your work history to the position you're targeting. Refer to the job description again and make sure you address the job requirements.
Read more: How to Write a Convincing CV Work Experience Section
4. Include an Education Section
Architecture isn't a job where you can fake it until you make it. There are very clear expectations of the education that's required to be an architect and recruiters expect your education section to be presented in a certain way. Here's how to do it.
Write the name of the university you attended, the name of your degree and the dates you studied there. Include your expected graduation date as the end date if you're still studying.
Use reverse chronological order if you have more than one qualification, starting with the most recent first.
Only mention honours if they're a 2:1 or a first.
If you've just graduated within the last 12 months, list individual modules if they're relevant to the job you're targetting. They'll help give more weight to your application in the absence of work experience.
And another tweak for new grads, change the order of your CV and put your education section first.
5. Show off Your Architecture CV Skills
Ask the average man on the street and they'll probably tell you that architects make drawings of buildings. But we know there's so much more to it. Being an architect requires skills in design, materials, plus the interaction between structures, humans and the environment. Add in effective communication with clients and you've just begun to scratch the surface of the skills required.
So how can you narrow that list down to fit on a one or two page CV? Try this approach.
Go back to our old friend, the job description, and highlight all the skills it mentions.
Now for a list of your own skills. Look at the CV sections you've already written for ideas.
Then compare your skills to those in the job description, see what matches and choose 5–10 of the matching points to include in your skills section. Aim for a mix of both hard skills and soft skills.
And back up each skill with a sentence that proves your competence. It's more effective than just creating a shopping list of skills. E.g. Engineering. High level of knowledge of specialist materials used in reducing carbon footprint and environmental impact of construction.
Here are some skills that would look great on an architectural CV. But remember to tailor your own skills list to the job you're applying for.
Must-Have Architecture CV Skills
Creative thinking
Communication
Design skills
Building regulation knowledge
Planning law knowledge
Attention to detail
Engineering skills
Architectural CAD software
Commercial awareness
Teamwork
Conceptual skills
Read More: Best Skills List For Your CV [Popular Skills & Examples]
When making a CV in our builder, drag & drop bullet points, skills, and auto-fill the boring stuff. Spell check? Check. Start building your CV here.
When you're done, Zety's CV builder will score your CV and tell you exactly how to make it better.
6. Add Extra Sections to Your Architecture CV
Without additional design elements all of our buildings would be characterless boxes. Additional sections are to your CV what design elements are to buildings, they add individuality and help it stand out. You don't have to go full-on Baroque ornamentation, but one or two carefully chosen extras will really help you get ahead of the competition.
If you speak a foreign language, include a languages section. It's an excellent addition for a career that often involves international clients and projects.
Awards would be a great choice too. Nothing highlights your architectural abilities better than objective recognition.
Other ideas include volunteering or hobbies and interests. As long as it's relevant and adds more proof that you're a good candidate, it's worth considering.
Read more: Best List of Hobbies and Interests for Your CV
7. Write an Architecture Cover Letter
The best architecture CV examples have one thing in common. They're all accompanied by a well-written architecture cover letter. A majority of employers still consider a cover letter a must-have. Failing to include one effectively cuts your chances of success in half.
Here's what to include in a cover letter for architecture jobs.
Use the right cover letter format, and this includes using standard business letter rules for your cover letter address.
Include a 'hook' in your cover letter introduction. All you need to do is include a relevant and impressive professional achievement and you'll get the hiring manager hooked and convince them to keep reading.
Weave in even more proof of your abilities in your middle paragraphs. Really drive home how your experience and skills will help you excel in this particular architect role.
Build a call to action into your cover letter ending. By asking for an interview you'll significantly increase your chances of getting one.
And stick to a minimalist design philosophy. The best cover letter length is one page or less.
Plus, a great cover letter that matches your CV will give you an advantage over other candidates. You can write it in our cover letter builder here. Here's what it may look like: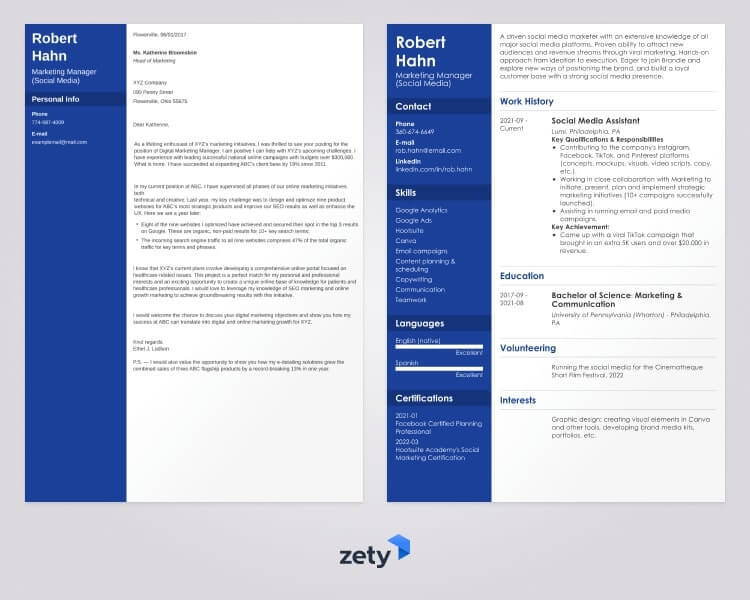 See more cover letter templates and start writing.
Thanks for getting this far. I trust you found our advice on architecture CVs useful. If you'd like any other advice about how you can craft the best architecture CV for the job you're targeting then please ask in the comments section and I'll be happy to help.
About Zety's Editorial Process
Our editorial team has thoroughly reviewed this article to ensure it follows Zety's editorial guidelines. Our dedication lies in sharing our expertise and providing you with actionable career advice that offers you real value. Every year, the quality of our content attracts 40 million readers to our site. But that's not all – we conduct original research to gain a detailed understanding of the labour market. We take pride in being cited by top universities and leading media outlets in the UK and worldwide.
Sources