Barista CV Example & Writing Guide for 2023
You're the undisputed king of cappuccino. Read this guide and in less time than it takes to say dirty chai latte you'll learn how to write a barista CV that proves it.
As a barista, you're one of society's unsung heroes. Where would we be without your expertly crafted caffeinated creations? It's also a job that requires considerable skill, and to get the best barista gigs you need to show you've got a shot of intensely roasted talent.
And the best way to do that is with a perfectly brewed barista CV.
Read on and you'll see a professional barista CV example you can edit and make your own. Plus, you'll learn an easy formula for writing a CV for barista jobs that will land you 10x more interviews than any other CV you've written in the past.
First, here's a barista CV sample made with our builder.
Want to save time and have your CV ready in 5 minutes? Try our CV builder. It's fast and easy to use. Plus, you'll get ready-made content to add with one click. See 20+ CV templates and create your CV here.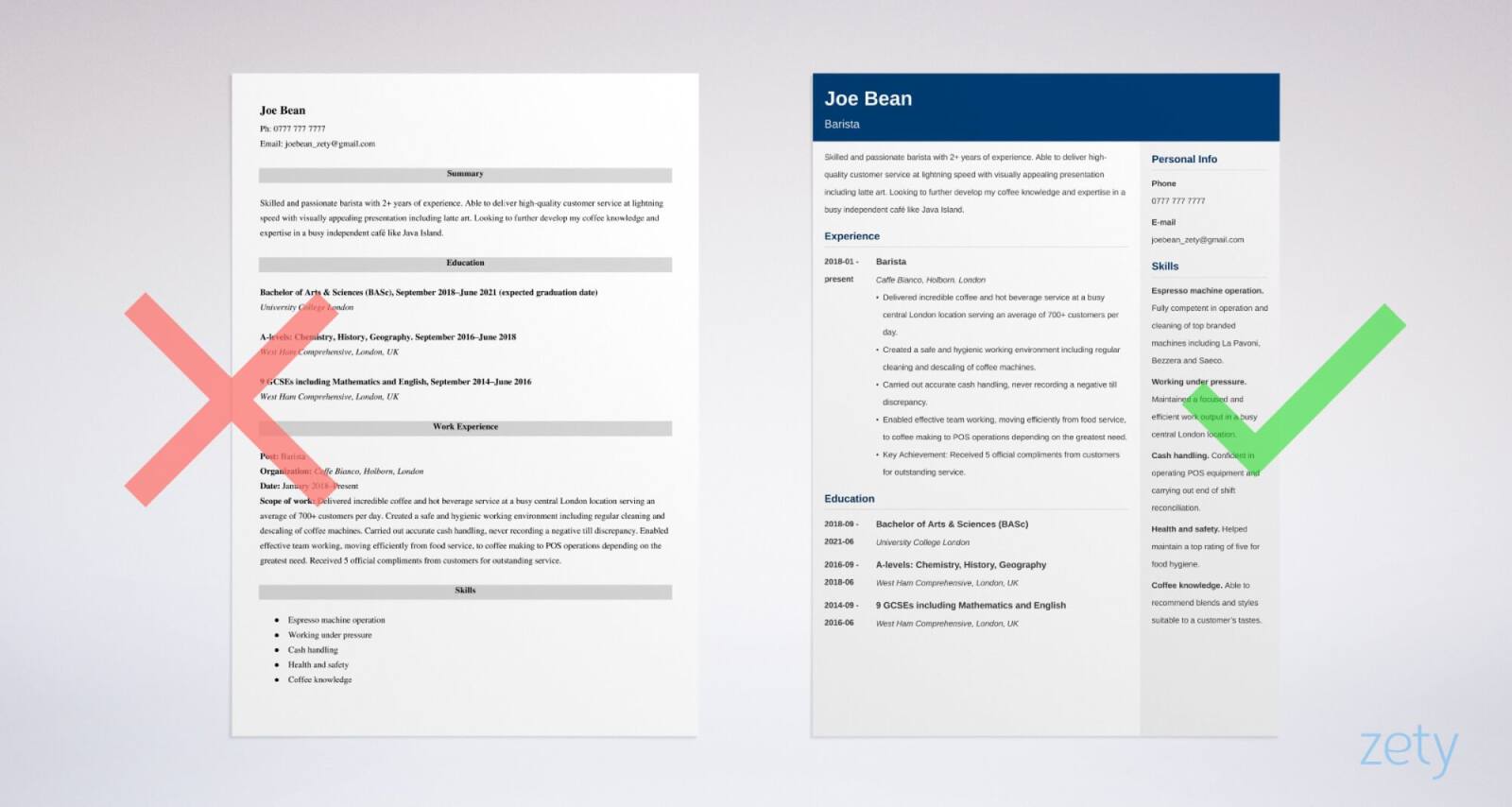 Barista CV made with our builder—See more CV examples here.
Looking for CV writing guides for other jobs? Read more here:
Sample Barista CV Template
Joe Bean
Ph: 0777 777 7777
Email: joebean_zety@gmail.com
Skilled and passionate barista with 2+ years of experience. Able to deliver high-quality customer service at lightning speed with visually appealing presentation including latte art. Looking to further develop my coffee knowledge and expertise in a busy independent café like Java Island.
Work Experience
Barista
Caffe Bianco, Holborn, London
January 2018–Present
Delivered incredible coffee and hot beverage service at a busy central London location serving an average of 700+ customers per day.
Created a safe and hygienic working environment including regular cleaning and descaling of coffee machines.
Carried out accurate cash handling, never recording a negative till discrepancy.
Enabled effective team working, moving efficiently from food service, to coffee making to POS operations depending on the greatest need.
Key Achievement: Received 5 official compliments from customers for outstanding service.
Education
Bachelor of Arts & Sciences (BASc), September 2018–June 2021 (expected graduation date)
University College London
A-levels: Chemistry, History, Geography. September 2016–June 2018
West Ham Comprehensive, London, UK
9 GCSEs including Mathematics and English, September 2014–June 2016
West Ham Comprehensive, London, UK
Skills
Espresso machine operation. Fully competent in operation and cleaning of top branded machines including La Pavoni, Bezzera and Saeco.
Working under pressure. Maintained a focused and efficient work output in a busy central London location.
Cash handling. Confident in operating POS equipment and carrying out end of shift reconciliation.
Health and safety. Helped maintain a top rating of five for food hygiene.
Coffee knowledge. Able to recommend blends and styles suitable to a customer's tastes.
Now for the job-winning barista CV formula.
1. Use the Best Format for Your Barista CV
A barista is a specialist in the serving and preparation of a variety of coffee-based beverages. The purpose of your barista CV is to prove your skills in beverage preparation along with demonstrating excellent communication and customer service skills.
But hiring managers spend only 20–30 seconds looking at each CV. Around the same time it takes to pull a perfect espresso shot!
To hold their attention span as lungo as possible here's what you need to do.
Nail your CV format. The best one you can choose for a barista CV is known as chronological. It's the one hiring managers know and love and it puts your work experience front and centre.
Make sure your CV layout is perfectly presented. Set the margins to one inch on every side, left-align your text, don't use justification, and put a double space between your CV sections. This creates white space, and that creates an easily readable document.
Stick with a professional and attractive CV font. Make it easy on the eye with solid choices like Arial, Tahoma and Georgia.
Unless the application process says otherwise, save your finished CV in PDF format to preserve your layout.
Never include personal information like a headshot, your date of birth or marital status. It's a minefield in terms of discrimination and isn't relevant to your ability to do the job.
Read more: How to Layout a Professional CV
2. Prepare a Barista CV Personal Statement
Your personal statement or personal profile is the intro to your CV for a barista. It's a short paragraph, just 3–4 lines long, and it needs to grab the recruiter's attention and hold it so they keep on reading.
To get a whole latte love, write it by answering these questions.
Who are you?
What can you offer to the employer?
What are your career goals?
But the way you answer will change depending on how much experience you have. If you're an experienced barista then do this.
Take some time to make a list of all your strengths as a barista. Consider every aspect of your professional experience, skills and abilities.
Then analyse the job description in the advert and match 3–4 points from your list to the skills and experience it requires.
Incorporate these points into a personal profile targeted to the barista job you're applying for.
If you're still an 'unroasted bean' writing a barista CV with no experience then use this approach.
List the skills you already possess. Think back over your education and other jobs you've had. Then make a list of the skills that would be transferable to a barista position, such as customer service, and food and beverage serving.
Write your personal statement by combining these skills with passion for the role, and knowledge about the employer to prove that you'll be a good fit.
And regardless of your experience, leave this section until last. It's much easier to write when you have your work experience and skills set out in front of you to refer to.
Now for the God Shot, your work experience section.
Read more: How to Write a CV Summary [10+ Examples]
3. Brew a Perfect Barista CV Work Experience Section
Your work experience section is the single most important part of your whole job application. Hiring managers want baristas who can get to work and start pulling shots with their eyes closed. Here's how to prove you've got what it takes to succeed.
Your most recent job goes first and you then work back from there.
For each entry, include the job title, the name of your employer, your dates of employment (using "present" as the end date if you work there now), and then write up to six bullet points describing each job.
Start each bullet point with a CV action verb like assisted, achieved or operated, to give them added impact.
Include measurable achievements, don't just describe barista duties on your CV. It isn't just about what you did, you've got to prove how well you did it too.
Use the PAR (Problem-Action-Result) technique and accomplishment statements to structure your bullet points.
Target your CV work experience section to the job description. Pay attention to what skills and experience the hiring manager is looking for and match your experience to what's required.
And if you haven't got any direct experience as a barista, don't worry. Other jobs in retail and hospitality will provide you with useful transferable skills, plus there are plenty of barista training courses available to get some hands-on knowledge of the trade.
Read more: What to Include in Your Work Experience CV Section
4. Include an Education Section
Your education section is an essential part of your CV for a barista. It might not seem important, but recruiters expect it. And just like you'd never add the milk before the tea there are certain set rules you need to follow. Here's how to do it.
If you're a school leaver, include the school's name, location, and the dates you attended. List the individual subjects for your A-levels. But for GCSEs, Maths and English are the only subjects you need to mention specifically, many employers consider passes in these subjects to be an essential requirement.
For uni students and graduates, list the university name, years attended, and the name of your degree. If you're currently studying include the expected graduation date.
If you've just finished school or graduated uni and don't have a lot of experience then change the order of your CV and put your education section before your work experience.
5. Show Off Your Barista CV Skills
Skills are everything in your profession, to make the perfect coffee and create milk foam art works to takes a lot of practice. But there's more skills to being a barista then you can point an organic almond biscotto at. So how do you choose which ones to highlight on your CV? It's easier than using a French press. Just do this.
Read the job advert and check what skills this particular café needs from a barista. The job description will tell you exactly what's needed.
Now, list of all of your skills, look back at your work experience and education sections for ideas.
Then compare the two lists of skills, see what matches, and choose 5–10 of the matching points to include on your CV.
Aim for a mix of soft skills, hard skills and technical skills.
And for each skill, write a single sentence that proves you possess it. Don't just show, tell. E.g. Espresso machine operation. Fully competent in operation and cleaning of top branded machines including La Pavoni, Bezzera and Saeco.
These skills would all make a fantastic addition to your barista CV.
Necessary Barista Skills for a CV
Customer service
Teamwork
Hygiene and health and safety
Espresso machine operation
Speed and efficiency
Ability to work under pressure
Cash management
Coffee knowledge
Salesmanship (upselling)
Read More: Best List of Skills For Your CV [Top Skills & Examples]
When making a CV in our builder, drag & drop bullet points, skills, and auto-fill the boring stuff. Spell check? Check. Start building your CV here.
When you're done, Zety's CV builder will score your CV and tell you exactly how to make it better.
6. Add Extra Sections to Your Barista CV
You could stop here and you'd have a perfectly acceptable CV structure. But you wouldn't stand out as an exceptional candidate. To do that you need to add extra sections to your CV. It's like getting a free chocolate muffin with your cappuccino. Here are some suggestions.
Languages are always a winner. Being bilingual boosts your employability and it's a highly regarded skill for customer-facing roles like a barista.
Volunteering is another job-winning optional extra. 82% of managers say volunteering experience makes them more likely to hire someone.
Some other suggestions are achievements, awards and hobbies. Just ensure it's relevant to the job and casts you in a positive light as a candidate.
Read more: Best Hobbies and Interests for a CV
7. Consider a Barista Cover Letter
Cover letters and CVs go together like coffee and croissants. A cover letter is an important part of your job application toolkit and most hiring managers still consider them a must-have.
Here's how to write a cover letter effectively.
Set the correct cover letter format, including the cover letter address.
Launch your cover letter opening with a hook. Grab the hiring manager's attention with enthusiasm and an impressive professional accomplishment.
In your middle paragraphs, show how your skills and experience will help you to excel as a barista and deliver outstanding coffee and customer service.
Put a call to action in your cover letter ending. Ask to meet to discuss the job further, or for an extra incentive, offer to do a trial shift.
Don't overfill the cup. Stick to the right cover letter length.
Plus, a great cover letter that matches your CV will give you an advantage over other candidates. You can write it in our cover letter builder here. Here's what it may look like: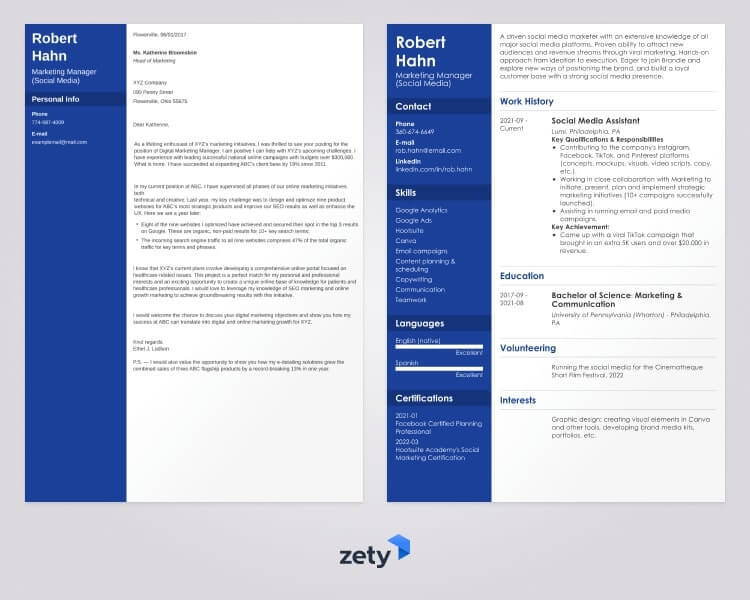 See more cover letter templates and start writing.
Final tip. Follow up. If you don't get a reply to your application within a week then make contact with the hiring manager to check progress. It's another way of boosting your chances of success.
Thanks for reading. I hope you found our barista CV example useful. Is there any other advice you'd like about applying for barista jobs? If you have any questions, ask away in our comments section.