Searching for a good looking LaTeX CV template? You've come to the right place. We've collected a dazzling dozen of the best LaTeX CV templates out there so you can stop searching and get writing.
We're also going to discuss whether a LaTeX CV template will work for you, because they're best kept for very specialised purposes.
Let's get started.
Want to save time and have your CV ready in 5 minutes? Try our CV builder. It's fast and easy to use. Plus, you'll get ready-made content to add with one click. See 20+ CV templates and create your CV here.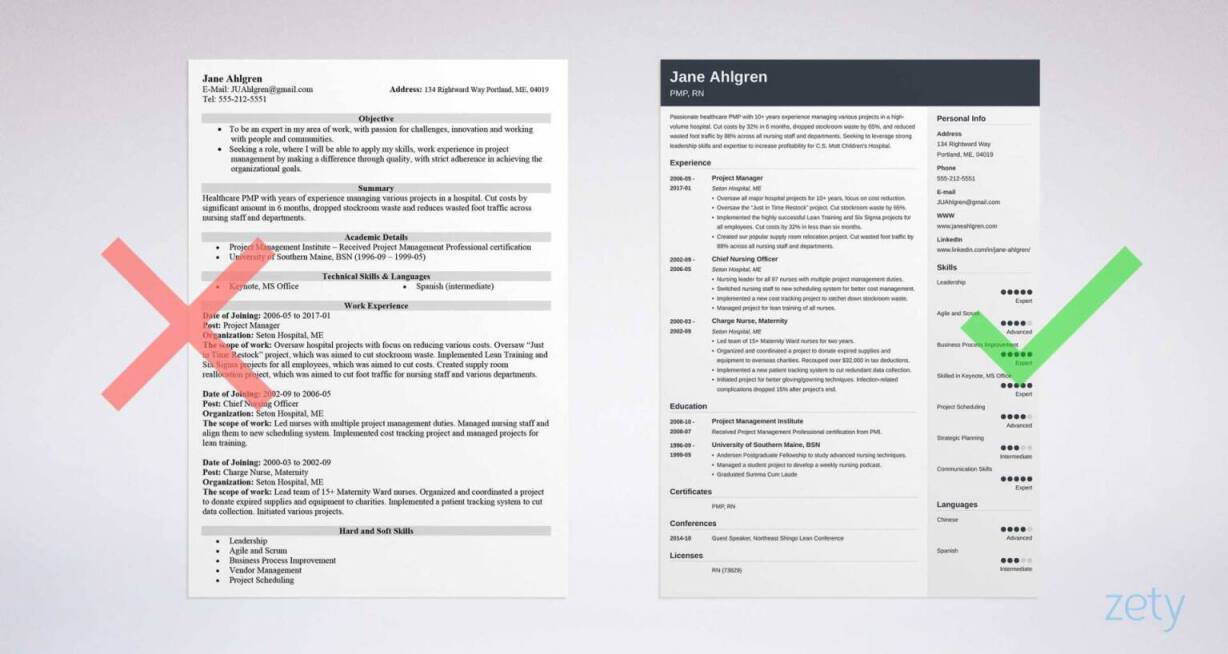 Sample CV made with our builder—See more CV samples here.
Not looking for a LaTeX CV template? We have plenty of standard CV templates for you to choose from.
Should You Use a LaTeX CV Template?
Before we start, let's have a look at the pros and cons of using a LaTeX CV template. It's actually a highly specialised system and doesn't work for everyone.
LaTeX CV Template Advantages
Good for academic purposes. It's good at cross-referencing within a longer document and handles bibliographies and citations particularly well. It's also good for inputting mathematical equations and symbols.
Has the potential to produce aesthetically beautiful documents.
LaTeX CV Disadvantages
It may produce beautiful documents, but this is a two-edged sword. The resulting format might be incompatible with ATS software. And if that's the case, your CV is rejected immediately and all that hard work was a waste of time.
Steep learning curve. If you're not familiar with the system there's a lot to learn before you can use it confidently. They're not for candidates who lack computer skills.
Every time you need to rewrite your CV or try a new template you have to start completely from scratch. LaTeX is not a good system for documents like CVs that need to be changed over time and adapted so they're tailored to different job applications.
In short, it's great for academic publications, particularly for those involving mathematical equations. Not so good for general CV writing, but it may be useful for long format academic CVs.
For an easy to use, intuitive and fully ATS compatible experience our CV builder is the perfect choice. And every template is aesthetically beautiful too!
But for those of you who do need to write your CV in LaTeX, let's get started on our round-up of the best LaTeX CV templates.
1. Awesome CV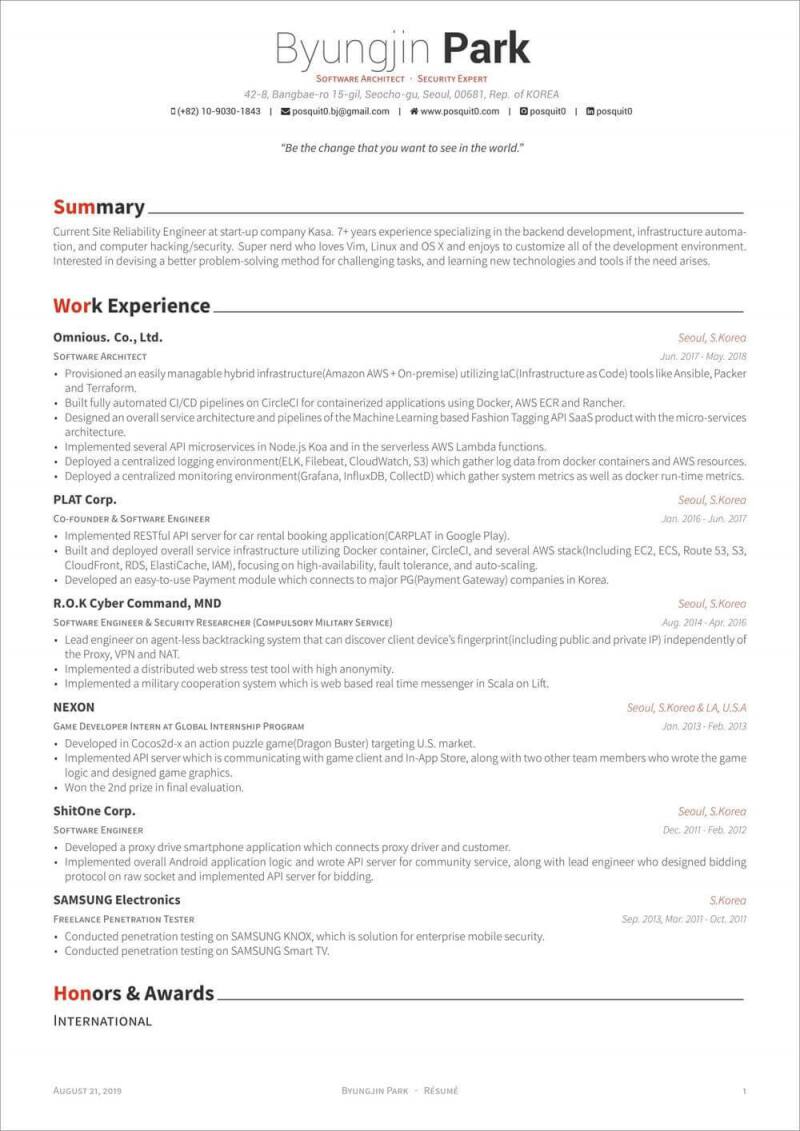 Let's kick off with the wonderfully named Awesome LaTeX CV Template. It has a slick, modern look that could be taken straight out of the UX design for a high-quality app. Splitting your name between bold and standard weight font is a very effective way of adding emphasis and the colour is subtle but striking. Having the main headings are split between black and coloured font really adds visual interest. You can download this template here.
Read more: Most Professional Fonts for a CV
2. Magdalena Ochoa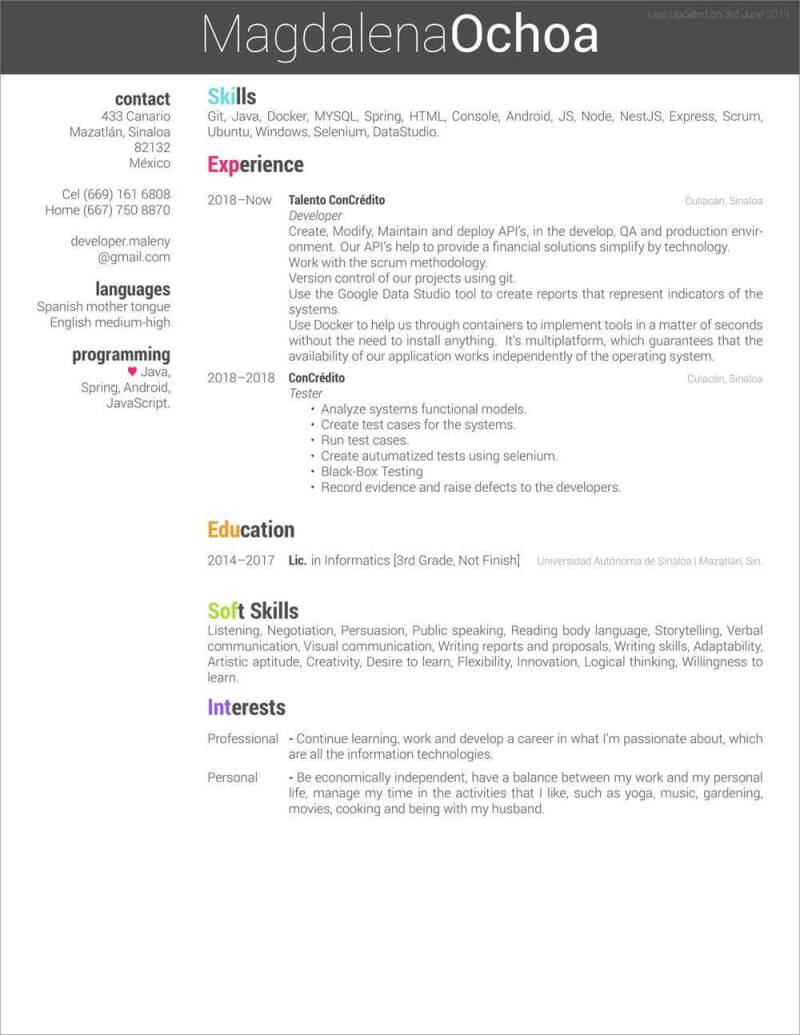 I've already mentioned how aesthetically pleasing a LaTeX CV template can be and this is a perfect example. Writing your name in a single string of text set against a dark background gives this CV template a very tech feel. Then there's a real rainbow of colour used to add bright highlights to the section headings. This would be a great choice for a CV in a field combining tech and design, like UI development. You can download this template here.
Read more: Graphic Design CV Template & Writing Guide
3. Ingrid Vaz Martins
This simple LaTeX CV template takes a more minimalist approach. But it still looks fantastic. That visual impact is achieved through use of a very sophisticated font and good use of colour. The bold green bar added to the timeline is simple but striking. It also has generous white space, an important design element that's essential for an easily readable CV. If you need a LaTeX CV template for academic purposes this would be a great choice as it's relatively conservative and easy to read. You can download this template here.
Suggested for: Graduate CV Template & Writing Guide
4. Jakša Tomović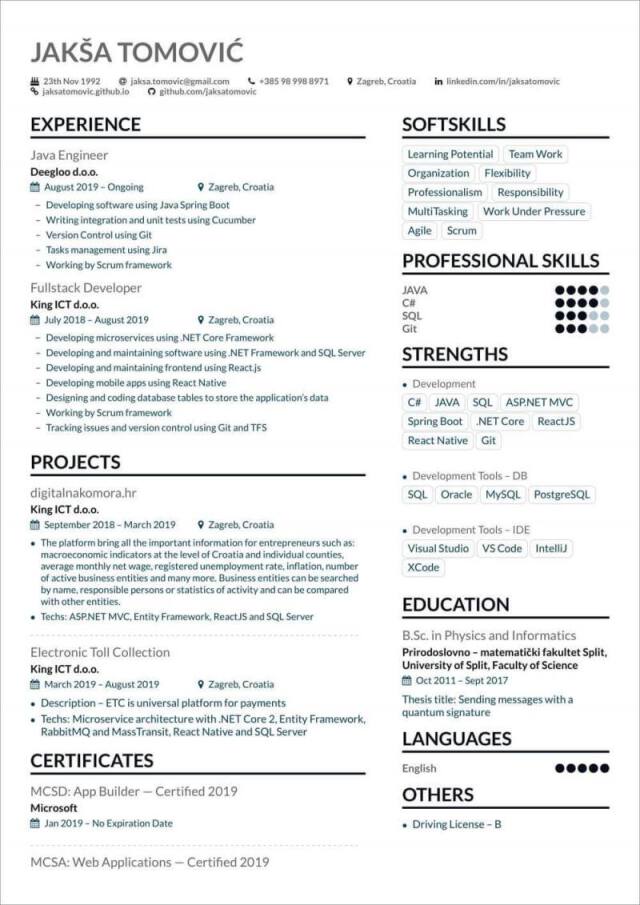 If you're looking for the best LaTeX CV template for jobs in the tech sector then this would be a great choice. The CV layout is full of creative design elements like calendar icons for dates and tagged skills and strengths that look like they're straight out of a Jira card. It also makes use of health bars for professional skills and languages. That's a great way of introducing an element of gamification, which is proven to improve user engagement. You can download this template here.
Read more: 18+ Creative CV Templates
5. Medium Graduate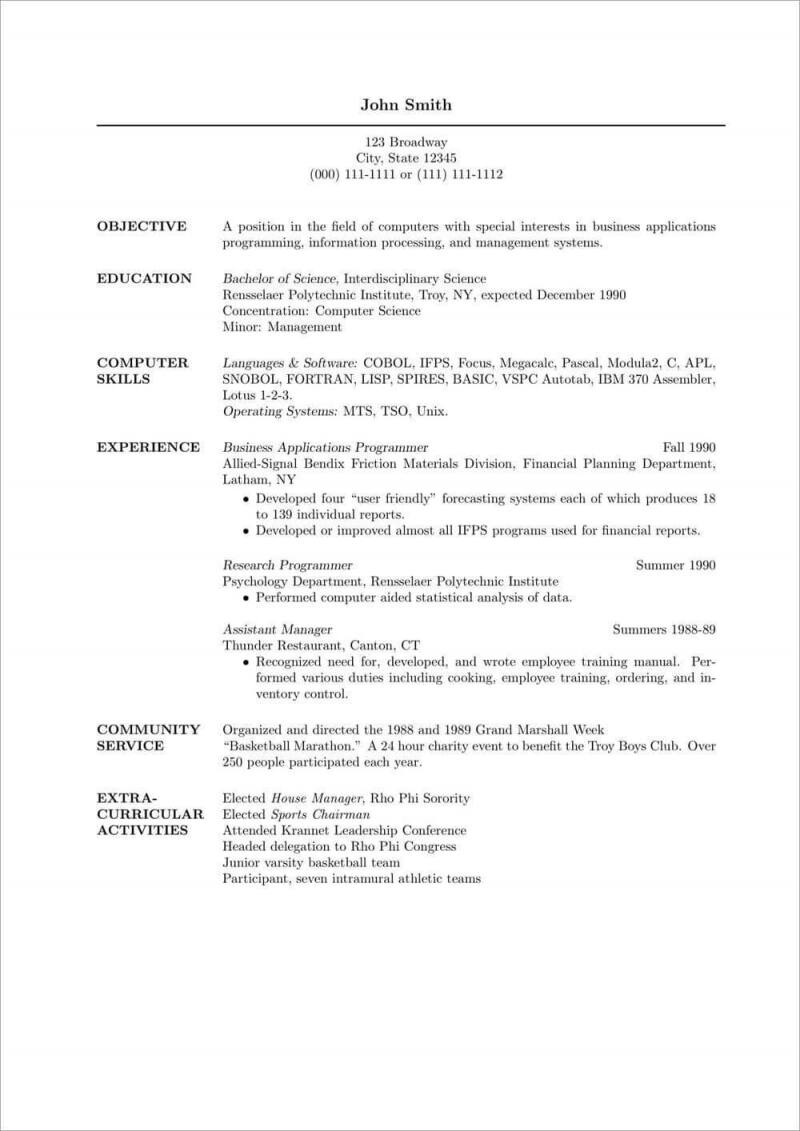 This is a very simple LaTeX CV template that pares back graphical elements and colour for a more classic and conservative look. Appropriately, the candidate has skills in old school programming languages such as COBOL and BASIC, so this template reflects that retro feel. Having the section headings in a separate side column is a clever touch though and helps stop this CV from looking too plain. You can download this template here.
Read more: What to Include in a CV: Essential CV Sections
6. Developer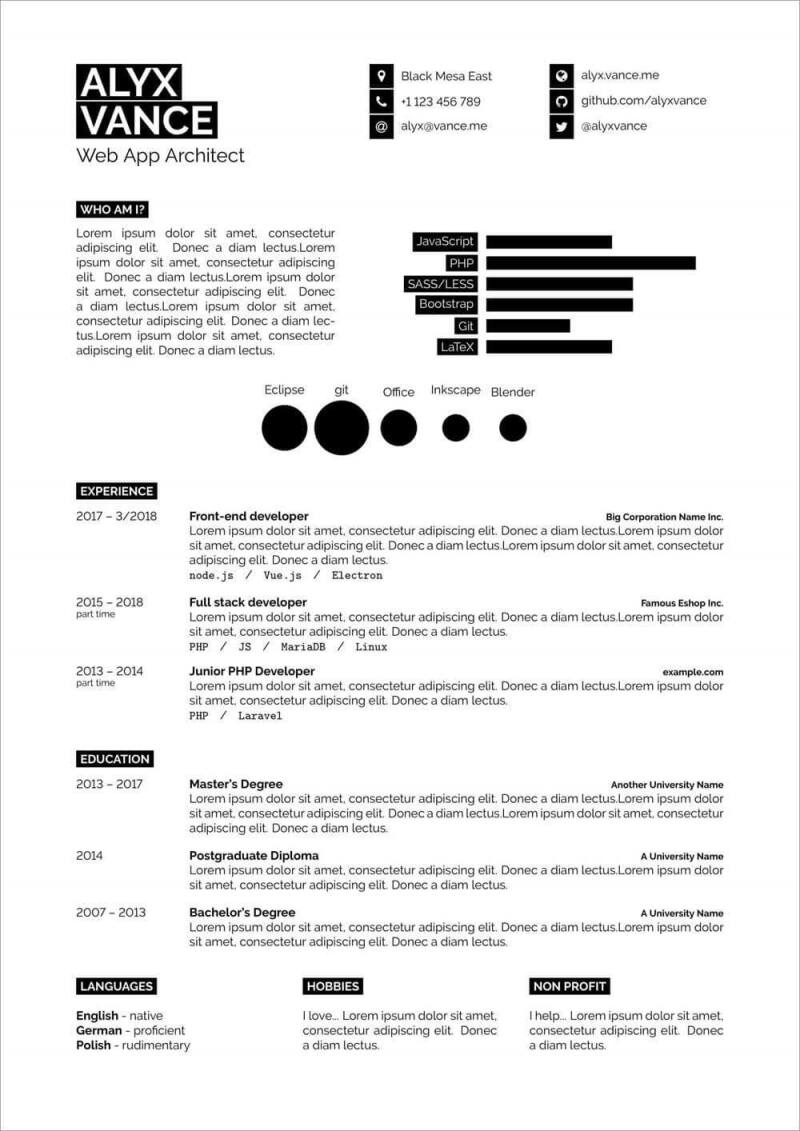 Keeping up the tech theme, this LaTeX CV template is the appropriately named Developer. The defining design element here is the stark black on white elements throughout. Absolutely, it's visually striking but it's elements such as these that ATS software struggles with. I touched upon this in the section on advantages and disadvantages, but this is a gentle reminder. If you want to avoid ATS rejection, try Zety's CV builder instead. You can download this template here.
7. Freeman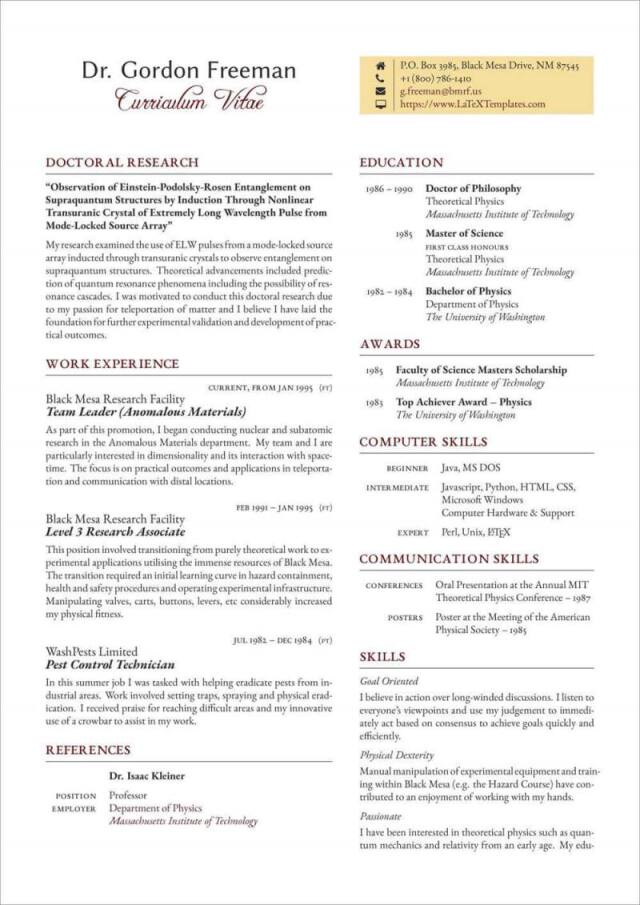 Here's a LaTeX CV template for all the Gamers out there. As you can see it's a CV for the main protagonist of the Half-Life games. It's no gimmick though. The design here is particularly beautiful. Starting from the top there's great font pairing with the cursive and sans serif fonts looking fantastic together. The coloured background of the contact details section adds interest too. A really eye-catching example of a CV template for LaTeX. You can download this template here.
Read more: CV Format: Best Examples for Job Hunting Success
When making a CV in our builder, drag & drop bullet points, skills, and auto-fill the boring stuff. Spell check? Check. Start building a professional CV template here for free.
When you're done, Zety's CV builder will score your CV and tell you exactly how to make it better.
8. 20 Seconds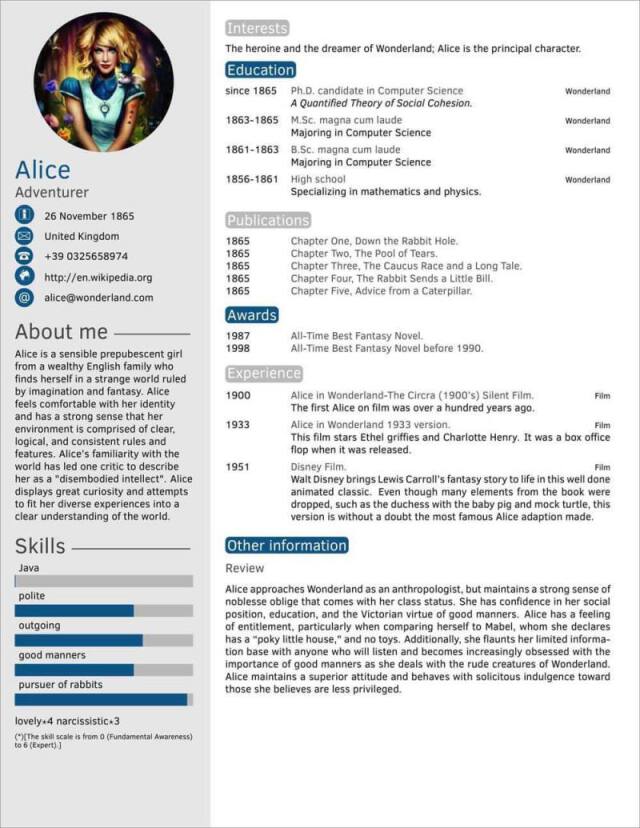 20 seconds is a nicely designed template, but the key point here is the risk you take in using a LaTeX CV template for UK jobs. This one features a photo of the candidate and that's a no-no in UK recruiting. Plenty of hiring managers will automatically reject CVs that feature photos. And appropriately enough, they usually take less than 30 seconds to make that decision. Being a LaTeX template it's more difficult to reformat than if you used a simpler CV builder, so removing the photo isn't straightforward. You can download this template here.
Read more: Skills Based CV Template Writing Guide
9. Stylish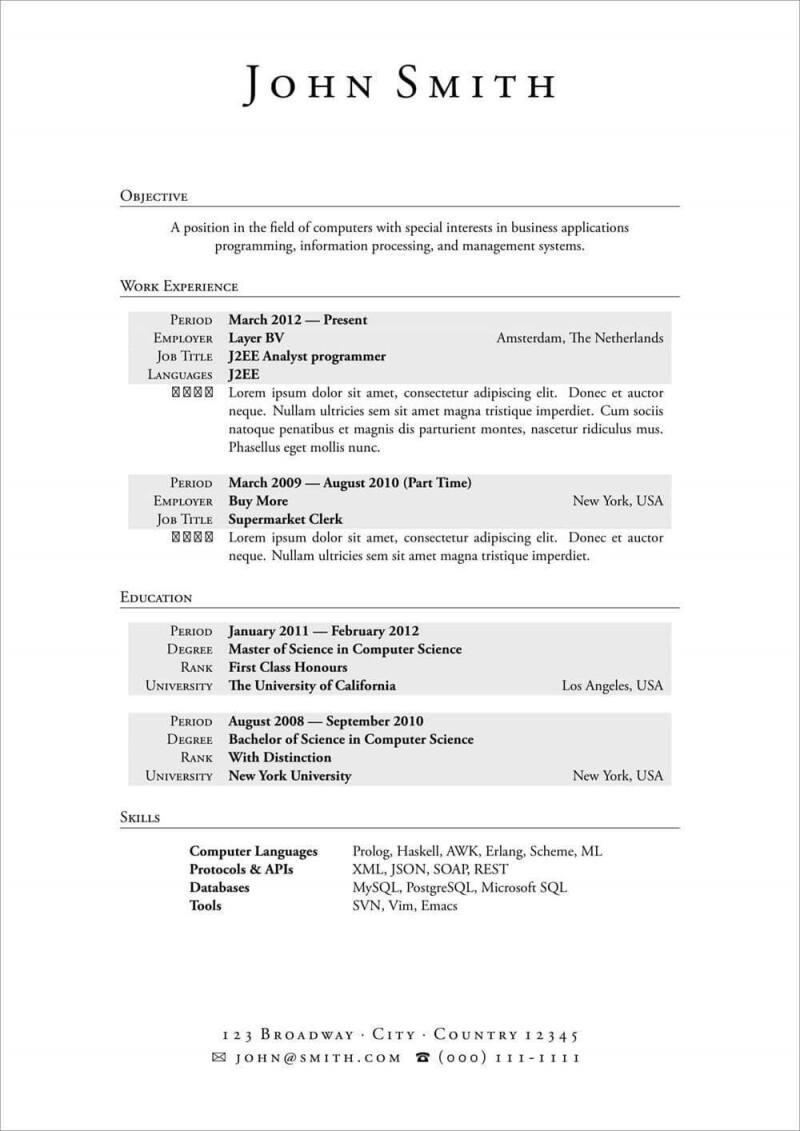 Stylish as a well-cut Italian suit, this LaTeX CV template brings to mind a tasteful corporate business card. The classic serif font immediately catches the eye, as do the alternating grey and white stripes that add structure and highlight important information. Including contact details in the footer is another nice touch and adds to the corporate business card feel. But, the unconventional layout may mean your contact details get missed altogether. You can download this template here.
Read more: Best Hobbies and Interests to Put on a CV
10. Classic Thesis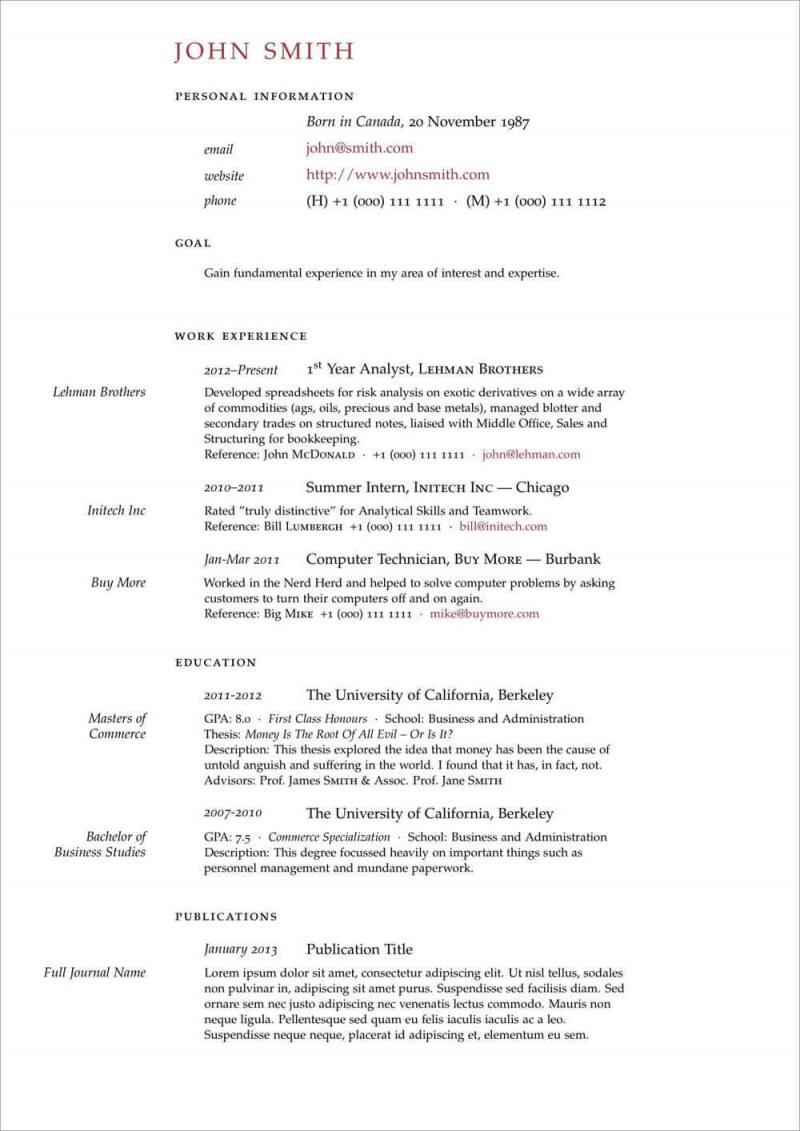 Back to the academic theme now and you could almost imagine this template being used for a prestigious Oxbridge thesis. If you're looking for a LaTeX CV template for a PhD then this is a real winner. There's subtle use of dark red is a classic application of colour theory. It's a warm and stimulating shade, but dialled back from being too obtrusive with a darker hue. This template also features a particularly elegant set of fonts for a classic academic feel. You can download this template here.
Read more: Resume vs CV: What's The Difference & Does it Matter?
11. Cies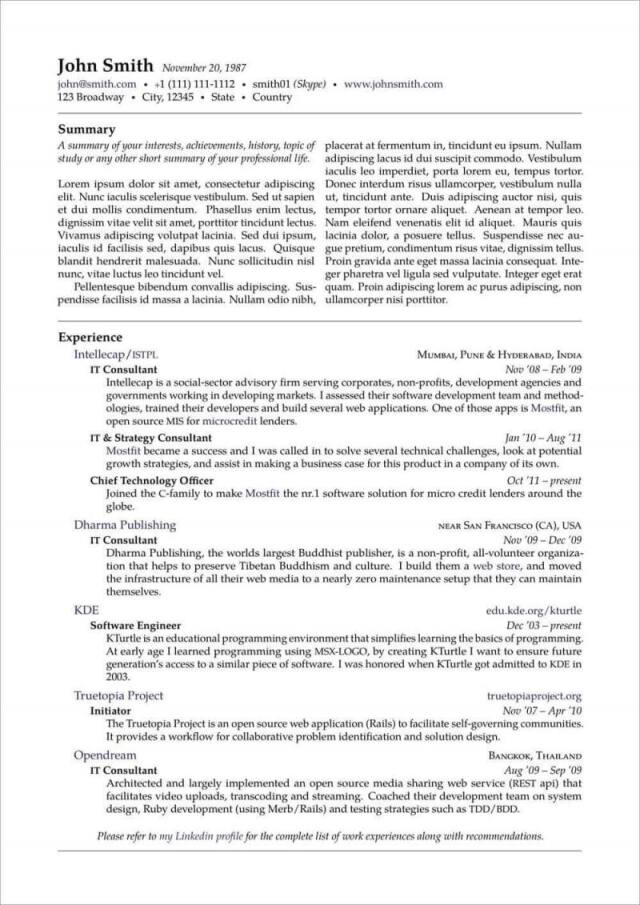 Although it has that attractive retro look, Cies is an example of the pitfalls of using a LaTeX CV template. See that summary section? It might work for an academic paper, but it'd never work for a CV. A good CV summary should be around four lines of text, and that far exceeds the limit. A recruiter is likely to take one look at that and reject your CV immediately just because of that huge chunk of content. They haven't got time to plough through that. The best way of avoiding problems like this is to use an expert-designed CV builder like Zety's. You can download this template here.
Read more: How Long Should a CV Be? Best Page Length
12. Jack Sparrow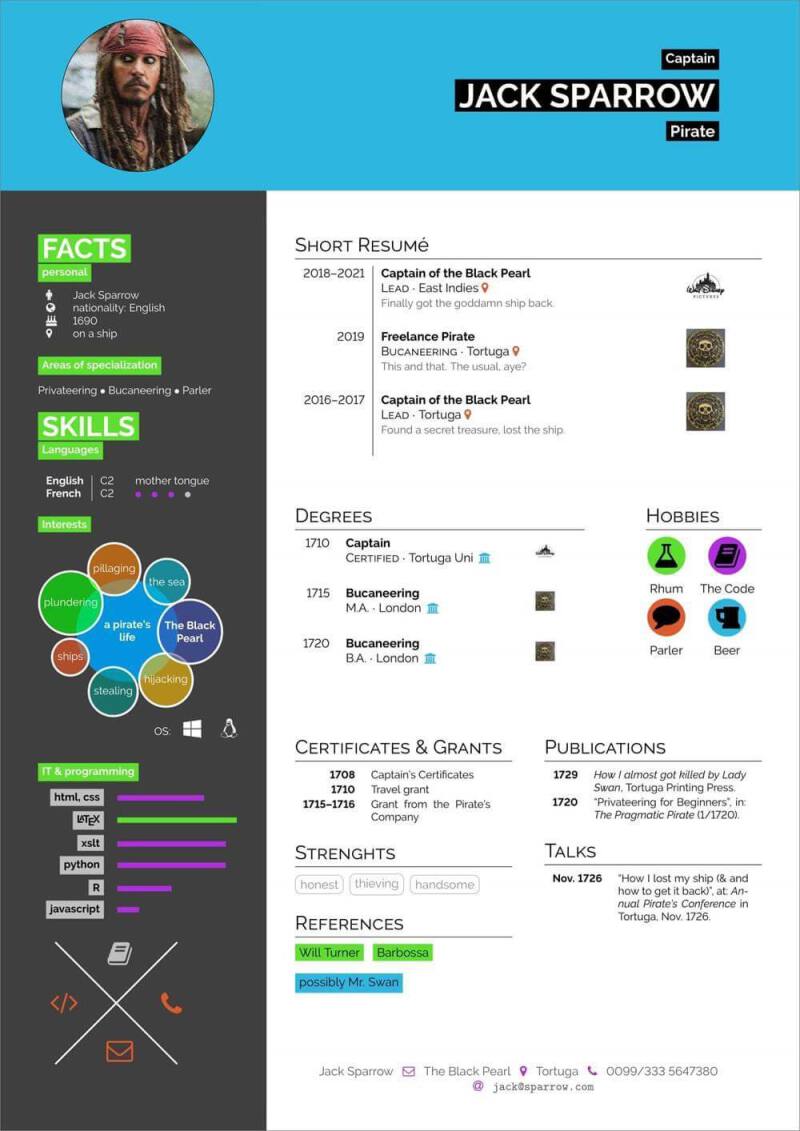 Last up, a wonderfully colourful and creative LaTeX CV template. Perfect for piracy and associated buccaneering trades it's a great example of how much fun you can have with LaTeX. It's a riot of colour and infographic elements and truly unique. That said, there's so much going on that it's not likely to be ATS scannable, so it's not suitable for most candidates. You can download this template here.
Read more: References on a CV: Should You Include Them?
Plus, a great cover letter that matches your CV will give you an advantage over other candidates. You can write it in our cover letter builder here. Here's what it may look like: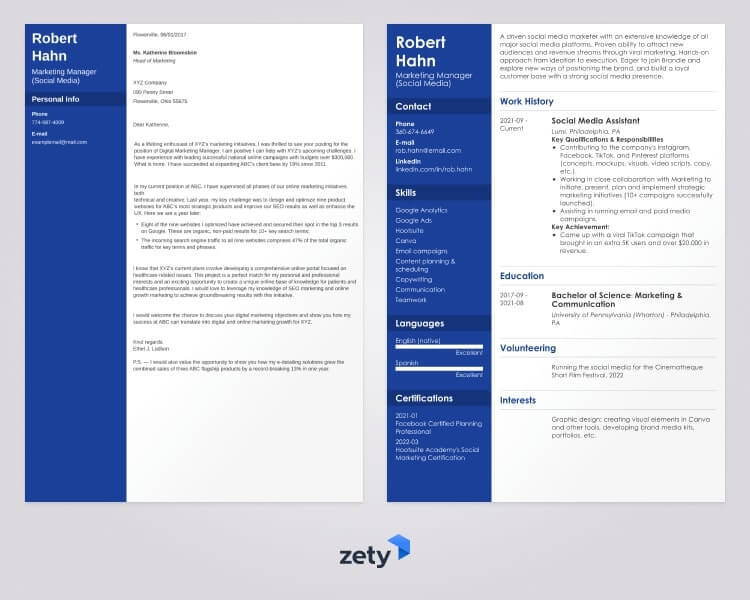 See more cover letter templates and start writing.
Key Takeaways
There are some very creative LaTeX CV templates out there. But—
They really aren't for everyone, you need to learn how to edit in LaTeX, they're not easily changeable and they're often not ATS scannable.
Unless you've got very specialised needs, stick to a user-friendly and equally attractive set of CV templates, like ours.
Thanks for reading. What else would you like to know about writing a CV template in LaTeX? Maybe you need to know more about the pros and cons of a LaTeX template CV. Ask away in the comments section and I'll be happy to help.
About Zety's Editorial Process
Our editorial team has thoroughly reviewed this article to ensure it follows Zety's editorial guidelines. Our dedication lies in sharing our expertise and providing you with actionable career advice that offers you real value. Every year, the quality of our content attracts 40 million readers to our site. But that's not all – we conduct original research to gain a detailed understanding of the labour market. We take pride in being cited by top universities and leading media outlets in the UK and worldwide.
Sources