Graphic Design CV: Examples & Guide for Graphic Designers
As Milton Glaser said, "There are three responses to a piece of design – yes, no, and WOW! Wow is the one to aim for." You're just five minutes away from learning how to create the best graphic designer CV that will wow the recruiter.
Read on and you'll see a professional graphic design CV example that'll help you create a job-hunting wow moment. Plus, you'll learn an easy formula for writing a CV for graphic design jobs that will land you 10x more interviews than any other CV you've written in the past.
Want to save time and have your CV ready in 5 minutes? Try our CV builder. It's fast and easy to use. Plus, you'll get ready-made content to add with one click. See 20+ CV templates and create your CV here.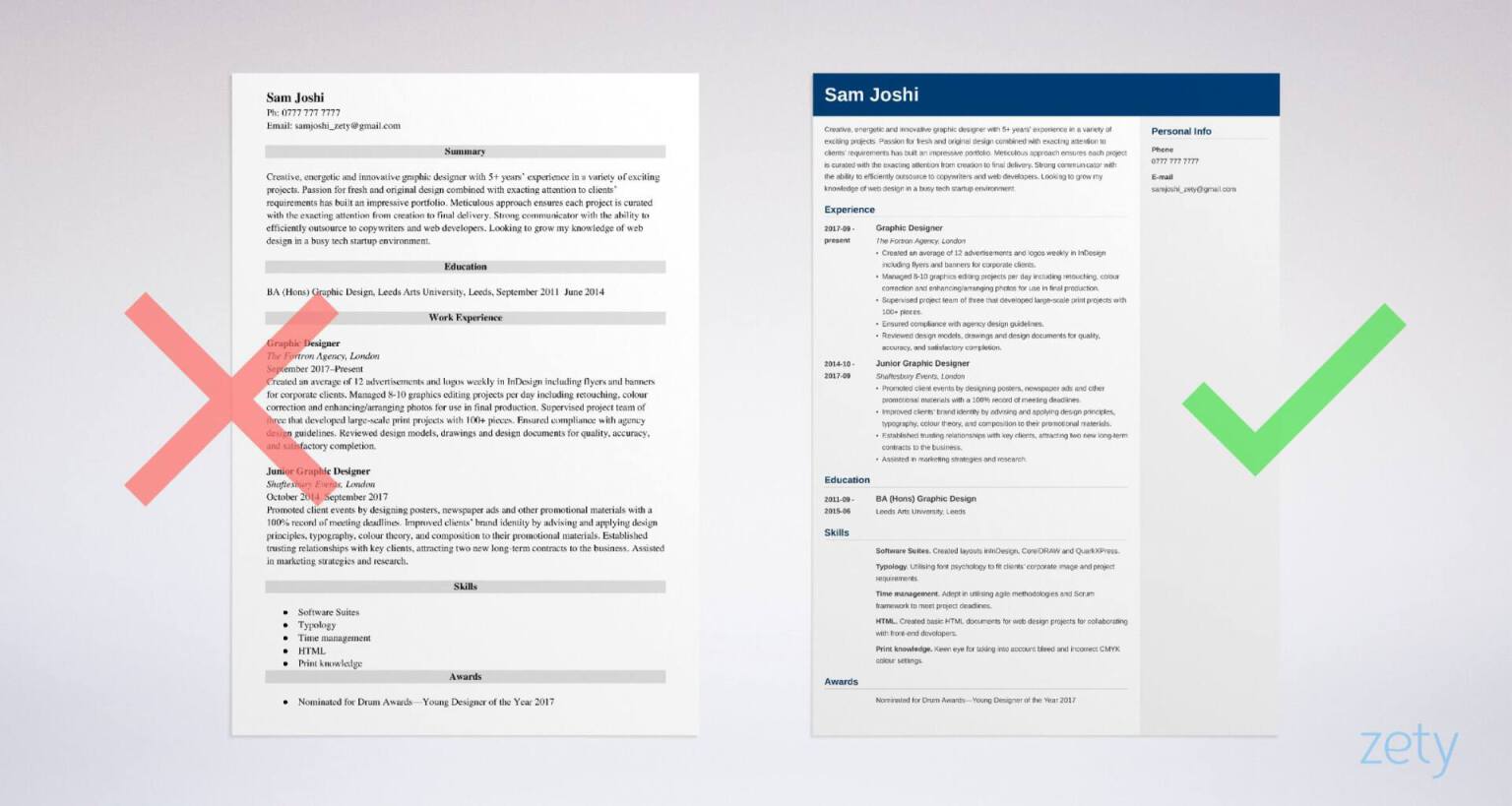 Graphic designer CV made with our builder—See more CV examples here.
Looking for other CV writing guides? Read more here:
Sample Graphic Designer CV Template
Sam Joshi
Ph: 0777 777 7777
Email: samjoshi_zety@gmail.com
Creative, energetic and innovative graphic designer with 5+ years' experience in a variety of exciting projects. Passion for fresh and original design combined with exacting attention to clients' requirements has built an impressive portfolio. Meticulous approach ensures each project is curated with the exacting attention from creation to final delivery. Strong communicator with the ability to efficiently outsource to copywriters and web developers. Looking to grow my knowledge of web design in a busy tech startup environment.
Work Experience
Graphic Designer
The Fortron Agency, London
September 2017–Present
Created an average of 12 advertisements and logos weekly in InDesign including flyers and banners for corporate clients.
Managed 8-10 graphics editing projects per day including retouching, colour correction and enhancing/arranging photos for use in final production.
Supervised project team of three that developed large-scale print projects with 100+ pieces.
Ensured compliance with agency design guidelines.
Reviewed design models, drawings and design documents for quality, accuracy, and satisfactory completion.
Junior Graphic Designer
Shaftesbury Events, London
October 2014–September 2017
Promoted client events by designing posters, newspaper ads and other promotional materials with a 100% record of meeting deadlines.
Improved clients' brand identity by advising and applying design principles, typography, colour theory, and composition to their promotional materials.
Established trusting relationships with key clients, attracting two new long-term contracts to the business.
Assisted in marketing strategies and research.
Education
BA (Hons) Graphic Design, September 2011–June 2014
Leeds Arts University, Leeds
Skills
Software Suites.

Created layouts inInDesign, CorelDRAW and QuarkXPress.

Typology.

Utilising font psychology to fit clients' corporate image and project requirements.
Time management. Adept in utilising agile methodologies and Scrum framework to meet project deadlines.
HTML. Created basic HTML documents for web design projects for collaborating with front-end developers.
Print knowledge. Keen eye for taking into account bleed and incorrect CMYK colour settings.
Awards
Nominated for Drum Awards—Young Designer of the Year 2017
Now, here's the job-winning graphic design CV formula:
1. Use the Best Format for Your Graphic Design CV
A graphic designer is a professional working in the graphic design and graphic arts industries who combines images, typography, or animation to create a piece of design. Your graphic design CV needs to show you can create the graphics for published, printed or electronic media, such as brochures, advertising, UI and web design.
In short, the purpose of your graphic designer CV is to show off your design skills in a way that'll impress recruiters. And it has to do it in just 8 seconds! In your profession, it's understandable that you'd want to make a creative CV, but recruiters are a conservative bunch and your CV has to follow certain rules. Here's what you need to do.
Choose the right CV format. The best choice for your graphic design CV is chronological format. It's the 'classic' format that recruiters know best.
Use the right CV layout. Set margins to one inch on each side, left align only (don't use justification) and double space between sections. This creates plenty of white space, which as you know keeps it easy to read and draws the eye like a magnet to the most important info.
Choose a clear and professional CV font. Helvetica, Calibri and Garamond are reliable choices. Keep the more creative fonts for your next project.
Be minimalist. Your CV length should be a maximum of two pages.
Just like a press-ready file, save your CV as a PDF to keep your hard-won layout intact.
Will you be writing a mainly gig-based or freelance graphic designer CV? Then you might want to consider a skills-based CV.
Read more about CV Layout: How to Layout a Professional CV
2. Write a Graphic Design CV Personal Statement
A CV personal statement or personal profile is the introduction to your CV. It's the first section of your CV and in keeping with the design principle of hierarchy it's a message that carries a lot of weight. In just 3–4 sentences you need to convince the hiring manager to keep reading instead of moving on to the next candidate. I know it sounds intimidating, but all you need to do is answer these questions.
Who are you?
What can you offer to the employer?
What are your career goals?
The way you answer those questions will differ depending on how experienced you are. More senior graphic designers should follow this approach.
Take some time to make a list of all your selling points as a graphic designer. Consider all the experience, skills and abilities that make you a great designer.
Then read the job description in the advert and match 3–4 points from your list to the skills and experience listed there.
Use these points to write a personal profile targeted to the graphic design job you're applying for.
Are you a fresh graduate writing a junior graphic designer CV or a career changer? Then do this.
List the experience and skills you already have. Think of your education and any other work experience you have. Then highlight those that are transferable to a graphic design position.
Combine those elements with passion for the role, and knowledge about the employer to prove that you're a good fit,
In both cases, you'll find this section easier to write if you leave it until last. It's much easier when you've got your experience, skills and education all set out and ready to refer to.
Check out this guide for even more tips on how to write your personal profile: How to Write a CV Personal Statement [20+ Examples]
3. Draw Up a Graphic Design Work Experience Section
Your work experience section is the main message in your CV, the primary element. Hiring managers want a graphic designer who can jump straight in and get those creative hands dirty. Here's how to show you've got the right stuff.
Put your most recent job first and work back from there.
For each role, include your job title, the name of the employer, dates of employment (use "present" as the end date if you currently work there), then up to six bullet points describing the job.
Start each bullet point with a snappy CV action word like composed, created or conveyed, for added impact.
Write about measurable achievements, not just your duties. It's not just about what you did, you've got to show how well you did it.
Structure your bullet points using the PAR (Problem Action Result) formula and accomplishment statements.
Target your work experience section to the job description. Pay attention to what skills and experience the hiring manager needs and match your experience to what's required.
Looking for some more design tweaks to create the perfect CV? Check out our guide: 20+ CV Tips and Advice for Job Application Success
4. Include an Education Section
Every graphic design CV needs an education section. Regardless of how experienced you are, you still need to show your design knowledge has its roots in formal training. Here's how you do it.
Include the university name, years attended, and the name of your degree. If you're still studying include your expected graduation date.
If you have post-graduate qualifications, follow reverse-chronological order and put the degree you completed most recently first.
Only include honours if they're a 2:1 or a first.
If you've just graduated and don't have much experience then change the order of your CV and put this section before your work experience section.
5. Show Off Your Graphic Designer CV Skills
Being a graphic design professional requires an ever-expanding array of skills. Apart from classic visual design there's a need for mastery of software suites and knowledge of web programming. So how do you choose which skills are best to put on your CV? Here's how to do it.
Carefully read the job advert to determine which skills are required by the role. Look at the job description and it'll tell you exactly what the hiring manager wants. Now put those skills into a list.
Then make a list of your own skills. Refer back to your work experience and education sections for a reminder.
Then compare the two lists, see what matches, and choose 5–10 of those to include in your CV.
Aim for a mix of soft skills, hard skills and technical skills.
For each skill, add a sentence showing how you demonstrate it. Don't just show, tell. E.g. Software Suites: Created layouts inInDesign, CorelDRAW and QuarkXPress.
These skills would make a great addition to a graphic design CV.
Graphic Designer CV Skills
Communication
Creativity
Time management
Problem solving
Marketing
Typography
Infographics
Colour theory
Print knowledge
HTML/CSS
Software
Read More: Best List of Skills to Put on a CV [Top Skills & Examples]
When making a CV in our builder, drag & drop bullet points, skills, and auto-fill the boring stuff. Spell check? Check. Start building your CV here.
When you're done, Zety's CV builder will score your CV and tell you exactly how to make it better.
6. Add Additional Sections to Your Graphic Design CV
When it comes to CV sections, less isn't more. You need a bolder, more feature-rich design to stand out from the 118 candidates gunning for each job opening. Here're some ideas.
Add a languages section. Foreign language skills are needed at all levels of the workforce and are particularly sought after in companies with international clients.
Volunteering is also a powerful addition. 82% of managers prefer to hire people with volunteering experience.
Freelance graphic designers could include individual projects. Or consider achievements, awards and hobbies. Just make sure it's relevant and helps to make you stand out as a candidate.
7. Consider a Cover Letter
Miss out a crucial element and you risk creating asymmetry and an unbalanced design. For a CV that last missing element is a cover letter. Yes, cover letters are still a thing. In fact, more than half of employers say they're a must-have.
This is how to write a cover letter for graphic design jobs:
Use the correct cover letter format.
Start your cover letter with a 'hook'. Show passion for the role and the employer and include an impressive professional achievement.
Prove your experience and skills will enable you to excel as a graphic designer.
Include a cover letter ending with a call to action asking to meet to discuss the role further.
Stick to the right cover letter length.
One last thing. You've got to follow up. If you haven't got a reply after one week, follow up with the employer by email or phone about your application. It's a great way of improving your chances of success.
And that's it. Now you know how to create a graphic designer CV that'd make even Milton Glaser proud.
Plus, a great cover letter that matches your CV will give you an advantage over other candidates. You can write it in our cover letter builder here. Here's what it may look like: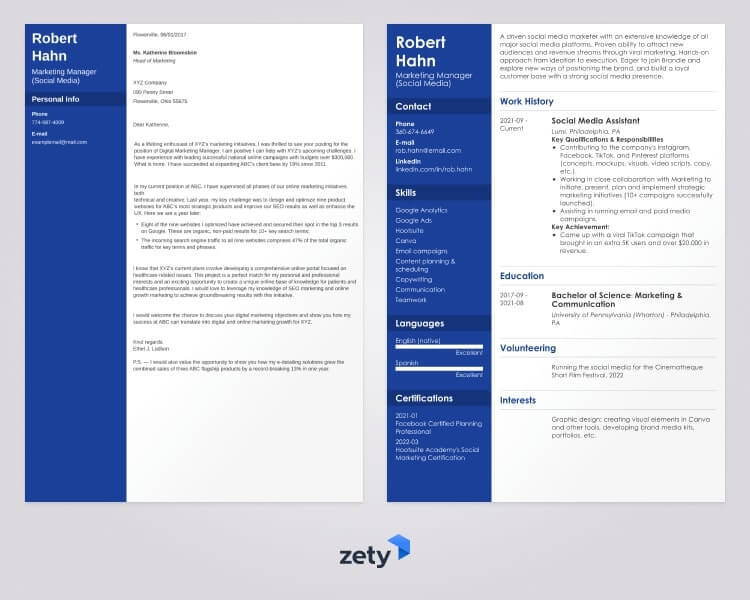 See more cover letter templates and start writing.
Thanks for reading. What did you think of our graphic design CV template? Got any challenges with your own CV for graphic designer? If you've got any questions at all, please use the comments section below. I'm looking forward to hearing from you.
About Zety's Editorial Process
Our editorial team has thoroughly reviewed this article to ensure it follows Zety's editorial guidelines. Our dedication lies in sharing our expertise and providing you with actionable career advice that offers you real value. Every year, the quality of our content attracts 40 million readers to our site. But that's not all – we conduct original research to gain a detailed understanding of the labour market. We take pride in being cited by top universities and leading media outlets in the UK and worldwide.
Sources