We live in a world built on design. The interior design of the room you're sitting in now. The web design and graphic design of this page. Good design has the power to improve our lives. But bad design destroys first impressions and only serves to frustrate.
Your curriculum vitae is the single most important document when it comes to getting the job you want. Leaving your CV design to chance won't do you any favours. But you can't just choose the first fancy CV template that catches your eye. The best CV design has to hit all the right notes with recruiters too.
In this guide you will see what to look for when it comes to choosing a good CV design. You'll also see 18 templates with the perfect professional CV design to impress hiring managers and get you interviews.
Now let's get creative.
Want to save time and have your CV ready in 5 minutes? Try our CV builder. It's fast and easy to use. Plus, you'll get ready-made content to add with one click. See 20+ CV templates and create your CV here.
Sample CV made with our builder—See more CV examples here.
CV template design not what you're looking for? Take a look at our other guides.
How to Choose the Right CV Design and What to Avoid
First of all, pay close attention to the layout and format of the CV design template you choose. Recruiters expect you to follow a certain set of rules. This helps them to find the information they need fast. After all, they only spend 8 seconds reading each job application.
When it comes to CV format there's only two players in the game. Chronological and skills based CV. Make sure your CV template of choice contains the essential sections for each.
Chronological CV design—essential sections
CV header with contact information
CV personal profile (personal statement)
Work experience
Education
Additional sections (optional)
Skills-based CV design—essential sections
CV header with contact information
Personal statement
Skills summary
Work experience
Extra sections
It's also essential that you choose a template with good CV layout, which is the basic visual design elements that need to be in place to create an effective CV.
CV layout design must-haves:
One inch margins on each side of the page.
Left-alignment throughout. No justification.
Professional and readable CV fonts.
Plenty of white space for ease of reading.
The right CV length. Never more than two pages.
The ability to save as a PDF. Other formats can destroy that carefully designed layout.
You've also got to consider the widespread use of ATS software. Those are the pesky programs that scan your CV before a real person even sees it. They'll reject any CV design that's too outlandish, and your job application won't even be considered.
This means you've got to follow the rules you've just read and avoid designs with too many graphics. ATS systems can't cope with overly creative CV templates. And the only way to be sure your CV design is ATS friendly is to choose an expert-designed template from a reputable source.
Thankfully you've come to the right place for high quality expert-designed CVs. So jump right in and enjoy our 18 CV design templates.
1. Cascade
The first of our design CV examples is Cascade. It's packed with useful design elements. The sidebar to the left is full of useful information and features an attractive use of colour shades. The white health bars are another nifty feature that's been borrowed from game design They're a great way of visually representing your CV skills.
This example uses shades of blue. Colour psychology tells us blue is calming and serene, but if that's not your thing you'll be pleased to know Zety's CV maker lets you choose from 400 colours.
2. Concept
Get the latest concept in design with our Concept CV template. Good CV design is subtle, but effective and this one has a very clever trick up its sleeve. Take a look at the line of circular icons. See how they're all joined together? That pulls the eye down the page, making sure your whole CV gets read.
Like all of our CVs it's downloadable as a PDF to keep your CV looking the way it should. Zety's CV maker always keeps your design intact.
3. Crisp
What does the word crisp bring to mind? For me, it's crisp white sheets or a crisp winter morning with new-fallen snow. Our Crisp template lives up to the promise of its name. Lots of clean white space, a design element that's often overlooked. A great CV design for printing out on high-quality paper.
Like all of our templates, this one is fully customisable. You can move sections, rename sections and change font type and size. And whatever you do the stylishly designed layout will stay intact, our CV builder will see to it.
4. Cubic
Cubism is an avant-garde art movement that makes use of simple geometric shapes. Cubic is a fab example of CV design that is similarly inspired. The topbar, right sidebar and the body of the CV form three interlocking rectangles. Each containing vital information. This template uses health bars too, but they take the form of cubes instead of solid lines.
Whenever you use our templates you'll get expert advice and suggestions as you write. Even the best design needs well-written content.
5. Diamond
I'm sure you'll appreciate this precious gem of a CV design. Each icon is a little four-sided jewel, subconsciously telling recruiters that you'll shine bright as a potential candidate. The single-column design gives a feeling of generous space and allows plenty of room for content. A great choice for more experienced candidates with lots to say.
Every Zety CV template is designed with ATS compatibility in mind. Make 'computer says no' a thing of the past.
6. Enfold
Our Enfold template makes good use of another important element of CV design. F-shaped scanning. That's the tendency for the human eye to more attention to the top right-hand side of the page. And what have we put at the top right-hand side? Your experience section. This template is another solid choice for experienced candidates who want their work history to take top billing.
Like all of our CVs it also comes with a matching cover letter design.
7. Iconic
Does what it says on the tin and features a good selection of CV icons. Each visually representing the section it accompanies. Icons have become an 'iconic' element of design, featured on our computers and smartphones as both a visual element and an invitation to click or tap. Effective icons make us pay attention and pique our interest. A handy little hack to energise tired hiring managers.
Clever CV design will only take you so far. You've got to have a well-written CV too. Read more: How to Write a CV: Professional UK Examples
8. Influx
Pardon my pun, but you can expect an influx of interview requests when you choose this CV design. The wide topbar draws attention to your name, giving you the recognition you deserve. And notice how your surname is in bold, adding an extra element of emphasis. That's followed up by a very clean and simple layout that leaves out unnecessary graphic design elements, allowing your experience and skills to speak for themselves.
9. Initials
As you can see, we don't just name our CVs like trendy paint colours. No 'Elephant's Breath' here (sorry Farrow and Ball). This CV design lives up to its promise and puts your initials in a prominent circular stamp in the CV header. There's so much information packed into this template, but it still looks clean and uncluttered.
10. Minimo
A wonderful example of minimalist CV design. Marie Kondo eat your heart out. This template is stripped back to the bare minimum, but still sparks joy. A clean and simple choice that's well-suited to applying for jobs in more conservative sectors.
When making a CV in our builder, drag & drop bullet points, skills, and auto-fill the boring stuff. Spell check? Check. Start building a professional CV template here for free.
When you're done, Zety's CV builder will score your CV and tell you exactly how to make it better.
11. Modern
You want modern CV design, you've got it! The standout design element here is having two colour bars at the top left and bottom right. You can't help but draw your gaze in a diagonal line across the page, taking in all your skills and experience with it. The ribbon-shaped icons indicating each CV section are another nice touch. After all, a blue ribbon is a symbol of high quality. With such a fresh and modern feel this would be a great design for a student CV or a graduate CV.
12. Muse
My cheesy jokes may not have left you aMUSEd, but you'll definitely be happy if you choose this CV design. Don't like the asymmetrical look of our Modern template? Choose Muse. It removes the colour bars and leaves you with pure two-column goodness.
13. Nanica
Nanica is another wonderfully minimalist CV design. The fact is, good CV template design doesn't need to be showy and full of graphic elements. Barebones minimalism can be the most effective design of all. Don't believe me? Do a quick search for Dieter Rams, the godfather of modern minimalist design and you'll see what I mean. This template is distraction-free and ready to do its job of winning you interviews and ultimately, the job you deserve.
14. Newcast
Newsflash! Here's Newcast. If Nanica was a little too plain for you then this CV design might be just the thing. It retains the roomy one-column design but throws in some well-chosen CV icons for a touch of visual interest. You've also got a nice bit of contrast with the coloured section heading font.
15. Primo
I don't usually say something is primo, because I'm not keen on sounding like a character out of an 80s teen flick. If you're a bit lost, let me explain. Primo happens to be an American slang term meaning 'of the finest quality' and this template fits that description perfectly. Icons aplenty, an attractive initial stamp, two columns, a timeline to engage the reader. This CV design has it all.
16. Simple
If you were waiting for a simple CV design you can stop holding your breath now. Here it is. Stupendously simple, but packed with all of the information needed to turbocharge your job search.
17. Valera
I've said it before and I'll say it again. Valera is my favourite Zety template. That's because it makes use of a really creative CV design element called font pairing. Look how visually pleasing the expressive cursive font is. A great choice for creative industries. I'd suggest trying it out for a graphic design CV.
18. Vibes
And here's the last of our Zety CV designs. You probably know the punchline already, but it's good Vibes only with this template. A good mix of design elements here with icons, colours and health bars all used to create a really well-designed CV. A good all-rounder as it strikes a balance between minimalism and visual elements.
By now, I'm sure you'll agree that we know how to design a CV!
Plus, a great cover letter that matches your CV will give you an advantage over other candidates. You can write it in our cover letter builder here. Here's what it may look like: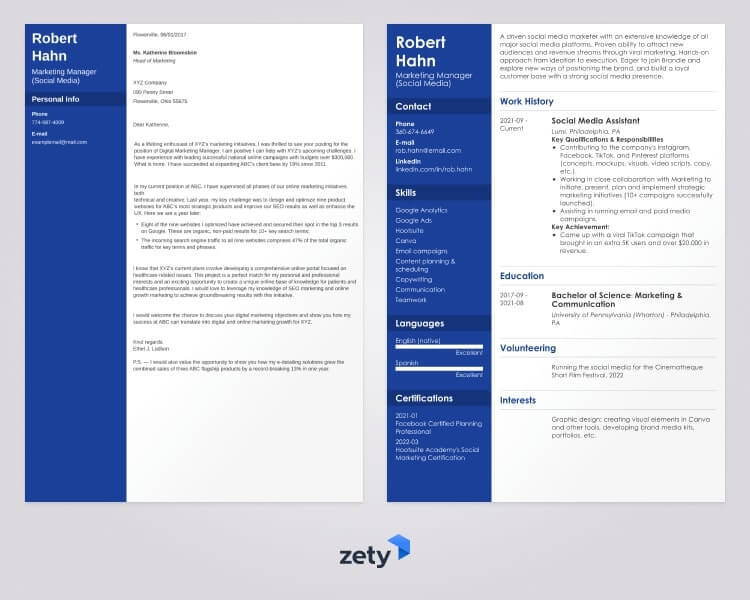 See more cover letter templates and start writing.
And that's the end of our brief tour through CV template design. Got any CV design ideas you'd like to share? Looking to design a CV template yourself? Get creative in the comments section and I'll be happy to help.