Academic CV Template with Examples & Writing Guide
You spend all day writing for academia, then on top of that, you have to write an academic CV! Relax. We make it easy. Check our academic CV template and follow the instructions.
Academia is a world unto itself. This is true for academic recruitment and every other facet of academic life. Applying for other jobs follows a predictable pattern. Write a CV with a personal statement, work experience, education, and skills, and you're done.
An academic CV is a different beast altogether. But you're about to learn everything you need to know about this format.
Read on and you'll see:
The best academic CV template you should follow.
Professional academic CV examples you can adjust and make yours.
An easy formula for writing a CV for academic posts.
Want to save time and have your CV ready in 5 minutes? Try our CV builder. It's fast and easy to use. Plus, you'll get ready-made content to add with one click. See 20+ CV templates and create your CV here.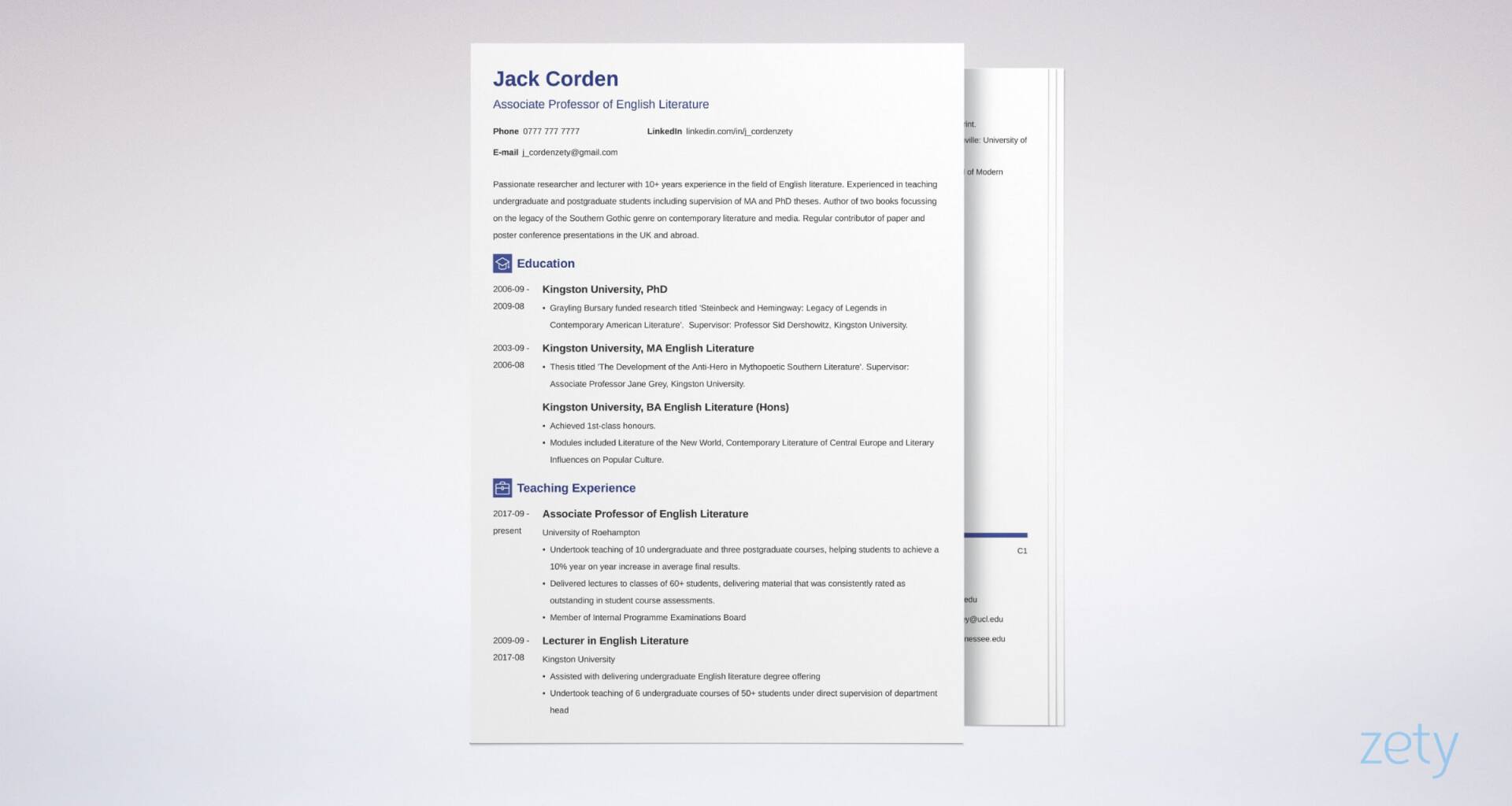 Academic CV made with our builder—See more CV examples here.
Looking for more general CV writing advice or guides for other roles? Read more here:
Now, here's how to write an academic CV:
1. Use the correct academic CV format
An academic CV is a document showcasing your teaching and research experience, publications, grants and fellowships, professional associations, awards and funding. It has to show all the details of your experience that show you're the best candidate for academic posts and research positions.
An academic CV is based on the standard chronological CV format, with extra academic sections bolted on. The end result looks very different from the standard format though. Your maximum CV length is no longer limited to two pages for example. But that said, you should always be concise and relevant and a 4–5 page limit is often recommended.
Academic CV template—sections
There's no set layout for the order of your academic CV sections. Ultimately you can adapt the order and omit sections to suit your needs and tailor your application to specific jobs. But there is a list of sections that are generally included in a UK academic CV. Here they are.
The following sections are typical for an academic CV:
Contact details (personal information)
Personal profile
Education
Awards and funding
Teaching/supervising experience
Research experience
Admin experience
Publications
Conference presentations and posters
Professional memberships
Research/technical/laboratory skills
Relevant training
Languages
Referees
Feel free to use this section order, but as I mentioned, the academic component is not set in stone. Do, however, start with contact details, profile and education, and end with languages and referees.
Pro Tip: Struggling to decide what order to put your academic CV sections in? Put your most impressive and prestigious achievements first.
Academic CV layout
As an academic you uphold rigorous standards in the way your work is presented and expect perfection from what students present to you in turn. Recruiters expect exactly the same when you apply for academic jobs. Here's what you need to do.
Set your margins to one inch on each side of the page, left align only (don't use justification) and double space between sections. Aim to create plenty of white space to make your CV easy to read and draw attention to the most important information.
Choose a clear and professional CV font set at 11–12 pt. Calibri, Helvetica and Cambria are three solid choices.
Use bold and italics to highlight important text, but avoid underlining as it makes your CV look messy.
Don't save your academic CV template in Word unless the job advert specifies otherwise. Use PDF instead as it's the best file format for keeping your layout intact.
Read more: CV Layout: How to Lay out a Professional CV
2. Add your contact details to your academic CV
This part is simple. You need to include your full contact information in your academic curriculum vitae header.
In the contact information section, enter your:
Full name, in a font 4–6 points bigger than the body text
Professional title
Email
Phone number
LinkedIn profile
Social media handles such as Twitter, if relevant
And you don't need to write 'Curriculum Vitae' in your header. It's more of an American tradition and let's be honest, a bit redundant too. Sort of like wearing a t-shirt with the slogan 't-shirt' written on it.
3. Write an academic CV personal statement
An academic CV personal statement, or personal profile is like a research paper abstract. It's a short paragraph that sums up your CV and it has to grab the reader's attention. You've got to prove your worth for the role in just 3–4 sentences. Sounds scary I know, but all you need to do is answer 3 questions.
Who are you?
What can you offer to the employer in terms of experience and research expertise?
What are your career and research goals?
And to answer those questions, do this:
Take some time to make a list of all your strengths and achievements as an academic and/or researcher. Consider all of the professional experience, skills and abilities that make you excel in your field.
Then read the job description in the advert and match 3–4 points from your list to the skills and experience that are required for the role.
Use these points to write a personal profile targeted to the academic job or research post you're applying for.
This section should always be left until last, it's much easier to summarise your achievements and career when it's all laid out in front of you. And as this can be one of the toughest sections of your academic CV to write, I've included two samples to inspire you.
PhD academic CV example: personal statement
MA student in English Literature at University of Aberystwyth, graduated BA with 1st-class honours and set to receive distinction for master's thesis. Seeking to extend knowledge gained through MS thesis on the literature of Prussia and a year spent studying at the University of Leipzig. Aim to undertake research for PhD thesis regarding the influence and interplay of 19th century German versus English popular literature.
Now that's a PhD application that'll pique interest! Now for a personal statement for a lecturer role.
Academic CV example: personal statement
Passionate researcher and lecturer with 10+ years experience in the field of English literature. Experienced in teaching undergraduate and postgraduate students including supervision of MA and PhD theses. Author of two books focussing on the legacy of the Southern Gothic genre on contemporary literature and media. Regular contributor of paper and poster conference presentations in the UK and abroad.
Another eye catching introduction. Now for a personal statement for a masters application.
Academic CV example for a masters application: personal statement
BSc student in Psychology at University of Exeter, on course to graduate with first-class honours. Aiming to pursue an MSc in Social and Organisational Psychology and benefit from working with Exeter's world-class team of researchers. Looking to undertake research in the effects of prosocial behaviour on societal cohesion.
Read more: How to Write a CV Personal Statement: Example of CV Profiles
4. Include an education section in your academic CV
You're writing a CV for academic jobs, this section is absolutely crucial. Get it wrong and it's like graduating with a third instead of a first. And let's face it, we'd all prefer a Geoff to a Vorderman!
Here's what you need to include:
Include the university name, years attended, and the name of your degree. If you're still studying, include your expected graduation date.
If you have post-graduate qualifications follow reverse-chronological order and begin with the degree you completed most recently.
Only include undergraduate honours if they're a 2:1 or a first.
Under each entry, include brief details about the relevant modules and/or research that you undertook while pursuing that qualification. Also include the names of your supervisors.
When making a CV in our builder, drag & drop bullet points, skills, and auto-fill the boring stuff. Spell check? Check. Start building a professional CV template here for free.
When you're done, Zety's CV builder will score your CV and tell you exactly how to make it better.
5. Bolt-on your academic CV sections
So far so good, and pretty similar to a garden variety CV for a job application. But now it's time to include your specialised academic CV sections. As I mentioned before, if a particular section doesn't apply to you then just omit it and move on to the next.
Awards and funding
Use this section to show off your achievements. It's a hard-fought battle to win awards and funding and this is a great way of showing that your expertise in your field has been recognised.
Include undergraduate and postgraduate academic prizes and awards.
Also include travel grants, scholarships, fellowships and grants that you've led on or are named on.
When listing awards on your CV, include the name of the award, the year awarded and if relevant, the work it was awarded for.
Teaching experience
This section does what it says on the tin. Here's how to list your all-important teaching experience.
Include your experience of lecturing, conducting seminars, mentoring and tutoring.
List your roles in reverse chronological order.
State the role, the institution you taught at and the date or dates you held the role or delivered the lecture/seminar.
Then write up to six bullet points giving details about the responsibilities of the role such as the level of the students, the topics covered and class/audience size.
Start each bullet point with a CV action word for extra energy and impact. Avoid 'responsible for' and try alternatives like acted as, performed or undertook instead.
Structure your bullet points using the CAR formula and accomplishment statements, including measurable achievements if possible. Don't just say what you did, prove how well you did it.
Target your teaching experience to the post you're applying for. Read the job advert and make your teaching experience section relevant to the requirements.
Research experience
In this section, include post-doctoral, fellowship and research assistant roles that you've held. It's also a great place to include greater detail about research you've conducted for your post-graduate degrees. And when writing your CV just follow the same structure as I've given for your teaching experience.
Admin experience
Follow the same structure as the preceding experience sections but this time include relevant administration experience. Include conferences, seminars and other academic groups/events that you've been responsible for organising. You can also list boards and committees you've sat on, anything that's relevant and admin-based.
Publications
This section is incredibly important. Your published work is definitive proof of your prowess as an academic and researcher. Here's how to get it right.
List entries in reverse chronological order and give full details as you would in a citation. Follow a consistent style, preferably that used by the institution you're applying to.
Include books, book chapters, peer-reviewed journal articles, non-peer-reviewed articles, forthcoming publications, reports and patents.
This section can be lengthy. For more experienced candidates, consider including only your top few most relevant and prestigious publications in this section and make an appendix containing everything else.
Conference presentations and posters
In this section, include any presentations of research information at conferences, seminars and exhibitions.
List in reverse chronological order and state whether paper or poster presentation.
Include title, date and location with a full author list including all contributors.
As with your publications section, be consistent in your citation style.
Professional memberships
Simply list these, e.g. Royal Astronomical Society, British Association for Romantic Studies, Institute of Physics, etc. Also include your dates of membership, e.g. 2012–Present.
Research/Technical/Laboratory skills
Name this section as is appropriate for your circumstances and list relevant skills. For example:
Knowledge of programming languages.
Knowledge of specialist software suites.
Research and data analysis methodologies.
Skills in the use of specialist laboratory and research equipment.
Relevant training
This section can simply be titled 'Training' and should list relevant teaching training, research methodology training or other relevant specialist training.
6. Include languages
This isn't a purely academic CV section, it works equally well for standard format CVs too. Regardless of what type of CV you're writing, being bilingual can improve your job prospects. All you need to do is state the language and your level of proficiency. The best way of doing this is to use the CEFR (Common European Framework of Reference for Languages).
7. List your references
References are optional for a standard CV but for an academic CV they're a must-have. Here's what you need to include:
List two academic references and one non-academic reference. Your academic referees should work in the same field as you.
Include name, professional title, relation to you (e.g. supervisor), contact number and email address.
And there's another reason you need this section to be perfect. It's often said that first impressions last, but research reveals that it's last impressions that are most powerful. Plus it also functions as social proof of your academic prowess.
Read more: References on a CV
8. Add a cover letter to your academic CV
One last thing, there's every chance you'll need to write a cover letter to accompany your CV. Yes, cover letters are still important. One study revealed that more than half of employers still say they're a must-have.
This is how to write a cover letter for academic jobs:
Write a cover letter opening with a 'hook'. Show passion for your field and the institution you're applying to and include an impressive academic/research achievement.
Address the letter to a named person. Find out who's responsible for considering your application. It's a clever neurological hack to really grab their attention.
Prove your experience and skills will enable you to excel in your role.
Include a cover letter ending with a call to action asking to meet to discuss the post further. And say thank you, it's not just polite, it's psychologically powerful.
Stick to the right cover letter length.
And that's it. You've just completed your academic CV.
Read more: Cover Letter Format & Tips
Key takeaways
As you've seen, the differences between a standard CV and a CV for academic jobs aren't purely academic. Here's a reminder of how to write an academic CV that'll present you as a leader in your field.
Start with a CV personal statement that'll work like a research paper abstract. Use it as a brief introduction to your academic career.
Tailor your academic sections to your circumstances and the requirements of the job. Omit those that don't apply to you and put your most impressive achievements first.
Be concise and relevant. Academic CVs don't have a set limit on length but best practice is to stick to 4–5 pages. Include publications as an appendix if necessary.
Use good academic CV layout to ensure your CV is clear and easy to read.
And avoid using a badly designed free CV template, they're particularly hard to work with with unconventional layouts like an academic CV.
Plus, a great cover letter that matches your CV will give you an advantage over other candidates. You can write it in our cover letter builder here. Here's what it may look like: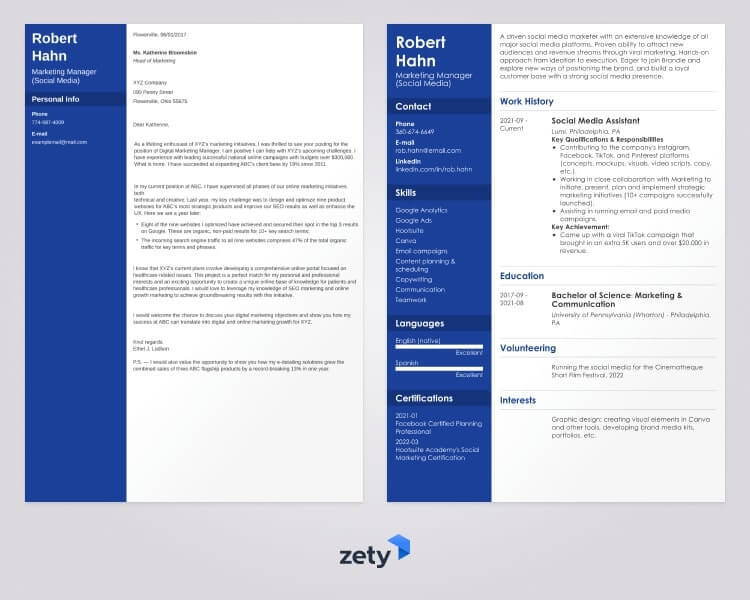 See more cover letter templates and start writing.
Thanks for reading. Would you like to know more about specific academic situations like an academic CV for a master's application? Need more help with your own UK academic CV template? Is there another type of example academic CV you want to see? Ask away in the comments section and I'll be happy to help.
About Zety's Editorial Process
Our editorial team has thoroughly reviewed this article to ensure it follows Zety's editorial guidelines. Our dedication lies in sharing our expertise and providing you with actionable career advice that offers you real value. Every year, the quality of our content attracts 40 million readers to our site. But that's not all – we conduct original research to gain a detailed understanding of the labour market. We take pride in being cited by top universities and leading media outlets in the UK and worldwide.
Sources