Care Assistant CV Example and Writing Guide
See care assistant CV examples that'll help you craft your job application with the same care and attention that you give to your clients.
It's one of the most underappreciated jobs, but also one of the most crucial. As a care assistant you play a key role in helping the most vulnerable people in society live healthy and dignified lives.
It requires a precise mix of compassion, patience and a strong work ethic to cope with the challenges of the job. And the best way to prove you've got the skills to succeed in the care industry is with a carefully written care assistant CV.
Keep reading to see care assistant CV examples that'll make writing your own easy. And you'll get a simple step-by-step guide to writing a CV for care assistant jobs that'll get you more interviews than any other CV you've written previously.
Want to save time and have your CV ready in 5 minutes? Try our CV builder. It's fast and easy to use. Plus, you'll get ready-made content to add with one click. See 20+ CV templates and create your CV here.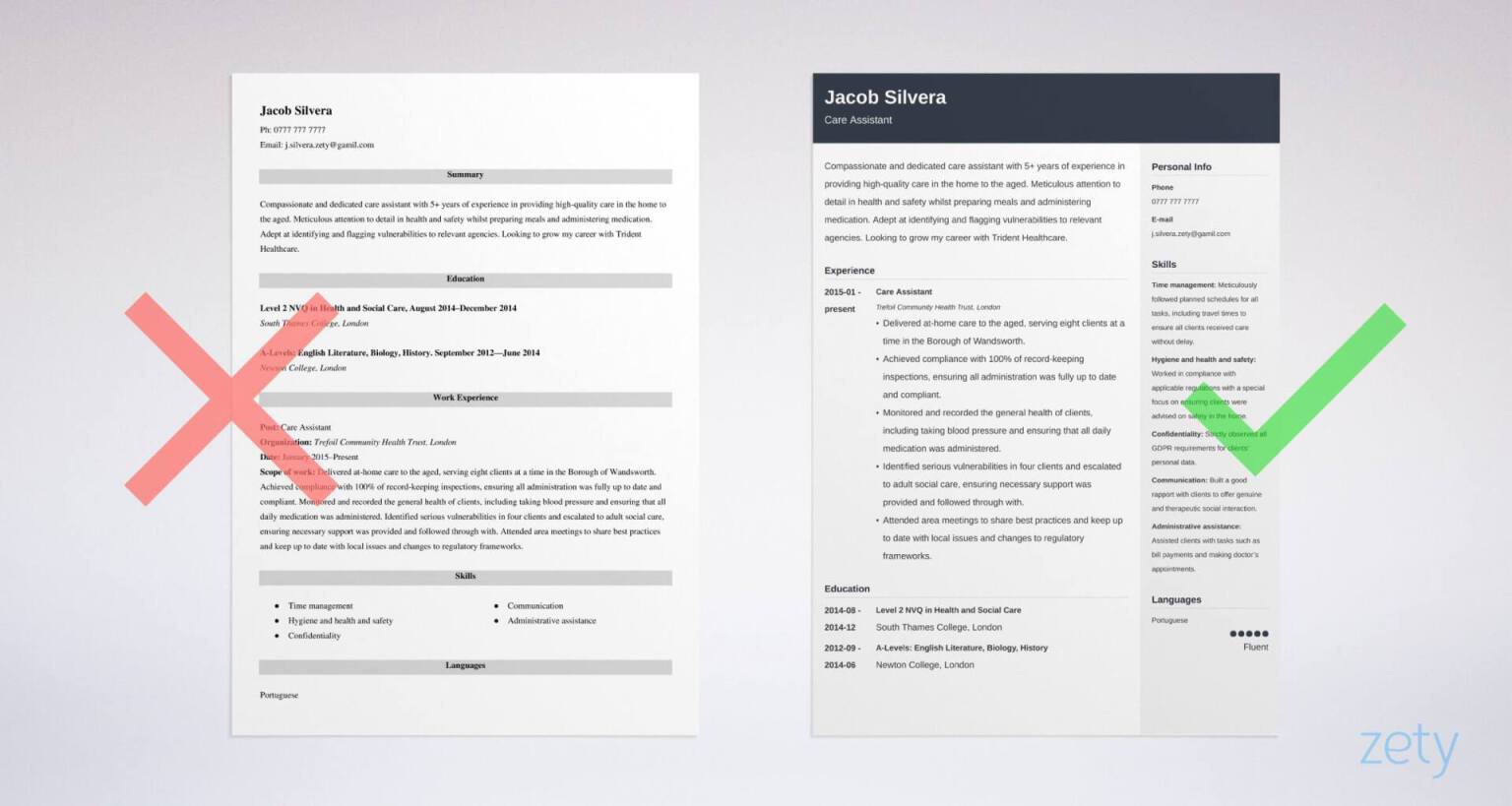 Care assistant CV made with our builder—See more CV examples here.
Not looking for a care assistant role? We've got a great selection of advice for other careers too. Take a look:
Care Assistant CV Template
Jacob Silvera
Ph: 0777 777 7777
Email: j.silvera.zety@gamil.com
Compassionate and dedicated care assistant with 5+ years of experience in providing high-quality care in the home to the aged. Meticulous attention to detail in health and safety whilst preparing meals and administering medication. Adept at identifying and flagging vulnerabilities to relevant agencies. Looking to grow my career with Trident Healthcare.
Work Experience
Care Assistant
Trefoil Community Health Trust, London
January 2015–Present
Delivered at-home care to the aged, serving eight clients at a time in the Borough of Wandsworth.
Achieved compliance with 100% of record-keeping inspections, ensuring all administration was fully up to date and compliant.
Monitored and recorded the general health of clients, including taking blood pressure and ensuring that all daily medication was administered.
Identified serious vulnerabilities in four clients and escalated to adult social care, ensuring necessary support was provided and followed through with.
Attended area meetings to share best practices and keep up to date with local issues and changes to regulatory frameworks.
Education
Level 2 NVQ in Health and Social Care, August 2014–December 2014
South Thames College, London
A-Levels: English Literature, Biology, History. September 2012—June 2014
Newton College, London
Skills
Time management: Meticulously followed planned schedules for all tasks, including travel times to ensure all clients received care without delay.
Hygiene and health and safety: Worked in compliance with applicable regulations with a special focus on ensuring clients were advised on safety in the home.
Confidentiality: Strictly observed all GDPR requirements for clients' personal data.
Communication: Built a good rapport with clients to offer genuine and therapeutic social interaction.
Administrative assistance: Assisted clients with tasks such as bill payments and making doctor's appointments.
Languages
Now for the job-winning care assistant CV formula.
1. Use the Best Format for Your Care Assistant CV
A care assistant has a broad range of duties that involve assisting disabled and/or elderly clients with tasks they can't manage themselves. They need to be sensitive as well, getting to know their clients and providing emotional support to those who may not have other forms of social contact.
So your care assistant CV has to show you can effectively blend the practical side of providing care with the emotional intelligence to sensitively interact with vulnerable clients. Thankfully that's not as hard as it sounds. There's an easy way to format your CV to make sure it impresses from the start. Here's how.
Read more: How to Create a Professional CV Layout
2. Create Your Care Assistant CV Personal Profile
Now for the first section of your care assistant CV. It also goes by other names such as CV summary or personal statement, but whatever you call it your CV personal profile has one simple purpose. It acts as the introduction to your CV. In just 3–4 lines you have to introduce yourself as a candidate and catch the hiring manager's eye.
Think of it as a way of saying:
Who you are.
What you can offer to the employer.
What your career goals are.
And you'll structure it differently depending on what stage of your career you're at. Here's what to do if you're writing a CV for a care assistant with no experience.
Prepare a list consisting of all of your previous work experience and skills. Think of your education and any other jobs you've had previously.
Then choose 3–4 points from your list that are transferable to a care assistant career and match up with the job requirements.
Finally, use those points, mixed with enthusiasm for the role, to write your personal profile.
And if you have more experience and you're writing a senior care assistant CV, then do this.
Make a list of your professional experience and skills, all the factors that make you an effective care assistant.
Next, take another look at the job advert and make a note of the skills and experience required. Then you can choose 3–4 points from your personal list that match up with the requirements in the advert.
Finally, use those matching points to craft your CV summary and tailor it to the job you're targetting.
And in both cases, leave writing this section until last. After all, it's a summary and it's not easy to summarise something you haven't written yet.
Read more: How to Write an Effective CV Summary
3. Write Your Care Assistant CV Work Experience Section
Hiring managers want new employees who can jump straight in and start working with clients with confidence. And they'll look to your work experience section for proof. Here's how to write it properly.
List your jobs in reverse chronological order. Your most recent role goes first and then you go backward from there.
Include the same basic information to start each entry. Your job title, the name of your employer and the time period of your employment, using 'current' as the end date if you still work there.
Then write up to six bullet points describing each role. Spice them up by starting them with action verbs. Good examples for a care assistant include alleviated, supported and treated.
Don't just write a list of your duties. Make sure you also include professional achievements and use numbers to strengthen your claims. A good way of structuring your bullet points is by using accomplishment statements.
And freshen up your work experience section for every job application you make. Target it by reading the job advert to see what the hiring manager needs and tailor your experience accordingly.
Read more: What to Include in Your CV Work Experience Section
4. Include an Education Section in Your Care Assistant CV
It's tempting to think you can just gloss over this section, but including your education on your CV is still essential and it has to be structured properly. Follow this advice and you'll be fine.
If you have a university education, write the name of your uni, its location, the name of your degree, and the dates you completed your studies.
If you're a school-leaver then it's the name of your school or college, its location and the dates you attended. For A-levels mention each subject individually. If you've left school within the last two years then you can also mention your GCSEs. No need to list every individual subject but do point out passes in maths and English as this is a basic requirement for many entry-level jobs.
Put your education section before your work experience section if you've only just left school or uni and have limited work experience.
Career-specific NVQs in health and social care should be included in this section, too.
Read more: How to Write Your CV Education Section
5. Demonstrate Key Skills for Your Care Assistant CV
I mentioned earlier that care assistant duties are broad and complex. It's not just the physical act of care, the emotional and human side of your work is equally important. So how can you prove you've got the abilities to succeed and somehow fit that long list of skills into a one or two page CV?
Start by heading straight back to the job advert. This time list all of the skills it mentions as job requirements and also note down any other general care industry skills that come to mind.
Now make a list of your own skills, use your work experience and education sections to help jog your memory.
Then put your two lists side by side, see what matches and choose five to ten of those to include on your CV. Make sure it's a mix of soft skills and hard skills.
And for each entry in your CV, add a sentence that shows how you demonstrate that skill e.g. Time management. Meticulously adhered to assigned times for all tasks, including travel times to ensure all clients received care without delay.
These would all be fantastic skills to include on your care assistant CV.
Key Skills for a Care Assistant CV
Communication and interpersonal skills
Monitoring and recording patient data
Confidentiality
Dressing wounds and administering medication
Hygiene and health and safety
Time management
Adaptability
Meal preparation
Domestic assistance
Administrative assistance
Read more: Best List of CV Skills Examples
When making a CV in our builder, drag & drop bullet points, skills, and auto-fill the boring stuff. Spell check? Check. Start building your CV here.
When you're done, Zety's CV builder will score your CV and tell you exactly how to make it better.
6. Add some Extra CV Sections
The fact is, you can finish with your skills section and still have an acceptable CV. But consider this, there are 1.5 million people working in adult social care in England alone. The care industry is a huge sector in the UK and there's a lot of competition. If you want to really stand out you need to go above and beyond in your job application. Adding extra sections to your CV is an easy way to do that. Here are some ideas.
Languages. In a multi-cultural society where you're directly interacting with clients a foreign language is particularly important. So if you do speak other languages, include a languages section.
Volunteering. It's something hiring managers look upon very favourably and a great way of getting experience in care-related roles.
Other ideas could be awards, certificates, or even hobbies and interests. Just keep it relevant and ensure it shows you in a good light.
Read more: Best List of CV Hobbies and Interests
7. Enclose a Care Assistant Cover Letter
A well-written CV is essential to job hunting success, but it'll be even more effective if you write a cracking care assistant cover letter to accompany it.
Here's how to write a cover letter for care assistant roles.
Set yourself up with the correct cover letter format.
Use a 'hook' to write an effective cover letter opening. Mention a professional accomplishment that will make the hiring manager take notice.
Then build a job-winning cover letter structure by adding more proof that your experience and skills are a great match for the job.
Use a 'call to action' and say thank you in your cover letter closing. All you need to do is ask the hiring manager to get in touch with you to discuss the job in more detail.
Know when to stop. The best cover letter length is a maximum of one page.
And to make it look extra professional, choose a matching CV and cover letter template.
And my final bit of advice to you is to follow up your job application. If you haven't had any news within a week of applying then follow up to give your chances of success one final boost.
Plus, a great cover letter that matches your CV will give you an advantage over other candidates. You can write it in our cover letter builder here. Here's what it may look like: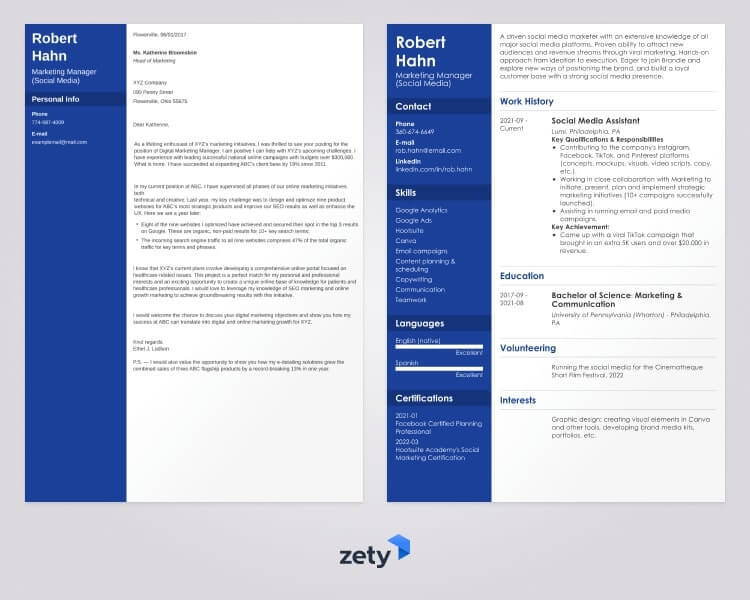 See more cover letter templates and start writing.
Thanks for reading, and I hope I found our care assistant CV example useful. If you've got any other questions then please let me know. Writing a CV for a care assistant job with no experience can be particularly hard, so we're very keen to help if that applies to you. Just ask in the comments section and I'll be happy to answer.
About Zety's Editorial Process
Our editorial team has thoroughly reviewed this article to ensure it follows Zety's editorial guidelines. Our dedication lies in sharing our expertise and providing you with actionable career advice that offers you real value. Every year, the quality of our content attracts 40 million readers to our site. But that's not all – we conduct original research to gain a detailed understanding of the labour market. We take pride in being cited by top universities and leading media outlets in the UK and worldwide.
Sources