Best Bartender CV Example & Writing Guide
Serve up a cold, refreshing glass of job-hunting success with our bartender CV example and writing guide that's filled to the brim with expert advice.
Gone are the days when being a bartender meant pulling pints and very little else. Now you need an encyclopedic knowledge of alcoholic beverages from absinthe to Żubrówka, the ability to deliver service with a smile, and detailed knowledge of licensing and health and safety.
It's a job that's more complicated than it looks, and your CV needs to show you've got the skills to succeed. But thankfully, just like crafting the perfect cocktail, it's easy when you know how.
Read on and you'll see a professional bartender CV example for you to use as a template to make your own. You'll also get the recipe for writing a CV for bartending jobs that'll help you get 10 times more interviews than any CV you've written before.
But before that, here's a bartender CV sample made with our builder.
Want to save time and have your CV ready in 5 minutes? Try our CV builder. It's fast and easy to use. Plus, you'll get ready-made content to add with one click. See 20+ CV templates and create your CV here.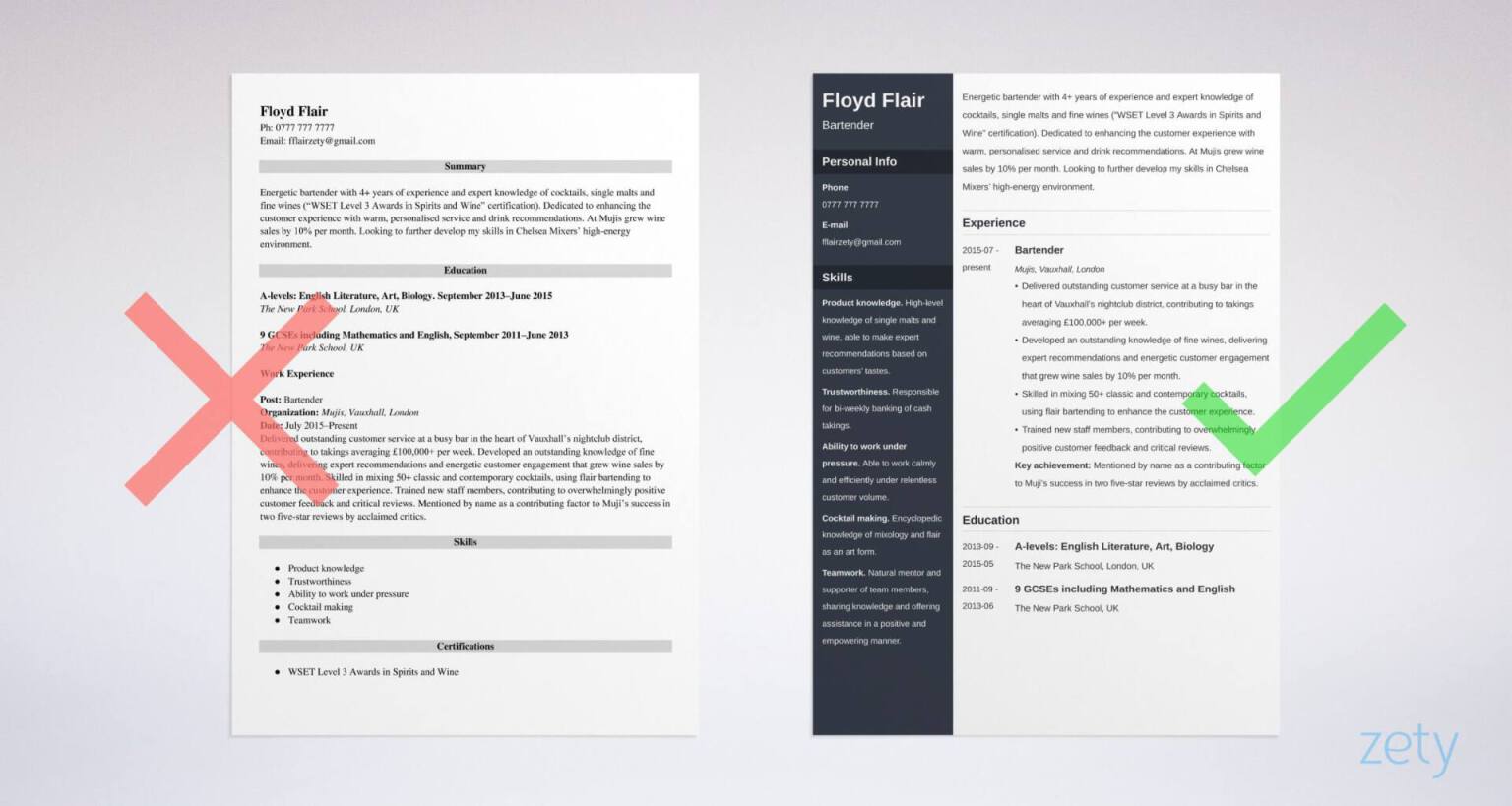 Bartender CV made with our builder—See more CV examples here.
Looking for CV examples for other careers? Check out our other guides:
Sample Bartender CV Template
Floyd Flair
Ph: 0777 777 7777
Email: fflairzety@gmail.com
Energetic bartender with 4+ years of experience and expert knowledge of cocktails, single malts and fine wines ("WSET Level 3 Awards in Spirits and Wine" certification). Dedicated to enhancing the customer experience with warm, personalised service and drink recommendations. At Mujis grew wine sales by 10% per month. Looking to further develop my skills in Chelsea Mixers' high-energy environment.
Work Experience
Bartender
Mujis, Vauxhall, London
July 2015–Present
Delivered outstanding customer service at a busy bar in the heart of Vauxhall's nightclub district, contributing to takings averaging £100,000+ per week.
Developed an outstanding knowledge of fine wines, delivering expert recommendations and energetic customer engagement that grew wine sales by 10% per month.
Skilled in mixing 50+ classic and contemporary cocktails, using flair bartending to enhance the customer experience.
Trained new staff members, contributing to overwhelmingly positive customer feedback and critical reviews.
Key achievement: Mentioned by name as a contributing factor to Muji's success in two five-star reviews by acclaimed critics.
Education
A-levels: English Literature, Art, Biology. September 2013–June 2015
The New Park School, London, UK
9 GCSEs including Mathematics and English, September 2011–June 2013
The New Park School, UK
Skills
Product knowledge. High-level knowledge of single malts and wine, able to make expert recommendations based on customers' tastes.
Trustworthiness. Responsible for bi-weekly banking of cash takings.
Ability to work under pressure. Able to work calmly and efficiently under relentless customer volume.
Cocktail making. Encyclopedic knowledge of mixology and flair as an art form.
Teamwork. Natural mentor and supporter of team members, sharing knowledge and offering assistance in a positive and empowering manner.
Certifications
WSET Level 3 Awards in Spirits and Wine
And now the job-winning bartender CV formula.
1. Use the Best Bartender CV Format
A bartender prepares and serves alcoholic and non-alcoholic drinks. The purpose of your bartender CV is to prove you know how to interact with customers, make recommendations to them and that you're able to prepare a variety of beverages.
There's more skill to it than most people think. Yet hiring managers spend as little as six seconds reading your CV. That's twenty times less than it takes to pull a pint of Guinness properly!
If you want to maximise that eye time, here's what you need to do.
Use chronological CV format. It's the best choice for a bartender CV as it's the format that hiring managers know best.
Make sure your CV is neatly presented with a carefully arranged CV layout. Set your page margins to one inch on each side, use left-alignment only and double space between your CV sections. This creates negative space, and that helps to make your CV easy to read.
Choose an easily readable CV font. It's a professional document, so you're best sticking with conservative choices like Helvetica, Trebuchet MS or Tahoma.
When you're finished, save your CV as a PDF file unless the job advert says otherwise. It's the best way to keep your layout intact.
And remember that some things don't belong on a CV. Personal information like your date of birth or photo is completely unnecessary.
Read more: How to Layout a Professional CV
2. Shake Up a Bartender CV Personal Statement
Your bartender CV personal statement or personal profile is a bit like the ingredients list on a cocktail menu. It tells you what to expect and helps you decide what to order, or who to hire as the case may be.
It should only be 3–4 lines long and it needs to grab the attention of the hiring manager and make sure they want to read the rest of your CV. And the easiest way to do it is to answer these simple questions.
Who are you?
What can you offer to the employer?
What are your career goals?
Change your answers depending on how experienced you are. If you really know your way behind a bar and you're writing a bar supervisor CV then use this approach.
Write down all of your strengths and skills as a bartender. Everything that makes you good at your job.
Then take a look at the job advert and make a note of all the skills and experience that are required.
Finally, match up three or four points from your personal list to what's in the job description and use them to write a personal statement targeted to the job you're applying for.
And if you're looking to break into the bar trade and write a bartender CV with no experience, use this strategy instead.
Write a list of all the skills you already have, think of your education and any other work experience you've had. Then note any that are transferable to being a bartender such as customer service.
Then serve up a personal statement that's a carefully shaken mix of transferable skills, passion for the job and knowledge about the employer. This shows you'll be a good prospect even without experience.
And in both cases, leave writing your personal profile until last. You'll find it much easier to write if you've got your work experience, skills and education ready to use as inspiration.
Read more: How to Write a CV Summary [10+ Examples]
3. Serve an Ice Cold Bartender CV Work Experience Section
Your work experience is the single most important part of your CV. Get it wrong and it'll be like making a mojito without the mint. Here's how to make sure you serve it perfectly.
Write in reverse chronological order. That means put your most recent job first and work back over your employment history from there.
Include the same basic information for every job: the name of your employer, your job title, and the dates you worked there. Use 'present' as the end date if you're still employed there.
Then write 4–6 bullet points that describe your responsibilities and accomplishments. Start them off with CV action words to give them more energy and impact. Words like aided, assisted and accomplished sound much better than 'responsible for'.
Make sure you discuss measurable achievements, not just duties. Don't just tell the hiring manager what you do, impress them with how well you do it. To achieve this, structure your bullet points with the PAR (Problem-Action-Result) techniques and accomplishment statements.
Tailor your work experience section to the job. Note the experience and skills that are set out in the job advert and match your own experience to what's required.
And if you don't have any bartending experience, don't despair. Other customer service and hospitality roles will give you transferable skills. Or you may want to consider a course at a bartending school to get you some hands-on knowledge.
Read more: What to Include in Your Work Experience CV Section
4. Include an Education Section
Don't neglect your education section. Make no mistake, it's an essential part of your CV and there's certain information that has to be included. Here's what you need to do.
For school-leavers, list the name and location of your school plus the dates you attended. List all of your A-level subjects but for GCSEs you only need to mention Maths and English as passes in these subjects are considered a basic requirement by many employers.
If you're a uni student or graduate then it's the name of your university, the dates you attended and the degree you studied for. Include an expected graduation date if you're still studying, and only mention honours if you have a 2:1 or a first.
And if you're still studying or just graduated and don't have much professional experience then you can change the structure of your CV and put your education section before your work experience.
Read more: How to Write Your CV Education Section
5. Big-Note Your Bartender CV Skills
Whether it's flair bartending like a pro or possessing an encyclopedic knowledge of single malts, there's a surprising amount of skill in being a good bartender. Here's how to prove you know your champagne from your sparkling wine.
Once again, refer to the job advert you're targeting. Check which skills are noted in the job description and write them down.
Next, write down all of your skills, using your education and work experience to guide you.
Then compare your two lists, see what matched and choose around five points to include on your CV. Try to include a good mix of both soft skills and hard skills.
And for each skill, add a brief explanation to back it up. E.g. Cocktail making. Skilled in producing a range of classic and contemporary cocktails.
Here are some skills that would be a great addition to your bartending CV.
Essential Bartender CV Skills
Communication skills
Teamwork
Cocktail making
Product knowledge
Customer service
Ability to work under pressure
Good memory
Reliability
Trustworthiness
Ability to deal with challenging situations
POS / Cash Register
Read More: Best List of Skills For Your CV [Top Skills & Examples]
When making a CV in our builder, drag & drop bullet points, skills, and auto-fill the boring stuff. Spell check? Check. Start building your CV here.
When you're done, Zety's CV builder will score your CV and tell you exactly how to make it better.
6. Garnish Your Bartender CV with Some Extra Sections
Additional sections are like the slice of lime in a gin and tonic, they're the little bit extra that elevates it from good to great. Here some ideas for job-winning CV garnishes.
If you can speak a foreign language then be sure to include a languages section. It's a proven winner for jobs where customer communication is key.
Other ideas include certifications, volunteering, hobbies and awards. As long as it's relevant and helps you stand out as a candidate, it's worth including.
Read more: Best Hobbies and Interests for a CV
7. Add a Bartender Cover Letter
So your bartending CV is all written, time to send off that job application right? Not so fast. Cover letters are still incredibly important, one study revealing that 56% of hiring managers still expect them to be sent. So by forgetting to write one you slash your chances of success by half. Not a good idea I'm sure you'll agree.
To stop that from happening, here's what to include in a cover letter for bartending jobs.
Start off with the right cover letter format, and that includes the cover letter address.
Start your cover letter in style with a compelling 'hook'. In other words, grab the hiring manager's attention with energy, enthusiasm and an impressive professional achievement.
Then in the middle of your letter, add even more proof of how your skills and experience will make you the new star behind the bar,
Finish off strong by putting a call to action in your cover letter ending. All it involves is asking the hiring manager to get in touch with you so you can discuss the job opportunity in more detail. You could even offer to do a trial shift to seal the deal.
And lastly, don't overpour, the maximum length of a cover letter is one page.
Plus, a great cover letter that matches your CV will give you an advantage over other candidates. You can write it in our cover letter builder here. Here's what it may look like: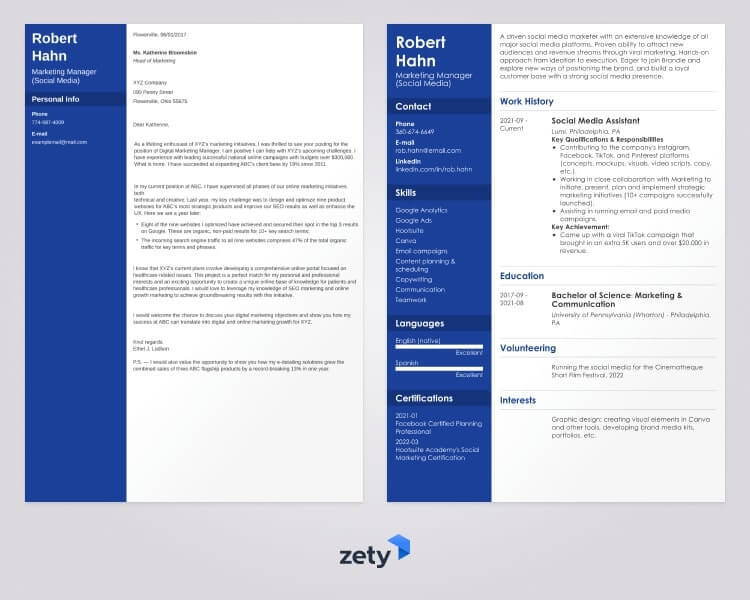 See more cover letter templates and start writing.
And for last orders, always follow up your application to maximise your chances of success. So if you've not heard back anything within a week of replying, get in touch with the employer to check how your application is progressing.
Thanks so much for reading. If you'd like advice about specific bartending jobs then please ask. Perhaps you're looking to write a cocktail bartender CV? Ask away in the comments section and I'll be delighted to help.
About Zety's Editorial Process
Our editorial team has thoroughly reviewed this article to ensure it follows Zety's editorial guidelines. Our dedication lies in sharing our expertise and providing you with actionable career advice that offers you real value. Every year, the quality of our content attracts 40 million readers to our site. But that's not all – we conduct original research to gain a detailed understanding of the labour market. We take pride in being cited by top universities and leading media outlets in the UK and worldwide.
Sources