Sales CV: Examples and How-to-Write Guide (+Template)
Our offer? An amazing deal on how to write a sales CV. Product features include actionable tips and a job-winning sales CV template to guide you.
On your first day in sales you probably heard the expression 'sales is a numbers game'. But as your career progresses you learn the spray and pray approach isn't the best way to beat your targets. You need to target good opportunities and learn the best techniques to maximise your chances of success.
It's exactly the same when you're applying for sales jobs. It isn't just a numbers game. You need a targeted and well-written sales CV.
Read on and you'll see professional sales CV examples that you can adjust and make your own. Plus, you'll learn an easy formula for writing a CV for sales jobs that'll get you more interviews in your pipeline than ever before.
Here's a sales CV example made with our builder.
Want to save time and have your CV ready in 5 minutes? Try our CV builder. It's fast and easy to use. Plus, you'll get ready-made content to add with one click. See 20+ CV templates and create your CV here.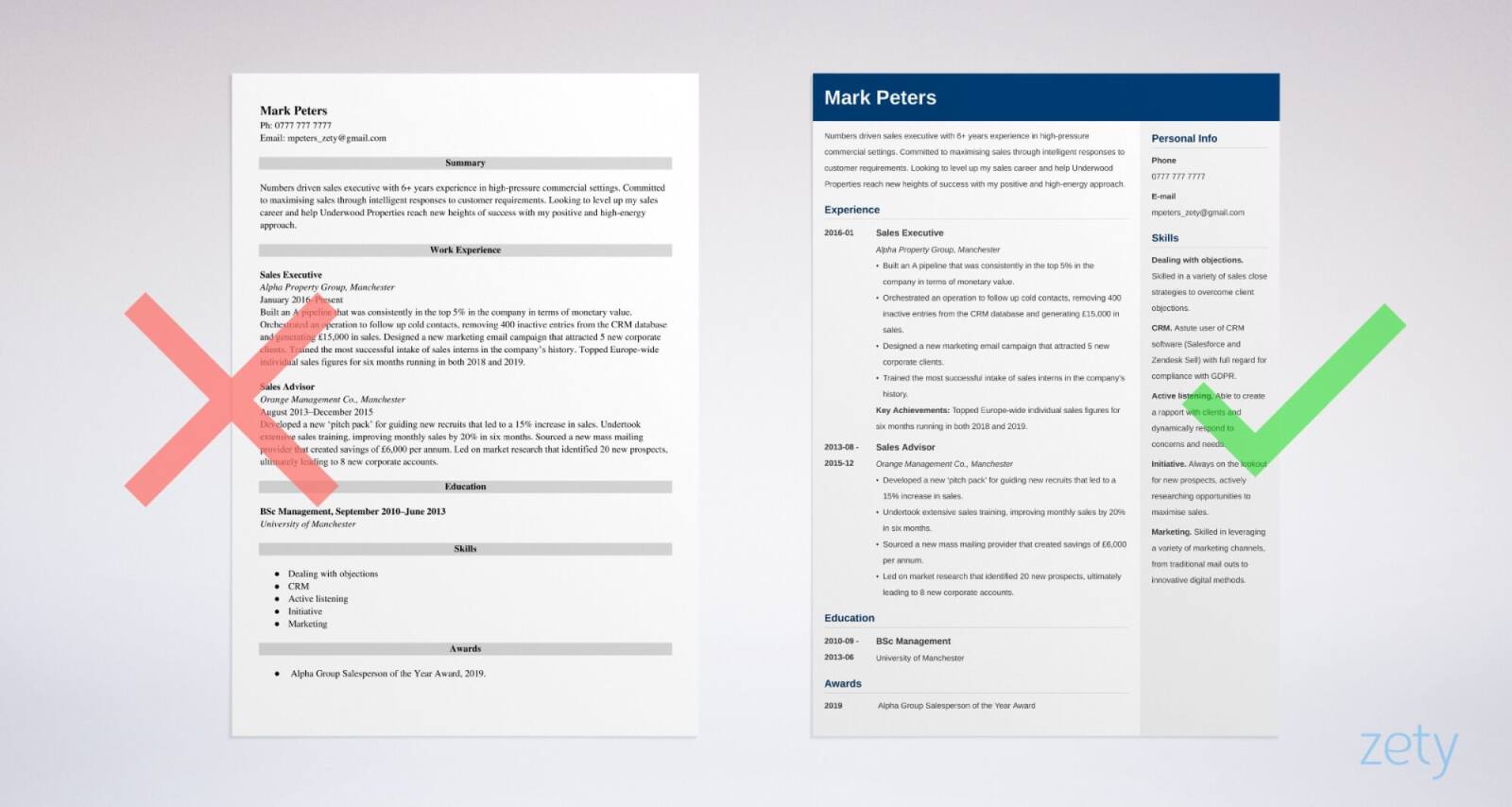 Sales CV made with our builder—See more CV examples here.
Looking for other CV writing guides? Read more here.
Sample Sales CV Template
Mark Peters
Ph: 0777 777 7777
Email: mpeters_zety@gmail.com
Numbers driven sales executive with 6+ years experience in high-pressure commercial settings. Committed to maximising sales through intelligent responses to customer requirements. Looking to level up my sales career and help Underwood Properties reach new heights of success with my positive and high-energy approach.
Work Experience
Sales Executive
Alpha Property Group, Manchester
January 2016–Present
Built an A pipeline that was consistently in the top 5% in the company in terms of monetary value.
Orchestrated an operation to follow up cold contacts, removing 400 inactive entries from the CRM database and generating £15,000 in sales.
Designed a new marketing email campaign that attracted 5 new corporate clients.
Trained the most successful intake of sales interns in the company's history.
Key Achievements: Topped Europe-wide individual sales figures for six months running in both 2018 and 2019.
Sales Advisor
Orange Management Co., Manchester
August 2013–December 2015
Developed a new 'pitch pack' for guiding new recruits that led to a 15% increase in sales.
Undertook extensive sales training, improving monthly sales by 20% in six months.
Sourced a new mass mailing provider that created savings of £6,000 per annum.
Led on market research that identified 20 new prospects, ultimately leading to 8 new corporate accounts.
Education
BSc Management, September 2010–June 2013
University of Manchester
Skills
Dealing with objections. Skilled in a variety of sales close strategies to overcome client objections.
CRM. Astute user of CRM software (Salesforce and Zendesk Sell) with full regard for compliance with GDPR.
Active listening. Able to create a rapport with clients and dynamically respond to concerns and needs.
Initiative. Always on the lookout for new prospects, actively researching opportunities to maximise sales.
Marketing. Skilled in leveraging a variety of marketing channels, from traditional mail outs to innovative digital methods.
Awards
Alpha Group Salesperson of the Year Award, 2019.
Now here's the job-winning sales CV formula.
1. Use the Best Format for Your Sales CV
A good salesperson engages with potential customers for their company's products and services. They then provide a product or service that matches the customer's desires and needs and sell it to them for a profit.
So the purpose of your sales CV is show you have the skillset to maximise sales opportunities and profits for your employer.
You'll know all too well you have to grab a prospect's attention quickly if you want to make a sale. The same applies to your CV, you've got under half a minute to grab the recruiter's attention. Here's how to do it.
Write a chronological CV. It's hands down the best CV format because it has a strong focus on your work experience and it's a favourite of recruiters.
Make your CV layout attractive and professional. Set your page margins to one inch on all sides. Left-align your text without using justification, and double space between each of your CV sections. This creates lots of white space on the page, and that makes it easy to read.
Keep it short and sweet. You should only ever have a one or two-page CV.
And when you're finished, unless the job advert says otherwise, save your CV as a PDF to keep the layout in good shape.
Read more: How to Create Professional CV Layout
2. Write a Sales CV Personal Statement
Defining your sales CV personal statement or personal profile is easy. Your CV sells a product. That product is you. And a sales CV personal statement is your sales pitch. In 3–4 lines it's got to sell you to the hiring manager. Get it wrong and they'll move on to the next prospect.
But there's an easy way of getting it right. Just answer these questions and you'll be set.
Who are you?
What can you offer to the employer?
What are your career goals?
The great thing about this approach is it's flexible. You can just change the way you answer depending on your experience. If you're an old hand writing a sales executive CV then do this.
Write down all your strengths and abilities as a salesperson. List the skills and experience that makes you a great sales professional.
Then refer back to the job advert and read the job description carefully. List all the skills and experience mentioned in it and note those that match the entries on your list.
Combine the matching points into a sales CV personal statement targeted to the job you're applying for.
And if you're just starting out in your career and writing an entry-level sales consultant CV you should follow this approach.
Write a list of all the skills and experience you already have. Consider your education and prior work experience. Then highlight everything that's transferable to a job in sales.
Then use those points, combined with lots of passion and energy, to craft a personal profile targeted to the job you're applying for.
Here's a tip to make it easier. This is the first section of your CV but you should leave it until last. Why? Because then you'll have your work history, education and skills ready to refer to.
Read more: How to Write a Professional CV Summary (10+ Examples)
3. Pitch Your Sales CV Work Experience Section
Your work experience section is the undisputed star of the show. Being a good salesperson takes practice and you need to prove your abilities are razor sharp. Here's how you do it.
Put your CV in reverse chronological order. That just means you start with your most recent job and then go back from there.
For every job entry there's some essential info to include.

Job title
Name of your employer
Dates of employment
4–6 bullet points describing the job

Each bullet point should begin with a punchy action verb. Don't just say responsible for, use something more energetic like negotiated or performed.
Highlight standout accomplishments and quantify them. Don't just write a description of your duties. It's all about proving how well you did the job, not just describing it. And you can achieve this by using the PAR (Problem-Action-Result) technique to structure your bullet points.
And always tailor this section to the job you're targeting. Highlight experience that's relevant to the specific job description.
Read More: How to Write a Compelling CV Work Experience Section
4. Don't Forget Your Education Section
I know what you're thinking, being a good salesperson is taught through the school of hard knocks, not in a classroom. But an education section is a non-negotiable for your CV. Here's how to write it properly.
School-leavers should include the name of their school and the dates they undertook each qualification. For your GCSEs you only have to list Maths and English as they're often used as a bare minimum for many jobs. And for your A-levels list all subjects.
If you're a uni graduate then list the institution you attended, the degree you attained and the dates you studied there. Honours should only be mentioned if they were a first or a 2:1.
And if you've only just graduated or left school, this section can go before your work experience section.
5. Advertise Your Sales CV Skills
Realistically, not everyone can be Britain's answer to Zig Ziglar. But you do need to be able to show off a solid skillset if you want to succeed. If you had to write all the skills needed to be a great salesperson the list would be as long as your arm. Here's how to narrow it down and choose the best sales skills for your CV.
Open up the job advert and read the job description. It's effectively the hiring manager's wish list for an ideal candidate. So list every skill that's mentioned in it.
Now list your own sales skills, then put the two lists side by side to see what matches and choose the strongest 5–10 of them to include in your CV.
Make sure you include hard, soft and technical skills to broaden your appeal as a candidate.
Put some meat on the bones by adding a short sentence to each skill that proves you possess it. E.g. Dealing with objections. Skilled in a variety of sales close strategies to overcome client objections.
Here are some skills that'd make a great addition to your sales CV.
Sample Sales CV Skills
Cold calling
Negotiation
Marketing
Customer relationship management (CRM)
Active listening
Persuasion
Emotional intelligence
Oral communication
Initiative
Dealing with objections
Read more: Top Skills for Your CV [Best List of Examples]
When making a CV in our builder, drag & drop bullet points, skills, and auto-fill the boring stuff. Spell check? Check. Start building your CV here.
When you're done, Zety's CV builder will score your CV and tell you exactly how to make it better.
6. Include Additional Sections
You could stop writing with your skills section and you'd have a pretty good CV. But if you want a great CV, one that gets the best jobs, you need to add something extra. It's like the Columbo Close, just one last thing! Here's how to do it.
Add sections that strengthen your position as a candidate, awards, achievements, projects or even hobbies are great choices if they're relevant.
And there are two additional sections that add value to any job application: languages (being bilingual boosts your chances of being hired) and volunteering (it's something that 82% of managers view positively in a candidate).
Read more : Best Hobbies & Interests for Your CV
7. Create a Sales Cover Letter
You've probably seen some dodgy sales letters in your time, but don't worry, this something that hiring managers actually want to read. It's no hard sell. In fact, the majority of them consider it a must-have.
Here's a brief guide to writing your cover letter.
Just like your CV, start off by getting your cover letter formatting right, including your cover letter address.
Kick-off your cover letter opening with a hook, a solid professional accomplishment that'll keep the recruiter reading.
Keep up the momentum by using the body of your letter to prove you've got the know-how and skills to be a superb salesperson.
End your letter with a call to action that shows you want to speak to the recruiter to discuss the role further.
And don't overdo it. Keep the length of your cover letter under one page.
Plus, a great cover letter that matches your CV will give you an advantage over other candidates. You can write it in our cover letter builder here. Here's what it may look like: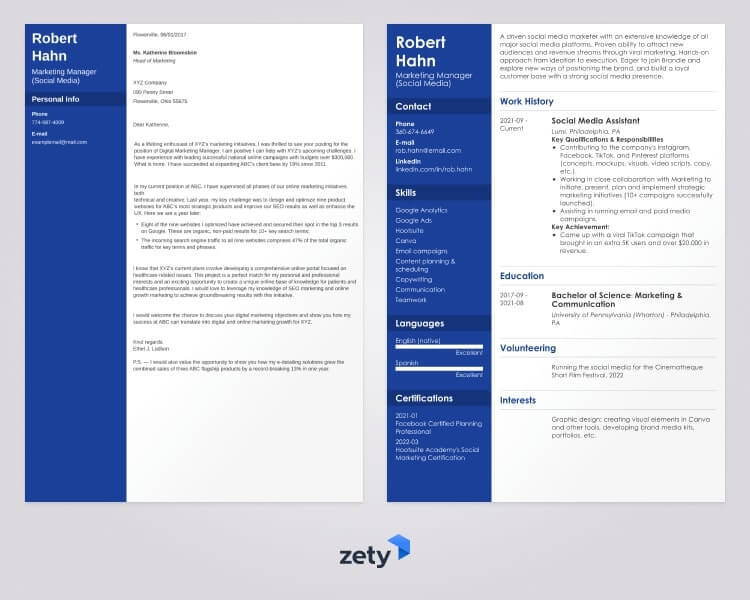 See more cover letter templates and start writing.
And the final tip to close the sale. Follow up. Don't just wait for them to call you, if you've not heard anything within a week of submitting your application then follow up on it. Get in touch with the hiring manager to check progress. Many recruiters actually expect it of you.
Thanks for reading. Do let me know if you want to hear about specific types of CV for sales. Sales manager CV, sales associate CV, whatever your situation is, please ask in the comments section and I'd be happy to help.
About Zety's Editorial Process
Our editorial team has thoroughly reviewed this article to ensure it follows Zety's editorial guidelines. Our dedication lies in sharing our expertise and providing you with actionable career advice that offers you real value. Every year, the quality of our content attracts 40 million readers to our site. But that's not all – we conduct original research to gain a detailed understanding of the labour market. We take pride in being cited by top universities and leading media outlets in the UK and worldwide.
Sources