How to Write a School Leaver CV [Template & Examples]
School's out, the world of work awaits. Stop worrying about your lack of experience and learn how to write a school leaver CV recruiters will love.
You've learned a lot at school but there's one thing they didn't teach you. The best way to write a CV.
That's understandable, your teachers weren't all career experts. But thankfully, we are, and you're about to learn how to write a school leaver CV designed to show off your strengths and impress recruiters.
Don't be worried about your lack of experience. You don't need decades of work history to write a good CV. You just need to learn some simple strategies to create a CV that's professional and on point.
Read on and you'll see a school leaver CV example you can adjust and make yours. Plus, you'll learn an easy formula for writing a cv for school-leaver jobs that will land you 10x more interviews than any other school leaver CV template out there.
Here's a school leaver CV example made with our builder.
Want to save time and have your CV ready in 5 minutes? Try our CV builder. It's fast and easy to use. Plus, you'll get ready-made content to add with one click. See 20+ CV templates and create your CV here.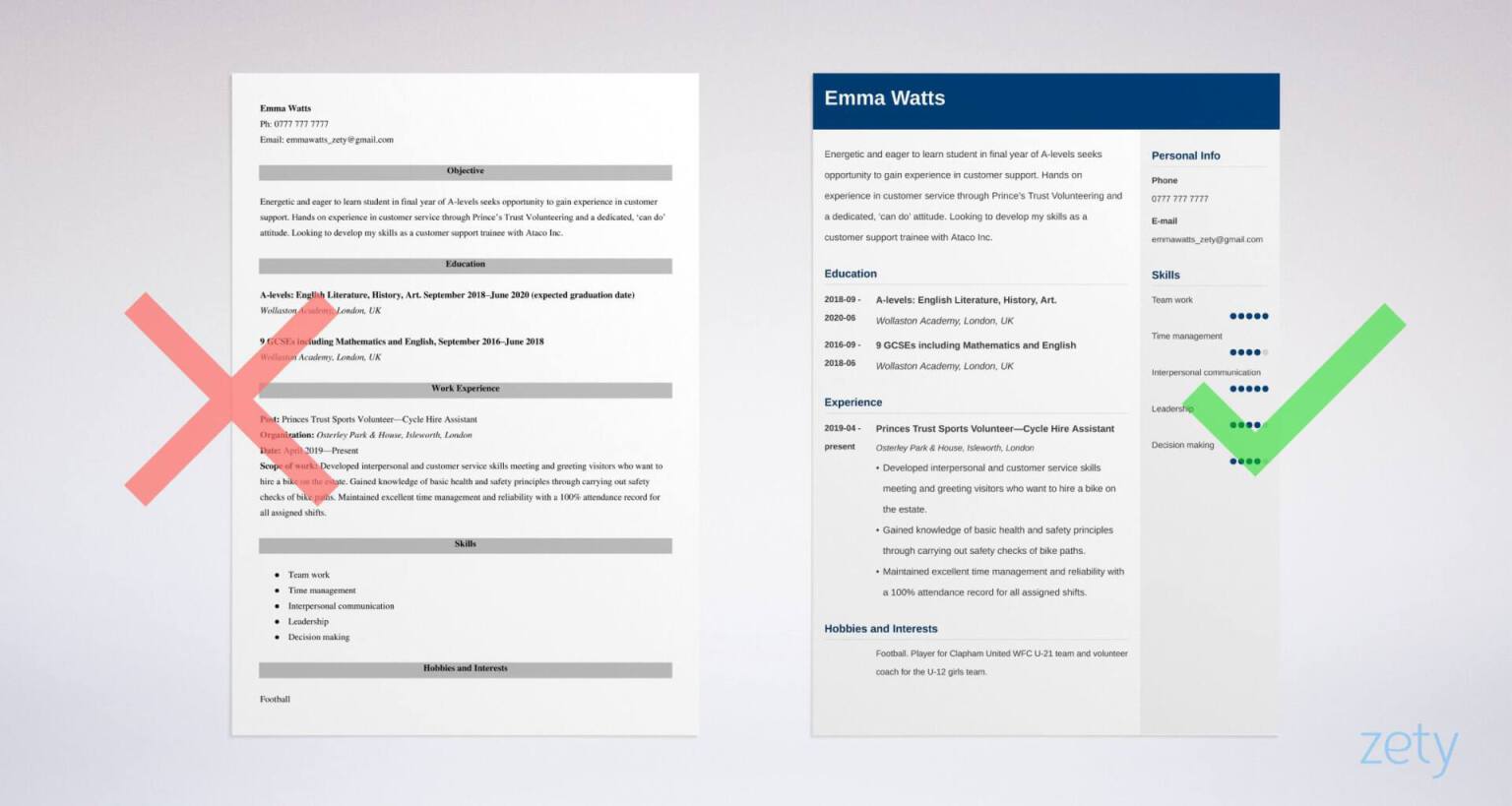 School-leaver CV made with our builder—See more CV examples here.
Looking for more detailed advice or guides for specific careers? Read more here:
Sample School Leaver CV Template
Emma Watts
Ph: 0777 777 7777
Email: emmawatts_zety@gmail.com
Energetic and eager to learn student in final year of A-levels seeks opportunity to gain experience in customer support. Hands on experience in customer service through Prince's Trust Volunteering and a dedicated, 'can do' attitude. Looking to develop my skills as a customer support trainee with Ataco Inc.
Education
A-levels: English Literature, History, Art. September 2018–June 2020 (expected graduation date)
Wollaston Academy, London, UK
9 GCSEs including Mathematics and English, September 2016–June 2018
Wollaston Academy, London, UK
Work Experience
Princes Trust Sports Volunteer—Cycle Hire Assistant
Osterley Park & House, Isleworth, London
April 2019—Present
Developed interpersonal and customer service skills meeting and greeting visitors who want to hire a bike on the estate.
Gained knowledge of basic health and safety principles through carrying out safety checks of bike paths.
Maintained excellent time management and reliability with a 100% attendance record for all assigned shifts.
Skills
Team work
Time management
Interpersonal communication
Leadership
Decision making
Hobbies and Interests
Football. Player for Clapham United WFC U-21 team and volunteer coach for the U-12 girls team.
I've just told that you need to write a CV if you want a job. But if you've never written one before you're probably wondering what a CV exactly is.
A CV, which is short for curriculum vitae, is a document that contains information about you that tells employers about your education, skills and experience.
You then send your CV to employers when you make a job application, and they read it and use the info you included to decide whether or not they want to interview you for the job.
So now you know what a CV is, it's time to learn how to write one.
Here's how to write a school-leaver CV:
1. Use the Best Format for Your School Leaver CV
A school-leaver is a person who has just left or is about to leave school, having completed their studies. The purpose of your school leaver CV is to show that you're an excellent candidate for employment despite your lack of experience.
Youth unemployment remains high and is currently increasing. It's a tough job market. But there are a few things you can do that will instantly give you the edge over the competition. Graduate at the top of your job-hunting class by creating a professional first impression. Here's how.
Choose the right type of CV format. The best choice for a school leaver CV is the chronological format. It's the classic format that recruiters are most familiar with and it's fully compatible with the ATS software that scans your application.
Use the best settings for your CV layout. Page margins should be set at one inch on each side, text should be left-aligned with no justification and you should double space between each CV section. This creates plenty of white space, which makes your CV easier to read and helps the recruiter find the info they need.
Choose a professional CV font. Cambria, Arial and Helvetica all look great.
Less is more, don't overdo it. The best CV length is no more than two pages, and for a school-leaver, one page is even better.
Unless the job advert says otherwise, save your CV as a PDF to keep your formatting intact.
Don't attach your photo or include any personal info like your date of birth.
Pro Tip: Check, check, and check again. Spelling and grammatical mistakes can ruin your chances. Use your word processor's built-in spell checker, run your CV through a writing app like Grammarly and have a friend check your work. A perfectly presented CV is instant proof of your writing proficiency, one of the top soft skills employers want.
2. Put Your Contact Details in Your CV Header
Your CV header is the very first lines of text that contain your name and your contact information. Here's what to include.
Your full name
Phone number
Email address. And make it a professional looking one based on your name.
You don't have to include your residential address. It's not relevant and it just takes up space you could use for more important information.
Read more: What to Include in a CV: Essential CV Sections
3. Write a School Leaver CV Personal Statement
Remember your English classes? When it came to creative writing the most important thing they would've drummed into you is writing an exciting introduction. You need to grab the reader's attention and hold it so they'll keep reading all the way through. That's exactly what your school leaver CV personal statement does. It acts as the crucial intro to your CV story.
3–4 sentences is all you've got to make the hiring manager take notice. But don't let that scare you, just use these three simple questions as your formula and you'll make the recruiter hungry for more.
Who are you?
What can you offer to the employer?
What are your career goals?
Answer these questions differently depending on whether you have any experience or not. If you're like most school leavers and you don't have any experience, then do this.
Make a list of your skills, strengths and experience. Focus on your education and any extra-curricular activities you participate in, such as sports. Highlight anything that would help you perform well in the job you're applying for.
Now choose 3–4 items from your list that match up with what's listed in the job advert. Then combine them with passion for the role, and knowledge about the employer to prove that you'll be a good fit.
This is what's called 'tailoring' your CV to the job, and it's one of the best things you can do to improve your chances of success.
If you've had some work experience while you were at school and you're applying for a job in the same industry, then do this.
Make a master list of all your selling points as an employee. Include all of the experience, skills and abilities you have that make you a 'must hire' candidate.
Then re-read the job description in the advert, make a list of the skills and experience it demands and match it up with 3–4 points from your own list.
Use these points to write a personal profile tailored to the job you're targeting
Regardless of your experience, this section is easier to write if you leave it until last. It's much faster when you've got everything else all set out and ready to refer to.
Remember: Don't make it about you, make it about the employer. Applying for a retail job? Don't just talk about how much you love that particular shop, that's about you. You've also got to mention how you could offer great customer service and improve sales, that's about the employer.
Check out this guide for even more tips on how to write your personal profile: How to Write a CV Personal Statement [20+ Examples]
When making a CV in our builder, drag & drop bullet points, skills, and auto-fill the boring stuff. Spell check? Check. Start building a professional CV template here for free.
When you're done, Zety's CV builder will score your CV and tell you exactly how to make it better.
4. Include an Education Section
Usually this section would come after your work experience. But on a CV template for a school leaver it's best to put your education first. At this stage of your career it carries more weight than your work history.
Include the name of the school you went to, its location, and the years you attended.
List individual subjects for your A-levels.
For GCSEs you generally only need to list Maths and English, many employers look for passes in these subjects as a minimum requirement. But—
If you have a GCSE subject that's directly related to the job you are applying for then do mention it.
5. Complete Your School Leaver Work Experience Section
If you have no experience whatsoever then feel free to omit this section. However, it's vital to include any experience you do have. Any work experience at all is a big advantage when you're writing a school leavers CV. Here's how to do it right.
List your most recent job first and work back in time from there listing any previous jobs. That's the reason this type of CV format is also called reverse chronological.
For every entry, write your job title, name of the employer, dates of employment (use "present" as the end date if you're still working there), then write up to six bullet points describing the job.
Start each bullet point with a CV action word like undertook, acted as or produced to give them added impact.
Try to include measurable achievements, not just your duties. The trick is don't just say what you did, show how well you did it.
Always tailor your CV work experience section to the description in the job advert. Highlight what the employer is looking for and match your experience to what's required.
Use the CAR (Challenge-Action-Result) formula to structure your bullet points.
Let me explain that last point in more detail. It's a simple way of adding more impact to your bullet points. A way of showing the hiring manager you've got the ability to make a positive contribution. Look at this example:
Reduced

excessive spending on office supplies

by

negotiating a discount with a new supplier

, saving

£200 per month

.
There's a challenge, too much money is being spent on office supplies. An action, negotiating a discount. And a result, an impressive monthly saving. It quantifies that saving too, and that just means saying how much it was by writing the actual number. It's another important way of showing an employer exactly how you can help
Pro Tip: If you have no experience at all then be proactive. There are plenty of ways to gain that all important experience. Try volunteering for a local charity. Check if your school or college organises work experience placements or contact the Prince's Trust. Any experience you can get will be a boost to your CV.
Want even more good CV advice? Check out our guide: 20+ CV Tips and Advice for Job Application Success
6. Show Off Your School Leaver CV Skills
When writing a CV for a school leaver you need to highlight your skills. And I don't mean your ability to down 30 Nando's extra hot chicken wings in 30 minutes. This is all about skills that'll impress employers. Here's what to do.
Go to the job advert again, read the job description and list which skills are mentioned.
Now write a list of your own skills, refer to your education and work experience sections for inspiration. But also think of any skills gained from other parts of your life experience too.
Ultimately you'll want to list 5–10 skills on your CV. Include some that match with the job description but don't be afraid to also include skills that are universally desirable, like interpersonal skills.
Aim for a mix of soft skills and hard skills.
These skills would look great on a school leaver CV.
Skills for a School Leaver CV
IT skills (name the programs you're familiar with)
Time management
Creativity
Persuasion
Team work
Negotiation
Decision making
Adaptability
Read More: Best List of Skills to Put on a CV [Top Skills & Examples]
7. Add Additional Sections to Your School Leaver CV
There's one big problem with your average school leaver CV. They all look pretty similar. There's no career history to distinguish between each candidate and that makes it tough to stand out. But there's an easy way of customising your CV to stop you getting lost in the crowd. Add some additional sections. Here's how.
Can you speak another language? Foreign language skills are needed at all levels of the workforce and are a great choice for a school leavers CV.
Include hobbies and interests on your CV. They're a great way of making you more relatable to the recruiter, it's proven we like people who are like us. It can also demonstrate your abilities. E.g. painting and drawing shows you have a creative mind.
You could also include projects, achievements, awards and volunteering. Anything that's relevant to the job and makes you stand out as a good candidate.
Read more: Best Hobbies and Interests to Put on a CV
8. Consider a Cover Letter
I know what you're thinking, who actually writes a letter these days? But in the world of recruitment, cover letters are still a pretty big thing. More than half of employers still say they're a must-have. Writing a cover letter to accompany your school leaver CV is another great way of making your job application stand out.
Here's how to write a cover letter in no time.
Put a 'hook' in your cover letter opening. Show energy and passion, and include an impressive achievement that'll make you stand out as a candidate.
Demonstrate how your skills and experience will help you to excel in the job you're applying for. Like your CV, tailor your cover letter to each new job you target.
Put a call to action in your cover letter ending asking to meet or schedule a phone call to discuss the job further.
Stick to the right cover letter length.
Read more: What to Include in a Cover Letter for a Job [15+ Examples]
One last tip for you. Follow up your job application. If you haven't heard back within a week, contact the employer by email or phone about the status of your application. It's a great way of improving your chances of landing an interview. In fact, 22% of hiring managers are less likely to hire a candidate who doesn't follow up.
And that's it. You're all set to write a school leaver CV that'll get your working life off to a great start.
Plus, a great cover letter that matches your resume will give you an advantage over other candidates. You can write it in our cover letter builder here. Here's what it may look like: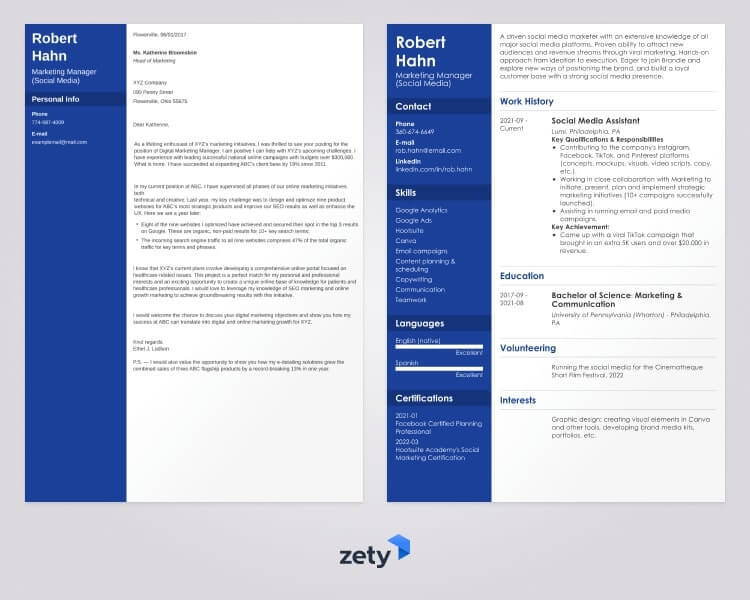 See more cover letter templates and start writing.
Thanks for reading. Have I covered everything you need to know about writing a CV for a school-leaver? Do you need something more specific, like a cv for 16 year old school leaver template? How about more cv examples for a school leaver? If you'd like to know anything at all about how to write your first CV, let me know in the comments section and I'll be happy to help.
About Zety's Editorial Process
Our editorial team has thoroughly reviewed this article to ensure it follows Zety's editorial guidelines. Our dedication lies in sharing our expertise and providing you with actionable career advice that offers you real value. Every year, the quality of our content attracts 40 million readers to our site. But that's not all – we conduct original research to gain a detailed understanding of the labour market. We take pride in being cited by top universities and leading media outlets in the UK and worldwide.
Sources