Business Analyst CV: Example and How to Write [20+ Tips]
We've crunched the numbers, perfected our processes and created the ultimate guide to writing a business analyst CV. Optimise your job hunt now.
If you could choose just two words to describe what a business analyst does, you couldn't go wrong with 'processes' and 'systems'. Your job is all about creating the optimum structure for businesses to solve their challenges within. It's your bread and butter, but do you apply the same rigorous standards when you're writing a business analyst CV?
When it comes to job applications, even the most accomplished business analyst can struggle to communicate the depth of their skills and experience. But thankfully, it's easy to make your business analyst CV as perfectly optimised as the systems you create.
Read on and you'll see a business analyst CV example you can use to help perfect your own. Plus, you'll get a simple step-by-step guide to writing a CV for business analyst jobs that'll get you more interviews.
We'll begin with a business analyst CV sample made with our builder.
Want to save time and have your CV ready in 5 minutes? Try our CV builder. It's fast and easy to use. Plus, you'll get ready-made content to add with one click. See 20+ CV templates and create your CV here.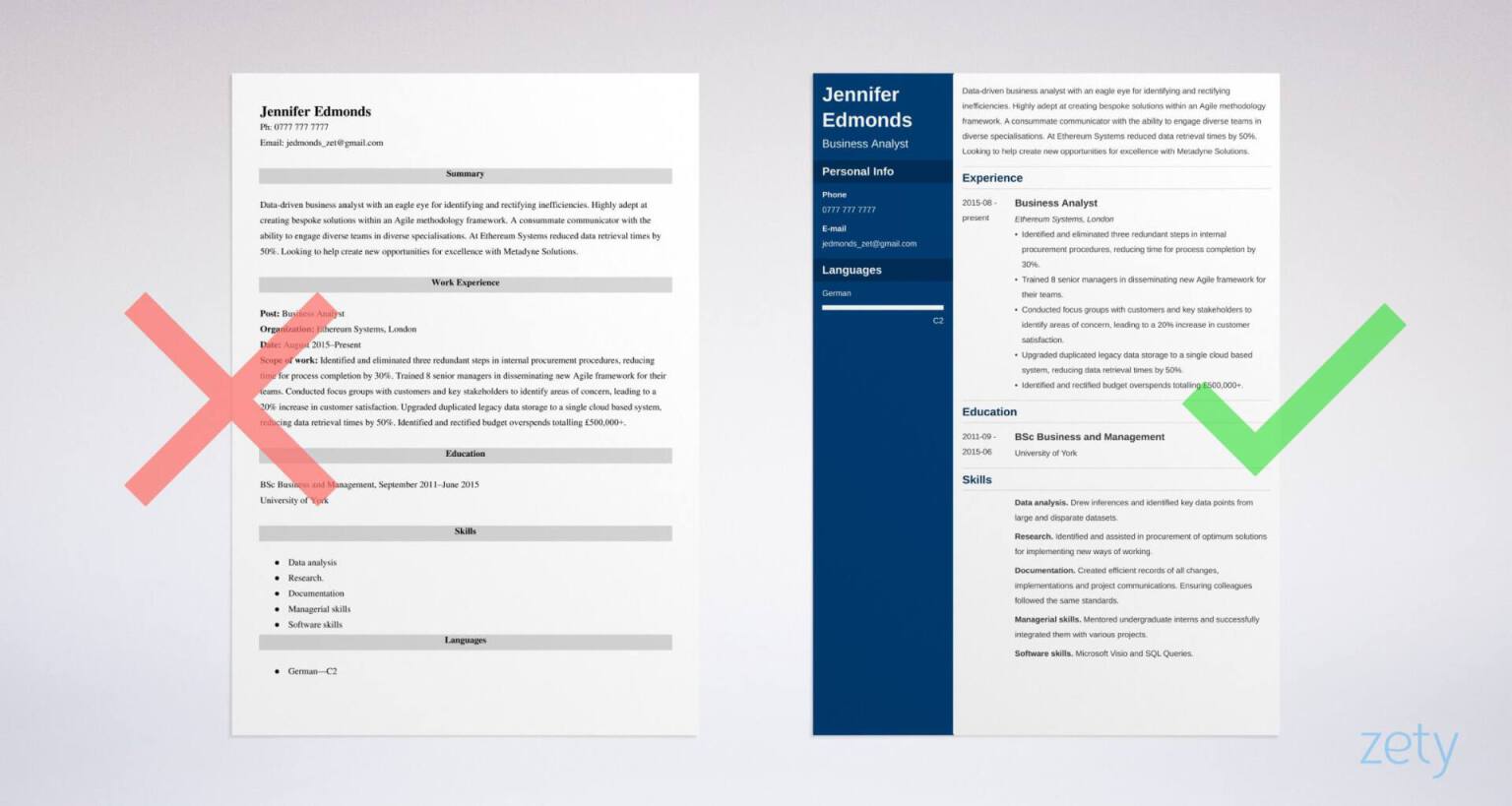 Business analyst CV made with our builder—See more CV examples here.
And if you're looking for advice for other jobs, you can read more here:
Sample Business Analyst CV Template
Jennifer Edmonds
Ph: 0777 777 7777
Email: jedmonds_zet@gmail.com
Data-driven business analyst with an eagle eye for identifying and rectifying inefficiencies. Highly adept at creating bespoke solutions within an Agile methodology framework. A consummate communicator with the ability to engage diverse teams in diverse specialisations. At Ethereum Systems reduced data retrieval times by 50%. Looking to help create new opportunities for excellence with Metadyne Solutions.
Work Experience
Business Analyst
Ethereum Systems, London
August 2015–Present
Identified and eliminated three redundant steps in internal procurement procedures, reducing time for process completion by 30%.
Trained 8 senior managers in disseminating new Agile framework for their teams.
Conducted focus groups with customers and key stakeholders to identify areas of concern, leading to a 20% increase in customer satisfaction.
Upgraded duplicated legacy data storage to a single cloud based system, reducing data retrieval times by 50%.
Identified and rectified budget overspends totalling £500,000+.
Education
BSc Business and Management, September 2011–June 2015
University of York
Skills
Data analysis. Drew inferences and identified key data points from large and disparate datasets.
Research. Identified and assisted in procurement of optimum solutions for implementing new ways of working.
Documentation. Created efficient records of all changes, implementations and project communications. Ensuring colleagues followed the same standards.
Managerial skills. Mentored undergraduate interns and successfully integrated them with various projects.
Software skills. Microsoft Visio and SQL Queries.
Languages
Now let's get started with the job-winning business analyst CV formula.
1. Choose the Best Business Analyst CV Format
A business analyst helps to improve processes and systems within an organisation. So the purpose of your business analyst CV is to show you're able to effectively research solutions to business problems and help to implement them.
But your job can be incredibly complex and challenging. How are you supposed to condense it all down into a one or two page CV that a recruiter can understand easily? Start off like this.
Use the best CV format. For your business analyst CV, go for chronological format. It's the most effective, as it's the one that recruiters and hiring managers know best. It also focuses on your work experience section, which is the most important part of your CV.
Set up a razor-sharp CV layout. Don't overcrowd the page. Set page margins to one inch, double space between each CV section and don't use justification, left-alignment only. This creates lots of white space, which highlights important info and makes your CV easy to read.
Then to make it even easier to read, choose a good CV font. Classic choices like Arial, Times New Roman and Calibri all make for an eyeball friendly experience.
Save your business analyst CV in PDF format to keep your layout intact.
And leave out the personal stuff. Info on your date of birth, marital status and your photo have no place on a professional CV.
Read more: How to Layout a Professional CV
2. Write A Business Analyst CV Summary
This section also goes by the name of personal profile or personal statement. Call it what you will, it serves the same purpose, acting as the introduction to your CV. It should be three-five lines long and it's there to catch the hiring manager's attention and keep them reading.
Summarising yourself into a few lines is pretty daunting, but here's a method to make it easy. Start off by imagining your CV summary as the answer to three questions.
Who are you?
What can you offer to the employer?
What are your career goals?
Then write your answers according to how much experience you have. So let's start with a more experienced candidate writing a senior business analyst CV. You'd need to approach it like this.
Make a list of your skills, experience and achievements as a business analyst. Create a summary of everything that makes you excel at your job.
Then refer to the job advert and write down all of the experience and skills it mentions as requirements of the role.
Finish by choosing 3–4 points from your list of abilities that matches those in the job advert and use them to write your personal profile.
If you're writing an entry-level business analyst CV, you'll do things a little differently. You can still write a good CV summary even without experience. Here's how.
Focus on transferable skills and knowledge gained from your education. Make a list of all the skills and knowledge you have that are relevant to a business analyst role.
Then you'll write your personal profile by combining passion and enthusiasm for the job and the company you're applying for with three or four points from your transferable skill set that match up with the job requirements.
Showing energy and positivity is key when you're writing a junior business analyst CV as it shows you'll be a committed and effective employee who's ready to make a strong start to their career.
And in both cases write the rest of your CV first. Creating a summary is a lot easier when everything else is written out in detail and ready to refer to.
Read more: 10+ Examples of How to Write Your CV Summary
3. Optimise Your Business Analyst Work Experience Section
I've already said it, but it's worth repeating, your work history is the most important section of your CV. Recruiters want candidates who can get to work tweaking processes and analysing performance data without thinking twice. Here's how to prove it.
List your previous experience in reverse chronological order. Put your most recent job first and work backwards.
For each job include the same basic info. The name of your employer, your job title and the dates you worked there. Then write up to six bullet points describing the role.
Make your bullet points pop by starting them with action verbs. Words like compiled, analysed and executed sound much better than 'responsible for'.
Then use measurable achievements to add even more impact. Achievements sound even better when you use numbers to quantify them.
To help structure your bullet points, use results-based statements. Prove how well you did the job, don't just describe what you did.
And as with every other CV section, tailor your work history to the job you're targeting. Compare it to the job advert and check that you're addressing the key requirements as much as possible.
Read more: What to Include in Your Work Experience CV Section
4. Include an Education Section
It's an easy section to overlook as it often feels like more of an afterthought the further you progress in your career. But it's an essential section to include, especially for more technical roles such as business analyst. So here's how to get it right.
Include the full formal name of your university, the degree you obtained and the dates you attended.
If you have more than one qualification, use reverse chronological order, and don't mention honours unless they're a first or a 2:1.
And if you graduated within the last 12 months and don't have much experience you can put your education section before your work experience and mention individual modules if they're relevant.
Read more: How to Write Your CV Education Section
5. Highlight Your Business Analyst CV Skills
Your job isn't all data analysis and creating process maps. You need people skills so you can engage with others and get them to buy into your proposed improvements. It's a truly multi-faceted role that requires a long list of skills to do well. But how do you decide which ones to include on your CV? Here's how to narrow it down and produce a focussed and effective skills section.
Head back to the job advert and note every skill it mentions. Then compile a list of your own skills, thinking back over your work experience and education to make sure you cover everything.
Take your two lists and check what matches, then choose 5–10 of the skills that match to create a perfectly tailored skills list.
Make sure you include both soft skills and hard skills, and for each skill back it up with a short sentence. E.g. Data analysis. Drew inferences and identified key data points from large and disparate datasets.
Here a few skills that would make a great addition to your business analyst CV.
Top Business Analyst Skills for Your CV
Problem solving
Managerial skills
Decision making
Communication
Influencing
Documentation
Software skills (Microsoft Access, Microsoft Visio, SQL)
Agile methodology
Data analysis
Research
Financial Planning
Read More: How to Write Your CV Skills Section [Best List of Examples]
When making a CV in our builder, drag & drop bullet points, skills, and auto-fill the boring stuff. Spell check? Check. Start building your CV here.
When you're done, Zety's CV builder will score your CV and tell you exactly how to make it better.
6. Add Extra Sections to Your Business Analyst CV
Your skills section could be the end of your CV. You'll certainly have included everything that's essential. But in your job, do you do the bare minimum or do you search for every efficiency that can be reasonably implemented? The answer is obvious, and your CV is the same. To make your CV truly cutting edge you have to include something extra. So here are a few ideas.
If you speak a foreign language then you should definitely include a languages section. British candidates tend to lack additional language skills so including them makes you truly valuable and gives you cultural agility.
Volunteering. Giving back to the community is increasingly important for most companies and reflects positively on you as an individual too. 64% of business decision-makers say it's important to include volunteering experience. An easy win I'm sure you'll agree.
Other ideas include volunteering, projects, awards or hobbies and interests. As long as it's relevant and strengthens your hand as an applicant, it's worth including.
Read more: Best Hobbies and Interests for a CV
7. Attach a Business Analyst Cover Letter
If you really want to achieve the highest level of optimisation you have to include a business analyst cover letter. It's still an essential part of the job application process.
Here's what to include in a cover letter for a business analyst role.
Structure your cover letter properly, starting with the cover letter address and choosing the right cover letter format.
Create a cover letter opening that grabs the recruiter's attention with a compelling hook. Show off an impressive professional accomplishment to keep them engaged.
Add even more proof of your abilities in the middle of your cover letter. Include other achievements, skills and experience that show how you'll excel in the role you've targetted.
Put a call to action in your cover letter closing. If you ask the hiring manager to make contact with you then you're more likely to secure an interview.
And keep it short and snappy, the maximum length of a cover letter is one page.
Plus, a great cover letter that matches your CV will give you an advantage over other candidates. You can write it in our cover letter builder here. Here's what it may look like: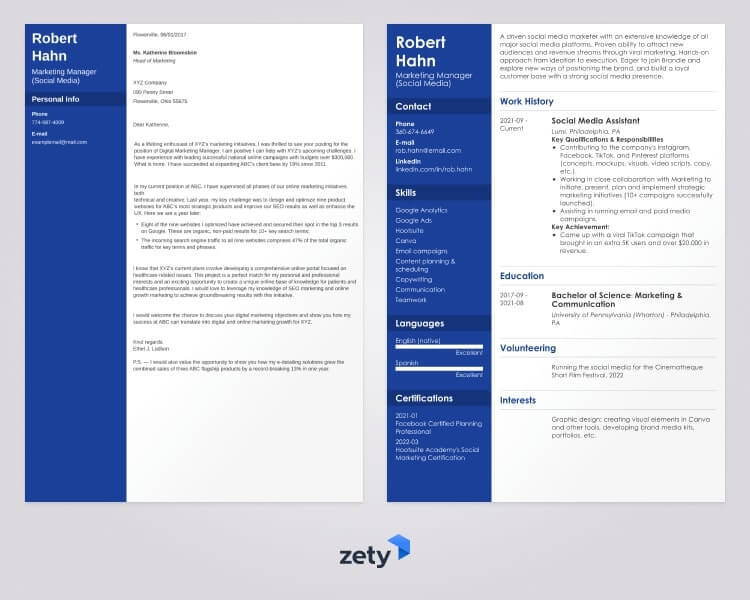 See more cover letter templates and start writing.
And to give your job application one last boost, follow it up. If there's no news within a week of applying make contact with the employer to check on the status of your application. Many hiring managers even expect you to.
And we're all done. Thanks for reading. This was a general guide for business analyst jobs but it's a profession with a lot of specialisation. So if you're writing something specific like a GDPR business analyst CV or an IT business analyst CV then use the comments section for any questions and we'll be happy to help.
About Zety's Editorial Process
Our editorial team has thoroughly reviewed this article to ensure it follows Zety's editorial guidelines. Our dedication lies in sharing our expertise and providing you with actionable career advice that offers you real value. Every year, the quality of our content attracts 40 million readers to our site. But that's not all – we conduct original research to gain a detailed understanding of the labour market. We take pride in being cited by top universities and leading media outlets in the UK and worldwide.
Sources