No matter your profession, harnessing the power of technical skills can transform your resume into a magnet for employers. In this article, we'll talk about technical skills examples.
We'll also uncover the secrets of crafting a resume that showcases your versatile toolkit and catapults you ahead of the competition. So, gear up and get ready to unleash your technical prowess!
This guide will show you:
What are technical skills: definition and why are they important
Technical skills examples for your career
How to improve your technical skills
How to present your technical skills in a CV for any job
Want to save time and have your CV ready in 5 minutes? Try our CV builder. It's fast and easy to use. Plus, you'll get ready-made content to add with one click. See 20+ CV templates and create your CV here.
Sample CV made with our builder—See more templates and create your CV here.
Looking for some helpful guides other than technical skills? Take a look at these:
1. What Are Technical Skills?
Technical skills are specific abilities, knowledge, and expertise needed in a particular field or profession. They're acquired through training and hands-on experience and involve proficient use of tools, software, equipment, or techniques within a specific area of expertise.
Technical skills sometimes referred to as hard skills, are highly in demand. In fact, research shows 52% of hiring managers prefer technical skills over soft skills, while 28% of recruiters view technical and soft skills as equally important.
Possessing industry-specific technical skills makes you a more competitive candidate and increases your chances of professional success. Of course, there are different levels of technical skills. Some basic technical skills, such as using Google Drive or Microsoft Office Suite, are always required, even in entry-level positions.
2. Technical Skills Examples
Let's go through some of the most common technical skills employers are looking for:
Project Management
It's a broad category encompassing an array of other, more specific skills like managing people, risk, tasks, and planning budgets and projects. Practical knowledge of project management tasks such as JIRA, Trello, Microsoft Teams, or Monday.com is also a significant advantage. Project management skills are needed in virtually every industry.
Productivity Software
As companies focus more and more on streamlining their processes, increasing productivity becomes more and more important. That's where productivity software comes in. It's always a competitive advantage if you know how to navigate Slack, Zapier, Zoom, or other similar apps.
General Computer Skills
In today's fast-paced working environment, it's usually expected that most employees know how to use Microsoft Office and Google Workspace apps. You can consider getting a Microsoft Office or Google Workspace Certification if you want to prove your skills.
Social Media Management
With most companies being active on social media platforms, it's common for employers to look for candidates with social media management skills. These are especially important within jobs in the marketing industry.
It's worth noting that specialists responsible for social media marketing often need to know the specifics of particular social media platforms and how to use the software required to create social media content.
Artificial Intelligence (AI)
Even though AI is one of the hottest buzzwords in the IT industry, knowing how to use it efficiently is a desired skill outside the tech world. The knowledge of best practices of working with artificial intelligence, such as the ability to formulate questions optimally, is a very in-demand technical skill.
Research Skills
Being able to source relevant knowledge effectively is one of those skills which can significantly boost your attractiveness in the eyes of a potential employer. Research skills combined with a proactive approach will make you employee-of-the-year-worthy. In fact, data shows that research skills are one of the top skills that employers look for.
Data Literacy
Being good at reading and understanding data works on employers like candy does on three-year-olds. Even if it's not specified in the job description, recruiters can still value such skills as more and more companies rely on data to improve their results.
Customer Relationship Management
Customer relationship management skills are more than just having ironclad patience and becoming a zen master. They also revolve around technical skills such as proficiency in using Salesforce, HubSpot, and other customer relationship management software.
Communication Systems
Dreaming about nailing that remote working opportunity? Then prepare yourself accordingly and teach yourself how to handle video conferencing tools, instant messaging platforms, knowledge-sharing platforms, and other similar tools. It's definitely a very low price to pay for the freedom of working from the comfort of your own home.
3. How to Improve Technical Skills
No matter the level of your technical skills, you can always improve them or acquire new ones. Adopting a mindset of a life-long learner is one of the best things you can do for yourself, your career, and your brain health.
Use the tips below to help you better your technical skills:
Understand the Meaning of Technical Skills
Motivation is at the heart of any change or new habit. That's why you'll have better chances of succeeding by understanding why you want to learn or polish a particular skill. And if you're interested in learning more about the science behind effective habit-building, get your hands on a copy of "Atomic Habits" by James Clear.
Expand Your Horizons With Online Courses
With online learning platforms like Coursea, Udemy, Skillshare, and others, improving your technical skills has never been easier. You can derive knowledge from industry experts while sipping your favourite tea at home. Can boosting your technical qualifications get any better? Yes, as many of these courses issue certificates. Talk about an eye-catching job application enclosure.
Make Use of Free Resources
Short on cash? Thanks to the abundance of free learning materials and courses, you can still invest in your technical skills. YouTube is a good place to start your search.
Motivate Your Employer to Fund Technical Training
By encouraging your employer to invest in additional training, you'll beat two birds with one stone – you'll get extra points for being a proactive team player, and if they agree, you'll get to polish your technical skills during your work hours.
Work With a Mentor
Finding a mentor or another professional already adept at the technical skills you'd like to improve is probably one of the most efficient ways. And, if you're fortunate, they'll be willing to help you out free of charge.
Join a Relevant Community
Make learning easier for yourself by uniting your forces with other people. Join relevant Facebook groups and other online or offline communities that are relevant to your line of work. This way, you'll access an invaluable knowledge and motivation source.
Keep Up With Your Industry
Keeping up with your industry is undoubtedly better for you and your career than keeping up with the Kardashians. Stay on top of the changes in your industry by reading relevant books and magazines and listening to podcasts. Constantly evolving and expanding your industry knowledge will guide you toward the technical skills you should focus on most.
Practice Hands-On
Practice really makes perfect. Learning technical skills theory is one thing, but to really boost your qualifications, you need real-life experience. Get your hands dirty by challenging yourself and taking on projects that develop your technical skills.
4. How to Put Technical Skills on a CV
Let's talk about how to include technical skills in your CV.
1. Add a Tailored Technical Skills List to Your CV
It's a no-brainer that a CV skills section is where your technical skills should appear. However, the devil's in the details:
Don't just throw random technical skills examples into this CV section. Tailor them to the job ad by reading it and paying attention to which technical skills it mentions.
Use a bulleted list to present your skills. It will make your CV more readable and save a lot of precious space.
You can also go for a modern CV template that uses graphic design elements to reflect how good you are at particular skills.
Check out the example below, which highlights technical skills.
Technical Skills Example in a CV
Skills
Modelling

Project management

Statistical analysis

Communication skills
Collaboration
Creativity
When making a CV in our builder, drag & drop bullet points, skills, and auto-fill the boring stuff. Spell check? Check. Start building a professional CV template here for free.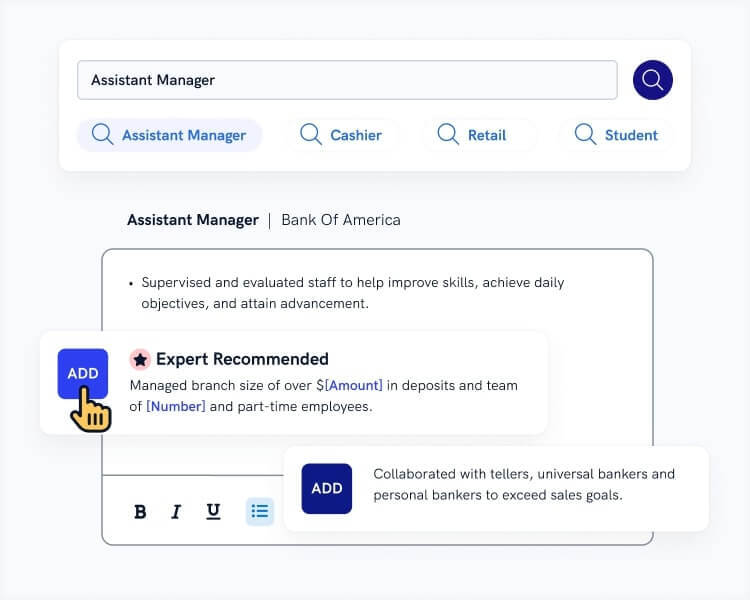 When you're done, Zety's CV builder will score your CV and tell you exactly how to make it better.
2. Include Examples of Your Technical Skills in Your CV Profile
It's no surprise that technical skills should be the stars of your CV skill section. After all, this CV section puts all your relevant skills in the spotlight. It's less obvious that they should also play a cameo in your CV profile.
Your CV profile is like a magnet for the recruiter's eyes. They will for sure check it out, so make it worth their time. Prove that you're the one they've been looking for, and sprinkle some technical skills in your CV summary or objective.
If you've got some work experience, go for a CV summary. However, if you're in a similar situation to the fella from the example below, then write a CV objective.
Technical Skills CV Example: Objective
Passionate civil engineering graduate with 11+ months' internship experience. As an intern with Enginio Consultants, saved the project management team 60+ work hours and designed a spot-welding platform for in-house use that was praised by all 11 welders. Seeking an opportunity to apply proven modelling and collaboration skills in helping GURUL complete its projects on time and within budget.
3. Mention Technical Skills in Your CV Work Experience Section
Your CV's work experience section is that one element of the CV structure where you can prove that, thanks to your skills, you achieve real, tangible results. Like in the skills section, rely on bulleted lists to present your work accomplishments. Yes, forget listing work responsibilities and charm the recruiter with what you achieved at previous positions.
Start each bullet point with an action verb and quantify whenever you can. These are simple yet one of the best CV tips out there. Check the example below to see how it's done. The candidate's technical skills were highlighted in yellow.
Technical Skills Examples: CV Work Experience Section
Engineering Intern
Enginio Consultants, London
June 2021–present
Compiled 20+ project-status reports

, saving the project management team 60+ work hours.

Designed a spot-welding platform

for in-house use that was praised by all 11 welders.

Created 260+ presentation slides

for consultants to use during pitch meetings.

Prepared 10+ summary reports

, all were accepted by the lead engineer.
And what if you don't have enough work experience to show off your technical skills? Well, don't get all worked up (pun intended). You can compensate for this with your CV's education section. Mention all the relevant projects you've participated in, coursework, and extracurriculars.
Technical Skills Examples: CV Education Section
Education
Master of Engineering (with Honours), Civil and Infrastructure Engineering
City, University of London, London
September 2018–June 2022
Coursework:

Materials, Mechanics, Design, Hydraulics, Geotechnics

Extracurricular activities: Peer tutor with 90+ one-on-one tutoring sessions logged; co-founder of Civil Engineers' Networking Club
4. Use Additional CV Sections to Show Your Technical Skills
Preparing a job application? It's not the time to play coy – it's time to play your cards right and highlight your strongest sides in your CV. Additional CV sections are like a secret weapon to help you beat the competition.
Stand out from the crowd and enrich your CV with some of these sections:
Certifications
Conferences you've taken part in
Associations
Volunteer work
Including some additional CV sections is always a good idea, even if you're an experienced candidate. However, it's your-mom's-birthday-important if you're writing a CV with no work experience. Get some inspiration on how it's done from the example below.
Technical Skills Examples: Additional CV Sections
Software
MATLAB

GNU Octave

FreeCAD

Solid Edge

MiniTab

JASP
Languages
English – native speaker
Italian – fluent
Pro Tip: Keep your job application effective and professional by highlighting examples of your technical skills also in your cover letter. Not sure how to write one? Check our complete guide on writing a cover letter.
Plus, a great cover letter that matches your CV will give you an advantage over other candidates. You can write it in our cover letter builder here. Here's what it may look like: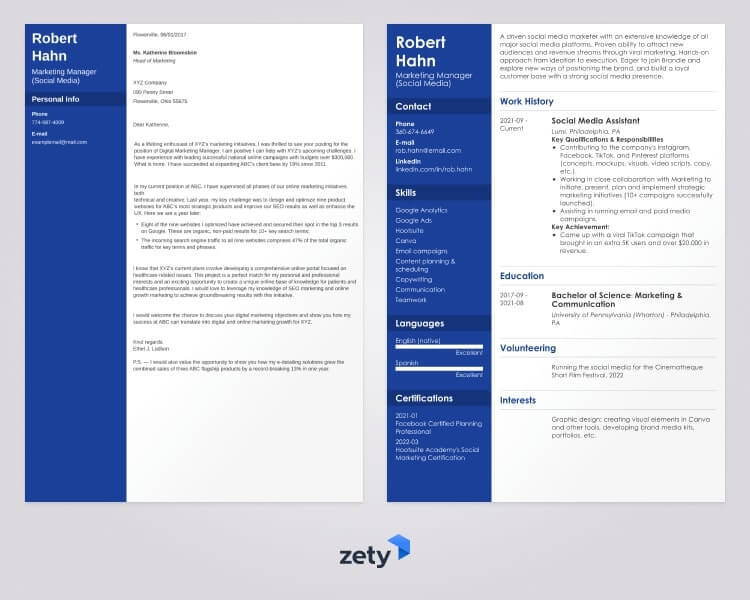 See more cover letter templates and start writing.
Thanks for reading! Do you know any more tips on how to improve your technical skills? Let us know! If you have any questions or insights, don't hesitate to share your thoughts in the comments section.