This active listening skills guide can get you hired.
How?
By answering:
Why is listening important on a CV?
And—
How to prove your listening skill set, so employers want to hire you.
Do it right, and you'll be listening to, 'How soon can you start'?
This guide will show you:
The answer to why is active listening important?
How to show active listening skills on your CV to impress.
Dozens of great CV active listening examples for top careers.
How to improve listening skills to get better jobs.
Want to save time and have your CV ready in 5 minutes? Try our CV builder. It's fast and easy to use. Plus, you'll get ready-made content to add with one click. See 20+ CV templates and create your CV here.
Sample CV made with our builder—See more CV examples here.
Want to learn more about other job-winning skills? We've got you covered—check out our dedicated guides:
Active Listening Skills Example CV
Ali Khan
akhan_zety@gmail.com
linkedin.com/in/akhan_zety
07777 777777
Efficiency-driven financial specialist with 6+ years experience. Excellent data-driven analysis skills with a relentless appetite for optimisation. Consummate professional in high-accuracy financial modelling and business model evaluation. Identified and rectified flaws in financial reporting system that led to 45% cost reductions and 20% rise in reporting efficiency. Seeking to leverage my abilities and experience at Zero Hedge Inc.
Work Experience
Financial Specialist
Smythe and Mountebank Finance, London
Dec 2015–Present
Efficiently oversaw FTSE 100 high worth portfolios and offered financial advice regarding profit maximisation and savings.
Developed novel quarterly forecasting modelling and cash flow analysis methods that were 20% more accurate than previous iterations.
Mentored 12 new starters in accounts receivable invoice processing, helping to reduce average time for payment to 15 days, down from 20 days.
Constantly negotiated with vendors and reviewed contractual agreements to secure optimum pricing leading to annual savings of £58K.
Key achievement. Modified risk analysis model which increased identification of business critical risks by 25%.
Junior Financial Specialist
Lloyds TSB, London
July 2014–Dec 2015
Prepared and monitored monthly invoice data for 35+ high net worth executive investment portfolios.
Realised £1.1 million in savings through identifying and maximising low margin to high profit opportunities.
Spearheaded the implementation of new Procure to Pay strategies that maximised mean portfolio value by 18%.
Key Achievement. Earned 'Best New Starter' 206 for innovation in risk identification modelling and process improvement that led to a 15% annual increase in profitability.
Education
BSc Economics (Hons), 2:1, September 2010–June 2014
Goldsmiths, University of London
Skills
Account reconciliation
Advanced Excel
Commercial acumen
Data analysis
Financial modelling
Financial planning
Interpersonal skills
Leadership and team management
Risk assessment
Languages
Certifications
CAIA (Chartered Alternative Investment Analyst)
Financial Risk Manager (FRM)
What is Active Listening?
Active listening is a method that requires the listener to fully engage in concentrating on what is said plus understanding it, remembering it and responding to it.
Many think listening is a natural activity which people do without effort.
But hear vs listen are two different things.
Hearing is just receiving sounds. Active listening is working to understand them.
There are five active listening skills steps:
How to Become an Active Listener
Pay attention. Look at the speaker. Don't think of arguments. Listen attentively.
Don't judge. Don't interrupt. Don't think of right or wrong.
Restate. Paraphrasing a speaker's words and feelings is known as reflective listening. It's the key to being a good listener.
Ask questions. Especially if you don't understand.
Talk. When the speaker knows you get it, share your views.
Then, repeat the attentive listening process when the speaker speaks again.
Active Listening Example
A coworker says:
I don't like the way you're delivering your work. It's in the wrong format. I have to spend a lot of time correcting the layout.
You think:
Ugh. That'll take a lot of work!
You say:
So you're having to take extra steps because of the way I'm delivering my work. Is that right?
The coworker thinks:
Okay. He gets it. Now we can talk about how he sees the problem.
Why is Active Listening Important?
Active listening skills are central to most jobs.
Effective listening creates understanding that builds productivity.
When employers put listening skills in the job advert, they mean—
Can you use professional communication skills to get the job done well?
I'll show how to prove that next.
Attentive Definition: The meaning of attentive is observing without distraction. That means putting your goals and arguments on hold.
2. How to Put Active Listening Skills on Your CV
Here's a huge listening skills CV tip—
Don't just list active listening skills on your CV.
Prove them.
Show you used effective listening to help the company.
Do it like these active listening examples:
Active Listening Examples for CVs
Customer Service or Help Desk
Used active listener skills to solve customer complaints. Received 15% higher than average scores in exit surveys.
Employed active listening techniques to solve problems 12% faster than department average.
Read more: Customer Service CV Example
Teacher
Identified gaps in students' grasp of key concepts with regular use of active listening skills. Achieved an average 15% boost in test scores for my pupils.
Improved class participation for 12 difficult students. Used attentive listening to find their learning blocks and work with them.
Read more: Teacher CV Example
Nurse
Slashed medical errors on my ward by 18% through applied active listening skills with patients.
Received 95% positive patient review scores. Most was thanks to actively listening during care.
Read more: Nursing CV Example
Project Manager
With active listening techniques, built ironclad vendor relationships. Cut production costs by £20,000 per project.
Used attentive listening during requirements-gathering to raise satisfaction with completed projects by 15%.
Read more: Project Manager CV Example
Web Developer
Delivered 25+ projects per year with customer costs 20% lower than targets. Used good listening skills to identify unnecessary website components.
Used effective listening to understand customer needs. Gained 10% faster delivery with 95% customer satisfaction scores.
Read more: Web Developer CV Example
Receptionist
Triaged phone calls with active listening skills. Commended 3x by manager for saving time.
Used attentive listening to resolve customer complaints on the spot. Repeat business increased by 15% during my tenure.
Read more: Receptionist CV Example
Marketing
Through actively listening, collected the best ideas even from less outgoing team members. Scored a 17% jump in ROI for 2 years straight.
Used concepts of active listening skills to build an interactive Net Promoter Score survey. Cut churn by 28% in 7 months.
Read more: Marketing CV Example
Graphic Designer
Delivered 25 projects per year. Achieved 99% positive client satisfaction thanks to strong active listening skills.
Cut completion time by 2 days per project with directed use of good listening skills.
Read more: Graphic Designer CV Example
Executive Assistant
Saved 7 hours a week for 3 top executives. Used good listening to find efficiencies.
Through use of effective listening, improved communication between managers and executives. Reduced time spent on conflicts by 25%.
Read more: Executive Assistant CV Example
Think you're not a good listener? Practice makes perfect. See the active listening exercises near the end for help.
Pro Tip: Use metrics when you prove active listening skills. Percentages, dollars, hours, and other numbers add proof to your claims about your effective listening powers.
When making a CV in our builder, drag & drop bullet points, skills, and auto-fill the boring stuff. Spell check? Check. Start building your CV here.
When you're done, Zety's CV builder will score your CV and tell you exactly how to make it better.
3. How to Be a Better Listener
Slight problem.
The job needs active listening skills, but you don't have them.
Here are the best active listening books & courses.
We've also got a handy list of active listening exercises below.
1. Read Active Listening Books
Ready to improve your active listening techniques? You can finish these ebooks and audio books fast. They make good CV bullet points too.
2. Take Active Listening Classes
Learn listening online with five active listening courses.
Bonus: List classes and courses on a CV like this:
Took Udemy's Active Listening Skills Masterclass, 2019.
Took an online active listening class with Lynda.com, including customer needs analysis and conflict resolution.
3. Practise with Active Listening Exercises
Want to know how to be a better listener? Need active listening activities for groups?
Try these listening skills activities and exercises.
Chinese Whispers. Pass a story from person to person down a line. Then compare original and final versions. This exercise shows how hard listening is.
Speaker & Listener. One person speaks while the other practices active listening and vice versa. This listening practice sharpens skills.
Group Story Chain. Have each group member add one sentence to a story. Members must use attentive listening to keep track.
Likability Scale. Think of three good listeners. Do you like them or at least respect them? Does effective listening make someone more likable?
Not Listening. When did a doctor or other professional fail to listen to you? How did you feel? Would active listening skills have worked better?
Pro Tip: Need a great listener synonym? Try attentive, understanding, or perceptive.
4. Other Listening Skills
Need other listening skills?
Active listening skills aren't the only game in town.
Here are all the listening skills on record:
List of Listening Skills
Active and empathetic listening are two key job skills.
Active listening is the most common listening skill for jobs. It's listening to understand, then repeating back the speaker's message.
Empathetic listening is trying to understand the speaker's feelings. It's important in therapist and counselor jobs.
Non-Job Listening Skills
Don't put these listening skills on a CV:
Passive listening is listening without active listening skills.
Critical listening prevents active listening. The critical listener definition is someone who judges what's being said.
Defensive listening takes innocent speech as a personal attack.
Pseudo listening is the opposite of active listening skills. It's smiling, nodding, and saying, 'Uh-huh.' But pseudo-listeners haven't heard a thing.
Comprehensive listening or informational listening is understanding the message, not the words. We learn it as children.
Discriminative listening is the first listening skill. A toddler who can't understand words uses it to grasp tone of voice and body language.
Pro Tip: Really want to prove your active listening skills? Use them in the interview. Work to understand the job's needs. The hiring manager will notice.
Plus, a great cover letter that matches your CV will give you an advantage over other candidates. You can write it in our cover letter builder here. Here's what it may look like: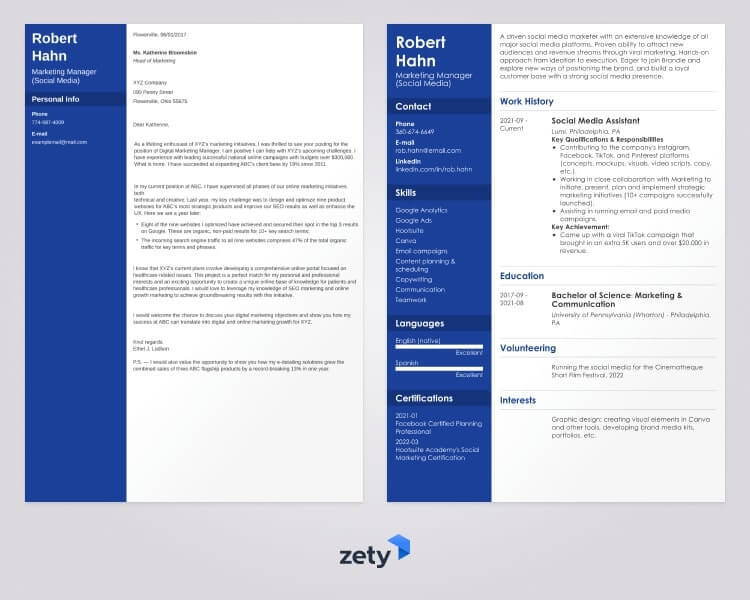 See more cover letter templates and start writing.
Key Takeaway
Here's a recap of active listening skills:
Active listening is paying attention to the message, not just the words.
Repeat the message back to the speaker to build understanding on both sides.
To list effective listening on a CV, show how your skills helped the company.
To improve active listening skills, read books or take an online class. We've got links to several good ones in this guide.
Want to be a better listener? Need more active listening exercises? Give us a shout in the comments! We'll be happy to reply.
About Zety's Editorial Process
Our editorial team has thoroughly reviewed this article to ensure it follows Zety's editorial guidelines. Our dedication lies in sharing our expertise and providing you with actionable career advice that offers you real value. Every year, the quality of our content attracts 40 million readers to our site. But that's not all – we conduct original research to gain a detailed understanding of the labour market. We take pride in being cited by top universities and leading media outlets in the UK and worldwide.
Sources