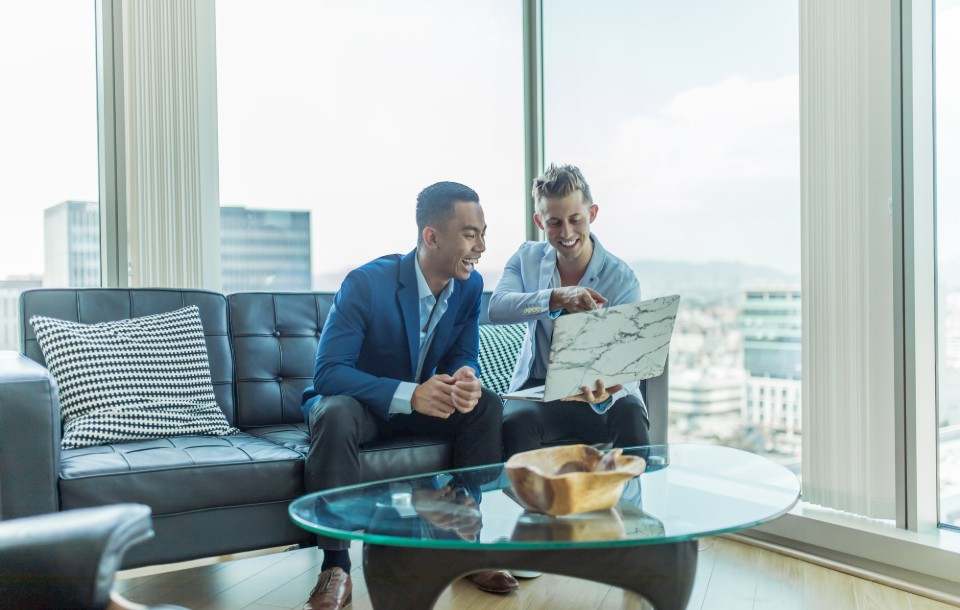 Executive Assistant CV Sample [+Skills & Objective]
A step by step guide to writing a professional CV for an executive assistant. Use our executive assistant CV sample template.
You are about to write a job-winning executive assistant CV. But first—
Meet the CEO.
Her name's Sharon, and she's amazing to work for.
She's also dialing your number. Why?
Of the 400+ executive assistant CVs she read, she liked yours best.
Your CV convinced her you can see around corners. Read minds.
To her, you're Batman's Alfred, but with better shoes.
You need to write that CV.
This guide will show you:
An executive assistant CV example better than 9 out of 10 other CVs.
How to write an executive assistant CV that will land you more interviews.
Tips and examples of how to put skills and achievements on an executive assistant CV.
How to describe your experience on a CV for an executive assistant to get any job you want.
Here's a sample CV for executive assistant made using our CV builder.
Want to save time and have your CV ready in 5 minutes? Try our CV builder. It's fast and easy to use. Plus, you'll get ready-made content to add with one click. See 18 CV templates and create your CV here.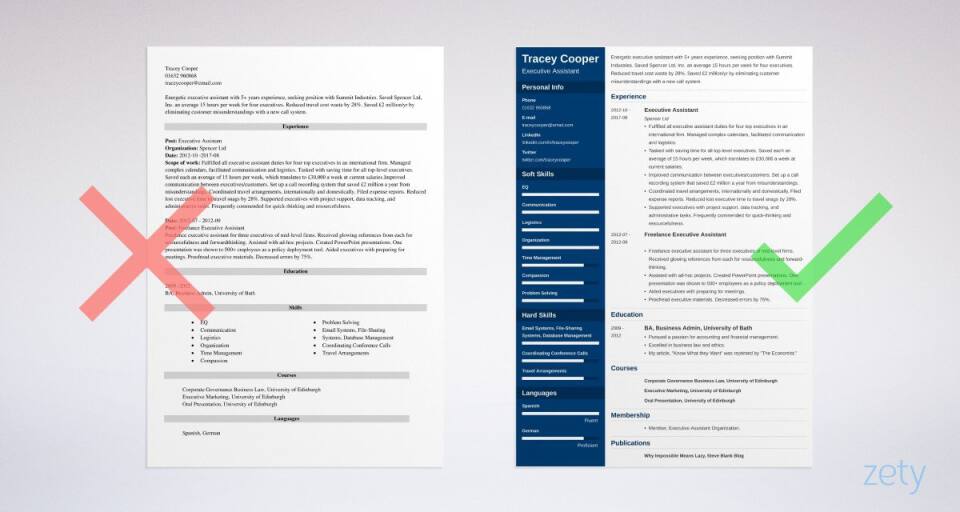 Sample Executive Assistant CV—See more CV examples here.
1. What's the Best Format for an Executive Assistant CV?
Let's look in on Sharon again.
She's tired.
Her assistant left two weeks ago.
Worse, none of the the 300+ executive assistant CVs on her tablet have jumped out at her.
Some are formatted poorly. They've got typos. And what is an executive assistant without attention to detail?
Then she comes to yours. It's formatted in the respected reverse-chronological layout.
That puts your most recent job first.
You've used clear, legible fonts, white space, and eye-friendly headings.
You've also saved it as a PDF, which means it didn't jumble up on her computer.
Are you hired? No.
But you're off to a great start. You've got Sharon's attention.
Next, we'll look at how to keep it.
Want to make sure your CV will hook every recruiter and get you that interview? Get our free checklist and learn what makes a job-winning CV: 46 Things You Need To Do Before You Send Your CV.
Pro Tip: Check the job description in case it bans PDFs. Some Applicant Tracking Systems choke on executive assistant CVs in PDF format.
Not sure the reverse-chronological format is right for you? See this guide: CV Format: Best Examples for Job Hunting Success
2. How to Write a CV Summary or CV Objective
Back to our CEO.
She spends just seven seconds looking at each CV.
You've only got that long to hook her.
Do it with a professional CV summary or a CV objective.
It's the bridge between her eyes and all the juicy detail in your executive assistant CV.
Use a CV summary if you've got drawers full of experience.
Write a CV objective if you're just getting started.
A CV summary summarizes your achievements and skills.
A CV objective shows why you want the job and why you're perfect for it.
See the senior executive assistant CV examples below for inspiration.
Two Executive Assistant CV Summary Statements
right
Energetic executive assistant with 5+ years experience, seeking position with Summit Industries. Saved Spencer Ltd an average 15 hours per week for four executives. Reduced travel cost waste by 28%. Saved £2 million/yr by eliminating customer misunderstandings by creating a new call system.
wrong
Executive assistant with 5 years experience. Highly skilled in communication, time management, and organization. Excellent problem solving skills.
See the difference? That first executive assistant CV sample could get you in as Iron Man's next JARVIS. The second? Maybe Brant from The Big Lebowski.
But what if you don't have experience?
That's when you need an objective statement for your executive administrative assistant CV.
When making a CV in our builder, drag & drop bullet points, skills, and auto-fill the boring stuff. Spell check? Check. Start building your CV here.
When you're done, Zety's CV builder will score your CV and tell you exactly how to make it better.
Two Entry Level Executive Assistant CV Objective Examples
No experience? Think your c-level executive assistant CV will look like an empty Valentino briefcase?
Start it with a CV objective statement. They work for entry level executive assistants, or anyone who's seeking a new niche.
right
Enthusiastic executive assistant. Excellent EQ level. Skilled time manager. Served as freelance assistant to three executives in mid-level firms. Received glowing references from each for resourcefulness.
wrong
Entry-level executive assistant. No experience as yet but I think fast.
Wow.
That first executive assistant CV example makes you look like the Genie from Aladdin. The second? More like Barney Fife.
You need to show the right executive assistant CV duties, even with no job history.
Pro Tip: Learn as much as you can about the CEO and company before you write your CV. You can't prove you're a fit if you don't know what you're fitting.
To really dial this in, use the free executive assistant CV template at the top of this article. Plus, check out our guide: How to Write a CV Summary: 10+ Professional Examples
3. How to Describe Your Executive Assistant Experience
Let's say you're applying for Chewbacca's job, from Star Wars.
In that case, your executive assistant CV will need to prove experience piloting starships, fixing wonky hyperdrives, and scaring small, cute droids.
But if you're gunning for Tinker Bell's career, you'll have to show past accomplishments like sprinkling pixie dust and helping your boss think happy thoughts.
See the magic?
It all comes down to connecting with the chief. Suss out what she (or he) needs most, then show you've got it.
And after all, isn't that what being an executive assistant is all about?
Here's how:
List your most recent job first.
Add 4-6 bullet points that tie your perfect executive assistant CV to the job offer.
Examples for Executive Assistant CV Experience
right
Executive Assistant
Spencer Ltd
2012 - 2017
Fulfilled all executive assistant duties for four top executives in an international firm. Managed complex calendars, facilitated communication and logistics.
Tasked with saving time for all top-level executives. Saved each an average of 15 hours per week, which translates to £30,000 a week at current salaries.
Improved communication between executives/customers. Set up a call recording system that saved £2 million a year from misunderstandings.
Supported executives with project support, data tracking, and administrative tasks. Frequently commended for quick-thinking and resourcefulness.
wrong
Executive Assistant
Spencer Ltd
2012 - 2017
Managed complex calendars, facilitated communication.
Handled logistics for the executives.
Provided project support and data tracking.
Responsible for completing administrative tasks.
That first example could get you a job as Hermione Granger.
That's because it shows specific achievements that tie into the job offer.
But how do you write a good executive assistant CV with no experience?
How to Write an Executive Assistant CV with no Experience
Ready to learn how to write an executive assistant CV with no experience?
Here it is:
Get some.
Sound silly?
First, what is administrative experience? You probably already have some.
Think:
Have you ever helped an executive-level employee with a project?
That's executive assistant experience. You need to show it in your CV.
Next, find an executive, then help him with a project.
This takes a little networking. I'll show you how in a minute.
Two Creative Executive Assistant CV Samples (No Experience)
right
Freelance Executive Assistant
July 2012 - September 2012
Freelance executive assistant for three executives of mid-level firms. Received glowing references from each for resourcefulness and forward-thinking.
Assisted with ad-hoc projects. Created PowerPoint presentations. One presentation was shown to 500+ employees as a policy deployment tool.
Aided executives with preparing for meetings.
Proofread executive materials. Decreased errors by 75%.
Proprietor, ACE Wedding Video
2012 - 2016
Booked all travel and accommodations for three videographers for five years.
Coordinated conference calls between brides, grooms, parents, and videographers.
Handled all record-keeping and data-tracking from over 100 3-month projects.
Communicated effectively with 100+ high-end clients. Received 20+ effusive letters of thanks from customers.
wrong
Executive Assistant Experience: None so far, but I know I'll be great at it.
Other Experience: Video production.
Even with no experience, that first executive assistant CV sample paints you as the next Sam Gamgee.
How to Get Experience for an Executive Assistant CV
To build experience fast, network.
Think: do you know an executive? Does a friend or relative?
Explain what you're trying to do. Ask that person if you can help with a project or two, for free.
Maybe it's putting together a PowerPoint presentation. Maybe it's booking some travel.
It might take a couple hours, but it'll pump up a sagging executive administrative assistant CV.
Want to see this all in action? Check out the free sample CV for executive assistant to CEO at the top of this guide.
Pro Tip: The best executive assistants have next-level EQ. Find past accomplishments that show your off-the-charts soft skills.
Juice up your professional executive assistant CV with action words. They engage your CEO and keep him reading.
4. Is Your Education Section Dropping the Ball? It Might Be
When Mini Me from Austin Powers got his job with Dr. Evil, what mattered more? Experience or education?
Experience, of course.
But you've got an education, so use it.
It's one more chance to prove your powers.
On your c level executive assistant CV, add:
School Name and Location.
Years in School.
Degree.
Then add details that show you're basically Groot with better EQ.
Two Examples of Executive Assistant CV Education
right
BA, Business Admin, University of Bath
2009 - 2012
Pursued a passion for accounting and financial management.
Excelled in business law and ethics.
My article, "Know What they Want" was reprinted by "The Economist."
wrong
BA, University of Bath
2011 - 2014
Received a BA.
Took classes in accounting and math.
That first example makes you look like a young Doc Holliday in training.
But it was just as easy to make.
Need a template? Use the sample executive assistant CV at the top of this guide.
Pro Tip: Should you add your GPA to your education section? Only if it's eye-poppingly high. Otherwise, focus on your impressive accomplishments.
For more tips to make your professional executive assistant CV glow like stock options, see this guide: CV Education Section: Examples & How to Include It
5. How to Put Skills on a CV for an Executive Assistant
CEO Donald J. Gogel says, "A spectacular executive assistant can defy the laws of the physical world. She can see around corners."
That's what your executive assistant CV skills section needs to prove.
You need to show the right skills. Hint: they're listed in the job description.
Then, add some skills the CEO doesn't even know she wants.
Finally, tie them to your job experience and education, like this:
What if you're writing an executive assistant CV for a job that values good EQ and time management.
Example
Fulfilled

daily executive assistant duties

, including calendar management, communication, and projecting a compassionate face for the executive.
In internal polling, employee perception of executives improved 45% during my tenure, thanks to

EQ skills

and better email oversight and editing.
Saved an average of 12 hours/week per executive through excellent

time management

and efficient scheduling.
Do the above, and that CEO will picture you living in a lamp, kicking back in balloon pants.
Need some free executive assistant CV skills to get you started?
Use these, with our compliments. Then find others in job offers online.
Executive Assistant CV Skills
Executive Assistant CV Skills

| | |
| --- | --- |
| Soft Skills | Hard Skills |
| EQ | Email Systems |
| Time Management | File-Sharing Systems |
| Logistics | Database Management |
| Communication Skills | Calendar Management |
| Compassion | Coordinating Conference Calls |
| Problem Solving | Travel Arrangements |
| Interpersonal Skills | Research |
| Listening | Accounting |
| Self Direction | Report Generation |
| Administrative Skills | Event Planning |
Check out the executive CV template up top to see these skills in action.
Pro Tip: Tech skills are increasingly important for executive assistants. Any skill that saves time for the big man and keeps him on task will help get you in the door.
Want more skills help to write the best executive assistant CV? See this guide: 99+ Key Skills for a CV [Best List of Examples for Every Job]
6. How to Add Other Sections for an Effective CV
Poof. Gru from Despicable Me just turned you into an executive assistant CV.
Now you're in a pile of 300+ others, all alike.
How do you get out?
You impress the CEO that you're unique and valuable.
Done right, "other" sections do this masterfully.
Steer clear of generics. You know, "I like Asian food and taking naps."
Instead, add interests, hobbies, volunteer work, courses. In other words, anything that links your top executive assistant CV to the job description.
See the executive CV samples below.
Executive Administrative Assistant CV Sample "Other" Sections
Courses
Corporate Governance Business Law, University of Edinburgh
IT Systems Development, University of Edinburgh
Oral Presentation, University of Edinburgh
Languages
Fluent in Spanish
Proficient in German
Membership
Member, Executive Assistant Organization.
Publications
"Why Impossible Means Lazy," Steve Blank Blog
"How CEOs Can Rent EQ," WiseBread
Wow. You're basically Turtle from Entourage, aren't you?
Your courses show you're constantly making yourself better.
Your languages show versatility.
The membership and publications show this isn't just a hobby.
They all look great on an executive assistant CV.
Pro Tip: References are extremely important for executive assistants. Still, most experts say you shouldn't put them on your CV. Reference sharing can come later.
Want help writing perfect executive assistant CV "other" sections? See our guide: Best Hobbies and Interests to Put on a CV
7. Here's the Most Common Myth About Cover Letters
Lots of experts say nobody reads administrative support cover letters.
The truth?
For the best executive assistant CVs, cover letters are essential.
The best executive assistant cover letters are grounded in research.
Before you write, know the CEO. Know her name. Understand her needs.
Mention something you like about her company.
Then share 1-2 accomplishments that prove you fit the job like a custom-tailored Kiton suit.
Close it with a call to action. "I'd welcome the opportunity to talk more with you about your needs," works great.
Pro Tip: A few days after you send in your professional executive assistant CV and cover letter, follow up. A thank-you email will remind the CEO to take another peek.
Plus, a great cover letter that matches your CV will give you an advantage over other candidates. You can write it in our cover letter builder here. Here's what it may look like: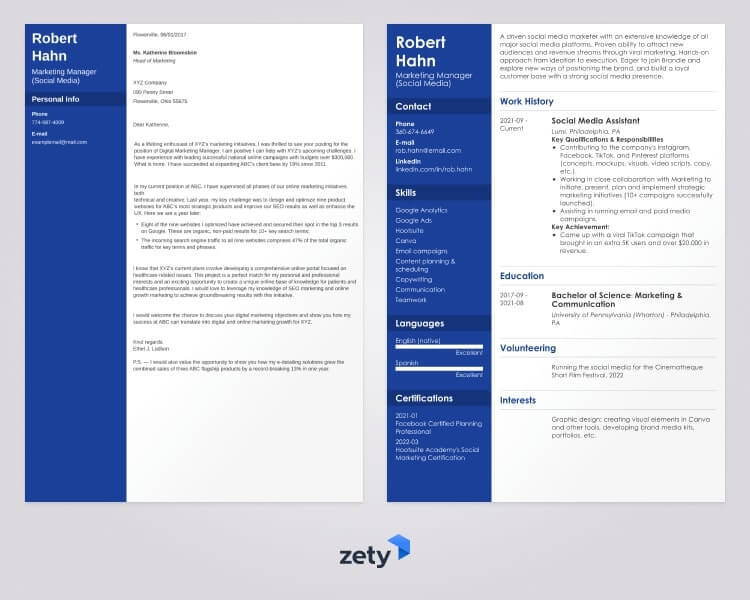 See more cover letter templates and start writing.
Need more help writing the best cover letter for an administrative position? Check out this guide: How To Write a Cover Letter for a CV
8. How to Add Contact Info to Your CV
Nightmare scenario:
The CEO wants to hire you. You listed all the right executive assistant CV qualifications.
But you didn't share your phone number.
Of course you won't do that.
But did you know you'll probably make other mistakes almost as bad?
Add your:
Full Name
Updated Phone Number
Professional Email Address
Like this:
Tracey Cooper, traceycooper@email.com - 01632 960868
Then, add your LinkedIn profile. that lets the curious CEO dig deeper.
Make sure that digging turns up gold.
Next, add other social media handles, like Twitter or Skype.
See the example of a professional CV up top for guidance.
Pro Tip: Don't let that pic from Cancun six years ago sink your chances.
Need more guidance to make a top executive assistant CV? See our guide: How to Write a CV: Complete CV Writing Guide with Examples
9. Executive Assistant CV Job Description Sample
You want the CEO to say, "I have to hire this person. There's no other choice."
That comes down to how well you link your executive assistant CV to the position.
Executive assistants are troubleshooters, concierges, translators, impromptu psychologists, and diplomats.
But executive admin assistant jobs will actually shrink by 1% over the next few years.
As you read this executive assistant job description, note the skills and duties. How would you prove you are the only one for the job?
Executive Assistant Job Description
Job Overview
The ideal candidate will provide high-level assistance for top executives. She should have excellent time management skills and be comfortable answering emails on behalf of executives.
Executive Assistant Responsibilities
Executive calendar management
Help executives prepare for meetings
Draft PowerPoint presentations and documents for executives
Respond to emails on behalf of executives
Pro Tip: Save time by making a few good executive assistant CV templates. Then custom-fit to each job description. You'll be glad you did the groundwork later.
Key Takeaway
Even when you've got an executive assistant CV template to work from, making your own version can be hard. To write an executive assistant CV that gets jobs, follow these steps:
Start by learning everything you can about the CEO and company. You'll need superior knowledge to write a superior executive assistant CV.
Prove you fit the job by showing how you've used the skills in your experience section.
Add other sections to your executive assistant CV. Hobbies, interests, and coursework can make you stand out like Dr. Watson in a sea of interns.
Include an executive assistant cover letter in your job application.
Got questions about how to write an executive assistant CV? Give us a shout in the comments section!
About Zety's Editorial Process
Our editorial team has thoroughly reviewed this article to ensure it follows Zety's editorial guidelines. Our dedication lies in sharing our expertise and providing you with actionable career advice that offers you real value. Every year, the quality of our content attracts 40 million readers to our site. But that's not all – we conduct original research to gain a detailed understanding of the labour market. We take pride in being cited by top universities and leading media outlets in the UK and worldwide.
Sources