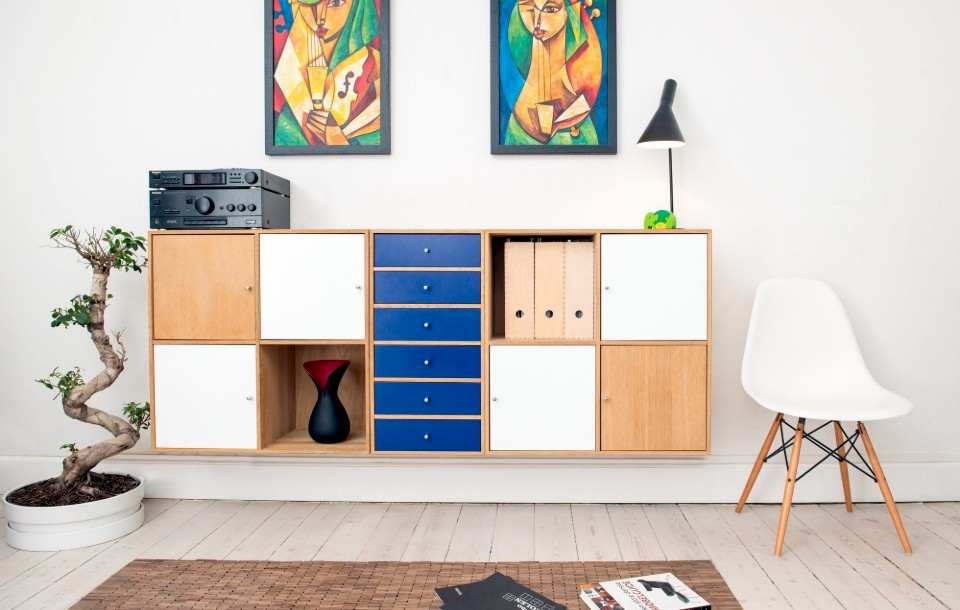 Interior Design CV Examples [+Key Skills and Objectives]
A complete guide to writing a professional CV for an interior designer. 20+ examples and tips from our experts. Use our interior design CV sample.
Let me help you write that job-winning interior design CV. Before we start though—
Picture this:
You just landed a fat job with an interior design firm.
It's got great pay. High-profile work. Contacts with some of the top designers in the world.
It'll launch your career into the stratosphere.
And you owe it to an interior design CV that stood out like a living space by Kelly Wearstler.
How can you make this dream come true?
Start by showing that fabulous company you're indispensable.
This guide will show you:
An interior design CV example better than 9 out of 10 other CVs.
How to write a CV for interior designers that will land more interviews.
Tips and examples of how to put skills and achievements on an interior designer CV.
How to describe your experience on a CV for interior design to get any job you want.
Here's a sample CV for an interior designer made using our CV builder.
Want to save time and have your CV ready in 5 minutes? Try our CV builder. It's fast and easy to use. Plus, you'll get ready-made content to add with one click. See 18 CV templates and create your CV here.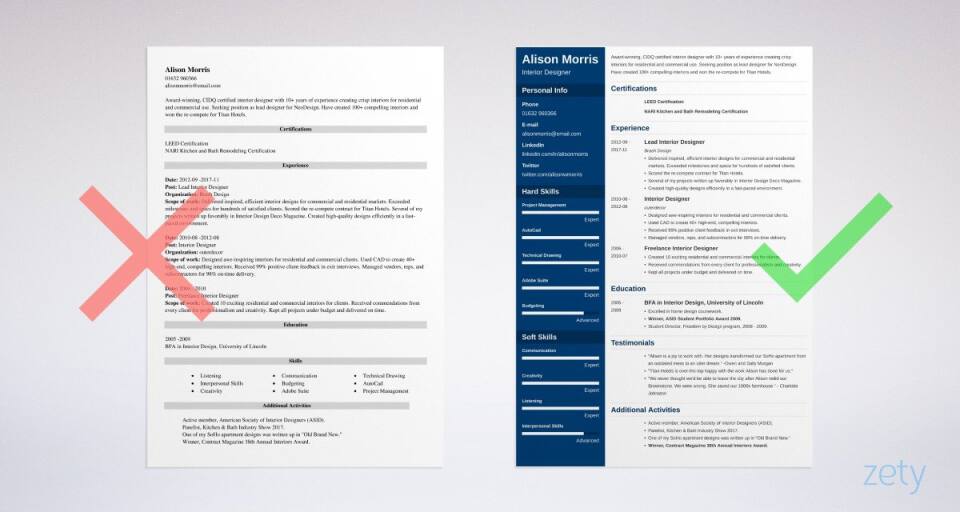 Sample Interior Design CV—See more CV examples here.
1. What's the Best CV Format for Interior Design?
Interior design is all about aesthetics.
Is it a shock then that your interior design CV must have good design?
That doesn't mean using flashy fonts or printing it on geometric-patterned paper.
It means making it clean and clear, so your best achievements pop like champagne corks.
To do that, use the reverse-chronological format. It shows your most recent experience first.
Employ professional CV fonts like Arial and Cambria. Use big headings and negative space to backlight your best features.
As a finishing touch, save your interior design CV as a PDF. MS Word file CVs can turn to kitsch in transit.
Pro Tip: Double check the job offer to make sure it doesn't reject interior designer CV PDFs. Some do.
Need other ideas to elevate your CV? Check out the template for an interior designer CV up top. Then, see this guide: "3 CV Formats: How to Choose the Best One [Examples]"
Want to make sure your CV will hook every recruiter and get you that interview? Get our free checklist and learn what makes a job-winning CV: 46 Things You Need To Do Before You Send Your CV.
2. How to Write a CV Summary or CV Objective
The hiring manager at that top design firm? We'll call her Kate.
She's got a stack of interior design CVs up to the crown molding.
How do you get her to read yours carefully?
With a CV objective or a CV summary.
A CV summary proves you're capable of Kelly-Hoppen-level feats by showing your experience.
A CV objective shows passion instead. Use it if your work history is like a freshly demoed living room.
Let's start with CV summaries. Look at these two senior interior design CV samples.
Senior Interior Design CV Examples [CV Summaries]
One of these senior interior designer CV examples works. The other, not so much.
wrong
Enthusiastic interior designer with 10+ years experience, seeking new position. Highly skilled in AutoCAD and interior design, plus listening and communication. CIDQ certified.
That's not horrible, but can you imagine hiring "not horrible" to design your kitchen space?
To wow the hiring manager, do it more like this:
right
Award-winning, CIDQ certified interior designer with 10+ years of experience creating crisp interiors for residential and commercial use. Seeking position as lead designer for NeoDesign. Have created 100+ compelling interiors and won the coveted re-compete for the Titan Hotels project for Brash Design. Excellent listener and communicator, skilled in AutoCAD and the Adobe Suite.
Pow. As eye-catching as a den designed by Peter Marino or Philippe Starck.
If you don't have that much experience, don't worry. Just look at the two entry-level interior designer CV objective examples below.
Two Entry-Level Interior Design CV Objectives
The first of these two interior design assistant CV examples doesn't please the eye.
wrong
Brand new interior design job candidate. No experience designing professionally yet but my professors said I'm very talented.
Ew. Like Otho in Beetlejuice.
It's not exactly wrong, because it shows the passion needed in an interior designer CV for freshers.
But layer in a few details, and look:
right
Interior designer with 2 years of freelancing experience. Created 10 compelling interiors for commercial and residential projects. Completed all projects according to specified time and budget. Winner of the ASID Student Portfolio Award for 2016.
Wow. That job candidate is ready to design for Apple or Google. Yet it wasn't hard to build that much experience.
She cited school projects and jobs for neighbors and friends, plus volunteer work. That all counts as job experience on an interior designer CV.
She also gave a plug to an award she won. If she had publications in design blogs or magazines she could add those too.
Pro Tip: Need more detail on how to get experience on an entry-level CV for interior design? You'll strike gold in the next section.
When making a CV in our builder, drag & drop bullet points, skills, and auto-fill the boring stuff. Spell check? Check. Start building your CV here.
When you're done, Zety's CV builder will score your CV and tell you exactly how to make it better.

Want to write the best interior design CV summary or CV objective you can? See this guide: "How to Write a CV Summary: 10+ Professional Examples"
3. How to Describe Your Interior Design Experience
Catastrophe!
You didn't get that fantastic interior design job with the Gensler-type company and the Rockwell-Group pay.
The worst part? The job went to someone with less experience than you.
She just showed it better on her interior designer CV.
Don't fall into that trap.
Your interior designer CV needs to wow like a SoHo apartment by Victoria Hagan.
Add bullet points to each job that fit the job description like tongue in groove.
The creative interior design CV examples below will show you how.
Senior Interior Design CV Examples [Experience]
These two senior interior designer CV job description samples show the right and wrong way to list experience.
right
Brash Design
Lead Interior Designer
2012-2017
Delivered inspired, efficient interior designs for commercial and residential markets. Exceeded specs for hundreds of satisfied clients.
Scored the re-compete contract for Titan Hotels.
Eleven of my projects written up favorably in Interior Design Deco Magazine.
Created high-quality designs efficiently in a fast-paced environment.
Now there's a well-appointed experience section. The hiring manager just gripped the corners of her escritoire.
But lose the details, and we're down in the plaid-and-taxidermy zone:
wrong
Brash Design
Lead Interior Designer
2012-2017
Delivered multiple interior designs for both commercial and residential markets.
Delivered projects to specs.
Worked in a fast-paced environment.
Yeesh, right? Who put shag carpets on the walls?
As with interior design, CV magic happens in the details.
But what if you're just starting out and you don't have details?
These two entry-level interior designer CV examples will help.
How to Write an Entry-Level CV for Interior Design
There are two ways to write an entry-level interior design CV.
The first is to say you've got no experience.
The second is to do some small, free (or cheap) jobs, and list them on your CV.
Then, make them stand out like a set design from Mad Men.
Learn how from these two interior design student CV examples.
Two Interior Design CV Samples [No Experience]
What's the problem with this first sample interior designer CV?
wrong
Student Interior Design Experience: None yet, but I'm very enthusiastic and creative.
That's as generic as a Motel 6 room. Everyone will say they're enthusiastic and creative.
So, revitalize it with some volunteer work and projects for friends and family. That's what this next entry-level interior design CV does:
right
Freelance Interior Designer
2016 - 2017
Created 10 exciting residential and commercial interiors for clients.
Received commendations from every client for professionalism and creativity.
Kept all projects under budget and on time.
Suddenly you've got a nice patina on your student interior designer CV. And all it took was a few days of pro bono work.
You can do a CAD project for a friend in a few hours. Or take on larger volunteer jobs for nonprofits, or cheap work for local residents or businesses.
You can even put your own home in your interior design portfolio.
Pro Tip: Writing an interior design intern CV? Freelance work and education accomplishments are your best friend. Even a compliment from a professor looks good on an intern CV.
Don't bore the manager with cookie cutter language in your interior designer CV. Keep her on the edge of her seat with action words.
4. How to Show Certifications on a CV
Without a certification, an interior designer is just a decorator in most states.
You worked hard for that title, so make sure they see it on your interior design CV.
If you've got a CIDQ certification, put it right after your name, like this:
Alison Morris, CIDQ
Also, add it to the beginning of your CV summary. Then, so it really pops, put it in a special certifications section.
Certifications
CIDQ Interior Design Certification
LEED Certification
NARI Kitchen and Bath Remodeling Certification
Now your certifications are striking and neat, and can't be overlooked.
You might have any of these on an interior designer CV:
CIDQ – The big one. From the Council for Interior Design Qualification. Requires two years of on-the-job training.
RIDQC – From the Designer Society of America (DSA)
CCIDC – California Council for Interior Design Certification.
AAHID – Certified Healthcare Interior Designer
LEED – Certification for Leadership in Energy and Environmental Design.
Pro Tip: Don't have a certification yet? Consider getting one. Most require two years of related experience. If you don't have it, seek an interior design apprenticeship or internship.
Want to know what else to put on a CV for an interior designer? See this guide: "What to Include in a CV: Essential CV Sections"
5. Is Your Education Section Outdated? It Might Be
A bachelor's degree is all the education needed to be an interior designer.
But if you only list it, it's like leaving a big foyer with bare walls and no furniture.
Start with:
College Name and Location.
Years in School.
Degree.
But then add bullet points that fit the job description.
Look at the interior designer CV examples below.
Interior Design CV Examples [Education]
Here are two creative interior design CV examples. They're for a job description that wants 1. home design, 2. leadership experience, and 3. proven talent.
right
BFA in Interior Design
University of Lincoln, 2005-2009
Excelled in (1) home design coursework.
Winner, (3) ASID Student Portfolio Award 2009.
(2) Student Director, Freedom by Design program, 2008 - 2009.
Who's that, Marmol Radziner before he got his first job? It fits the job offer like you mortised it.
Now look what happens when we remodel it without details.
wrong
BFA in Interior Design
University of Lincoln, 2005-2009
Graduated with a BFA in interior design
Completed core interior design coursework.
OK, so it's not all mirrored furniture and wolf skins. That said, our first interior design CV example beats it by a mile of advancing colors.
But add the details, and you're back in the Stantec/Callison zone.
Pro Tip: Education accomplishments don't have to come from coursework. Even an article in the school paper can invigorate an interior design internship CV.
Make your interior design CV education section glow like bollard lights. See our guide: "CV Education Section: Examples & How to Include It"
6. How to Put Skills on a CV for an Interior Design
Here's the hiring manager's office.
Very chic.
In it, amid crisp, tailored office furniture, the manager sits reading a stack of interior design CVs.
Why does she keep sighing?
Because they all list the same design skills. Like a broken record or a string of prefab kitchens.
Then she gets to your designer CV.
"Finally," she says.
What did you do right?
You picked the right professional interior design CV skills. Then you proved them, like this:
Interior Design CV Examples [Skills]
The job description calls for skills in residential and commercial design. It also wants AutoCAD skills, and vendor management.
So, you put those in your interior designer CV. Plus, you don't bury them in a million unrelated skills.
Then you prove them in your bullet points, like this:
Designed awe-inspiring interiors for residential and commercial clients.
Used AutoCAD to create 40+ high-end, compelling interiors.
Received 99% positive client feedback in exit interviews.
Managed vendors, reps, and subcontractors for 98% on-time delivery.
Wow! Your skills tie into your experience like a rabbet joint.
Need an interior design CV skills list to get started? Use the one below.
List of Skills to Put on an Interior Design CV
Let's get you underway with a list of interior designing skills you can use.
Add to it by looking at interior designer job descriptions online.
Interior Design CV Skills

| | |
| --- | --- |
| Soft Skills | Hard Skills |
| Creative Thinking | Color Sense |
| Communication | Technical Drawing |
| Listening | Project Management |
| Detail-Oriented | CAD |
| Time Management | AutoCAD |
| Problem Solving | Budgeting |
| Artistic Eye | Sketching |
| Interpersonal Skills | Adobe Suite |
| Adaptability | On-Site Consultations |
Take the steps above, and your interior designer CV will make you look like Marcel Wanders or Jean-Louis Deniot.
Pro Tip: Avoid making a massive word art project out of your skills list. Only list the ones shown in the job description, plus a few more for effect.
Need to reimagine your interior designer skills section? See our guide: "Best Examples of What Skills to Put on a CV"
7. How to Add Other Sections for an Effective CV
Let's get back to our design firm hiring manager, Kate.
She's dredged through 200+ interior designer CVs today. Her eye bags have eye bags.
All the CVs show some experience. They all list at least a bachelor's degree.
Not all of them show passion.
That's where you can stand out.
Add special "other" sections to make your CV get oohs and ahs like an investment piece.
List conferences, awards, customer kudos, and professional association memberships. You can also throw in volunteer work and publications.
These two interior designer examples show how to do it right:
Interior Design CV Examples [Other Sections]
This first professional interior design CV sample clashes horribly.
wrong
I adore French foreign film.
I love udon bowls.
I'm concerned about the environment.
That's the CV equivalent of hound's tooth and doilies.
Yes, they're interests, but they don't show a passion for design.
Contrast them with this aspirational interior designer CV example:
right
Testimonials
"Alison is a joy to work with. Her designs transformed our SoHo apartment from an outdated mess to an utter dream." -Owen and Sally Morgan
"Titan Hotels is over-the-top happy with the work Alison has done for us."
Additional Activities
Active member, American Society of Interior Designers (ASID).
Panelist, Kitchen & Bath Industry Show 2017.
One of my SoHo apartment designs was written up in "Old Brand New."
Winner, Contract Magazine 38th Annual Interiors Award.
Wow. Timeless. You've just given your CV an Extreme Home Makeover.
Testimonials complement a CV for an interior designer. However, since most experts say to leave them off, think hard before you add them.
The test score, professional membership, and other details show you've got the qualifications needed to be an interior designer at a high-end firm.
Pro Tip: Consider joining the ASID, IIDA, or IDS. They look great on an interior designer CV. The networking opportunities can refresh your career too.
Need more tips for "other" sections in a creative interior design CV? See this guide: "Best Hobbies and Interests to Put on a CV"
8. Here's the Most Common Myth About Cover Letters
"Nobody reads interior design cover letters."
That's only true if they're generic.
Make yours sit up and get attention. Make it passionate and personal.
Use the hiring manager's name.
Share a fact that's guaranteed to wow the manager like David Collins. To do that, read the job description and research the company.
Last, close it with a call to action.
Dear Nancy,
I was thrilled to win Contract Magazine's 38th Annual Interiors Award.
I've followed your write-ups for years in "Apartment 34," "Wit + Delight," and other publications. In fact, some of your ideas have helped me develop my own style, which served me greatly during the award selection process.
I think my 100+ compelling interiors designed for Brash Design and other clients also owe a debt to your theories. Likewise my commitment to delivering on time and under budget.
The opportunity to work closely with you to wow your clients would be a dream job. Can we schedule a call to discuss creating future award-winning designs for NeoDesign?
Thank you for your time.
Best regards,
Alison Morris
With that interior design covering letter, you could get a job creating the interiors for Karl Lagerfeld's apartment.
Don't have that much history? Are you writing a cover letter for an entry-level interior designer?
See if the hiring manager has published articles you can learn from. If she's got a podcast, listen to it. Then, cite it in your cover letter.
Pro Tip: After you deliver your interior designer CV and cover letter, follow up. A follow-up email in three days gives your application a second chance to get the interview.
Plus, a great cover letter that matches your CV will give you an advantage over other candidates. You can write it in our cover letter builder here. Here's what it may look like: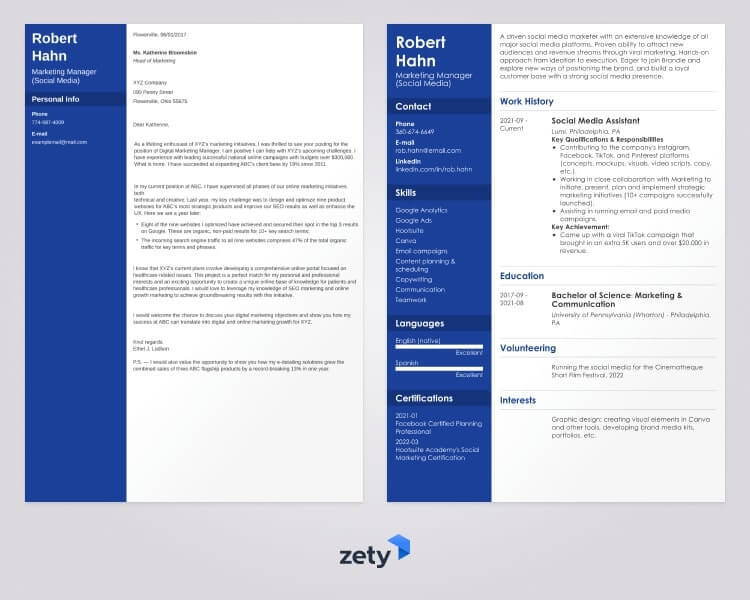 See more cover letter templates and start writing.
9. How to Add Contact Info to Your CV
Here's the single biggest mistake interior designers make on their CVs:
They bungle their contact info.
Of course they add:
Full Name
Updated Phone Number
Professional Email Address
Like so:
Alison Morris, CIDQ, alisonmorris@email.com, 01632 960366
But for an interior designer, an online portfolio is almost as important as the CV itself.
You should at least have a LinkedIn portfolio. A personal website is even better.
Need ideas? Search Pinterest for "Interior Design Portfolios." You'll get hundreds of beautiful results.
Pro Tip: Your Facebook profile doesn't belong on a CV for interior design. Clean it up anyway, since some employers seek it out.
Want to explore more ideas to make a creative interior design CV that doesn't skimp? See our guide: "How to Write a CV: Complete CV Writing Guide with Examples"
Key Takeaway
This guide shows how to write a CV for interior design that gets the interview. Follow these tips to do it perfectly:
Tailor every CV you send to match the job description.
Don't just list experience and education. Add details to make your interior design CV stand out like a 50/150 paint job.
Highlight your CIDQ or other key certification. Put it by your name, in your CV summary, and in a special section on your interior designer CV.
Add other sections that list conferences, memberships, and publications. Those things show your passion for interior design.
Do you have questions on how to write a great CV for an interior designer? Not sure how to describe your skills or achievements? Give us a shout in the comments! We love to help!
About Zety's Editorial Process
Our editorial team has thoroughly reviewed this article to ensure it follows Zety's editorial guidelines. Our dedication lies in sharing our expertise and providing you with actionable career advice that offers you real value. Every year, the quality of our content attracts 40 million readers to our site. But that's not all – we conduct original research to gain a detailed understanding of the labour market. We take pride in being cited by top universities and leading media outlets in the UK and worldwide.