Customer service representatives receive and place telephone calls and help maintain solid relationships with customers by answering questions and concerns with speed and professionalism. But cashiers, salespeople, management, and billing departments can also be regarded as customer service jobs since they interact with customers.
To be successful at their job, a customer service representative has to possess a certain set of skills. What are they?
We'll show you customer CV skills examples in a second, but… Perhaps you don't even need to read through—
The Zety CV builder will generate hundreds of customer service skills, suggest bullet points, CV objectives, and achievements. Just what the recruiter ordered.
Want to save time and have your CV ready in 5 minutes? Try our CV builder. It's fast and easy to use. Plus, you'll get ready-made content to add with one click. See 20+ CV templates and create your CV here.
Sample CV made with our builder—See more CV examples here.
Want to learn more about other types of professional abilities? Take a look at our other guides on job-winning skills:
And for advice on writing CVs for specific jobs, take a look at our guides for customer service focussed careers:
Customer Service Skills Example CV
George Hoskins
ghoskins_zety@gmail.com
linkedin.com/in/ghopkins_zety
07777 777777
Attentive and empathetic customer service representative with 5+ years of experience in challenging call centre roles. Keen to support Westco Building Society in using effective complaints management to maintain long-term customer relationships. Maintained a customer retention rate on cancellation calls 25% above the company average by using active listening techniques.
Work Experience
Customer Service Representative
Cyanin Card Services, London
January 2019–Present
Answered 50+ email enquiries daily using impeccable customer service daily to maintain brand loyalty.
Used active listening techniques to elicit customer needs and identify referral and upselling opportunities.
Implemented simple changes to online contact form following customer feedback, contributing to a 10% increase in average product ease of use rating.
Achieved a 25% above average retention rate on customer save contact after cancellation requests.
Trained and mentored 10 new starters in company procedure, all of whom went on to achieve above average KPIs.
Customer Service Associate
Automotive Financial Services, London
September 2016–December 2019
Answered 50+ incoming calls per day and consistently met targets for call length and call waiting times.
Delivered high-quality customer service by communicating decisions professionally and empathetically, winning formal compliments from 12 individual customers .
Received an average feedback rating of 97% on randomised customer satisfaction surveys.
Education
BA (Hons) Media Communications
University of the Arts London
September 2012–June 2016
Skills
Complaint resolution
Building customer loyalty
Up-selling
Comprehensive product knowledge
Time management
Jira service desk
Zendesk customer service software
Avaya Aura phone systems
Languages
Let's start with the definition—
What Are Customer Service Skills?
Customer service skills are the skills necessary to communicate with others, solve problems, demonstrate patience and understanding, ensure customer satisfaction, and resolve customer complaints.
Employees with excellent customer service skills can have a massive impact on a company's bottom line. These skills translate into brand loyalty (96% of consumers say customer service is an important factor in their choice of loyalty to a brand) and profit (a 5% increase in customer retention can produce a 25% increase in profit according to Bain).
Customer Service Skills for a CV—Examples
Customer service is a great skill to have on a CV. Not just for a sales rep, agent or someone in guest service. Any client-facing role will benefit from mentioning these abilities (including administrative and office positions, marketing, and more).
Here's a list of specific customer services skills to put on a CV:
Active listening skills
Attention to detail
Bilingual customer support
Building customer loyalty
Communication
Complaint resolution
Critical thinking skills
Cross-selling / up-selling
Decision making
Dixa
ERP
Freshdesk
Improving customer experience
Interpersonal skills
Jira service desk
Microsoft Office skills
MS Office suite
Mytalk
Organizational skills
Patience
Positive attitude
Problem solving
Product knowledge
Salesforce
Service-based selling / telesales
Talkdesk
Time management
Zendesk
The skills above are perfectly tailored to jobs in customer service. But don't simply copy-paste them on your CV. Always make sure you focus on the most important CS skills mentioned in the job ad and add extra skills if they are relevant.
When making a CV in our builder, drag & drop bullet points, skills, and auto-fill the boring stuff. Spell check? Check. Start building your CV here.
When you're done, Zety's CV builder will score your CV and tell you exactly how to make it better.
How Do You Describe Customer Service Skills on a CV?
How to knock the recruiter's socks off with your customer-pleasing prowess? By showing them you've got all the customer service skills they're looking for. Here's how to highlight them on your CV:
Check the job advert to see what customer service skills they need.
Make a list of your customer service skills. You can use the aforementioned list as a reference.
Look for talents that show up on both lists. Those are the right CV keywords.
Give your customer service skills prominence by listing them in a separate key skills section on your CV.
Use your bullet points to prove you have those skills.
Add both soft skills and hard skills for the right mix.
List up to 10 and pick the ones you're good at.
Make sure you sprinkle your relevant skills throughout your entire customer service CV. Put them in your customer service CV work experience section and CV summary too.
According to our analysis of 133,000 CVs, people are most likely to describe their CS skills as:
Excellent customer service skills
Great customer service skills
Good customer service skills
Strong customer service skills
Just bear in mind it's just your opinion and recruiters will vet you no matter what you say! Convince them by highlighting a specific responsibility and the results you got.
Customer Service Skills CV—Example Work Experience Section
Here's a brief summary on how to write the perfect CV:
Find the best type of CV style for your situation. If you have some experience already, the reverse-chronological CV format will make all your relevant experience impossible to miss.
Start your CV with a strong personal profile to act as an elevator pitch.
Make sure your CV work experience section is in tip-top shape. Use 5-6 bullets to mention your most impressive responsibilities and achievements. Begin every bullet with CV action verbs like assisted, coordinated, maintained, provided, etc.
If you're writing a student CV or a CV for your first job, you can mention any experience paid or unpaid, including internships or volunteer experience.
Be sure to include an education section. You should only put your A-levels or GCSes on your CV if that's the highest education level you completed. Otherwise, include your degree in your CV education section.
Put any customer service certifications and licenses in their own section so they can pop out.
Improve your CV with optional CV sections: language section, awards section, freelance work, projects, and hobbies and interests.
And remember to attach a customer service cover letter to your CV. For more detailed tips, see our guide on how to write a cover letter. And for an extra professional finish, choose a matching CV cover letter template.
How to Improve Your Customer Service Skills
Here are seven solid tips to improve your customer service skills and help you shine:
1. Stay Positive and Never Say No
It may seem hard in the beginning, but try not to use words like 'no', 'I don't know', or 'I can't'. Why? Negative words tend to focus conversations on the problem rather than the solution. The customer will likely start thinking why something isn't possible or why you don't know the answer. Even if the answer to their question really is 'no', you can use positive language to guide the conversation where you'd like it to go. That way you can direct them to the solution without dwelling on why that problem occurred.
2. Step up Your Game With Active Listening
Active listening is when you make a concerted effort to listen to and understand a speaker. Think of active listening as the foundation of providing good customer support. Lack of effectiveness is the number one most common cause of frustration with customer service. The first step in solving a customer's problem is to hear what the problem is.
You can improve your active listening skills by taking a course online (like this one from Coursera) and then practicing on a regular basis.
3. Refer to the Customer by Name
Calling the customer by their name is a more personable alternative to repeatedly referring to them as 'you'. Customers are more likely to rate their experience as positive if you can create a friendly atmosphere. And let's be honest, people love hearing their own name.
4. Know Your Product Like the Back of Your Hand
The more knowledgeable you are about your company's product, the more persuasive you can be and the faster you can problem-solve. This knowledge can come from everywhere: the company's product literature, your personal experience with the product, online forums, or feedback from customers. If you're interviewing for a new job, showing off your product knowledge is guaranteed to impress a hiring manager.
5. Try your best to empathise
You can practice empathy by reaffirming a customer's situation in a way that shows you hear their pain or frustration. When you connect with their feelings, they feel heard and understood. One way to show empathy is to repeat the problem they're having and then use phrases like 'I get what mean' or 'I can see how frustrating this must be'. But make it natural, if you sound like a robot reading off a script, you'll come across as rude or unhelpful.
6. Keep your technical skills up to date.
Customer service means dealing with computers as well as people. Part of the job is being able to navigate customer service software and technologies. Most bigger companies use customer relationship management (CRM) systems to keep track of customer touchpoints (phone calls, emails, orders). If you don't have any CRM software experience, you can get familiar with it by taking tutorials online, like these courses from Udemy.
Technical skills in customer service are changing, and one example of that change is chatbots. It's unlikely that chatbots will replace customer service jobs in any near future, because people still prefer speaking with humans over chatbots to resolve most issues. More probably, customer service will increasingly involve collaboration between customer service reps and chatbots. That's why gaining a better understanding and having experience with chatbots can help you excel at your customer service job.
7. Don't lose your cool
Last but not least, patience. It's one of the most essential skills for customer service professionals. Because chances are, if someone is calling customer service something has gone pear shaped. Customers will be coming at you ready to chew your head off or collapse in frustration. Just know that with a little active listening and positivity, you'll likely make it to the other side.
Plus, a great cover letter that matches your CV will give you an advantage over other candidates. You can write it in our cover letter builder here. Here's what it may look like: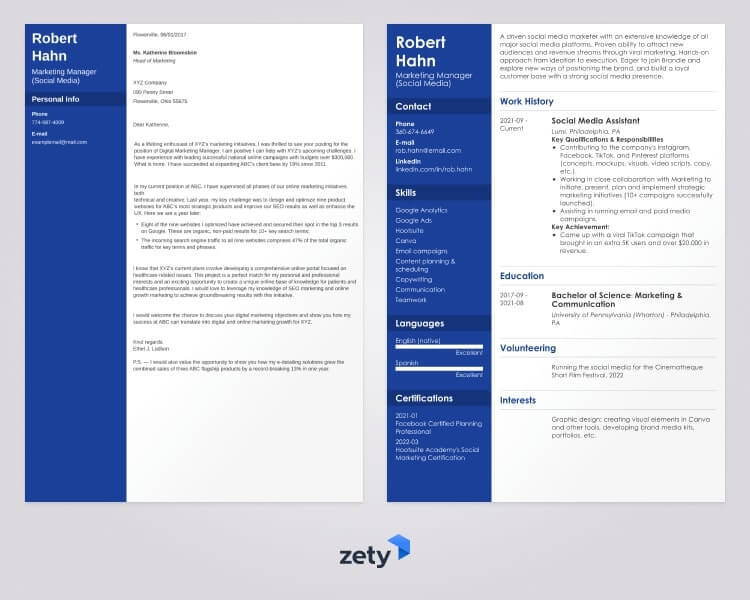 See more cover letter templates and start writing.
Thanks for reading! Now I'm curious about what you think. What are customer service skills that you find most helpful on the job? What's the most difficult customer service experience you've ever had? Is AI the future of customer service? Let's chat in the comments!
About Zety's Editorial Process
Our editorial team has thoroughly reviewed this article to ensure it follows Zety's editorial guidelines. Our dedication lies in sharing our expertise and providing you with actionable career advice that offers you real value. Every year, the quality of our content attracts 40 million readers to our site. But that's not all – we conduct original research to gain a detailed understanding of the labour market. We take pride in being cited by top universities and leading media outlets in the UK and worldwide.
Sources