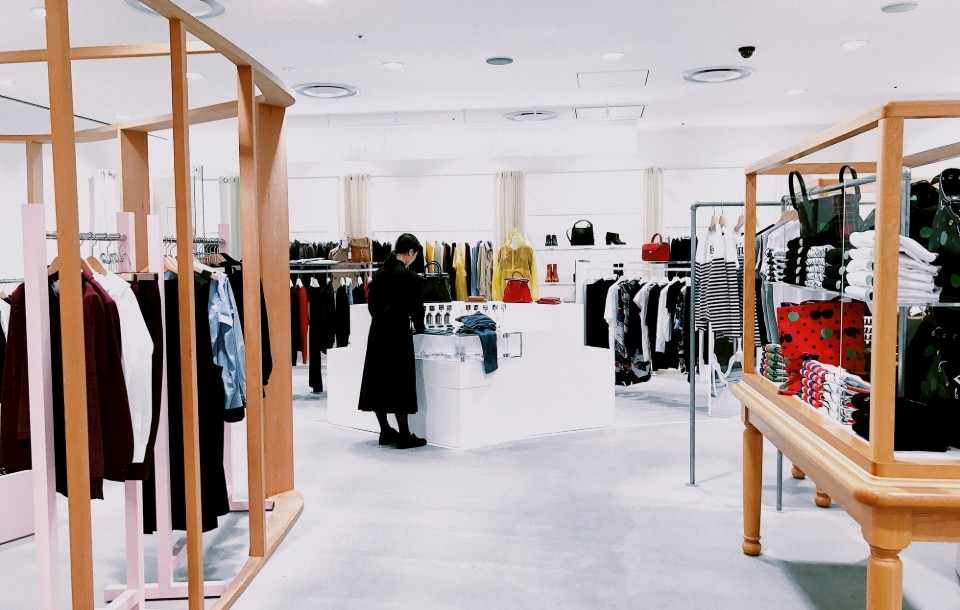 Retail Manager CV Examples (with Skills)
From pop-up stores to e-commerce, you know every aisle of retail. Sell them your experience and skills with the best retail manager CV.
Numbers are everything.
Except you know that's not the case.
Sales are closely tied to service. So you hold sales forecasts in one hand and employee recognition in the other.
And you know how to perfectly balance both to make them grow.
The thing is, the recruiter doesn't necessarily see the same thing. They're probably looking at the next person in a very long line of retail manager candidates.
So how do you stand out like perfect product placement?
Catch their eye with a great retail manager CV that gives them the highest quality selection of your career experience, education, and industry skills.
With marketing like that, the recruiter will be asking for two of you.
Read on and you'll see a professional retail manager CV example you can adjust and make yours. Plus, you'll learn an easy formula for writing a CV for retail manager jobs that will land you 10x more interviews than any other CV you've written in the past.
Want to save time and have your CV ready in 5 minutes? Try our CV builder. It's fast and easy to use. Plus, you'll get ready-made content to add with one click. See 18 CV templates and create your CV here.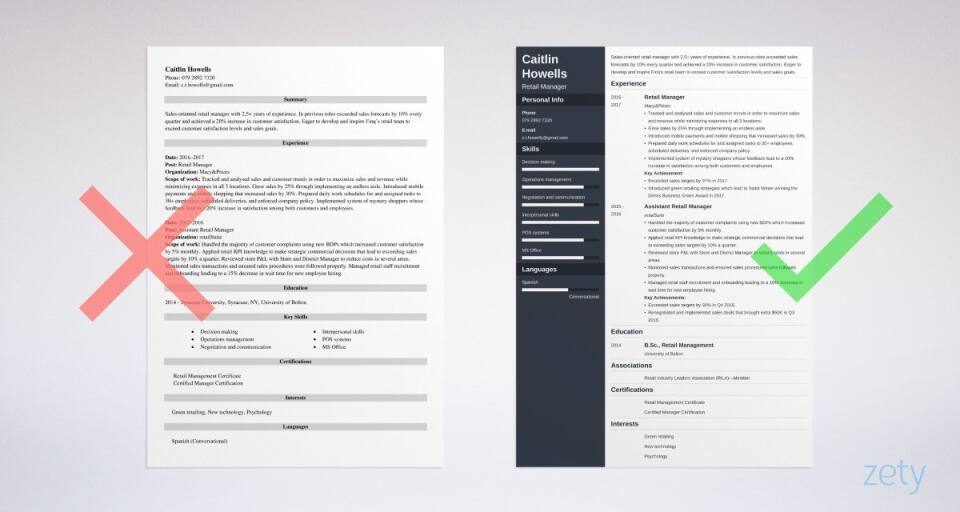 Sample retail manager CV—See more CV examples here.
Sample Retail Manager CV to Get You Inspired (Text Version)
Caitlin Howells
Retail Manager
Phone: +1-317-573-6615
Email: c.t.howells@gmail.com
LinkedIn: linkedin.com/in/caitlinhowells
Summary
Sales-oriented retail manager with 2,5+ years of experience. In previous roles exceeded sales forecasts by 10% every quarter and achieved a 20% increase in customer satisfaction. Eager to develop and inspire Finq's retail team to exceed customer satisfaction levels and sales goals.
Experience
2016–2017
Retail Manager
Macy&Prices
Tracked and analysed sales and customer trends in order to maximize sales and revenue while minimizing expenses in all 3 locations.
Grew sales by 25% through implementing an endless aisle.
Introduced mobile payments and mobile shopping that increased sales by 30%.
Prepared daily work schedules for and assigned tasks to 30+ employees, scheduled deliveries, and enforced company policy.
Implemented system of mystery shoppers whose feedback lead to a 20% increase in satisfaction among both customers and employees.
Key Achievement:
Exceeded sales targets by 97% in 2017.
Introduced green retailing strategies which lead to Stokk Wines winning the Drinks Business Green Award in 2017.
2015-2016
Assistant Retail Manager
retailSuite
Handled the majority of customer complaints using new BDPs which increased customer satisfaction by 5% monthly.
Applied retail KPI knowledge to make strategic commercial decisions that lead to exceeding sales targets by 10% a quarter.
Reviewed store P&L with Store and District Manager to reduce costs in several areas.
Monitored sales transactions and ensured sales procedures were followed properly.
Managed retail staff recruitment and onboarding leading to a 15% decrease in wait time for new employee hiring.
Key Achievements:
Exceeded sales targets by 30% in Q4 2016.
Renegotiated and implemented sales deals that brought extra $50K in Q3 2016.
Education
2014
University of Bolton
B.Sc., Retail Management
Key Skills
Decision making
Operations management
Negotiation and communication
Interpersonal skills
POS systems
MS Office
Associations
Retail Industry Leaders Association (RILA)—Member
Certifications
Retail Management Certificate
Certified Manager Certification
Interests
Green retailing
New technology
Psychology
Languages
Before we begin, here are several other sales-related CV examples:
On to the showroom!
1. Structure Your Retail Manager CV Template Properly
Things won't sell if you just fling them all into a heap in the middle of the floor. Visual arrangement is key.
This means formatting your retail manager CV correctly before you start adding on those perfect additional accessories.
Here's how to format a retail CV template:
Good layout: use the reverse-chronological order.
CV header: put your name and current contact info at the top so recruiters know who you are from the start.
Fonts: use professional, easy to read fonts. 14-16 pt for section headers, 12 pt for the rest of the text.
Margins: keep even, 1" CV margins on all sides of the page.
Line spacing: stick with 1.15 line spacing.
Sections: use visible section headers and plenty of white space to make your CV easy to read.
Filetype: always save as a PDF unless the job ad states otherwise.
Now that you know how to format your CV, here's a short outline of what your CV should contain:
Header: add the relevant contact information.
CV Summary: a short intro that explains why you're the perfect candidate for the role.
Work experience: a break down of your professional career history and achievements.
Education: a very brief description of your academic background.
Skills: a list of your most prominent and relevant retail and managerial skills.
Extra sections: add a little bang to your buck by adding relevant awards, certifications, foreign language knowledge, etc.
Read more about CV formatting: Professional CV Format That Gets Jobs
A good writer always leaves the beginning for last unless they want to suffer from writer's block and sleepless nights.
The same goes for a good CV. Start with what you know—your career experience, education, and skills. Go back to the top when you're done to write an intro that encompasses your CV in a nutshell.
So roll up those sleeves and let's get started.
2. Start with a Retail Manager CV Work Experience Section
According to the BLS, retail management employment shows no signs of stopping any time soon. At the same time, employment in retail sales is predicted to drop.
What does that mean?
A growing number of managers supervising a dwindling workforce means you have to be the best to get the job.
So how do you convince hiring managers that you're top of the line?
Here's the best way to create a retail manager CV description of your career experience:
Opt for the reverse-chronological CV layout. Start with your most recent position and work your way backwards.
Include your job title, the company's name and location, and the dates you worked there.
Add your retail manager responsibilities in bullet points. Use up to 6 for your current role and fewer as you go back in time.
Always tailor your CV to the requirements of the job ad.
Add quantifiable, noticeable achievements that immediately show hiring managers that you're the retail sales manager they need.
Give your CV more impact by using the PAR (Problem-Action-Result) formula in the description of your managerial and retail responsibilities.
Use action words at the beginning to show recruiters you mean business.
But that's enough talk. Let's see these guidelines on display.
Here is a retail manager CV sample of the employment history section:
Retail Manager CV Sample: Work Experience
Right
Retail Manager
March 2016-February 2018
Macy&Prices
Key Qualifications & Responsibilities
Exceeded annual sales forecast by $100K for two years in a row.
Researched and implemented a product processing system that accelerated merchandising by an average of 2 days.
Raised employee retention to 95% through implementation of benefits, awards, and employee development.
Key Achievements
Became the first retail manager in company history to capture a customer return rate above 60% (71%) through the introduction of new customer service practices.
Retail Manager of the Quarter (regional award) for three consecutive quarters (2017).
Wrong
Retail Manager
March 2016-February 2018
Macy&Prices
Key Responsibilities
Ensured employee satisfaction.
Strove to have customer service top quality.
Drove process improvements through innovation.
Exceeded sales forecasts.
The right example clearly demonstrates that this candidate knows the ins and outs of retail and can navigate them more smoothly than that card being swiped at the register just now.
The wrong example is a little like that retail associate who stands in the middle of the floor, but won't actually approach customers—"I'm here, but not really."
Keep in mind, both these examples come from the same candidate! See what a difference specific examples and quantifiable achievements make?
But let's say this is the first managerial position you're applying for. What then?
Check out these CV examples for retail managers without managerial experience:
Retail Assistant Manager CV Examples (No Experience)
Right
Sales Associate
May 2016-June 2019
Macy&Prices
Key Qualifications & Responsibilities
Maintaining up-to-date knowledge of current products, sales, special deals, and policies (exchanges, refunds, returns).
Introduced a new way of approaching customers and inquiring about their purchasing history that led to a rise in customer satisfaction by 15%.
Drove rise in sales and customer traffic through new concepts in merchandise display.
Key Achievements
Implemented marketing strategies that resulted in increased sales by 23%.
Named Employee of the Month 5 times.
Wrong
Sales Associate
May 2016-June 2019
Macy&Prices
Responsibilities
Kept up-to-date with current product line.
Interacted with customers in a positive and professional way.
Kept store in order and clean.
You don't need the word "retail" in your experience to show that you have what it takes to be a retail manager. The right example shows that the right responsibilities and numbered achievements are more effective than any store window in grabbing attention.
The wrong example basically says "yeah, so I can sell stuff." Not very convincing, is it?
When making a CV in our builder, drag & drop bullet points, skills, and auto-fill the boring stuff. Spell check? Check. Start building your CV here.
When you're done, Zety's CV builder will score your CV and tell you exactly how to make it better.
Read more about describing your work experience: How to List Job Responsibilities on Your CV
3. Enter Your Education (It's Not That Straightforward!)
The right degree definitely opens doors when you look at any retail manager job description. But don't list your entire education.
Include your most relevant degree and let your experience do the rest of the talking, especially when you have enough experience to sing choruses.
Here's the way to do that:
Retail Manager CV Education Sample
Right
Bachelors of Science in Marketing
University of Bolton
Completion: 2012
Taking into consideration that your management experience will almost always trump your education, keep this section short and sweet like a 12-hour flash sale.
Educate yourself more on listing your education: How to Write Your CV Education Section
4. List Retail Manager Skills Relevant to the Role and Sector
Product rollouts, employee management, customer service, sales— for retail managers, this skill list goes on and on like the line outside the door right before Black Friday.
Listing all the skills you have, whether relevant or not, will have hiring managers dropping your CV in a flash and continue their candidate shopping elsewhere.
So how do you hand pick the key skills that make your CV a bestseller?
Follow these tips:
Let the job ad give you useful hints as to what they're looking for through CV keywords.
Think about what relevant skills you've acquired over time. Look at your education and experience sections for extra inspiration.
Write down all your retail manager skills on a master list.
Pinpoint the skills on your master list that match those required in the job ad.
Make a list of the 5-10 most relevant professional skills in your retail manager skills CV section.
Always remember to include both hard skills and soft skills on your CV. They're equally important!
Take another look at your experience section. Does it prove the skills you just listed? Make sure these two sections compliment each other and work together to prove you're not dead stock.
Here are some great retail manager skills to help you compile your list:
20+ Most Common Retail Manager CV Skills
Customer Service
Operations Management
Sales Management
Critical Thinking Skills
Interpersonal Skills
Attention to Detail
Ability to Work Under Pressure
Decision Making Skills
Problem Solving Skills
Time Management
Sales Analysis
POS Systems
In-store Logistics
Product Knowledge
Tech Savvy
Marketing
Persuasion
Visual Merchandising
Microsoft Office
Management Skills
Now that you're well stocked in retail skills, let's take a look at some that you might want to list on your CV for a particular role.
Sample Retail Assistant Manager CV Skills Section
Right
Leadership Skills
Communication Skills
Sales Analysis
POS systems
Visual Merchandising
Decision Making Skills
Excellent Customer Service
Remember to use the requirements from the job ad as a guide for which key skills the employer is looking for.
Pro Tip: Try to be one step ahead and think of what your prospect retail company needs now and in the foreseeable future in terms of skills. With the constant rise of brick and click retail, leave a couple of bullet points for technical skills specific to e-commerce even if they're not needed right now.
Read more about adding skills to CVs: Key, Professional Job Skills to Add to a CV
5. Show Don't Tell: Add "Extra" Sections to Your Retail Manager CV
There's growing competition among store managers and the retail salesforce is growing smaller, so employers are looking for proof that you can not only sell your way out of a paper bag, but that you also know how to manage employees, the largest source of controllable costs in the retail sector.
Sometimes, your education and experience aren't enough to make you stand out in the hundreds of other retail sales manager CVs recruiters get. A well thought out additional CV section will let recruiters know that they've just found the perfect manager and say "I'll take it!"
Retail Manager CV Examples: Extra Sections
CV Licenses & Certifications
Retail management certificates show prospective employers that you're not just a good candidate, you're an anchor. Here are a few that will really stand out:
Retail Management Certificate
Certified Sales Professional
General Management Certificate
CSE—Certified Sales Executive
Second Language on a CV
In an increasingly global market, the knowledge of a foreign language is more valuable than you may think. Whether it's handling a customer complaint, negotiating with suppliers, or simply talking to employees, knowledge of a foreign language is definitely an asset.
No one cares about what you're interested in, right? Wrong. Your interest in e-commerce or passion for green retailing might be the very thing that puts you one step above other candidates applying for the same position.
Memberships in Trade Organizations
Demonstrating membership in a retail association shows the hiring manager that you take your career seriously. Here are a few examples:
Council of State Retail Associations (CSRA)
State Retail Associations
Retail Industry Leaders Association (RILA)
For more possibilities when it comes to additional parts of a CV, see this guide: What to Include in a CV
6. Compile the Best Bits Into a Retail Manager CV Objective or Summary
Let's go back to the top of your CV.
You might have the best quality merchandise and unbeatable prices, but without the proper visual merchandising, you might as well be trying to sell sand in the Sahara.
Your CV heading statement is the visual merchandiser of your CV, tempting the hiring manager to take a look and to find exactly what they're looking for.
A CV heading statement comes in two versions: the CV summary and the CV objective.
Take a gander at what you've written in your retail manager CV so far. Find two to three impressive, key points that will wow the recruiter with your knowledge and skill set.
Now, if you find that you have skills and experience in bulk, opt for the CV summary.
The CV summary statement gives a brief, but impressive account of your key accomplishments and experience. This is the go to for those retail managers with experience in the field.
Take a look at these two retail manager CV summary examples:
Sample Retail Manager CV Summary
Right
Enthusiastic and professional retail manager with over 4 years' experience in big box store management. Consistently exceeded annual sales forecasts by 10-15% every year. Named "#1 store in the district" four years in a row based both on sales growth as well as employee satisfaction.
Wrong
Experienced retail manager. Regionally recognized manager, winner of several awards for sales and service. Looking for change and new challenges in the retail sector.
The right example puts the best cards on the table right away. Through the use of tailored concrete examples and numbers, this candidate demonstrates both sales experience and people management knowhow in just three sentences!
The wrong example is vague and the hiring manager isn't going to waste time trying to figure out what it all means. Deleted.
But what if you're changing careers or taking the next step up on the career ladder?
Use the CV objective.
The CV objective statement focuses more on your skills and why you would be a great fit for the role. This is perfect when your experience is a little thin, but your skills prove that you can do the job.
Let's look at two retail manager CV objective examples:
Sample Retail Manager CV Objective
Right
Effective, energetic, and friendly assistant sales manager looking to leverage 85% customer service satisfaction and 90% employee satisfaction ratings in a managerial position in high speed retail.
Wrong
Assistant Sales Manager looking to find new challenges outside the sales sector. Skilled in customer service and working with others.
As you can see, the same rules apply here as in the CV summary—tailor your objective to the needs of the employer and impress through numbers.

7. Write a Great Retail Manager Cover Letter
You don't have to write a cover letter. Especially if the job ad doesn't specifically ask for one. Even more so if you want your CV to be put on layaway. Forever.
Think of it like a prestige pricing strategy—if a hiring manager sees both a carefully crafted CV and a cover letter, they're going to know that they've got a good, professional candidate on their hands.
Writing a cover letter doesn't need to be an ordeal and in a few minutes you can write one that will win the recruiter over.
How to write a retail manager cover letter:
That's it!
Read up on what your cover letter should say to make sure yours is a definite buy.
Plus, a great cover letter that matches your CV will give you an advantage over other candidates. You can write it in our cover letter builder here. Here's what it may look like: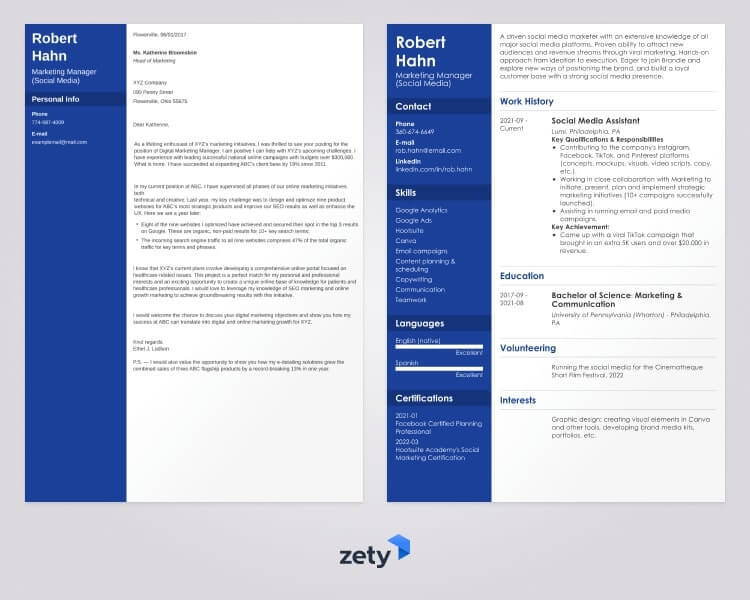 See more cover letter templates and start writing.
Learn more on how to quickly write a compelling cover letter: Cover Letter Writing

Recap—Retail Manager CV in a Nutshell
Let's boil everything down to the essentials—
Here's how to write a retail manager CV step by step:
Format your retail manager CV template with a professional font, correct line and margin spacing, and plenty of white space.
Push writing your CV objective or summary to the end.
Demonstrate your relevant work experience through action verbs, bullet points, and numbers.
List your education correctly.
List your key retail skills and make sure they're echoed in your work experience section.
Include relevant additional sections that will add that perfect finishing touch to your CV.
Make sure to include a great cover letter if you want that retail interview!
Thanks for reading! We'd love to you hear from you:
What are the biggest challenges of writing a retail manager CV?
What part do you struggle with the most?
Do you find it difficult to strike the perfect balance between listing sales and people management skills?
Let us know down in the comments below!
About Zety's Editorial Process
Our editorial team has thoroughly reviewed this article to ensure it follows Zety's editorial guidelines. Our dedication lies in sharing our expertise and providing you with actionable career advice that offers you real value. Every year, the quality of our content attracts 40 million readers to our site. But that's not all – we conduct original research to gain a detailed understanding of the labour market. We take pride in being cited by top universities and leading media outlets in the UK and worldwide.
Sources