When most people think of writing or updating their CV, they go straight to their work experience. Or maybe a CV summary—if they're clued in enough to know they need one.
But you're ahead of the curve, not taking anything for granted—
You're stuck on getting your CV header right. And your intuition is dead on.
A good CV header, like a bad one, can make all the difference.
This guide will show you:
CV header examples far better than most.
How to make a header for a CV that will land you more interviews.
Tips and examples of what to put in your CV header and what to leave out.
How to design and format your CV header for any job application.
Want to save time and have your CV ready in 5 minutes? Try our CV builder. It's fast and easy to use. Plus, you'll get ready-made content to add with one click. See 20+ CV templates and create your CV here.
Sample CV made with our builder—See more CV examples and create your CV here.
Looking for more CV examples and writing advice? Want to get ahead of the latest trends? Check out some of our related posts:
Now, here's your full guide to CV headers:
What to include in a CV header: Necessary information
Let's start with the basics. Here's what should appear in your CV header:
1. Name
Include your full name, generally as it appears in your passport. Prefer a shortened form or nickname? You'll be able to let them know at the interview. One exception to this is if you've already been using another name in professional, online contexts.
Hiring managers will search for whatever name appears on your CV. If your LinkedIn and portfolio are under a different name, it'll make finding your information that much more difficult. So, in these cases, change the name on your CV to match whatever it is that you want to be found online.
2. Job title, occupation, or student status
Too many people leave this off their CV header. Give your job title (Graphic Designer), occupation (Warehouse Worker) or student status (Final-Year Medical Student).
Include a qualification if it's indispensable to your occupation. Add a licence or registration number if that's appropriate in your line of work. For example:
Isabel Robson
ER Nurse, RN 0987654321
3. Phone number
Include your personal mobile phone number if you have one. A landline is fine if you're able to receive calls on it during business hours, but a mobile number is really the expectation.
Do not give your work number, whether the landline to your desk or your company mobile. This can obviously cause friction with your current employer (and may go against company policy). It also doesn't look good from your potential new employer's point of view.
4. Email address
Likewise, include your personal email address, never a work address and not a university email. Make sure your email address looks professional. Something that includes your full name with a bare minimum of additional characters.
Something like isabel.robson@pm.me is perfect, as is jane.b.smith@tutanota.com. Got a very popular name and your middle initial or middle name isn't enough to make it unique? Add a number to the end, as short as possible, and not your date or year of birth.
Whether you already have an appropriate email or you set one up especially for the purpose of job hunting, be sure you either get notifications on your phone or otherwise check your inbox at least once a day. Check your spam folder daily throughout your job search.
Read more: How to Write a CV: Full Guide
What to include in a CV header: Optional information
In some cases, it may be advisable to include other details in your CV header. Consider these optional pieces of information and see whether they apply to you:
1. Professional profile
LinkedIn really has the monopoly on professional platforms. If you have a LinkedIn profile, make sure it's up-to-date and link to it in your CV header. Update your LinkedIn profile even if you don't include a link—potential employers will often look you up as a matter of course.
Pro Tip: Your LinkedIn URL hardly rolls off the tongue. There's something you can do about that. Look into generating a custom URL for your LinkedIn profile—it's quick, easy, and can be surprisingly effective.
2. Postal address
For the most part, there's no good reason to add your postal (or home) address. There's no advantage to doing so, and it could leave you open to bias and prejudice. An employer might consider your commute too long. They might not like your neighbourhood or have preconceived notions of the people who live there.
Sometimes, though, a postal address is required. For example, NHS jobs will often require a correspondence address. A PO box is sometimes a way around this, but in the example of NHS jobs it's not really an option. In fact, they prefer a home address.
If you have to include an address, set it out exactly like you would when addressing an envelope:
11 Fosse Way
ARDMINISH
PA41 1YU
3. Portfolio or website
Whether you should add a portfolio or personal website link depends on whether it's directly relevant to the job for which you're applying. A portfolio makes perfect sense for artists, designers, and photographers, for example. A website can be relevant to web developers and the like.
If the URL you include here doesn't make it crystal clear what it is that you're linking to, add a signpost:
Personal Website: www.trackycats.xyz
4. Git repository
Many people who have repositories on GitLab and GitHub aren't applying for IT-related jobs. Just because you have one, doesn't mean you need to link to it in your CV header. It's a different story for programmers, software engineers, system administrators, and so on.
5. Social media
Very few people actually need to include a social media profile in the header for their CV. If you work in social media marketing, then sure. If you maintain a profile to showcase your social media management skills, then yes. If your candidature depends on your personal branding, then OK.
Make sure your social media profile is squeaky clean before you link to it, and even if you don't. Employers regularly search for candidates on social media platforms.
Read more: What Personal Details Should I Put on My CV?
What NOT to include in your CV Header
There are things people add to their CV header that do more harm than just wasting space. Never put your marital status in your CV header, for example. If an employer asks about your marital status, they might even be contravening the Equality Act in the UK.
Other details to avoid are your age or date of birth, measurements, and photograph. All of these have nothing to do with your suitability for most jobs and leave you open to unconscious bias and outright discrimination.
When making a CV in our builder, drag & drop bullet points, skills, and auto-fill the boring stuff. Spell check? Check. Start building a professional CV template here for free.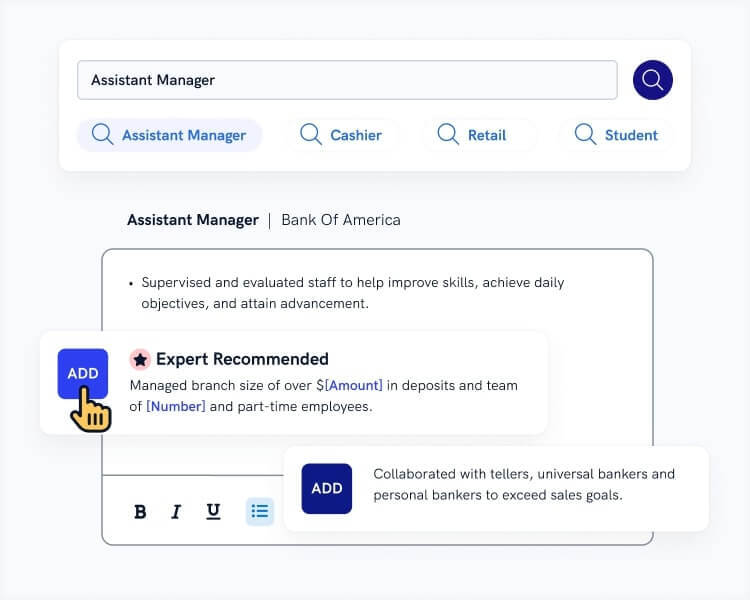 When you're done, Zety's CV builder will score your CV and tell you exactly how to make it better.
How to format your CV header
There's no one, correct way to format a header for a CV. There are many different CV layouts out there, and different occupations will require different personal details in the header.
The two main types of format are horizontally laid-out headers and vertically laid-out ones. Which you choose will depend entirely on the design choices you make when formatting your CV.
The golden rule is always that your CV header has to be clean, clear, and easy to read at a glance.
Your name should be the most prominent part of the header. Make it stand out by using a larger font size and bold text. You might even want to finesse the line spacing after your name to help it stand out.
All this requires a good eye for design and some intermediate office-suite skills. If this isn't you, then keep it very simple. Choose a vertical layout for your CV header and make your name 2 points larger and bold.
A huge advantage of using a CV builder is that all the fiddly formatting work is done for you.
Simple CV header template
[Full Name]
[Job Title / Occupation / Student Status]
[Mobile Phone Number]
[Email Address]
[Professional Profile (Optional)]
Looking to have the formatting done for you? Read more: Free CV Templates to Download and Use
Where to place your CV header
Exactly where you place your CV header will depend on the CV template and layout you choose. There are, though, a couple of things that hold true no matter what:
Make sure it's the first thing they see
Whether that means top-left, top-centre or even top right, your CV header has to have pride of place—it should be the first thing your reader looks at. English speakers read from left to right and top to bottom, so top-left is always a safe bet.
Do not place the CV header in the document header
It's tempting to let your word-processing software earn its keep and put your CV header in the document header field. There's a very good reason for why you shouldn't do this, though.
Many employers rely on Applicant Tracking Systems (ATSs) to sort and filter job applications. These ATSs can have trouble dealing with some file formats. This is why you sometimes come across a requirement to send your CV in a Microsoft Word format rather than a PDF.
Anything you put in the document header field is likely to be overlooked by an ATS, so keep your CV header in the body text. For the same reason, you should avoid using tables in your document, even if they're not visible—these can prove hard for the ATS to read properly.
Read more: 15+ One Page CV Templates to Download and Edit
Extra CV header tips to keep in mind
A CV header is really simple, once you know what to include. And it's this simplicity that can lead to fatal errors being overlooked.
Check your details are up to date
Make a point of consciously reading through your CV header every time you update your CV. It's a set-and-forget CV section, filled with the most familiar personal details possible. This makes it easy to not notice that you've still got your old phone number or email listed, for example.
Proofread for typos
The same goes for typographical errors. One digit out, and you're not getting that callback you've been waiting for. It doesn't matter how great the rest of your CV is if the employer can't get a hold of you.
Plus, a great cover letter that matches your CV will give you an advantage over other candidates. You can write it in our cover letter builder here. Here's what it may look like: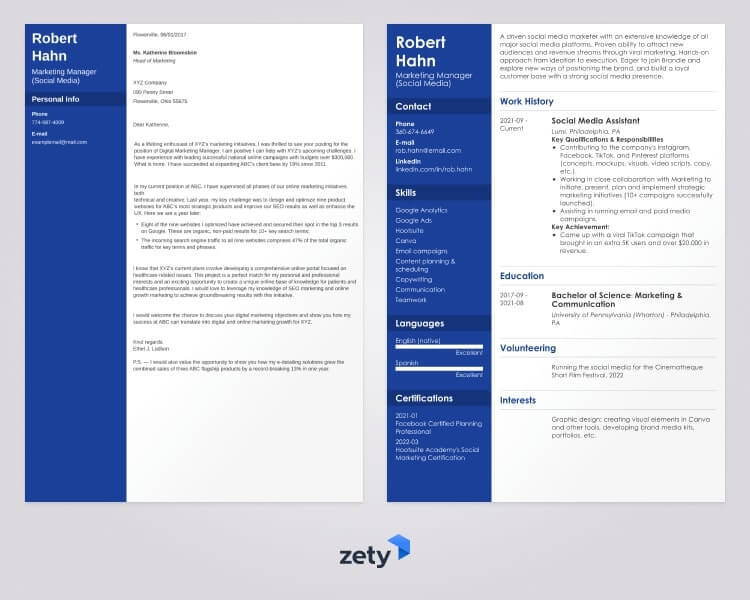 See more cover letter templates and start writing.
Key takeaways
Here's how to write a CV header, step by step:
Give your CV header the most prominent place in whatever CV layout you've chosen.
Make your name stand out from the other details—make it larger, make it bold.
Add your job title, phone number, email address, and professional profile.
Got a portfolio or personal website? Git repo? Add them if they're relevant.
Bleach your social media profiles. Add them only if they're a part of your job.
You've got a great CV header in the bag! Now I'd love to hear from you:
What were the biggest challenges in writing your CV header?
Did you include a social media profile in your CV header? Why?
Let me know in the comments section. We'll be sure to reply!
About Zety's Editorial Process
Our editorial team has thoroughly reviewed this article to ensure it follows Zety's editorial guidelines. Our dedication lies in sharing our expertise and providing you with actionable career advice that offers you real value. Every year, the quality of our content attracts 40 million readers to our site. But that's not all – we conduct original research to gain a detailed understanding of the labour market. We take pride in being cited by top universities and leading media outlets in the UK and worldwide.
Sources