Your CV is written and ready to help you win your dream job. But you can't just type it up in your trusty word processor and hope for the best. Nowadays, you need a good-looking CV template that'll stun recruiters into submission the moment they see it. And if it's free and easy to edit, all the better.
That's why we've created a collection of editable CV templates for free download. No need to sift through Google for the perfect free CV template, we've done it for you. Each of our examples is beautifully designed to combine visual impact with job-winning features.
Want to save time and have your CV ready in 5 minutes? Try our CV builder. It's fast and easy to use. Plus, you'll get ready-made content to add with one click. See 20+ CV templates and create your CV here.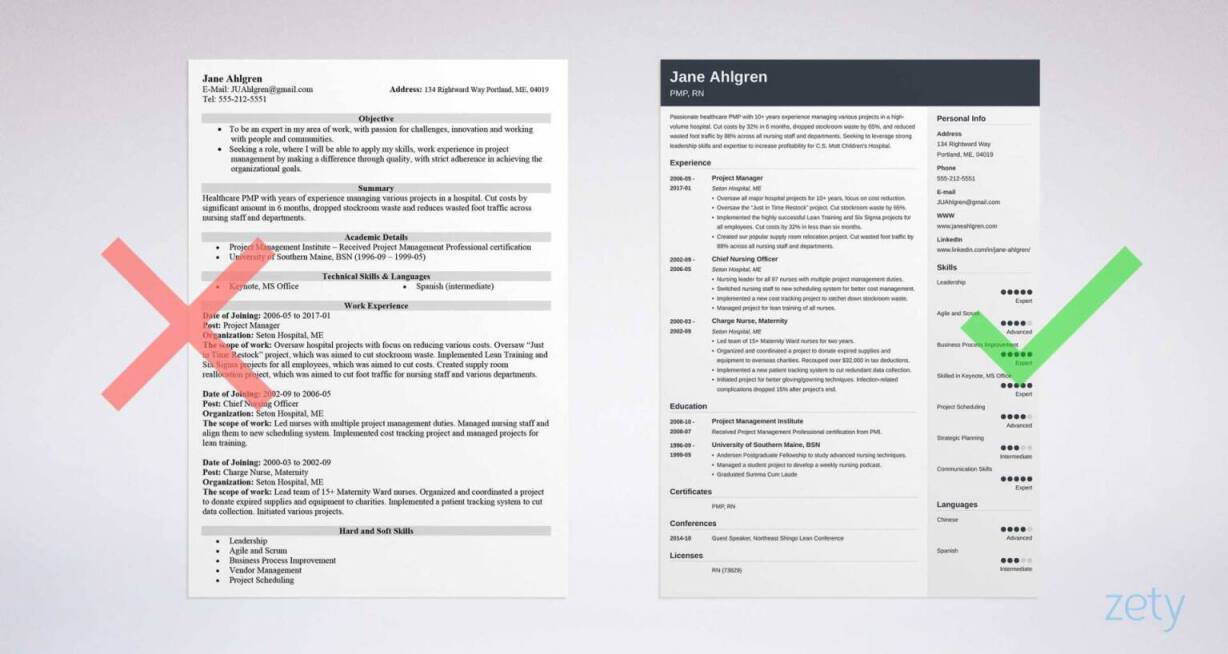 Sample CV made with our builder—See more CV examples here.
First, a CV example made with our builder.
And now for our 15 editable CV templates for free download.
1. Cascade
The first template is one of our own, so first of all, full disclosure. Our CV creator lets you try before you buy. You get full access to our builder where you can enter your details, try our customisable settings and make use of our expert CV tips. They're fully editable for free and only when you're ready to download will you need to subscribe.
The Cascade template features great use of CV layout to pack in as much detail as possible while still staying readable. That's because it maintains a generous balance of negative space, perfect for keeping your CV easy on the eye.
Read more: How to Create A Professional CV Layout
2. Crisp
If you're a creative type, you might be looking for editable CV templates for free download in PSD. It's the Adobe file format that lets you work with layers after the image is saved. But it's not easy unless you're familiar with the software. There are no such concerns with our CV templates though, they're all incredibly easy to work with
And they eliminate the risk of messing around with the format of your CV too much. Do that and you risk problems with the ATS software that employers use to scan your job application. Your CV could get rejected by the computer before a human ever sets eyes on it. Use our CV creator and you can be confident that won't happen.
Take a look at our Crisp CV template for example. Beautifully laid out on a white background, it's guaranteed to give a professional first impression.
Read more: Sales CV Example & Writing Guide
3. Cubic
Another pitfall you need to be aware of is this. If you're looking for an editable CV template free download for UK jobs, you need to be careful. Many templates are optimised for writing an American resume vs a CV. You could end up committing a job application cardinal sin like including your photo, a definite no-no for the UK.
Choose Zety though and you can rest assured that you'll have a perfect CV template for the UK job market. We even warn you not to include a photo. Our Cubic template is visually impressive too, a bold dark header bar combines well with a two-column format featuring backgrounds in white and grey.
Read more: Engineering CV Example & Writing Guide
4. Spearmint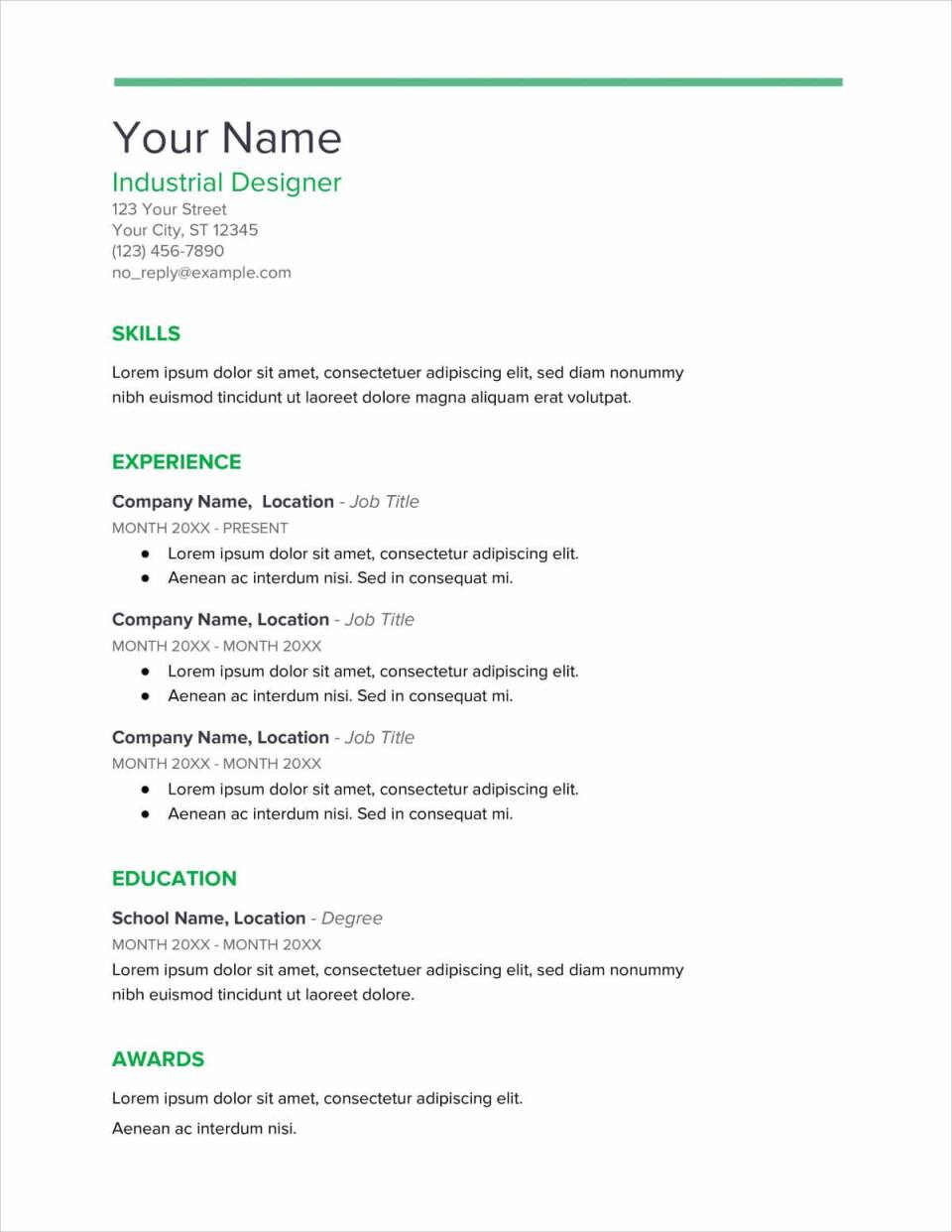 A popular source for editable CV templates for free download is Google Docs. G Suite is available for free to all Google account holders and offers a selection of CV templates. This example is called Spearmint and it has an attractively minimalist look, freshened up by a colourful pop of green.
G Suite now has the top market share for office suites worldwide, but it's not really the best choice for a good CV template. Yes, it's free and easily editable but it's hard to make changes and still keep the layout neat and tidy.
To access Google's selection of templates, make sure you have a Google account and that you're logged on. Then access them here.
Read more: Recruitment Consultant CV Example & Writing Guide
5. Influx
Back to Zety's editable CV templates for download, and this example is named Influx. It has a single column format that gives you plenty of room to include all of your job-winning accomplishments. Personally I love the monochrome design and the emphasis added by putting your surname in bold. It has the elegant, understated good looks of a corporate business card.
And like all of our model CV templates, it's downloadable in both PDF and Word format. PDF is best for keeping your formatting intact, but some employers still insist on Word files. Many editable CV templates for free download restrict you to one file format, which isn't a smart move.
Read more: Barista CV Example & Guide
6. Initials
We take great care to make sure our CV examples are readable and functional, but we don't neglect the visual elements. An attractive CV makes your job application stand out. I can assure you from personal experience that it gets really boring sifting through boring plain text CVs. Choose something like Initials though and you're bound to give the hiring manager a pleasant surprise.
And our builder has another advantage over many popular editable CV templates for free download. We protect your personal data. Many free CV builders have no data protection policy, ours is transparent and fully compliant with UK regulations. All the more reason to choose Zety.
Read more: Internship CV Example & Guide
7. Minimo
Our Minimo template is proof that a CV example doesn't need to be fancy to look good. According to Amazon, where they know a thing or two about good design, minimalism gives timeless elegance and clear presentation of content. Exactly what's needed when you need to put across a professional image.
Like all of our CV templates you can experiment with different CV fonts and sizes, date formats and the order of your CV sections. It's a versatility that's often lacking in editable CV templates for free download.
Read more: CV for a 16-Year-Old Example & Guide
8. Organic Shapes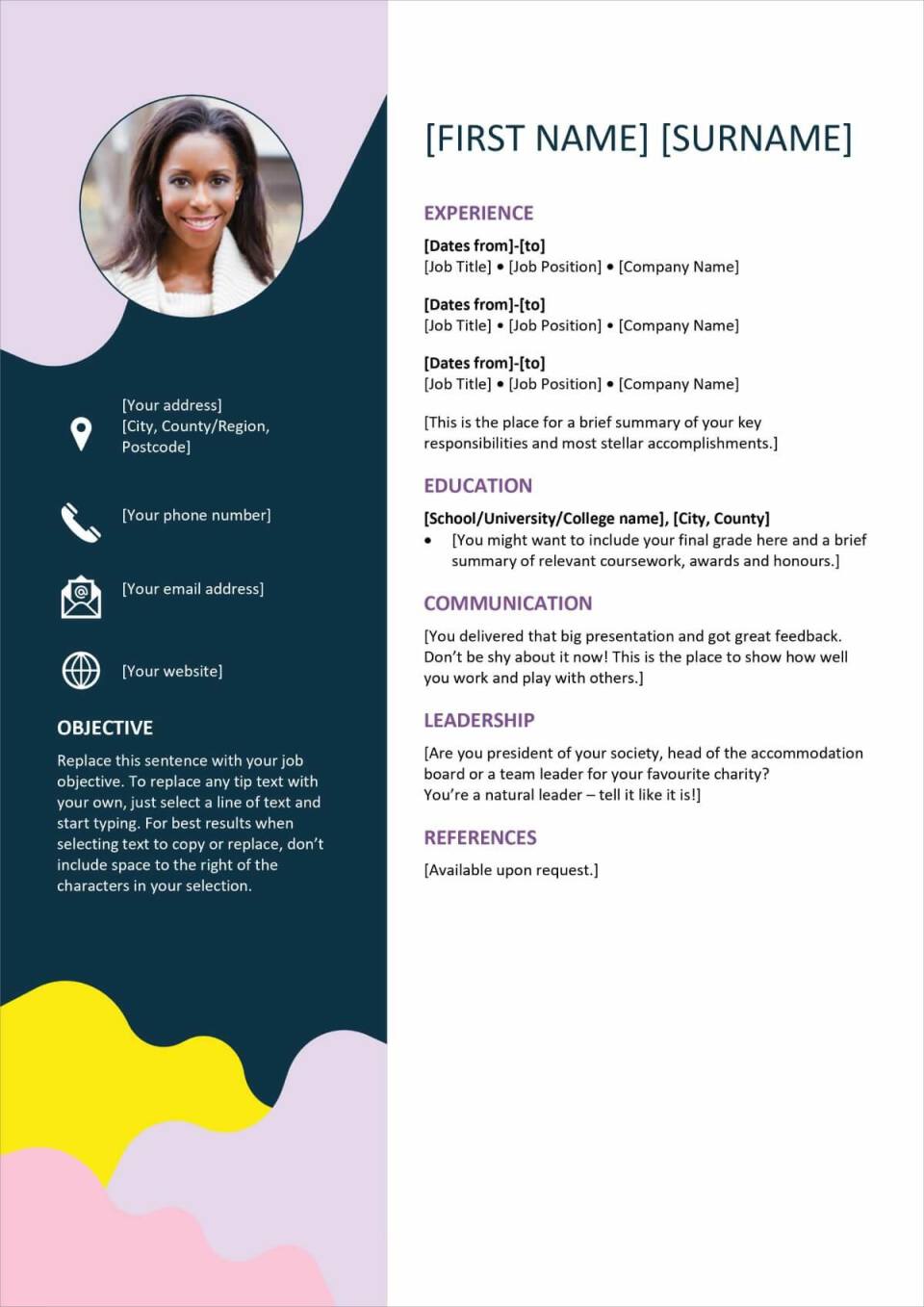 This example comes directly from Microsoft Word's repository of CV templates. The former king of office suites has fallen into second place behind G Suite in recent years, but it's still used by over a million companies worldwide.
This example is called organic shapes and it looks fine at first glance but then you notice that pesky photo there. It's a problem for many free Word templates. They just don't optimise for UK CV format. It wastes a lot of space with the overly broad left-hand column too. Of course, a CV should never be crowded but a format like this will make it really difficult to write a one-page CV.
You can access Microsoft's collection of editable CV templates for free download here.
Read more: Support Worker CV Example & Guide
9. Modern
Back to Zety again and we have here what is quite literally a modern CV template. It's definitely one of my favourites because it's packed with useful visual design tweaks. Having coloured bars at the top-left and bottom-right helps to pull the reader's eyes across the page. Recruiters spend less than 30 seconds on each CV so this trick makes sure they'll take in everything.
It also uses blue ribbons as icons for the section headings and again, it's actually a very clever little hack. Blue ribbon is a synonym for high quality, which is exactly the sort of subconscious impression you want the recruiter to have.
Read more: School Leaver CV Example & Guide
10. Muse
Now we've got to the point where I'd like to aMuse you with a clever joke about the name of this CV template. See what I did there? But poor attempts at humour aside, it's another fantastic template you can access through our CV creator. The black and blue text on a white background would look great printed out on paper as well.
And remember, all of our editable CV templates are free to try before you download.
Read more: Chef CV Example & Guide
When making a CV in our builder, drag & drop bullet points, skills, and auto-fill the boring stuff. Spell check? Check. Start building your CV here.
When you're done, Zety's CV builder will score your CV and tell you exactly how to make it better.
11. Newcast
Newcast features a very special design element in the form of CV icons. They're the most universal language in the world and instantly understandable. A great boost to the readability of your CV. It also features health bars in the software section. It's an element borrowed from gaming and it's not just for fun either. Gamification is proven to improve user experience and engagement, and the more engaged the hiring manager is the more likely it is you'll get an interview.
Read more: Academic CV Example & Guide
12. Soft and Sweet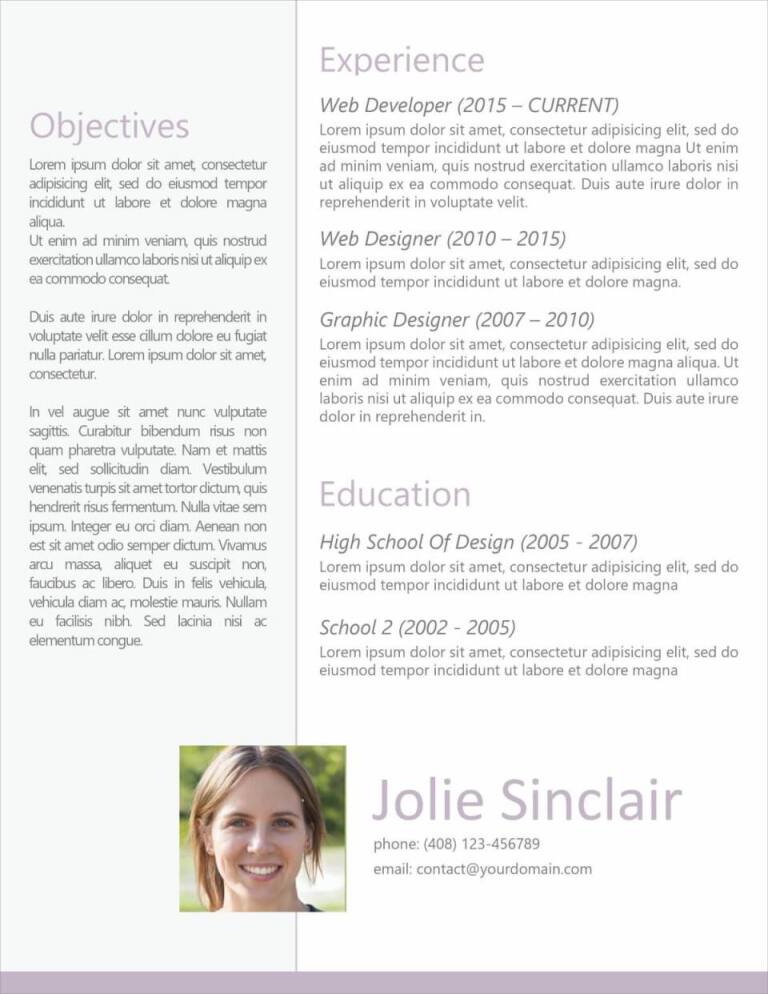 If you search for editable CV templates for free download, one of the top results you'll get is a company called Freesumes. Superficially they look pretty good, but there are also some fundamental design mistakes that could cost you if you choose to use them for your job hunt.
First, there's that photo again. Then for some reason the CV header has been moved to the bottom of the page. Not a good idea, the top of the page is the first thing that people look at. It's called F-shaped scanning. Your name should always be on top so it's the first thing the recruiter sees. That way they associate the rest of the content with you as an individual, rather than lose interest before they even know who you are.
You can download this template here.
Read more: Teaching Assistant (TA) CV Example & Guide
13. Primo
Another attractive editable CV template for download from our own collection. Primo follows a theme of circular icons, health bars and bullet points for a well-rounded CV experience. It also puts your initials in an attractive seal in the CV header. All you need to do is enter your name and the builder does the rest.
That's the true beauty of our CV maker. It's fully automated and saves you time and energy. Let's face it, the job search process is stressful. We want to make it as easy as possible.
Read more: Graphic Design CV Example & Guide
14. Simple
We're almost done, thanks for getting this far. Our penultimate editable CV template is Simple. It keeps the graphic elements to a minimum creating a CV structure that's perfect for more experienced candidates. As you can see, it's easy to make everything fit on the page and it'll make a great choice for more conservative careers with its clean and traditional design.
Read more: Project Management CV Example & Guide
15. Valera
Last of all we have Valera. Uniquely among Zety's editable CV templates it features cursive fonts for the headings to contrast with the more standard sans serif body text. In design circles that's known as font pairing and it adds a touch of creative flair to this CV example. A great choice for younger candidates as the cursive font adds a touch of youthful energy whilst still retaining all of the important job-winning features.
And we're done. The key takeaway is to take care when you're looking for a free CV template. They can cause more problems than they're worth. Here's why Zety's CV builder is a better option.
No matter what changes you make your layout stays intact. Hundreds of colours, customisable font options, section order and section titles. Whatever you choose, it all stays perfectly arranged. Try that with your average Word template and see how far you get.
Always ATS readable. With Zety, computer says yes.
We save you time and energy. Job searching is draining. Choosing an easy to use CV builder lets you focus on job-winning content, not struggling with a poorly designed template.
Expert designed. All of our CV templates contain everything you need to succeed in the UK job search market.
Plus, a great cover letter that matches your CV will give you an advantage over other candidates. You can write it in our cover letter builder here. Here's what it may look like: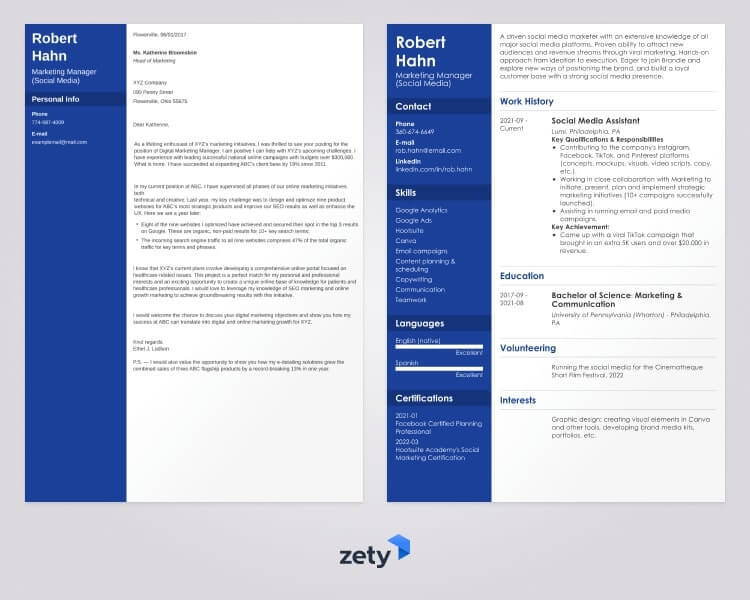 See more cover letter templates and start writing.
Thanks for reading. If you have any comments or questions please feel free to let me know in the comments section. I'd love to hear from you.
About Zety's Editorial Process
Our editorial team has thoroughly reviewed this article to ensure it follows Zety's editorial guidelines. Our dedication lies in sharing our expertise and providing you with actionable career advice that offers you real value. Every year, the quality of our content attracts 40 million readers to our site. But that's not all – we conduct original research to gain a detailed understanding of the labour market. We take pride in being cited by top universities and leading media outlets in the UK and worldwide.
Sources