Decisions, decisions. You just made a great one by choosing to read this guide. Decision-making skills are a must-have for success at work. Employers value the ability to be decisive, to have the confidence to make a choice. They also value the skills it takes to choose the best choice from a range of options.
But you can't just say you've got good decision-making skills and leave it at that. It takes more than just your say so, you've got to prove it. Make a decision to keep reading and you'll see:
A great list of decision-making skills examples for your CV
The best way to prove how good your decision-making skills are
How to improve your decision-making skills to level up your employability
Want to save time and have your CV ready in 5 minutes? Try our CV builder. It's fast and easy to use. Plus, you'll get ready-made content to add with one click. See 20+ CV templates and create your CV here.
Sample CV made with our builder—See more CV examples here.
And once you've nailed your decision-making skills we've got career-specific CV writing advice too.
Decision Making Skills Example CV
Kate Leith
Ph: 0777 777 7777
Email: kleith_zety@gmail.com
Data-driven business analyst with a keen eye for identifying problems and decisively choosing the best solutions. Highly adept at creating successful business outcomes within an Agile methodology framework. A fluent communicator with the ability to engage cross-organisational teams. At JNX, discovered and implemented a solution that reduced data retrieval times by 45%. Looking to help create new pathways for performance with Quince Systems.
Work Experience
Business Analyst
JNX, London
August 2014–Present
Identified and removed four duplicated processes in internal procurement procedures, reducing average time for task completion by 40%.
Mentored seven senior managers in implementing more efficient Agile frameworks for their teams.
Led on conducting focus groups with customers to identify areas of concern, improving UI in main products, leading to a 20% increase in customer satisfaction.
Upgraded dispersed legacy data storage system to a single cloud based system, reducing data retrieval times by 60% and improving infosec.
Identified and prevented repetition of budget overspends totalling £600,000+.
Education
BSc Business and Management, September 2010–June 2014
University of Leeds
Skills
Data analysis
Research
Process Mapping
Benchmarking
Gap analysis
SWOT analysis
Microsoft Visio and SQL Queries
Languages
Hobbies & Interests
Chess: keen club player and ECF member with current grade of 150
What Are Decision Making Skills?
Decision-making skills are the abilities you use to choose the best option between two or more alternatives. They are a type of problem-solving skill as they involve choosing between possible solutions using intuition, reasoning or a combination of the two.
Let's dig a little deeper into that definition. It's important to understand that decision-making skills aren't just one thing. They're actually a wide range of abilities that are used in a complex process. So let's take a closer look at intuition and reasoning in decision-making.
Intuition is subjective. It's your instinctive reaction when you're faced with a problem to solve or decision to make. An intuitive decision is made based on your personal opinions, past experiences, perceptions and emotions.
Reasoning on the other hand is objective and based on the data you have available to you. Reasoning involves analysing the information you have available and making a decision based purely on those facts. It's a more accurate way of coming to a decision as it's less likely to be coloured by your own preconceptions, and it's the way important decisions in the workplace should be made.
In reality, we generally use a mix of the two. Being human, we can't eliminate gut feelings and pre-conceptions. Indeed, sometimes intuitive decisions are effective. But we can and should use reasoning as a sense check to ensure we've made the best decision based on the facts of the situation.
And to give you a sense of the complexity of making a good decision, take a look at the steps involved in the decision-making process. To make important choices in the workplace effectively it's best to follow a clear structure. There are lots of methods out there but here's a commonly used seven step decision-making process.
Recognise the decision
Gather relevant data
Identify alternative paths of action
Examine the evidence
Choose the best alternative
Take action
Review the results of your decision
As you can see, making that important choice is more complex than it first appears. So now that you've got a good decision-making skills definition let's take a look at some examples for your CV.
Examples of Decision Making Skills for Your CV
There are various subsets of decision-making that apply to particular careers, for example medical and ethical decision-making skills feature heavily in the healthcare field. But although different careers have different frameworks and motivations that drive the decision-making process, the basic skills used remain the same. And they cover a surprisingly broad set of abilities.
Problem solving
Problem-solving and decision-making skills go hand in hand. These skills help you determine the causes of a problem and find a good solution. They're also considered highly valuable by employers across all industries. Having good problem-solving skills ensures you'll be able to make effective decisions based on a solid understanding of the facts to hand.
Analytical skills
Arguably, analytical skills are a type of problem-solving skill, but there's a little more to it. They're used to solve problems and make decisions. But specifically they involve your ability to look at data and information, spot patterns in it, interpret it, consider new data and make decisions based on those factors. It's a highly desirable skill set to include on your CV, with demand for workers with specialist data skills more than tripling in recent years.
Teamwork
Inevitably, effective decision-making skills involve working with other people. Collaboration is key to solving many workplace problems with the need to approach others for data and ideas. Identifying paths of action, taking action and measuring success also involve working collaboratively so teamwork forms an essential component of your decision-making skills toolkit.
Creativity
Without creativity there'd be no progress or innovation. It enables you to make decisions that implement novel solutions. Creativity also helps you to interconnect and implement the idea of others, so it's also linked with your teamwork skills. All employers value the ability to come up with innovative paths of action to decide on.
Communication
Communication skills are a keystone ability. It's impossible to enter into the decision-making process in the workplace without communicating with others. Questioning, inspiring confidence and being open-minded all form part of communication and decision-making alike.
Organisation
Organisation forms another crucial part of decision-making skills. It enables you to prioritise and use your resources effectively. Which data should be collected to make the decision? Which factors should be prioritised? These questions can be answered by being organised.
Time management
This decision-making skill is closely related to organisation. Some decisions need to be made more quickly than others. Some have a set timeframe, others are more open-ended. Time management skills help you to work effectively within the confines of a particular situation and meet deadlines.
Emotional intelligence
We've already touched on intuition as part of decision-making skills. It's subjective and can be based on a purely emotional response. Having emotional intelligence helps make you more aware of your emotions and helps ensure you're using them in the right way. Acting without emotional intelligence is a sure-fire way of making the wrong decisions. It's proven that people often don't realise they're acting based on their emotions at the time. Having that self-awareness will undoubtedly help you to make objectively better decisions.
Leadership
Leadership skills are another critical factor in decision making. During the decision-making process it's necessary to organise others to work towards a common goal. It's also essential to build consensus and if necessary, have the confidence to take responsibility for making the final choice and for the consequences of it. All of this requires good leadership.
Logical reasoning
At times, it's necessary to divorce yourself from emotions and pre-conceptions to make an informed decision. This is where logical reasoning skills come to the fore. It's based purely on rigorously examining the premises of the problem to infer conclusions and make decisions. It removes the subjectivity and takes a more scientific approach.
When making a CV in our builder, drag & drop bullet points, skills, and auto-fill the boring stuff. Spell check? Check. Start building your CV here.
When you're done, Zety's CV builder will score your CV and tell you exactly how to make it better.
How to Include Decision-Making Skills in Your CV
We've listed some of the decision-making skills that you should include in your CV. Including them in your CV skills section is important. But for maximum impact you should use these strategies too.
Use Action Verbs to Emphasise Your Decision Making Skills
Using the right language will help to communicate your decision-making abilities to the hiring manager. Decided is an obvious one but you can also use determined, resolved, selected and executed. Here are two examples of how this might work, taken from a CV summary and an extract of a work experience section.
Decision Making Skills Examples: Action Verbs
Goal-driven sales manager with 10 years of experience in B2B software sales. Executed a switch to targetted Google and Facebook SEM campaigns that resulted in a 15% year on year growth in sales revenue. Spearheaded a bespoke training program that increased sales agent pipelines by an average of 15%. Looking to achieve similar results as senior sales manager for Whitewash Technologies.
Work Experience
Sales Manager
Innov8 Tech, London
June 2015—Present
Resolved inefficiencies in email marketing strategy by removing cold prospects from mailing list and researching new leads, achieving a 20% increase in conversion rate.
Show the Results of Your Decision-Making
If the proof of the pudding is in the eating, then the proof of your decision-making skills is in the outcomes you achieve. The best place to show this is in your work experience section. Use the PAR (problem, action, result) formula to structure your achievements to best show off your decision-making skills. Take a look at this example with problem, action and result highlighted.
Decision Making Skills Example: PAR Formula
Identified a

choke point in the approval process

for invoicing.

Assigned approval privileges to two additional managers,

reducing processing time by 60%

.
That makes it crystal clear to the hiring manager. The candidate identified a problem, made a decision to rectify the situation and achieved a significant improvement as a result.
Tailor Your CV
When deciding what to include in your CV always pay careful attention to the requirements of the job you're applying for and tailor your content accordingly. Consider the key responsibilities of the role and use the requirements set out in the job advert as your guide. For example, if you're applying for a sales role then highlight decisions you've made that have helped to increase sales or profits. Show the employer that you can make decisions that will help them meet their business objectives.
Read more: 20+ Expert CV Writing Tips & Advice
How to Improve Decision-Making Skills
If you suffer from indecisiveness, or feel that you make the wrong decisions it can be a big blow to your confidence and ultimately make you less employable. Good decision-making skills have been cited as a critical employability skill in the workplace so it's essential to develop them.
Improving your decision-making skills doesn't have to be difficult though, there are plenty of methods to use. Here are just a few techniques that you can try out.
Carry Out a Cost-Benefit Analysis
This method can help you to make a decision from a number of different choices. You analyse the outcome of each choice and list the positives and negatives that will result. Then a decision can be made based on the choice with the most positives and the least negatives.
Try a SWOT Analysis
SWOT analysis is another useful tool for making decisions. It stands for strengths, weaknesses, opportunities and threats. It's best done as a group, so you can brainstorm outcomes and it works like this when analysing a particular decision.
List the strengths, weaknesses, opportunities and threats.
Highlight connections between weaknesses and threats, and strengths and opportunities.
A better alignment between strengths and opportunities is a green light to proceed. But a strong alignment between weaknesses and threats means it's time to reconsider your approach.
Learn From Experience
Record the outcomes of your decision-making. This will enable you to reflect and learn what factors lead to success. Pay equal attention to positive and negative outcomes. It's important to know both what works and what to avoid.
Take Charge
When making decisions as a group it can be all too easy to fall into analysis paralysis. There are times when it's necessary to use your leadership skills, take charge and make a final decision. Breaking the deadlock can be critical to making decisions in a timely manner.
Look at Your Working Environment
If you're feeling stressed and overworked it's important to look at what can be done to reduce those pressures. Exhaustion and excessive job stress can impair the decision-making process. So reducing those stressors will have a positive impact on your decision-making skills.
Use Data to Inform Decisions
We have access to more data than ever before, which is a huge positive for the decision-making process. Familiarise yourself with the different sources of data available to you in the workplace, get an understanding of how it's gathered and analysed. If you have a handle on how and where to find the information you need then decision making will be a much easier process.
Narrow the Options
Before choosing from a list of options it may be better to pare it back first. There's a school of thought that suggests it's harder to choose from a long list of options, it's also known as the 'paradox of choice'. So if you've got 10 options for example, cut it back to 3 or 4 to improve your final decision making.
Find Support and Advice
As you've already seen, teamwork and communication form an essential part of decision-making skills. Ask for input from people with more experience and expertise. Enlist other team members to help gather data and develop ideas for solutions. Good decision making should be a collaborative process.
Read more: What Makes a Good CV? 11 Things Your CV Needs
Plus, a great cover letter that matches your CV will give you an advantage over other candidates. You can write it in our cover letter builder here. Here's what it may look like: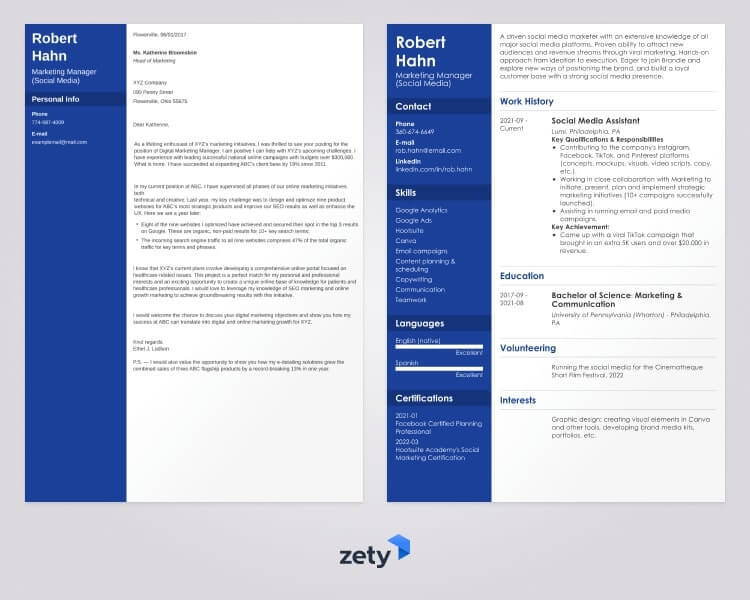 See more cover letter templates and start writing.
Key Takeaway
Decision-making skills are a worthy addition to any CV and highly sought after by employers. Here's a reminder of what you need to know.
Decision-making skills are not a single ability, but a collection of skills used to complete a process. Include some of the examples we've given you to help prove them.
Improving decision-making skills will boost your confidence and employability. Try out the methods you've seen to help hone your abilities.
When you include decision-making skills on your CV use the right language and demonstrate what you've achieved as a result of your decision.
And for the perfect CV, always target your skills to the job you're applying for.
Thanks for reading. If you'd like to know more about decision-making skills on your CV then please let us know in the comments section below.