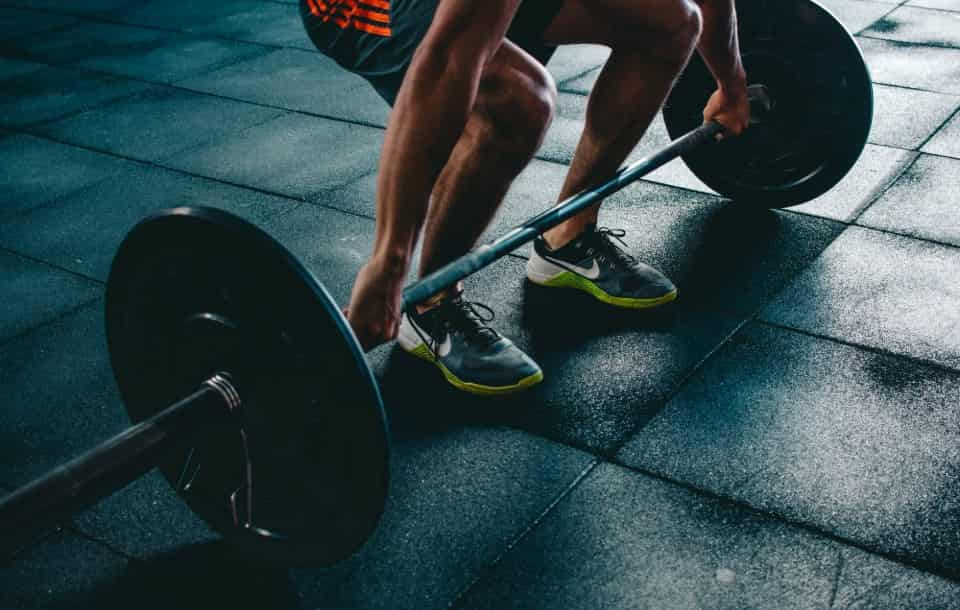 Personal Trainer CV Example (Also With No Experience)
A step by step guide to writing a professional CV for a personal trainer. Use our personal training CV sample and a template.
You're about to see a pitch-perfect personal trainer CV. But first, here's a thought—
You're fit. You're certified. You can crush a walnut in the crook of your elbow. You're a personal trainer and you're ready to work.
Better still, your field has grown by 13% by 2022, and it certainly didn't stop there. You could tattoo your fitness CV on your sculpted left glute and get the job.
Not so fast. Unless you're Ronda Rousey, getting a good personal trainer job takes work. You know, a job with flexible hours and full medical and dental.
For that job, you'll need a CV with the power of Arnold and the grace of Peggy Fleming.
This guide will show you:
A personal trainer CV example better than 9 out of 10 other CVs.
How to write a personal trainer CV that lands more interviews.
Tips and examples of how to put skills and achievements on a personal training CV.
How to describe your experience on a CV for a personal trainer to get any job you want.
Here's a sample CV for a personal trainer made using our CV builder.
Want to save time and have your CV ready in 5 minutes? Try our CV builder. It's fast and easy to use. Plus, you'll get ready-made content to add with one click. See 18 CV templates and create your CV here.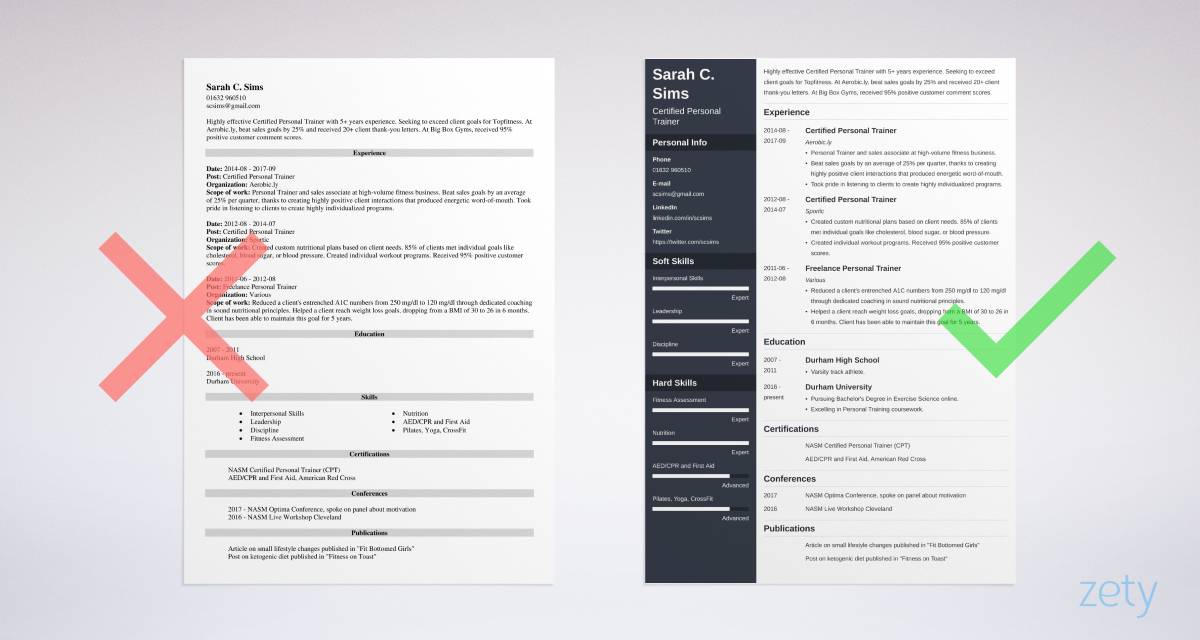 Sample Personal Trainer CV—See more CV examples here.
Looking for other jobs in wellbeing and healthcare too? You might want to have a look at one of our other guides:
Here's how to write a personal trainer CV:
1. Format Your Personal Trainer CV Correctly
Nightmare time.
You've got the skills. You've got the certifications. You're so good you could turn Chief Wiggum into Michael Phelps.
The bad news? The gym owner just zapped your personal trainer CV. Why?
She didn't read it. It was too jumbled, with too many words. It looked like the "before" photo in a weight loss ad.
Don't let this happen to you.
Pick a well-respected CV format like the reverse-chronological layout. It puts your best muscle up front.
Use clear, simple fonts, big headings, and white space to give the eyes some recovery time.
Finally, save it as a PDF. Personal trainer CV PDFs look beautiful on any machine. MS Word CVs can go to fat the minute they get emailed.
Pro Tip: Infrequently, job offers will reject personal training CV PDFs. Check the offer before you send your CV.
Want to test drive other formats for a CV for personal trainers? See our guide: "CV Format: Best Examples for Job Hunting Success"
2. Write a Personal Trainer CV Objective or Summary
Meet the gym owner, Sharon.
She's great to work for. She's got a profit sharing plan, free food for the staff, and even an on-site kindergarten.
One thing she doesn't have? Time to read 300 personal trainer CVs.
How can you stand out and show her your impressive skills?
Get her attention like Kayla Itsines, with a CV summary or a CV objective.
A CV summary is an overview of your personal trainer experience. Use it if you've got weight-rooms-full.
A CV objective works without experience. It highlights drive and focus.
Let's look at those one at a time.
Fitness CV Summary Example
wrong
CPT skilled in sales, assessments, creating exercise programs, motivation, and leadership. Seeking a position as a fitness professional with a high volume business.
That personal trainer CV summary isn't exactly in couch potato land, but it won't win any marathons, either.
But look what happens when we add a few details:
right
Highly effective Certified Personal Trainer with 5+ years experience. Seeking to exceed client goals for Topfitness. At Aerobic.ly, beat sales goals by 25% and received 20+ client thank-you letters. At Sportic, received 95% positive customer comment scores.
Wow, who unleashed Conor McGregor on that CV, right? But all it took was some measurable achievements.
When making a CV in our builder, drag & drop bullet points, skills, and auto-fill the boring stuff. Spell check? Check. Start building your CV here.
When you're done, Zety's CV builder will score your CV and tell you exactly how to make it better.
Is your experience the CV equivalent of a 98-pound weakling? Take heart. The CV objective is here to help.
How to Write a CV Objective for a Personal Trainer With No Experience
The standard advice for those without experience is, "Show 'em your goal." If they know you want to be a personal trainer, they may hire you based on passion alone.
"May" doesn't sign paychecks.
Which one of these two candidates would you rather hire?
Personal Trainer CV Objective Example
wrong
Passionate Certified Personal Trainer and fitness professional seeking a position with Topfitness. Skilled in helping clients reach exercise goals. No job experience yet but very enthusiastic and friendly.
That's not awful, but it'll ultimately hit the wall like a marathon runner who forgot to carb-load.
Now check out the second of our entry-level personal trainer CV samples:
right
Enthusiastic entry-level personal trainer with freelance experience helping clients reach tough fitness goals. Helped one client reduce stubborn A1C blood sugar numbers from 250 mg/dl to 120 mg/dl. Helped another create a program to reduce body mass into a healthy range over a 6 month period.
Nice. It's like a six-pack in a sea of beer bellies. The real secret? Both those fitness CV objectives were written by the same applicant.
In one case, she did a little freelance work for a friend and one paid client. In the other, not so much.
Pro Tip: Go short with your personal training CV objective or CV summary. It's just a hook, so save the full story for the body of your CV.
Want more help? See the personal trainer CV template at the top of this post. Also, check out our guide: How to Write a CV Summary: 10+ Professional Examples
3. Describe Your Trainer Experience on a CV
Let's get back to our gym owner, Sharon.
Right next to her copy of Ignite the Fire sit two piles of CVs.
The first pile is full of experience that matches what she's looking for. The second has a sticky note that says, "RECYCLE."
A CV that doesn't fit the job description like Prancercise pants is weak and flabby.
So, read the personal trainer job description first. Highlight all the skills, duties, and qualities.
Then put them in your personal training CV bullet points.
These two NASM personal trainer CV samples are for a job that values sales, creating programs, listening, and client satisfaction.
Personal Trainer Job Description for a CV
right
Certified Personal Trainer
Aerobic.ly
2014 - 2017
Personal Trainer and sales associate at high-volume fitness business.
Performed individual fitness assessments for demanding clients. Received 20+ letters of thanks from satisfied clients after exceeding their fitness goals.
Beat sales goals by an average of 25% per quarter, thanks to creating highly positive client interactions that produced energetic word-of-mouth.
Took pride in listening to clients to create highly individualized programs.
Don't blink, because with an experience section like that, you'll have the job so fast Usain Bolt would miss it.
But look what happens with a more generic personal trainer CV sample:
wrong
Certified Personal Trainer
Aerobic.ly
2014 - 2017
Fitness professional responsible for all personal trainer duties at a high-volume fitness firm.
Performed individual fitness assessments.
Handled daily sales needs.
Created individual client programs.
Worked with clients to meet nutrition goals.
There's no reason not to hire that applicant, except that the other one is so much better.
It's like choosing between Zach Galifianakis and Tom Brady for your local football team. Zach might be fun to hang around with, but Brady will get the job done.
But what if you don't have experience?
How to Write a Personal Trainer CV With No Experience
Is your work history like a Minecraft enthusiast? Would it have trouble picking up a cooked spaghetti noodle?
If so, dig into your past to find experience you didn't know you had.
Still can't find it? Volunteer, or do some freelance work.
Check out these two beginner personal training CV examples.
Entry-Level Personal Trainer CV Sample
wrong
Personal Trainer Experience: No on-the-job experience yet, but I'm a fitness enthusiast and I know how to train people.
Other Experience
That's the Arnold Horshack of experience sections. It sounds odd, and it won't pull its own weight.
This next sample of a CV for a personal trainer gets it done like LeBron.
right
Freelance Personal Trainer
2016 - 2017
Reduced a client's entrenched A1C numbers from 250 mg/dl to 120 mg/dl through dedicated coaching in sound nutritional principles.
Helped a client create an exercise and nutrition program to reduce body mass to within healthy levels in a one-year period.
Created a daily exercise program for a client to give her more energy and help her feel better about her daily life.
That's what we call "well-defined." The gym owner is reaching for the phone.
But how did a fitness trainer newbie get that kind of experience for a personal training CV?
She did a little volunteering and freelance work. The A1C client was her sister. She made the other fitness programs for freelance clients in a couple hours each.
Pro Tip: If you love fitness, chances are you've already done some free personal training for friends and family. Add it to your entry-level fitness CV.
4. Mention Your Education
Education matters for a personal trainer. How you show it on your CV matters even more.
Your education section has to grab the hiring manager. Otherwise it's like having a Concept 2 rower in the basement, hidden behind boxes of old shoes.
Of course you'll list:
School Name and Location.
Years in School.
Degree.
But too many education sections look like this:
Personal Trainers CVs [Education]
wrong
Durham High School
2007 - 2011
Received degree.
Took core curriculum classes.
That's as in-shape as Chunk from The Goonies. But add details that fit the job description, and suddenly you're Dwayne Johnson.
Look at our next personal trainer CV sample.
right
Durham High School
2007 - 2011
Varsity track athlete.
Leader, weekly running club.
Durham University
2016 - Present
Pursuing Bachelor's Degree in Exercise Science online.
Excelling in Personal Training coursework.
Nailed it. With a little thought, your fitness CV can prove you fit the job description like a squat suit.
We're not saying you need a degree in exercise science. The main idea is, pick your bullet points with care.
But if you're going after a degree, list it on your personal training CV. It shows added promise.
Pro Tip: Pick your most impressive achievements for your bullet points. If your GPA was 3.7 or higher, that qualifies, so show it.
Make your personal training CV stand out like Gisele Bündchen at a KFC. See this guide: "CV Education Section: Examples & How to Include It"
5. Put Skills on a CV for a Personal Trainer
Let's look back in on Sharon, the gym owner.
There's her "You can Do It" coffee mug. There's her copy of Strong Curves.
The frown on her face comes from 250 personal trainer CV skills lists as long as her set of multi-colored exercise bands.
She doesn't want a million skills. Nor does she believe them when she sees them.
She just wants the ones she posted in the job offer. Oh, and she wants proof.
How can you provide that?
Highlight all the skills in the job posting.
List the ones she wants.
Then prove them in your personal training CV bullet points.
Like this:
The skills listed in the job description are creating nutritional plans, making workout programs, and client interaction.
So, you'll list those, plus a couple more.
Then you'll nail your bullet points like Steph Curry hitting a 3-pointer.
Fitness Instructor CV Example Skills
right
Created custom nutritional plans based on listening to client needs. 85% of clients met individual goals like cholesterol, blood sugar, or blood pressure.
Created individual workout programs. Received 95% positive customer scores.
See how those tie into the offer like a cable to a stack of weights?
It's so much better than this shapeless personal trainer CV sample:
wrong
Personal Trainer Skills: Interpersonal skills, leadership, creativity, fitness assessment, exercise physiology, record keeping, safety, nutrition, yoga, weights, aerobics, train running, spin classes, race walking, kitchen-sink lifting...
Wow, right? Why don't we just add "blowing up the Death Star" and "vanquishing Lord Voldemort?" The Gym owner just rolled her eyes.
List of Skills to Put on a Personal Trainer CV
Need a running start? Use this personal trainer CV skills list.
Then add to it from job offers online.
Personal Trainer CV Skills
Personal Trainer CV Skills

| | | |
| --- | --- | --- |
| Soft Skills | Hard Skills | Hard Skills |
| Interpersonal Skills | Fitness Assessment | Yoga |
| Creativity | Creating Exercise Programs | Weight Training |
| Leadership | Exercise Physiology | Aerobics Training |
| Discipline | AED/CPR Certification | Spin Classes |
| Empathy | Record Keeping | Trail Running |
| Passion | Safety Techniques | Road Biking |
| Energy | Nutrition | Swim Training |
| Communication | Specific Fitness Trends | Free Weights |
| Self Motivated | CrossFit | Step Classes |
| Listening | Pilates | Zumba |
Follow the plan above, and your personal training CV will make you look like Muhammad Ali with a Fitbit.
Pro Tip: The skills you add to a CV for a personal trainer depend heavily on the type of work you will be doing. You may be able to raise the dead, but if the manager doesn't care about it, leave it off your skills list.
Need to put your skills section on a strength training program? Use the certified personal trainer CV template up top as your guide. Also, see this article: "99+ Key Skills for a CV [Best List of Examples for Every Job]"
6. Add Certifications to Personal Trainer CVs
How important are certifications on a personal training CV?
Only as important as lungs for an aerobic workout. If you don't have at least one, you're not getting off the ground.
There are an embarrassment of choices when it comes to certs. You could go with any of the following:
NASM CPT
NCSA CSCS, CSPS, CPT, TSAC-F
ACSM CPT, GEI, EP
ACE CPT
ISSA CPT, CES, FNC...
And so on.
Your certifications depend heavily on the kind of work you do, and who your clients are. Whichever certs you have, display them proudly on your personal training CV.
Put the one that matters most to the hiring manager right after your name.
Then list it in a special certifications section just beneath your summary, like this:
Certifications
NASM Certified Personal Trainer (CPT)
AED/CPR and First Aid, American Red Cross
You can also put your key cert in your job descriptions. See the personal trainer CV template up top for help with placement.
Pro Tip: CPT and CPR/AED certifications are almost mandatory on a personal training CV. The CPT takes weeks or months. The CPR/AED cert takes just a few hours.
7. Add Other Sections for an Effective CV
True or false:
Your skills and education are the only thing that matter.
That's as wrong as trying to lose weight by eating funnel cake.
A well-rounded employee with passions and interests is worth ten others with the "right experience."
Add "other" sections to your personal training CV to show you're not just another flat stomach.
Personal Trainer CV Sample "Other" Sections
right
Additional Activities
Teach Yoga classes once per week at local studio.
Finished the Boston Marathon 2015.
Publications
Article on small lifestyle changes published in "Fit Bottomed Girls"
Post on ketogenic diet published in "Fitness on Toast"
Conferences
2017 NASM Optima Conference, spoke on panel about motivation.
2016 NASM Live Workshop Cleveland.
That's great, right? Like Cassey Ho in disguise.
Don't ever do it like this wrong-headed personal training CV sample:
Fitness Instructor CV Sample "Other" Sections
wrong
Activities
Good times with friends.
Road tripping.
Ouch. Who wants Peter Griffin training them?
Pro Tip: Do you find yourself listing a bunch of skills you don't have, just to fit in? If so, try a job offer that fits your skills better. You'll be happier when you get it.
Need more suggestions to give some extra protein to your professional personal trainer CV? See this guide: "Best Hobbies and Interests to Put on a CV"
8. Write a Personal Trainer Cover Letter
"Nobody will read your personal trainer cover letter."
That's the worst excuse since, "the cat ate my gym suit."
About 40% of hiring managers still consider cover letters mandatory. So, get off the couch and write one.
Make it personal by calling the manager by name.
Make it passionate by mentioning a fact or two you like about the company.
Show how you can help with a glimpse of your achievements that fits the company's big challenges.
Dear Miriam,
It's been my dream to work at Topfitness for years. Your company's philosophy of listening to the client first makes all the difference in the world. I think my proven listening skills and 95% positive client review scores will help make me a valuable member of your team.
That's it! End with a call to action. That can be as simple as, "I'd love the opportunity to talk more with you about your goals."
Plus, a great cover letter that matches your CV will give you an advantage over other candidates. You can write it in our cover letter builder here. Here's what it may look like: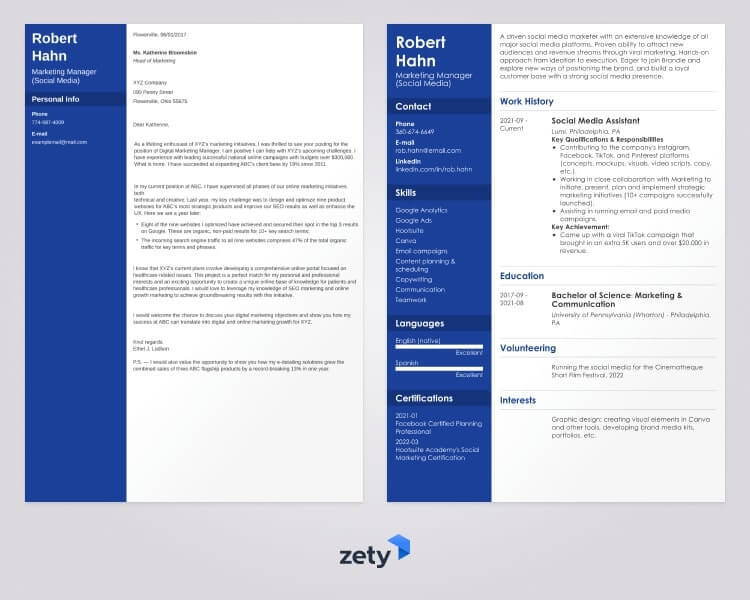 See more cover letter templates and start writing.
Pro Tip: Don't be afraid to follow up. A personal trainer cover letter without a nudge a week later can slip from the manager's memory.
To write a solid cover letter for your fitness trainer CV, see this guide: "How to Write a Cover Letter: A Complete Guide"
9. Add Contact Info to Your CV
Contact info's not as easy as you think.
Of course you'll add:
Full Name
Updated Phone Number
Professional Email Address
Like this:
Sarah C. Sims, scsims@gmail.com, 01632 960510
"Professional" means no SuperBobTheBeerDrinkingFool997823@yahoo.com. Nobody wants him toning up their abs.
Don't add your snail mail address unless the hiring manager asked for it.
Do add your LinkedIn profile. That'll let the manager see this fledgling Jillian Michaels in her natural element.
Pro Tip: Don't let an electronic skeleton in your digital closet cheat you out of your dream job. See our guide to cleaning up your online presence here.
Key Takeaway
Even with personal trainer CV templates to work from, making your own can be a pain. Here's how to do it step by step:
Start with the job offer. Highlight all the skills and responsibilities you see. Then prove you've got them in your personal training CV.
Put a carefully crafted personal trainer CV summary or objective at the top.
In the experience and education sections of your CV, add bullet points that fit the personal trainer job description like a spray-on tan.
Add "other" sections that show depth and passion. That way your fitness CV is more than just a sheet of paper.
Do you have questions on how to write a great CV for a personal trainer? Not sure how to describe your skills or achievements? Give us a shout in the comments! We love to help!
About Zety's Editorial Process
Our editorial team has thoroughly reviewed this article to ensure it follows Zety's editorial guidelines. Our dedication lies in sharing our expertise and providing you with actionable career advice that offers you real value. Every year, the quality of our content attracts 40 million readers to our site. But that's not all – we conduct original research to gain a detailed understanding of the labour market. We take pride in being cited by top universities and leading media outlets in the UK and worldwide.