PhD CV Example for Industry & Non-Academic Jobs
Writing a dissertation is hard. The annoying thing is that it turns out that finding a job in industry isn't any easier. A PhD CV for industry goes against everything you've learned so far. More is no longer more. More is now too much. Industry has less time and less patience. You have seconds to impress. Seconds.
So how do you switch to the less is more mentality without losing anything valuable? How do you compete with candidates who already know the game? Rest easy. We've got the perfect summary of what it takes to go from 'ignore' to 'interview' in less time than it takes you to find a parking spot on campus.
Want to save time and have your CV ready in 5 minutes? Try our CV builder. It's fast and easy to use. Plus, you'll get ready-made content to add with one click. See 20+ CV templates and create your CV here.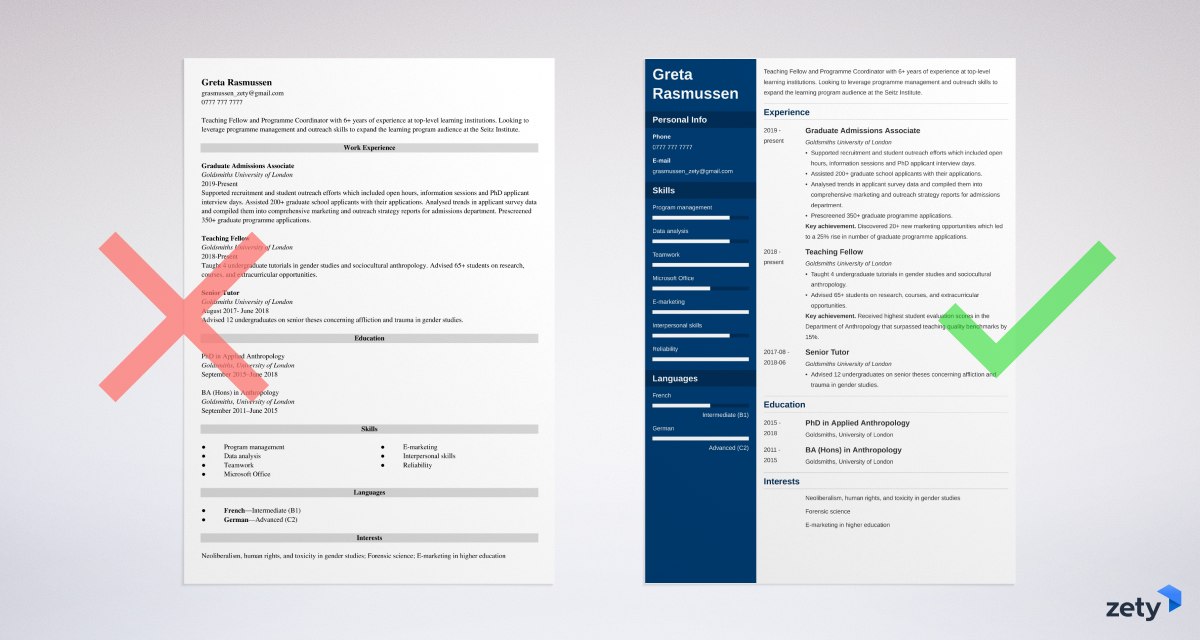 PhD CV made with our builder—See more CV examples here.
And be sure to check out our other academic and industry guides:
PhD Industry CV Example
Greta Rasmussen
grasmussen_zety@gmail.com
0777 777 7777
Teaching Fellow and Programme Coordinator with 6+ years of experience at top-level learning institutions. Looking to leverage programme management and outreach skills to expand the learning program audience at the Seitz Institute.
Work Experience
Graduate Admissions Associate
Goldsmiths University of London
2019-Present
Supported recruitment and student outreach efforts which included open hours, information sessions and PhD applicant interview days.
Assisted 200+ graduate school applicants with their applications.
Analysed trends in applicant survey data and compiled them into comprehensive marketing and outreach strategy reports for admissions department.
Prescreened 350+ graduate programme applications.
Key achievement. Discovered 20+ new marketing opportunities which led to a 25% rise in number of graduate programme applications.
Teaching Fellow
Goldsmiths University of London
2018-Present
Taught 4 undergraduate tutorials in gender studies and sociocultural anthropology.
Advised 65+ students on research, courses, and extracurricular opportunities.
Key achievement. Received highest student evaluation scores in the Department of Anthropology that surpassed teaching quality benchmarks by 15%.
Senior Tutor
Goldsmiths University of London
August 2017- June 2018
Advised 12 undergraduates on senior theses concerning affliction and trauma in gender studies.
Education
PhD in Applied Anthropology
Goldsmiths, University of London
September 2015–June 2018
BA (Hons) in Anthropology
Goldsmiths, University of London
September 2011–June 2015
Skills
Program management
Data analysis
Teamwork
Microsoft Office
E-marketing
Interpersonal skills
Reliability
Languages
French—Intermediate (B1)
German—Advanced (C2)
Interests
Neoliberalism, human rights, and toxicity in gender studies
Forensic science
E-marketing in higher education
Here's how to write a PhD CV that will light up the room with alacrity, eloquence, and candor:
1. Choose the Best Format for Your PhD CV
A PhD CV is what you'll want to use for any job that's not research oriented or academic. It focuses primarily on your professional experience and skills which is important in cases where the position won't need a PhD and the hiring manager won't be able to appreciate your contributions to academia.
This landscape is different from what you've known so far. The business world doesn't have time for lengthy explanations and debates. It wants results— now.
You're going to have to modify your CV to make it suit private sector needs better.
Intrigue the hiring manager using the following CV formatting guidelines:
At this point you might also be wondering how long your CV should be. If you have a few years of experience outside of academia, go for two pages. Otherwise, a one-page CV template should do the trick.
2. Write a PhD CV Profile
Introduce yourself through your CV profile, or CV summary. It's a short and sweet paragraph at the top of your PhD industry CV that explains why you're the person for the job. Think of it as an attention-grabbing thesis title.
The best way to do that is to answer these three questions:
Who are you?
What can you offer to the employer?
What are your career goals?
Then you answer those questions like this:
Make a list of your professional strengths. Consider all of the experience and skills you have that are relevant to the job and industry you're applying for.
Then refer to the job advert and match 3–4 points from your personal list to the skills and experience required.
Use these points to write a CV summary perfectly tailored to the role that you're targetting.
And make sure you combine this existing experience and skill set with passion for the role, and some knowledge of the employer to prove you'll be a good fit.
3. Create the Perfect PhD CV Work Experience Section
You know what your greatest challenge is now? Your CV work experience section needs to show your pragmatic side. You see, the hiring manager realizes that you know your stuff. Make them realize that you can also get the job done:
List your most current position and then just go back in time with previous positions.
Make sure each entry includes: job titles, company name, dates of employment, and no more than 6 bullet points.
Limit the number of bullet points as you go back in time with your experience. Have up to 3 for positions far in the past.
Start each bullet point with an action verb.
Focus on quantifiable achievements and not just a dull list of duties.
Tailor your professional experience section to match the position you're trying for.
Suppress your academic instincts, this isn't another dissertation—there's no room for irrelevant info here.
4. Make Your PhD Education Section Shine
Now this is the section where you'll probably feel strongest, and it's no wonder, you're a real brain!
Here's how to nail your education section:
If you have several years of job experience opt for only listing the following: university name and location, years you studied.
Have limited experience? Sprinkle your education CV section with achievements from your academia days. Make sure to keep them relevant to the job description and list no more than 4-6 items.
Again, don't think plethora, think pellucid. You probably want to take this opportunity to list all your certifications on your CV, but leave it for a separate section to keep things clear and easy to read.
5. Highlight Your PhD Skills
This is where you get to do something that you don't do often in academia—you highlight your skills:
Create a master list of all the job skills you have— this means soft skills and hard skills, technical skills, and any other relevant skills you've got on your bookshelf.
Pick the PhD skills that are most relevant by using the job ad as a guide. Include them in your PhD CV for industry. Get extra brownie points if you can mention skills that your education and experience sections can prove.
PhD CV Skills
Ethics & Integrity
Microsoft Office skills
Interpersonal skills
Writing
Organizational skills
Problem-solving
Time management
Communication skills
Critical thinking
Analytical thinking
When making a CV in our builder, drag & drop bullet points, skills, and auto-fill the boring stuff. Spell check? Check. Start building your CV here.
When you're done, Zety's CV builder will score your CV and tell you exactly how to make it better.
6. Add Extra Sections to Your PhD CV
Having a PhD doesn't mean that you've got it made. It actually sometimes even makes finding a job a lot harder. Extra sections on PhD CVs give you a chance to highlight some extras that you have and others probably don't. So go ahead and extol.
Include language skills. As an academic, your language skills are probably quite good to begin with and that puts you in the lead in that department.
Include volunteering,achievements and awards, and projects that are relevant. Bonus points if they also prove you do other things outside academia.
List publications here if you have any that might give you an advantage in the running for the open role.
Add hobbies and interests if they're relevant. There are tons of skills and knowledge needed in the private sector; you never know what might end up playing in your favour.
7. Attach a PhD CV Cover Letter
If you're wondering if you should include a cover letter, then let's make it super clear—yes, you do.
Write the best PhD cover letter this side of Oxbridge with the following tips:
Keep it neat, concise, and no obsequiousness. The ideal length of an effective cover letter is 1 page. Anything longer is just gratuitous.
Read more: How to Write a Cover Letter
And once you have all that sent, remember to follow up on your job application! Things just don't fall into your lap in academia, the same thing goes for looking for jobs in private industry.
That's what a successful PhD CV looks like in a nutshell.
Plus, a great cover letter that matches your CV will give you an advantage over other candidates. You can write it in our cover letter builder here. Here's what it may look like: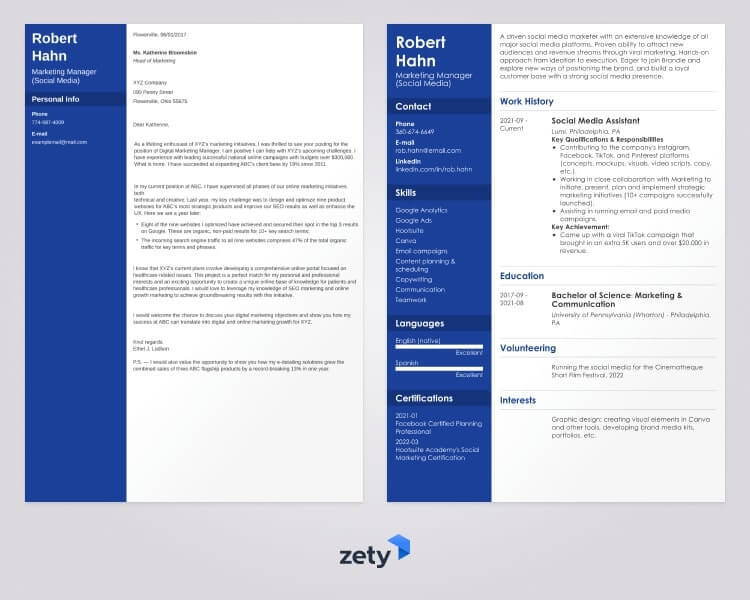 See more cover letter templates and start writing.
Thanks for reading. Have any insider tips or tricks to share about creating the perfect PhD CV? Share them in the comments below!
About Zety's Editorial Process
Our editorial team has thoroughly reviewed this article to ensure it follows Zety's editorial guidelines. Our dedication lies in sharing our expertise and providing you with actionable career advice that offers you real value. Every year, the quality of our content attracts 40 million readers to our site. But that's not all – we conduct original research to gain a detailed understanding of the labour market. We take pride in being cited by top universities and leading media outlets in the UK and worldwide.