How To Write a Motivation Letter? Guide + Examples 2023
What is a motivation letter and how do you go about writing one? Find out with our step-by-step writing guide and take your job search to the next level.
When faced with the request of sending a motivation letter, many of us break out into a cold sweat. After all, what is a motivational letter, and how are you supposed to write it? Luckily, you've come to just the right place to get the answers you need.
This guide will show you exactly what a motivation letter for a job is and give you a motivation letter example that'll help make writing yours a breeze.
Want to write your cover letter fast? Use our cover letter builder. Choose from 20+ professional cover letter templates that match your CV. See actionable examples and get expert tips along the way.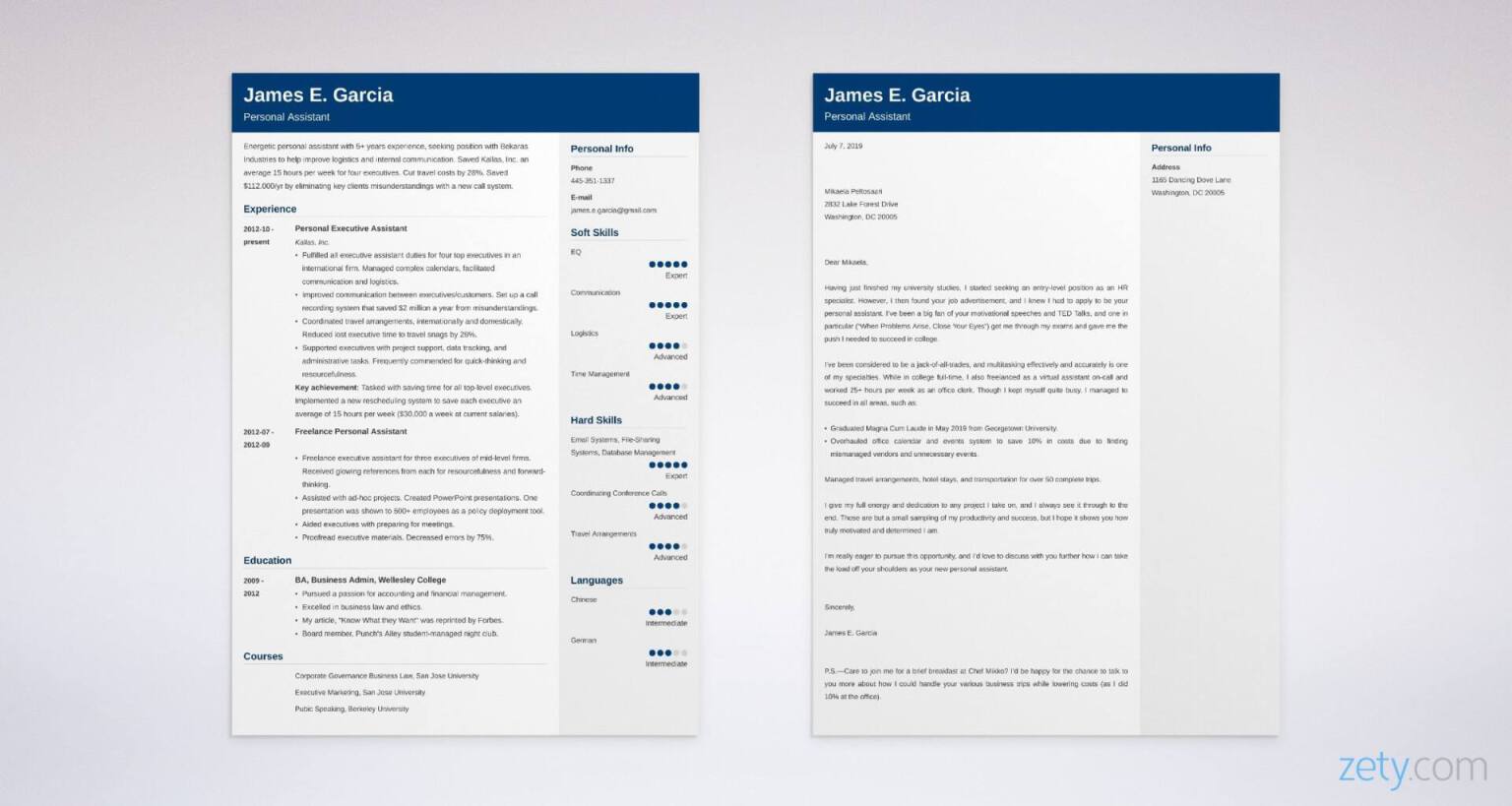 Sample Cover Letter for a CV—See more cover letter templates and create your cover letter here.
Motivation letters serve much the same purpose as cover letters. So if you need a letter of motivation for a specific situation, give these guides a try:
Here are some other guides you will find useful:
Now let's get motivated!
Letter of Motivation Sample
Rachel Leveson
26 Newmarket Road
Harlesden
NW10 3JG
rleveson_zety@gmail.com
linkedin.com/in/rleveson_zety
0777 777 7777
5th June 2020
Mark Somerville
Head of Facilities
Greylink Systems
21–25 Newbold Lane
London
SW1A 1CD
Dear Mr Somerville,
As an admirer of Greylinks consistent reputation as a top 10 Sunday Times best companies to work for, I was excited to see you have an opening for the role of office manager. I am certain that my 12+ years of experience and cost-effective approach could be a valuable asset to the business.
I can see that Greylinks is now focussing on green solutions for its business with an aim to minimise its carbon footprint. In my current role at Woodsterns I have made a significant contribution to finding green solutions. Through simple steps such as replacing paper towels with energy-efficient hand dryers I have saved approximately £10,000 annually and significantly reduced the amount of waste produced. My experience also includes renegotiating utilities and office supplies contracts with green and socially responsible providers, an initiative that I'd love to bring to Greylinks.
As a believer in empowering teams, I have also offered comprehensive training and development opportunities to Woodstern's team of office assistants. This resulted in an average 20% increase in annual and quarterly review scores. It also reduced staff turnover by 50%, creating a £5,000 annual saving in recruitment costs. I would be honoured to be able to help achieve such successes with Greylinks for the forthcoming expansion of its team.
Thank you kindly for taking the time to consider my application. Please do get in touch at your convenience, so we can discuss further the contributions I would like to make to your team and develop my skills at such a reputable company.
Yours sincerely,
Rachel Leveson
You've just seen a job-winning motivational letter. Next, you'll learn to write one yourself. But don't forget—
Even the very best motivation letter sample needs a great CV to accompany it. Here's our comprehensive guide to creating one: How to Write a CV: Professional UK Examples
1. What is a Motivation Letter?
A motivation letter, or motivational letter, is a letter of introduction that you send with your CV when applying for a job. It supports your CV by adding more details about your professional skills, accomplishments and ambitions.
So the purpose of your motivation letter is to provide further information proving that you're the best candidate for the job.
2. How to Write a Motivation Letter
Writing a motivation letter is similar to writing a cover letter for a job. In fact, some people use these names interchangeably. Here's how to nail your motivational cover letter:
1. Start with an Effective Motivation Letter Format
Your letter of motivation is a formal business document and should be treated as such. Here are the formatting rules you need to follow.
Address your letter of motivation as you'd address a cover letter. Your contact details go first followed by the date, making sure both are right-aligned. Then switch to left-alignment and put the addressee's contact details.
Ensure your line spacing is set at single or 1.15.
Choose a good font. The best fonts for a CV are also the best choice for a motivational letter. Stick with classics like Cambria, Calibri and Arial and you won't go wrong.
And before you start, bear in mind how long should a motivation letter be. It's exactly the same as how long a cover letter should be. No more than one page.
For more detail read about cover letter format. It's the same format that you need for a motivational letter.
2. Open Up Your Motivational Letter With a Personal Greeting and a Convincing First Paragraph
Now for the fun part, writing the body of your motivation letter. Make sure you get off to a strong start by following these tips.
Start with a formal greeting using 'Dear' and the hiring manager's name. It's really important to personalise your greeting because it has a powerful effect on the hiring manager's brain, making them pay more attention to your motivational letter.
In the first paragraph mention the role you're applying for by name. It shows you've taken the time to tailor your motivational letter for the job and makes your intent clear to the recruiter.
Then use a 'hook' to grab the recruiter's attention. Mention a standout professional accomplishment that shows you're a great candidate.
To find out more read about how to start a cover letter. You can use the same strategies for your motivation letter.
3. Add More Proof to Your Motivation Letter Sample That You're the Perfect Candidate
Your second paragraph needs to build on the foundations of the first. Use it to add even more evidence that you'll be a perfect prospective employee.
Before you write this paragraph check the job advert and read the job description. It's a wishlist of all the skills and experience the hiring manager wants in their new employee.
Demonstrate that your own abilities match up to the manager's wishlist. Do this by mentioning professional achievements that are quantified with numbers.
For even more impact, structure your achievements as accomplishment statements. It works because it doesn't just explain what you did, but proves how well you did it.
Discover more tips for your motivation letter in our list of 14 cover letter tips.
4. Show How Committed You Are to the Job on Your Motivation Letter Example
In the third paragraph, you should show your passion for the job you're applying for. Show why you've chosen this job with this company. And here's how you do just that.
Show energy and enthusiasm for the employer. Do some research on the company. Look for positive aspects of working for them and use those points to emphasise why you want to be their next new employee.
At the same time, research what challenges or opportunities the company is facing. Then show what you can contribute to solve those challenges or maximise those opportunities.
This way you prove you're going to be a committed employee who'll make a positive contribution.
5. Finish Your Motivational Letter With a Thank You and a Call to Action
Your last paragraph is your grand finale. Get it right and you'll go straight into the recruiter's 'yes' pile. So here's what you need to do.
Include a CTA. That's a call to action, where you ask the hiring manager to contact you so can discuss the opportunity in more detail. In other words, asking for an interview increases your chances of getting one.
Say thank you too. Apart from being good manners, it's also a useful psychological hack to increase your chances of success. Showing gratitude is proven to motivate people.
And end on a high note by adding a final professional accomplishment or discussing your career goals.
Plus one thing you don't need to include is the phrase 'please find attached my CV'. It's a bit redundant and there are better ways to say it.
Discover more ideas for ending your letter of motivation with our guide on how to end a cover letter.
6. Use the Right Sign-Off to Your Motivational Letter
Once again, it's all about making sure you follow standard UK business letter formatting. Here's how to add the finishing touches.
Sign off your letter of motivation using your full name.
Write 'Yours sincerely' if your motivational letter was addressed to a named person and 'Yours faithfully' if it wasn't, i.e. if you started off with 'Dear Hiring Manager'.
Throw in a professional element with a digital copy of your handwritten signature.
And if you're sending a motivation letter as the body of an email, your contact details should be part of your email signature.
If you'd like more detail about writing a letter of motivation take a look at our complete guide on how to write a cover letter.
And one final thought. A perfectly presented motivational letter is a great help to your job hunt but it still needs a great CV to accompany it.
When making a CV in our builder, drag & drop bullet points, skills, and auto-fill the boring stuff. Spell check? Check. Start building your CV here.
When you're done, Zety's CV builder will score your CV and tell you exactly how to make it better.
Thanks so much for reading. I hope you found our motivation letter template useful. If there's anything else you'd like to know about how to write a letter of motivation then please let me know in the comments section. I look forward to hearing from you.
About Zety's Editorial Process
Our editorial team has thoroughly reviewed this article to ensure it follows Zety's editorial guidelines. Our dedication lies in sharing our expertise and providing you with actionable career advice that offers you real value. Every year, the quality of our content attracts 40 million readers to our site. But that's not all – we conduct original research to gain a detailed understanding of the labour market. We take pride in being cited by top universities and leading media outlets in the UK and worldwide.
Sources