School Principal Resume Example & Writing Guide
You need to show you've got the chops to run the school effectively. Proving it to the board is an entirely different beast, and for that, you need a perfect principal resume.
Rewind back to your school years. Picture your dream school. What comes to mind? Kind, welcoming, inspiring teachers, a well-organized lunch hall, and lots of room for students to express themselves. Or something along those lines.
If you think you've got what it takes to run a school just like that, your principal resume needs to shout it from the rooftops.
Not sure how? No problem! You're about to learn the whole song and dance.
This guide will show you:

A principal resume example better than 9 out of 10 other resumes.
How to write a school principal resume that will land you more interviews.
Tips and examples of how to put skills and achievements on a principal resume.
How to describe your experience on a resume for a principal to get any job you want.
Want to save time and have your resume ready in 5 minutes? Try our resume builder. It's fast and easy to use. Plus, you'll get ready-made content to add with one click. See 20+ resume templates and create your resume here.
Sample resume made with our builder—See more resume examples here.
Also, check out these relevant guides:
Principal Resume Example
Paul Smith
High School Principal
(523) 664-1579
paulsmith@zetymail.com
linkedin.com/in/12paul.smith
Summary of Qualifications
Motivated and reliable high school principal with 11+ years of experience leading and organizing the school's big picture approach. Revised Buona Palma High's curriculum in collaboration with board to decrease dropout rate by 21% while maintaining same share of graduates. Seeking to lead Adam Smith High School to reinforce positive values in students and lead by example.
Work Experience
Principal
Buona Palma High School, Little Rock, AR
August 2012–July 2017
Implemented School Board policies and procedures, completely overhauling curriculum and learning standards and lowering dropout rate by 21%.
Promoted high standard of conduct among students, leading to a 45% decrease in reports of bullying to the school counselor.
Evaluated performance of 50+ teaching staff several times a year.
Served on 4 various regional, local, and federal committees.
Vice Principal
Gates Elementary School, Providence, RI
August 2008–July 2012
Provided administrative financial and instructional leadership to children in K-5 education, including those with special needs.
Assisted in ensuring physical and emotional wellbeing of students and staff.
Paid special attention to attendance and absenteeism, reducing such occurrences by 15%.
Education
Master's Degree in Education Leadership
George Mason University, Fairfax, VA
1998–2000
Key Skills
Staff Recruitment & Supervision
Planning & Adjusting Curriculum
Fair Judgment
Leadership
Education Law
Incorporating Diversity, Equity & Inclusion
Certifications
Arkansas State School Leader Licensure, 2012
National Council for Accreditation of Teacher Education (NCATE), 2000
Achievements
Spoke at conference of the International Society for Technology in Education (ISTE) on the challenges of integrating technology in schools
Voted as Pulaski County's Most Engaged Regional Principal in 2015
Teacher Education Accreditation Council – Member since 2010
This is how to write a resume as a principal:
1. Format Your Principal Resume Template
As a principal, your task is to oversee both the daily school operations and the big picture elements such as curriculum, staffing, budgeting, and compliance with the law. Your principal resume needs to stand out among others to show that you run a tight ship.
And, just like a ship, your resume needs to be properly structured.
Here's a quick rundown of what your USS Education should look like:
As you plan out your application, decide on the right length for your resume. Most candidates should opt for one-page resumes, but if you have 15+ years of experience and can provide a long list of relevant achievements, consider going for two pages.
Read more: Expert Guide to Resume Formats
2. Write a Principal Resume Profile
The introductory statement at the top of your resume is also referred to as the resume profile.
It comes in two different types: a resume summary and a resume objective.
Compose a resume summary if you've previously held the position of principal in a different school. Focus on condensing your skills and experience to a tight highlight reel of the best wins, backed by numbers, to show your merit.
Otherwise, with no prior experience, go for a resume objective. Talk about your motivation and how you will use the transferable skills you have as a springboard to achieve success in the role of principal.
Pro tip: Save this part for last. Even though it comes at the top, it's usually better to take care of it towards the end to avoid writer's block.
3. Describe Your Work Experience on Your School Principal Resume
Every year, between 20 and 25% of principals either change jobs or retire.
That means you're likely not going to be searching too long to find employment.
However—
Your school principal resume's work experience section needs to show you're a shining beacon of excellence:
With reverse chronology in mind, mention your last job first, and keep going back in time.
Mention the position title, company name, dates worked, and a few bullet points detailing accomplishments and duties.
Focus on action verbs to prove your agency in the achievements.
By that same token, including numbers always adds more credibility to your statements.
Lastly, tailor the resume to the school's needs. Consult the job ad and do some research about the school to see what kind of principal they're after, and make sure your resume shows you as a person that could clearly satisfy that need.
Read more: How Far Back Should a Resume Go?
4. Outline Your Education on Your Principal Resume
There can be no education-related resume without an education section. Figuring that out isn't exactly rocket science.
But you also have to put in enough effort and care into it to not look like a fool. I mean, imagine failing to provide a perfect resume with a proper education section when applying to become principal.
Downright shocking. Flunked. Instantly dropped out.
To set the record straight, if you've been working in education for more than 5 years, mention just the basics like your highest completed degree, alma mater, and graduation year.
Fill in the gaps if you're still relatively new (or recently changed careers). Add elements such as majors and minors, academic achievements, relevant coursework, scholarships,honors on your diploma, the like.
Read more: How to Make Your Resume Stand Out
When making a resume in our builder, drag & drop bullet points, skills, and auto-fill the boring stuff. Spell check? Check. Start building a professional resume template here for free.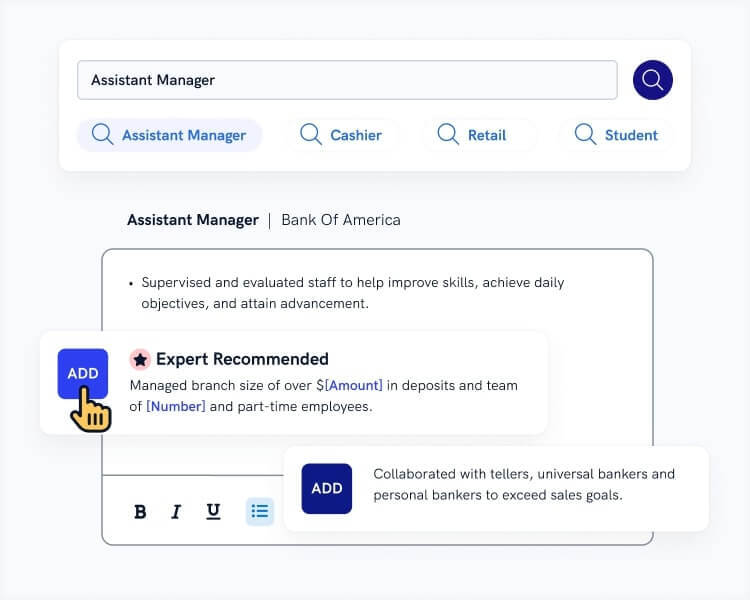 When you're done, our free resume builder will score your resume and our resume checker will tell you exactly how to make it better.
5. Show off the Right Skills on the Principal Resume
Running a school is no easy task. It requires a ton of patience, organization, leadership, and a wide array of other skills. If you're not sure what skills to put on your resume, we've prepared a sample list for you:
Principal Resume Skills
Curriculum Development
Teacher Training & Recruitment
Assessing Teaching Methods
Monitoring Student Achievements
Revising Policies
Knowledge of US Education Law
Encouraging Parent Involvement
Organizing & Coordinating School Events
Promoting the School
Safety Procedures
Facilitating an Open & Welcoming Atmosphere
Positive Attitude
Confidence
Good Judgment
Yet putting all of those is akin to circling "D. All of the above" as the answer on your test—it may feel right, but more often than not, it's a trap put there on purpose.
Here's what to do instead:
Get yourself a master list of all of your professional skills, including the soft skills, hard skills, and technical skills you've mastered.
Compare them with whatever the school included in the job ad. Those resume keywords will be necessary if you want to get by the ATS resume software they are likely using.
Putting any matches you find onto your resume instantly bumps up your score. Focus on those to get noticed right away.
Pro tip: Nowadays, it's not enough to just mention those cherry-picked skills. You also need to weave them in cleverly into the job description to prove you actually have them. Focus in particular on showing your leadership, as it's proven to be a highly-valued skill for a principal.
6. Add Other Sections to Your Principal Resume
By now, you've built up quite a nice resume. But if you want to land your dream job, you're not quite done yet.
Adding extra resume sections helps separate you from the other, not-so-cool principals.
Some good ideas to think about are:
Pro tip: Keep in mind, though, that there are things you generally don't want to reach for when writing your application. Check out our article on what not to put on a resume to save yourself some trouble.
7. Attach a Cover Letter to Your Principal Resume
Do principals need to write a cover letter?
You bet your sweet oak wood desk they do. Your resume alone won't cover all of your bases.
Here are the best cover letter writing tips:
Read more: Modern Cover Letter Templates
Plus, a great cover letter that matches your resume will give you an advantage over other candidates. You can write it in our cover letter builder here. Here's what it may look like: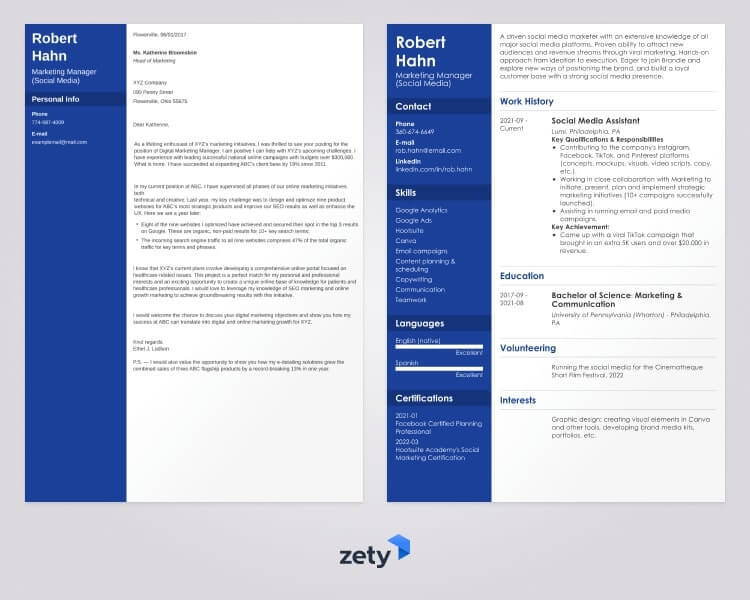 See more cover letter templates and start writing.
That's all there is to it!
Thanks for reading! Do you have any unanswered questions about writing your school principal resume? Got any tips of your own to share? Let us know in the comments section below!
About Zety's Editorial Process
This article has been reviewed by our editorial team to make sure it follows Zety's editorial guidelines. We're committed to sharing our expertise and giving you trustworthy career advice tailored to your needs. High-quality content is what brings over 40 million readers to our site every year. But we don't stop there. Our team conducts original research to understand the job market better, and we pride ourselves on being quoted by top universities and prime media outlets from around the world.