Our customers have been hired by:
Guiding students through the maze of life is your forte, but what about navigating the labyrinth of crafting a school counselor resume? We're here to help you plot the perfect path, highlighting your expertise in student support.
After all, even the world's best counselors sometimes need little guidance.
This guide will show you:
A school counselor resume example better than 9 out of 10 other resumes.
How to write a school counselor resume that will land you more interviews.
Tips and examples of how to put skills and achievements on a school counselor resume.
How to describe your experience on a resume for a school counselor to get any job you want
Want to save time and have your resume ready in 5 minutes? Try our resume builder. It's fast and easy to use. Plus, you'll get ready-made content to add with one click. See 20+ resume templates and create your resume here.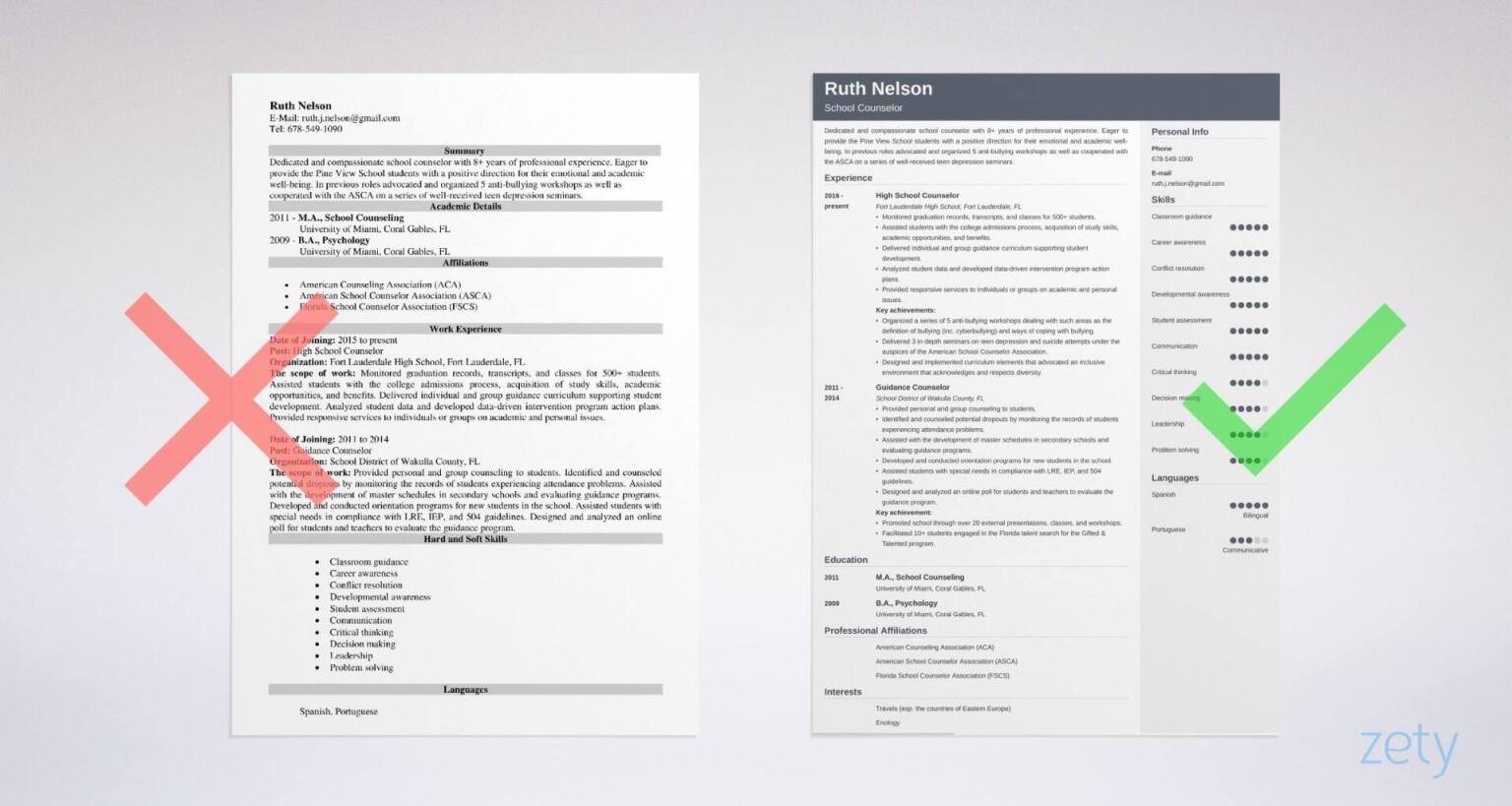 Sample resume made with our builder—See more resume examples here.
Looking for other counseling jobs as well? Check out our guides:
School Counselor Resume Sample
Ruth Nelson
ruth.j.nelson@gmail.com
678-549-1090
Objective
Dedicated and compassionate school counselor with 8+ years of professional experience. Eager to provide the Pine View School students with a positive direction for their emotional and academic well-being. In previous roles advocated and organized 5 anti-bullying workshops as well as cooperated with the ASCA on a series of well-received teen depression seminars.
Work Experience
High School Counselor
Fort Lauderdale High School, Fort Lauderdale, FL
2015–
Monitored graduation records, transcripts, and classes for 500+ students.
Assisted students with the college admissions process, acquisition of study skills, academic opportunities, and benefits.
Delivered individual and group guidance curriculum supporting student development.
Analyzed student data and developed data-driven intervention program action plans.
Provided responsive services to individuals or groups on academic and personal issues.
Key achievements:
Organized a series of 5 anti-bullying workshops dealing with such areas as the definition of bullying (inc. cyberbullying) and ways of coping with bullying.
Delivered 3 in-depth seminars on teen depression and suicide attempts under the auspices of the American School Counselor Association.
Designed and implemented curriculum elements that advocated an inclusive environment that acknowledges and respects diversity.
Guidance Counselor
School District of Wakulla County, FL
2011–2014
Provided personal and group counseling to students.
Identified and counseled potential dropouts by monitoring the records of students experiencing attendance problems.
Assisted with the development of master schedules in secondary schools and evaluating guidance programs.
Developed and conducted orientation programs for new students in the school.
Assisted students with special needs in compliance with LRE, IEP, and 504 guidelines.
Designed and analyzed an online poll for students and teachers to evaluate the guidance program.
Key achievement:
Promoted school through over 20 external presentations, classes, and workshops.
Facilitated 10+ students engaged in the Florida talent search for the Gifted & Talented program.
Education
M.A., School Counseling
University of Miami, Coral Gables, FL
2011
B.A., Psychology
University of Miami, Coral Gables, FL
2009
Key Skills
Classroom guidance
Career awareness
Conflict resolution
Developmental awareness
Student assessment
Communication
Critical thinking
Decision making
Leadership
Problem solving
Professional Affiliations
American Counseling Association (ACA)
American School Counselor Association (ASCA)
Florida School Counselor Association (FSCS)
Languages
Spanish—Bilingual
Portuguese—Communicative
Interests
Travels (esp. the countries of Eastern Europe)
Enology
Here's how to write a school counselor resume worthy of Tami Taylor.
1. Choose the Best Format for Your School Counselor Resume
It's advisable for your school counseling resume to draw the recruiter's attention at first glance.
How?
By following these simple formatting rules:
Resume formatting rules can be broken. But be careful when opting for the hybrid resume format or skills-based resume.
2. Write a School Counselor Resume Objective or Summary
You need to write a great profile in your resume.
It's a short opening paragraph that sums up all your school counseling resume's highlights and serves as an elevator pitch.
There are two options:
A resume summary statement is a great option if your experience spans over 2 years. It focuses on your experience and key achievements.
A job objective is perfect for an entry-level school counselor resume. It puts your transferable skills on display to show the hiring manager what makes you a great candidate.
Your resume profile, in either form, will always benefit if you add some numbers to show your true impact.
Pro Tip: It will be much easier if you write this section once your entire school counseling resume is ready. You'll have no problems picking out the choicest bits.
3. Create the Perfect School Counselor Job Description for a Resume

Here's the thing:
Your job experience must immediately prove to the recruiter—
You'll do the job better than anyone else.
So make sure you tailor your resume to the job posting:
Put your latest position up top.
In each entry, list your business job title, dates, company name, and location.
Don't write full-length paragraphs. Opt for 6-7 bullet points instead.
See to it that each bullet uses action words for resumes, such as assisted, developed, organized, delivered, etc.
Concentrate on the expertise relevant to the position. Leave out everything else.
Pro Tip: Quantify your experience bullet points. You can pick out up to 3 of your key achievements and list them in an accordingly labeled subsection.
4. Make Your School Counselor Resume Education Section Stand Out
Of all people, a guidance counselor knows best the value of proper education.
So, make sure the education section of your resume testifies to it:
If you have over 5 years of professional experience, it's enough to list your school name and location, degree, and graduation year.
If you have under 5 years of experience you may want to get more into details and list your relevant coursework, academic achievements, and GPA (if higher than 3.5).
If you have any relevant certifications and licenses, put them into a dedicated section to make sure they won't go unnoticed.
When making a resume in our builder, drag & drop bullet points, skills, and auto-fill the boring stuff. Spell check? Check. Start building a professional resume template here for free.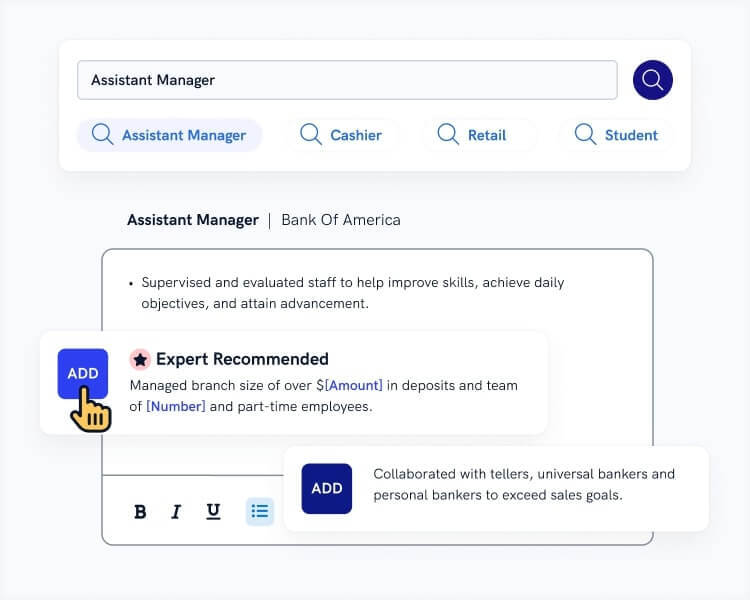 When you're done, our easy resume builder will score your resume and our resume checker will tell you exactly how to make it better.
5. Highlight Your School Counselor Skills
It's your skills that the employer needs.
The list below will help you identify what you'd like to give prominence to on your school counselor resume:
School Counselor Resume—Skills
Conflict resolution
Developmental awareness
Student assessment
Student placement
Scheduling
New student transition
Academic and career counseling
Mental health counseling
Family and teacher consulting
Crisis intervention
Grief management;
Program evaluation
Program development and coordination
Needs assessment
Distance learning
Counseling and administration
Knowledge of local, state, and federal laws and mandated reporting
Charter school environment
Student guidance
MS Office
Web proficiency
Counseling procedures,
Student appraisal
Career development
It's important to focus on the skills relevant to the job. Don't add things just to fill up space.
Here's how to identify what skills to put on a school counselor resume:
Make a comprehensive list of all your skills for a resume (include your soft skills and hard skills, as well as technical strengths).
Revisit the job advert to see what skills the employer is looking for.
Find these skills on your list and focus on them on your school counselor resume.
Pick up to 10 of your strongest skills and put them in your resume's key skills section.
Put your skills in a couple of different places on your resume, for example in your resume profile and job description.
Pro Tip: Focus on your strongest skills to avoid the so-called presenter's paradox.
6. Add Other Sections to Your School Counselor Resume
Show the recruiter there's more to you.
Consider incorporating additional sections into your school counselor resume:
7. Attach a School Counselor Resume Cover Letter
You bet they are.
About 50% of the recruiters expect them to be sent along with your resume.
With the tips below, you'll make your cover letter in a matter of minutes:
And double-check if your cover letter isn't too long.
Pro Tip: Following up on a job application can get you a long way. Don't fail to do it.
Plus, a great cover letter that matches your resume will give you an advantage over other candidates. You can write it in our cover letter builder here. Here's what it may look like: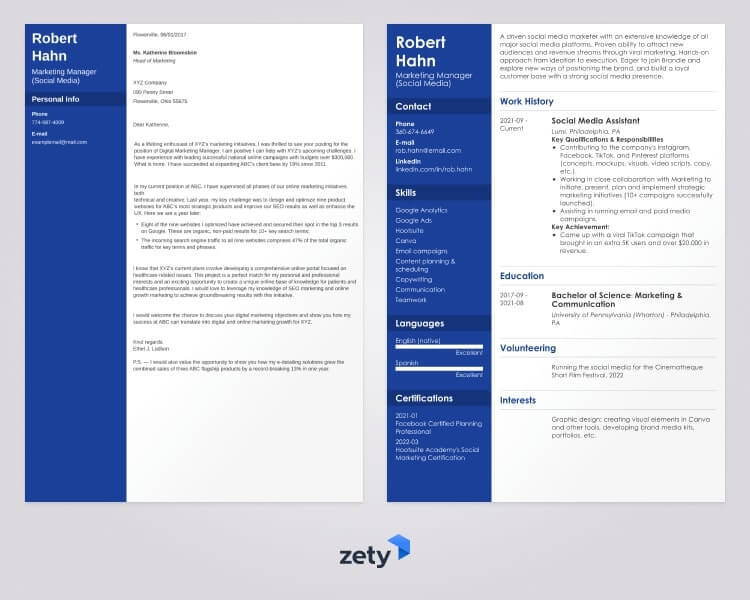 See more cover letter templates and start writing.
Here we go!
This is how you make a job-winning resume for school counselor positions.


Are you writing a school counseling resume for the first time? Or perhaps you're a seasoned pro eager to help the rookies out? We'd love to hear from you, leave your comment below!
About Zety's Editorial Process
This article has been reviewed by our editorial team to make sure it follows Zety's editorial guidelines. We're committed to sharing our expertise and giving you trustworthy career advice tailored to your needs. High-quality content is what brings over 40 million readers to our site every year. But we don't stop there. Our team conducts original research to understand the job market better, and we pride ourselves on being quoted by top universities and prime media outlets from around the world.
Sources