Therapist Resume: Examples, Skills, Template & Guide
Have you been feeling down about your resume recently? Don't worry, it's not all you. Take the first step in remedying your therapist resume ails with our expert advice.
Helping people takes patience, kindness, and empathy.
After all, we're all put on this world together, so why not lend each other a hand, right? And you're an expert at that. But if your resume hasn't been hitting the mark recently, it might be time to get it admitted.
Pull up the proverbial chaise longue, and let's work through this with some good ol' fashioned applied therapist resume analysis.
This guide will show you:

A therapist resume example better than 9 out of 10 other resumes.
How to write a therapist resume that will land you more interviews.
Tips and examples of how to put skills and achievements on a therapist resume.
How to describe your experience on a resume for therapist roles to get any job you want.
Want to save time and have your resume ready in 5 minutes? Try our resume builder. It's fast and easy to use. Plus, you'll get ready-made content to add with one click. See 20+ resume templates and create your resume here.
Sample resume made with our builder—See more resume examples here.
Seeking to improve a resume in a different medical field? We have these articles, just for you:
Therapist Resume Example
Mary L. Walker
Therapist
215-989-6434
maarywalker@zetymail.com
linkedin.com/in/123mary.walker
Resume Summary
Compassionate licensed therapy professional with 6+ years of experience giving group and individual therapy sessions. Maintained a body of up to 18 regular patients who reported major quality-of-life improvements. Scored a 98% positive rating while working at Sunshine Therapy Clinic. Seeking to provide professional, high-quality care to Smith & Johns Clinic's patients.
Work Experience
Therapist
Sunshine Therapy Clinic, Puyallup, WA
May 2019–May 2022
Delivered clinical counseling and case management services to clients ranging from 15 to 82 years of age, following established treatment guidelines.
Attended bi-weekly training for group supervisions to assist Client Care Technicians with each particular patient as needed.
Excelled at fulfilling the vision, approach, and policy of the company; commended 2x by Clinic Director for dutiful adherence to mission of making mental health care available to all.
Utilized excellent written and verbal communication skills to connect with patients, with 98% of them leaving a positive rating, with an emphasis on personal relatability & active listening.
Maintained professional attitude and set clear boundaries for patients to avoid creating conflicts of interest.
School Guidance Counselor
Wake County Schools, Cary, NC
April 2017–April 2019
Assisted disenfranchised students struggling with mental health.
Created, monitored, maintained, and followed up on students' graduation plans.
Actively liaised between school administration, teachers, and parents to develop actions and initiatives to respond to student needs, especially related to family problems and eating disorders.
Education
Master's Degree in Counseling Psychology
Northeastern University, Boston, MA
2015–2017
Bachelor's Degree in Mental Health Counseling
University of Mary Hardin-Baylor, Belton, TX
2011–2015
Skills
Case Management
Compassion
Supportive Personality
Individual & Group Therapy
MS Office
Keeping Documentation
DSS Regulations
Time Management
Certifications
Licensed Mental Health Counselor, 2019
National Certified School Counselor, 2017
Certified Eating Disorder Specialist, International Association Of Eating Disorders Professionals Foundation (IAEDP), 2017
Other Activities
Creator & host of sports psychology podcast with 4,000 monthly listeners.
Publication in the American Journal of Psychiatry: A New Agenda for Optimizing Investments in Community Mental Health and Reducing Disparities.
Now, let's get to showing you how to write an even better therapist resume of your own:
1. Begin by Formatting Your Therapist Resume Template Correctly
Therapists are medical specialists aiming to guide and assist their patients in dealing with depression, anxiety, or any other mental health-related problems. That's why, for a perfect therapist resume, you need to show appropriate skills, like empathy, kindness, and in-depth knowledge of psychology.
And let's be clear here: healing can only begin if you're open and honest with yourself.
So, cards on the table—when is the last time you took a look at the format of your resume?
Chances are, back when you first made it.
You're way overdue for an update. A modern resume can help you get that breakthrough you need.
Here's how to make yours look up to today's standards:
Pro Tip: Don't send a PDF file if the recruitment post specifically states they only accept .doc or .docx. No point trying to outsmart them.
2. Lead with a Therapist Resume Objective or Summary
When a patient walks into your practice for the first time, right away they make a judgment call based on your personality.
Give off the wrong vibes and they won't be showing up again.
A resume profile—or resume introduction—is exactly the same.
Write a resume summary if you've been in the field at least for some time. State your years of experience, and present your biggest wins using positive adjectives, power verbs, and percentages to make a strong first impression.
Write a resume objective if you're just starting out, or are a fresh graduate. Focus on the knowledge and skills you already perfected, and explain how you'd use those to assist any patient that comes through your door.
Read more: How to Describe Yourself on a Resume
3. Describe Your Work Experience as a Therapist
With introductions aside, the next part has to come in guns blazing.
Why? Because a proper work experience section is what will convince the recruiter to hire you for their therapy clinic.
This part applies to all kinds: ABA therapy, cognitive-behavioral, and psychodynamic therapy. Bottom line is, you have to pay attention.
Here's how to write one:
Using reverse chronology, state past jobs by providing your job title, company names, and years worked.
The first listing needs to come with between 4 and 6 bullet points outlining your duties & tasks. Later entries require fewer bullet points.
Utilize action words, state relevant experience only, and add numbers to your accomplishments to stand out more.
Much like your approach to clients seeking therapy, the resume ought to be tailored to the job. Most likely, they will look for certain resume keywords. If you don't have 'em, you'll likely get rejected.
Read more: How to Target the Resume for More Success
When making a resume in our builder, drag & drop bullet points, skills, and auto-fill the boring stuff. Spell check? Check. Start building a professional resume template here for free.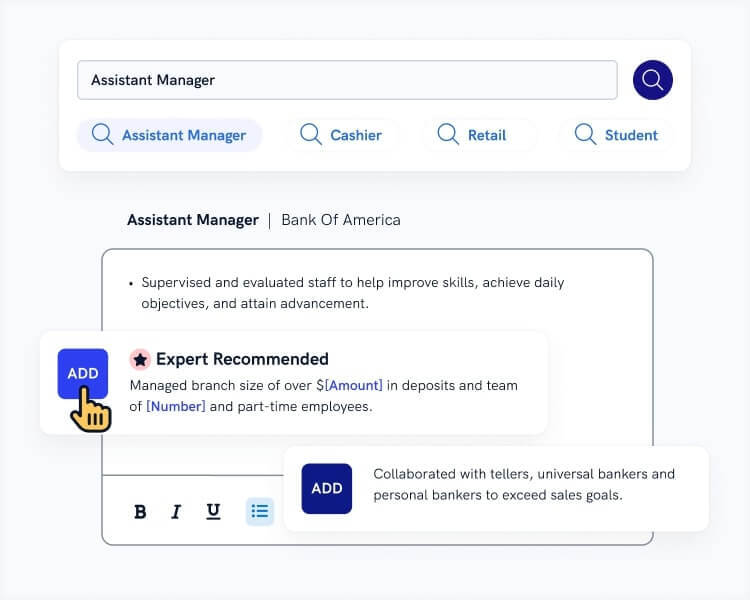 When you're done, Zety's resume builder will score your resume and tell you exactly how to make it better.
4. Improve Your Education Section (It Counts!)
This section is equally crucial as caring for your mental health.
In 2019, almost 20% of American adults experienced mental illness. That's nearly 50 million people! When you consider that everyone wants to be in the hands of a good specialist, and that a practice is only as good as its specialists…
You can start seeing why they wouldn't want to hire someone who only took a 12-week crash course and read a few self-help books.
After all, the degree in psychology or psychiatry you obtained is what actually qualifies you for the role of a therapist.
That's why you need to learn how to present your education properly:
Graduated long ago with more than 5 years of experience? List your highest-completed degree only, the name of the school, and graduation year.
If not, fill in the gaps of this section by including your favoriterelevant coursework, a high GPA,honors on your diploma, and other college wins.
Read more: How to List Your Degree on a Resume
5. Mention the Requisite Therapist Skills
Below is a stellar example of any therapist's skill set:
Therapist Resume Skills
Research
Observation
Setting Boundaries
Identifying Patient Needs & Goals
Assessing Client Condition
Monitoring Progress
Empathy
Diligent Note-taking
Patience & Understanding
Diagnosing
Psychology
Evaluation
Developmental Treatment
Compassion
Ethics
But, if you list all of those on your resume, they'll think you're the one who needs therapy.
A more methodical, thought-out approach is always recommended.
Take some time to create a condensed list of all of yourprofessional skills. Compare them with what the job ad states under "Requirements". You can also search around the company's website to see what qualities they value intrinsically.
Once you've narrowed both of these sets down, any matches you find between them will constitute excellent skills for a therapist's resume.
Read more: How to Put Active Listening Skills on Your Resume
6. Include Bonus Sections on Your Therapist Resume
Extra resume sections can help distinguish yourself from the other candidates.
Don't use them as a crutch, use them as a secret ace up your sleeve.
Are you a licensed, professional counselor? Your certifications and other licenses are worth their weight in gold to the employer and the patients as well.
There are other ideas to consider: conferences & industry events, language skills (if you're certified to give therapy in more than one language), or even hobbies and interests.
Ultimately, your choice has to reflect that you are passionate about the job in and out of your mental health practice.
Pro Tip: If you are qualified to work with younger children and/or kids with disabilities, consider becoming a school counselor. Research shows therapists whose work can be integrated into a classroom greatly benefit the children, giving you a unique opportunity to fill a much-needed niche. Check out our school counselor resume guide for more details.
7. Include a Therapist Cover Letter
Not including a cover letter with your resume is definitely self-destructive behavior.
That's because almost half of all recruiters expect to see one.
So, take action today, and learn how to write an effective cover letter:
Pro tip: Asking about the salary on a cover letter is at best a Freudian slip. At worst? It's cause for instant rejection. Definitely to be avoided!
Plus, a great cover letter that matches your resume will give you an advantage over other candidates. You can write it in our cover letter builder here. Here's what it may look like: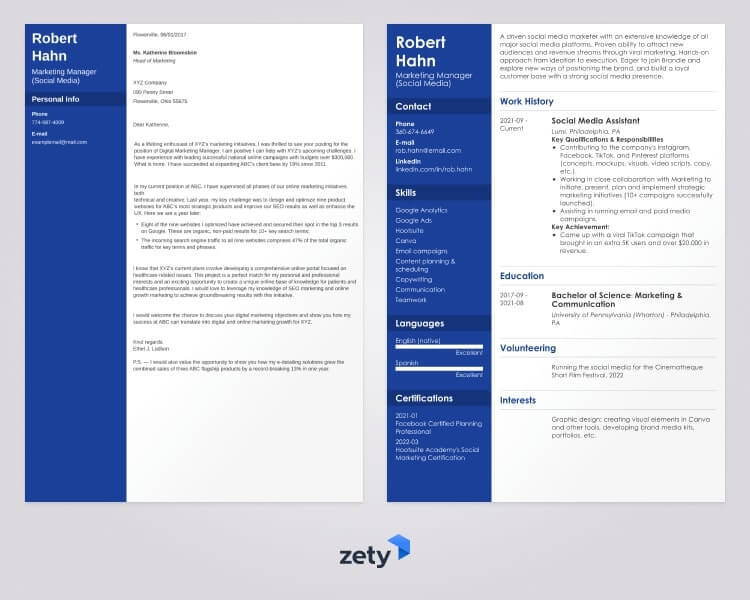 See more cover letter templates and start writing.
Perfect!
A healthy and mindful therapist resume.
Thanks for reading. Are you having some doubt about your own therapist resume? Maybe you're not sure which skills are best for therapists? Let's get the discussion rolling in the comments!
About Zety's Editorial Process
This article has been reviewed by our editorial team to make sure it follows Zety's editorial guidelines. We're committed to sharing our expertise and giving you trustworthy career advice tailored to your needs. High-quality content is what brings over 40 million readers to our site every year. But we don't stop there. Our team conducts original research to understand the job market better, and we pride ourselves on being quoted by top universities and prime media outlets from around the world.