Board Certified Behavior Analyst / BCBA Resume Example
A BCBA's job is tough but noble. You're a dependable expert, families rely on your credentials. Learn how to present yourself right with a super solid and professional BCBA resume.
Your BCBA resume shows your hard-earned credentials. You looked it through, up and down, and still no calls back. At this point, you could take up resume writing as a part-time job.
But it may not be that bleak. A little behavior intervention and a resume assessment, and your BCBA resume should be good as new.
This guide will show you:

A BCBA resume example better than 9 out of 10 other resumes.
How to write a board certified behavior analyst resume that will land you more interviews.
Tips and examples of how to put skills and achievements on a BCBA resume.
How to describe your experience on a resume for a BCBA to get any job you want.
Want to save time and have your resume ready in 5 minutes? Try our resume builder. It's fast and easy to use. Plus, you'll get ready-made content to add with one click. See 20+ resume templates and create your resume here.
Sample resume made with our builder—See more resume examples here.
And if you're seeking to apply your years of experience in another clinical setting, take a look at these:
BCBA Resume Example
Maudie McCormick
Board Certified Behavior Analyst
maudiemccormick@zetymail.com
435-932-2167
Linkedin.com/in/1maudie.mccormick
Resume Summary
Reliable board certified behavior analyst with 4 years of experience tending to patients' behavioral problems. At Billerica Public Schools, worked with dynamic care teams to ensure real-time support for 50+ families. Identified their strengths and weaknesses to develop treatment plans and ensure the child's emotional health and development. Improved average scores during IEP reviews by 25%.
Work Experience
Board Certified Behavior Analyst (BCBA)
Billerica Public Schools, Billerica, MA
June 2019–August 2022
Oversaw the clinical needs for 30+ students per school day.
Completed trainings in positive behavior support, crisis intervention, and other methods of working with disabled individuals.
Partnered with Academic Advisors to address student concerns.
Identified and analyzed student behaviors to enable positive student functioning and improve their reported well-being at school by 33%.
Modeled teaching strategies that built skills in targeted areas, resulting in most overseen students seeing an improvement in overall school results by 20%.
Speech Pathologist
Golden Lime Preschool, Kinsey, MA
January 2018–May 2019
Performed approx. 25 weekly visits with parents and children.
Consulted with physicians and therapists to optimize care for an average of 15 continuous patients.
Developed therapy goals for pediatric patients to improve communication skills.
Education
Master's Degree in Child Psychology
Mississippi University for Women, Columbus, OH
2011–2015
GPA: 3.9
5x Dean's list
Graduated summa cum laude
Key Skills
ABA Therapy
Empathy
Reliability
Communication Skills
Function Analysis
Setting Goals
Creating Actionable Treatment Plans
Certifications
BCBA Certification, 2018
ASHA Certificate of Clinical Competence, 2018
Languages
Spanish: Advanced proficiency
Now, here's how to write a killer BCBA resume:
1. Apply the Right Format to Your BCBA Resume Template
As a BCBA (board certified behavior analyst), you assist those with emotional disabilities who need support to function in society more easily. Empathy and listening skills are crucial here, as is being able to give therapy, make accurate diagnoses, and work with patients on the autism spectrum. All these are musts on a BCBA resume.
But they're not the only thing.
You need to make your resume stand out, so that the recruiter can be sure those in your care are in good hands. Do that with a well-put-together resume layout:
Place an appropriate resume header at the top of your resume.
Use the reverse-chronological resume format. Why? It's the best way of putting your most meaningful achievements and strengths the hiring manager will want to see right away.
A good resume font, like Calibri or Arial, is just as crucial for proper presentation. You're board-certified, after all, so you shouldn't be using Comic Sans or Papyrus.
Use a line spacing of 1 or 1.15.
Keep the resume length down to one page. Write a two-page resume only if you have 15+ years of experience and a long list of noteworthy, relevant accomplishments.
Save your resume file as PDF unless instructed otherwise in the job ad.
Read more: How To Format Your Resume the Right Way
2. Write a BCBA Resume Profile
Simply put, it's an outline of your career.
Before you begin providing BCBA services, you create behavior support plans for your patients, define goals and needs, and assess the best ways to improve their long-term mental health.
Likewise, before you do a resume deep-dive, an introduction is in order first.
Resume summaries are best for behavior analyst resumes when you've worked with patients for more than 2 years. Mention the best achievements and skills from your career that will tempt the recruiter to read on.
Just got your certification and haven't devised much of a treatment plan yet? With a resume objective, you can still make a good impression. Express your ambition and talk about transferable skills from past jobs that will translate well to this one.
Read more: How to Start Your Resume: Full Guide
3. Add a Convincing Experience Section to Your Resume
It's not enough to list your duties and tasks in your resume's work experience section.
To impress the recruiter, you will need to do much more, bring specifics to the table, and dress them up to really stand out as the #1 therapist they need.
Pro tip: The BCBA's very own task list can be an excellent resource to cross-reference your experience section.
4. Put Effort into Creating the Best Education Section on a BCBA Resume
Though your work experience will play a larger role, it's still essential to make it clear to recruiters that you have the right academic background for your position. That's why you should always list your education on your resume.
First, you'll want to take care of the basics. For your highest level of schooling, list the degree, the name of the awarding institution, and your years of attendance. If you have a few years of work experience already, you can safely leave it at that.
Not yet experienced in applied behavior analysis? Proceed to list more school achievements to win over the recruiter. Some ideas include relevant coursework, honors on your diploma, or extracurricular activities.
Read more: How to List Your Degree on a Resume the Right Way
When making a resume in our builder, drag & drop bullet points, skills, and auto-fill the boring stuff. Spell check? Check. Start building a professional resume template here for free.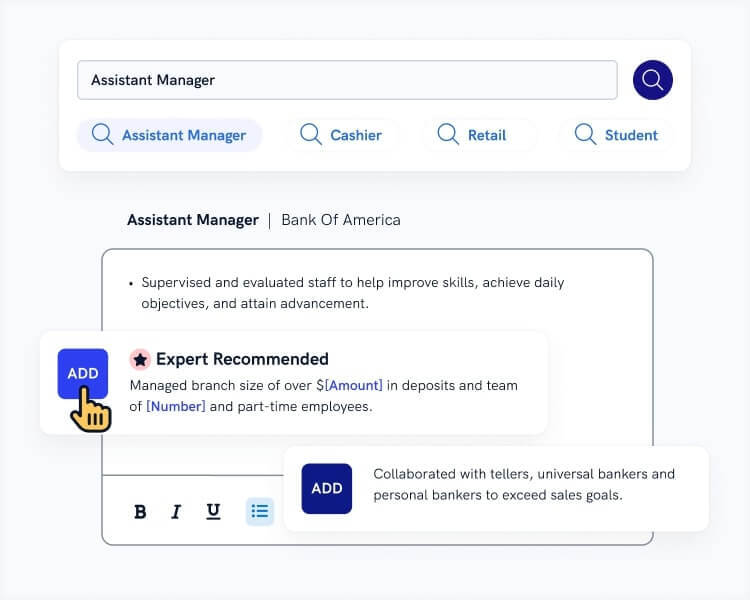 When you're done, Zety's resume builder will score your resume and our resume checker will tell you exactly how to make it better.
5. Show the Right BCBA Skills
To really secure your spot as the number one candidate, you need to target the professional skills section for this job.
First, it gives your BCBA resume that personal touch we've mentioned already—not looking generic is always a win.
Second, and more importantly, using the right keywords for your resume will convince them there's no better fit than you.
Here are the tips on how to do just that:
In the job ad, look for the skills they say are required. These are the most valuable ones for your resume.
Come up with a list of your own job skills. Mix in some hard skills and some soft skills to prove your versatility.
Any matches you can identify between the job ad and your list are the perfect skills to put onto your BCBA resume!
That said, here's a list of the greatest skills to put on a BCBA resume:
BCBA Skills for Resumes
Applied Behavior Analysis
Function Analysis
Assessments
Behavior Acquisition
Reduction Procedures
Teaching Adaptive Life Skills
Maturity
Working with Abuse Victims
Working with Patients on Autism Spectrum
Stress Management
Overcoming Challenges
Empathy
Curiosity
Maturity
Treatment Plans
Intellectual Disabilities
Minimizing Challenging Behaviors
Read more: Hard Skills vs. Soft Skills: What's the Difference?
6. Include Other Sections on Your BCBA Resume
The family support center or clinic where you're seeking employment will want to know what you offer other than your BCBA certification.
For a moment, ditch the uptight, professional side, and think about other qualities that make you who you are.
Believe it or not, adding these items in the form of extra sections can tip the scales in your favor, even if it's something menial like ahobby or personal interest.
Of course, any certifications and licenses that qualify you to do your job even better are worth a million bucks. Make sure to list them on your resume in reverse-chronological order (most recent first), including the name of the institution and the year you obtained each cert.
Foreign language skills that could come in handy when communicating with non-native English speakers can be a plus, so definitely mention those, too. Indicate your level of proficiency (e.g. beginner, intermediate, fluent) next to each foreign language you speak.
Finally, volunteer work undertaken shows more of your empathetic side, so more of that is always good. Memberships in professional associations are also worth mentioning, as are your publications and relevant side-gigs and personal projects.
Whatever you end up putting on your resume, make sure to be creative—it's one of the most crucial skills for a BCBA. And naturally, everything you include has to be directly relevant to the job opening at hand.
Read more: What to Put on a Resume to Make It Perfect
7. Attach a Cover Letter to Your BCBA Resume
If you want a real shot at getting that interview invite, a good BCBA cover letter is absolutely necessary.
Half of all recruiters say they need to see one if they're to consider somebody, and that's a lot.
Here's how to write a cover letter that's bound to boost your chances of success:
Pro tip: Not seeing results? Well, are you sending follow-ups to your job application? Believe it or not, they can make a big difference between being noticed and ending up dead in the water.
Plus, a great cover letter that matches your resume will give you an advantage over other candidates. You can write it in our cover letter builder here. Here's what it may look like: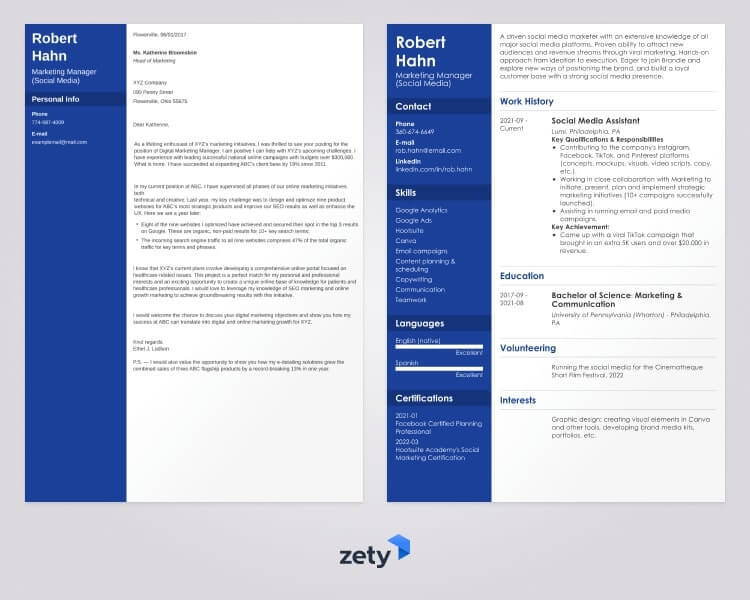 See more cover letter templates and start writing.
Thanks for reading. Still not sure about something to do with your BCBA resume? Struggling to come up with ideas for a compelling BCBA resume objective? Ask your questions in the comments below!
About Zety's Editorial Process
This article has been reviewed by our editorial team to make sure it follows Zety's editorial guidelines. We're committed to sharing our expertise and giving you trustworthy career advice tailored to your needs. High-quality content is what brings over 40 million readers to our site every year. But we don't stop there. Our team conducts original research to understand the job market better, and we pride ourselves on being quoted by top universities and prime media outlets from around the world.