Our customers have been hired by:
You're a role model, mentoring your less-experienced peers, setting them on the right course of their career paths.
Really, you're like Mr. Miyagi, and your heightened, serene perception has clued you in on something—
Your resume is underperforming.
Seriously, what's going on? Sending tons of applications to more companies than you can possibly count and… Crickets.
Fortunately, we've got the right training regime for your mentor resume to start kicking ass again.
This guide will show you:
A mentor resume example better than 9 out of 10 other resumes.
How to write a mentor resume that will land you more interviews.
Tips and examples of how to put skills and achievements on a mentor resume.
How to describe your experience on a resume for a mentor to get any job you want.
Want to save time and have your resume ready in 5 minutes? Try our resume builder. It's fast and easy to use. Plus, you'll get ready-made content to add with one click. See 20+ resume templates and create your resume here.
Sample resume made with our builder—See more resume examples here.
Seeking another occupation that allows you to impart your sage wisdom? See here:
Mentor Resume Example
Jesse Layko
Mentor
570-760-9294
jesselayko@zetymail.com
linkedin.com/in/1jesse.layko
Summary
Enthusiastic youth and performance mentor with 4 years of experience. At Acuity International, educated 75+ yearly clients and helped them achieve their goals, with 82% of them reporting better job performance and life happiness after 12 weeks. Kept diligent records to facilitate learning. Designed 2 actionable courses for mentees with image/mental health issues.
Work Experience
Mentor
Acuity International, Austin, TX
January 2017–present
Key Qualifications & Responsibilities
Created a positive environment for mentees seeking professional help, raising their performance ratings by 25% on average.
Counseled 15+ clients with high-stress positions in effective stress management tactics.
Hosted own-initiative series of lectures on mindfulness, goal setting, and positive personal assessment, which was attended by 300 participants.
Co-designed an effective youth mentorship program for teachers of local high school, and reduced rate of dropouts among mentees by approximately 30%.
Talent Specialist
EKC Group, Austin, TX
December 2016–October 2017
Key Qualifications & Responsibilities
Helped re-direct and re-train 60 career-changing individuals, directing them to proper courses and seminars.
Ensured all documentation was kept in an orderly fashion.
Used strategic thinking to set clients on a path of actionable, measurable goals.
Education
Bachelor's Degree in Psychology
Jackson State Community College, Jackson, TN
2012–2016
Relevant Coursework: General Psychology, Psychology of Adjustment, Learning & Cognitive Processes, Psychology of Motivation
GPA: 3.6
Completed with a total of 155 credits, 35 above required minimum.
Maintained a GPA of 4.0 for 3 semesters in Field Psychology subjects.
Minored in Business Management with focus on HR.
Certifications
Professional Certified Coach, Institute for Life Coach Training (ILCT), 2020
Certificate in WELS Mentoring and Coaching, Martin Luther College, 2019
Key Skills
Case Management
Goal-Setting
Empathy & Motivation
Crisis Intervention
Listening Skills
Mentee Adaptation
Strategic Thinking
Additional Activities
At-risk Youth Counselor at New Ulm Youth Correctional Facility
Host of "All About U", a weekly well-being/mindfulness radio program at KMGC radio
Language Skills
German: Intermediate
Korean: Beginner
This is how you write a winning mentor resume:
1. Prepare Your Mentor Resume Format
As a mentor, your job is to educate and guide your less experienced mentees as they embark on their own career path. A demonstrable sense of empathy, leadership, and identifiable expertise in the given subject are just some of the skills you need to ensure are present on your mentor resume.
Although mentoring shouldn't ever come in a "form over substance" fashion, what your resume looks like matters a great deal nonetheless. Here are key tips for getting it right:
Read more: Modern Resume Templates to Download and Use
2. Work on the Resume Profile of Your Mentor Resume
Mentoring will often mean having to spit some hard truths to your students. Here's one right now:
You only have 7 seconds to impress.
You could spend 7 hours, days, or weeks preparing your resume. But if it doesn't tell the pressed-for-time recruiter what they need to know in mere seconds, you're out.
Strike back at them with a carefully planned resume profile placed at the top of your resume.
Write a resume summary if you're an experienced mentor who hands out sage advice like it's nothing. With 2+ years of experience, flaunt your best achievements, add numbers to make them look excelsior, and show you're capable of solving the company's problems.
If you're not quite black-belt level yet, a resume objective will be more up your alley. Focus on the knowledge you got from past jobs and demonstrate how the transferable skills you acquired would still work well in a mentor position.
Read more: How to Write a Stunning Resume Introduction
3. Elaborate on Your Job Experience as a Mentor
How do you describe a good mentor? Someone who listens, adapts their methods to their mentees' needs, sets achievable goals, and consequently reaches them, right?
This kind of Problem-Action-Result approach also comes in handy when talking about your work experience on a resume:
List past jobs in reverse-chronological order. For each, include your job title, the name and location of the company, and years spent there.
Then, in up to 6 bullet points, describe your duties and tasks, and your professional achievements. Using numbers, power verbs, and the PAR formula is the best way to make a good impression on the recruiter.
If you've never done it before, you have to try tailoring your resume. Putting in the time to do some research will already show dedication and drive.
Read more: How Far Back Should a Resume Go?
4. Make the Most of Your Education Section on a Mentor Resume
Come to think of it, you have something in common with Master Yoda:
You're both great mentors.
Now, stay with me for a moment—do you think Yoda would skimp out on telling his employer he attended the Jedi Academy?
I don't think so, so you shouldn't omit your resume education section either.
However, the exact content of it will hinge on the work experience you have.
More than 5 years? The school name & location, graduation year, and your degree are completely fine.
Less than 5 years? Add more details to your resume like relevant coursework, extracurricular activities, any diploma honors or other academic achievements, or a high enough GPA (3.5+).
Read more: 50+ Resume Writing Tips from Career Experts
When making a resume in our builder, drag & drop bullet points, skills, and auto-fill the boring stuff. Spell check? Check. Start building a professional resume template here for free.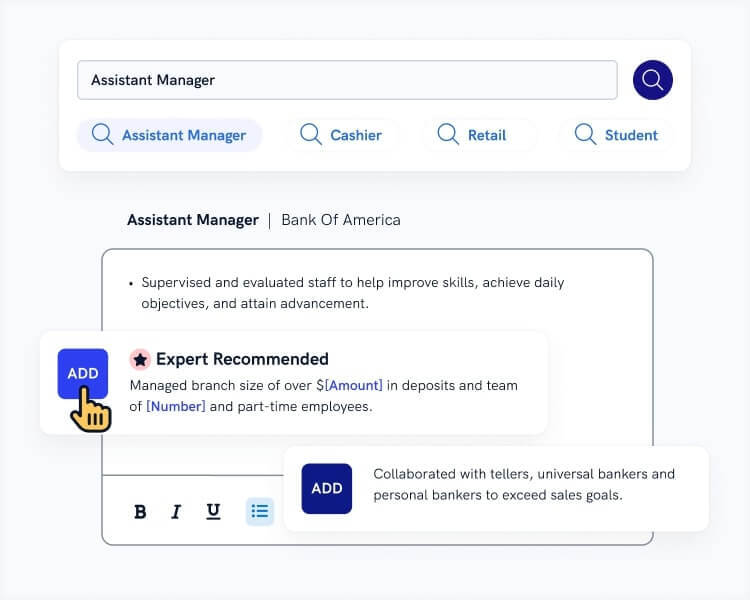 When you're done, our professional resume builder will score your resume and our resume checker will tell you exactly how to make it better.
5. Demonstrate the Right Mentoring Skills
Wow, check out this person.
That's what you want the recruiter to say as they pass your resume over to their boss.
Can you even be that perfect, all with just the seven seconds and well-described job experience?
Trust me, with a proper skills section, you can make yourself look like the Dalai Lama.
Here's a sample list of soft skills and hard skills for a mentor resume:
Mentor Resume Skills
Enthusiasm
Empathy
Sharing Knowledge
Giving Feedback
Process Improvement
Case Management
Problem-Solving Skills
Honesty
Building Trust
Assessing Mentees' Strengths and Weaknesses
Setting Actionable Goals
Inspiring
Naturally, the list will differ and be more specific once you account for the particular industry you're going to be mentoring in.
One thing to avoid, though, is overloading it. No matter if you're honest about them or not, a bloated skills section sets off alarms.
Here's what you do instead:
Create a list or spreadsheet of all of your skills. Then, pull up the requirements stated in the job posting. HR reps craft those with intent, putting in the qualities of the most perfect employee they can imagine, but you don't need to check all the boxes.
Compare both lists and see what matches you can find.
The skills that match up are the best keywords to put on your resume.
Pro Tip: Did you know that risk management is one of the most crucial mentoring skills? One such risk to consider would be not tailoring the skills section of your resume to the positions you're applying for, so take the extra time to really nail it.
6. Include Bonus Sections on Your Mentor Resume
Young Americans aged 20–24 are going to lose out on over $21 billion in profit due to not having sufficient skills to fill available jobs, according to reports. For you, this means that you should find plenty of work opportunities to actually raise the level of those skills.
But you need to set off that sparkle, and intrigue the recruiter with your resume.
This is where bonus resume sections can really shine through, even brighter than the most enlightened minds. Their task is to show your reader that you bring more to the table than meets the eye.
Why?
Because a bland mentor with a generic resume and no personality won't get anybody fired up to work.
So, put your thinking hat on and consider stuff that makes you stand out from the crowd. Anything ranging from your foreign language skills, to hobbies and interests andcoaching certifications and licenses (this one is big!), or maybe that you're building a nuclear reactor in your shed.
Wait, don't mention that last one. In fact, check out this list: What Should Not Appear on Your Resume: Information to Avoid
7. Attach a Cover Letter to Your Mentor Resume
Another bit of hard truth for you to chew on:
Cover letters are necessary as they improve the chances of winning the job.
Our HR stats show that nearly every other recruiter admits they won't touch a resume if there's no cover letter attached next to it.
So, pack it up everybody, we're doomed, right?
Actually, hang on a minute. If you know what a cover letter should look like, writing one isn't that big of a challenge.
Here's how to write a cover letter in a nutshell:
Choose a professional cover letter format before setting out to do the bulk of the writing.
Address the recruiter by name. It shows confidence and professionalism.
The opening paragraph of your cover letter should begin with a bang to grab attention.
Use the body to expand on your career wins in more detail, once again using numbers to hammer the point home.
Finish off the cover letter with a glamorous offer and a description of how you intend on delivering on it.
One last time, make a lasting impression in their hearts by including a catchy postscript. Everybody reads those, right?
Pro Tip: When considering perfect cover letter length, one page is definitely enough. Aim for a maximum of 4 paragraphs.
Plus, a great cover letter that matches your resume will give you an advantage over other candidates. You can write it in our cover letter builder here. Here's what it may look like: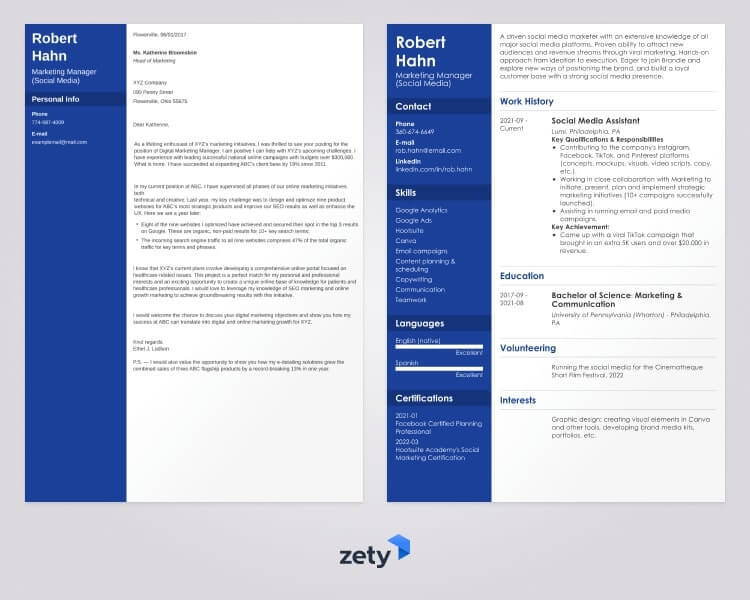 See more cover letter templates and start writing.
So, that's how you write a killer mentor cover letter!
Any questions? If you have experience, maybe you'd like to mentor the mentors who are just starting out? We'd love to see your input in the comments below!
About Zety's Editorial Process
This article has been reviewed by our editorial team to make sure it follows Zety's editorial guidelines. We're committed to sharing our expertise and giving you trustworthy career advice tailored to your needs. High-quality content is what brings over 40 million readers to our site every year. But we don't stop there. Our team conducts original research to understand the job market better, and we pride ourselves on being quoted by top universities and prime media outlets from around the world.
Sources