Lifeguard Resume with Job Description and Skills
Ready to score that lifeguard job? Whether it's at an indoor swimming pool or at one of the finest beaches, here's how to write a lifeguard resume that'll get you there quick.
You'd be a billionaire by now if you got paid for every Baywatch reference, am I right? But until that kind of monetization comes about, lifeguards will have to rely on jobs.
Luckily, that's what this article is all about—writing a lifeguard resume that will place you ahead of competition and land you that dream position you desire. Want to know the trick to getting your resume a spot under the recruitment sun? Then dive right in.
This guide will show you:
A lifeguard resume example better than 9 out of 10 other resumes.
How to write a lifeguard resume that will land you more interviews.
Tips and examples of how to put skills and achievements on a lifeguard resume.
How to describe your experience on a resume for a lifeguard to get any job you want.
Want to save time and have your resume ready in 5 minutes? Try our resume builder. It's fast and easy to use. Plus, you'll get ready-made content to add with one click. See 20+ resume templates and create your resume here.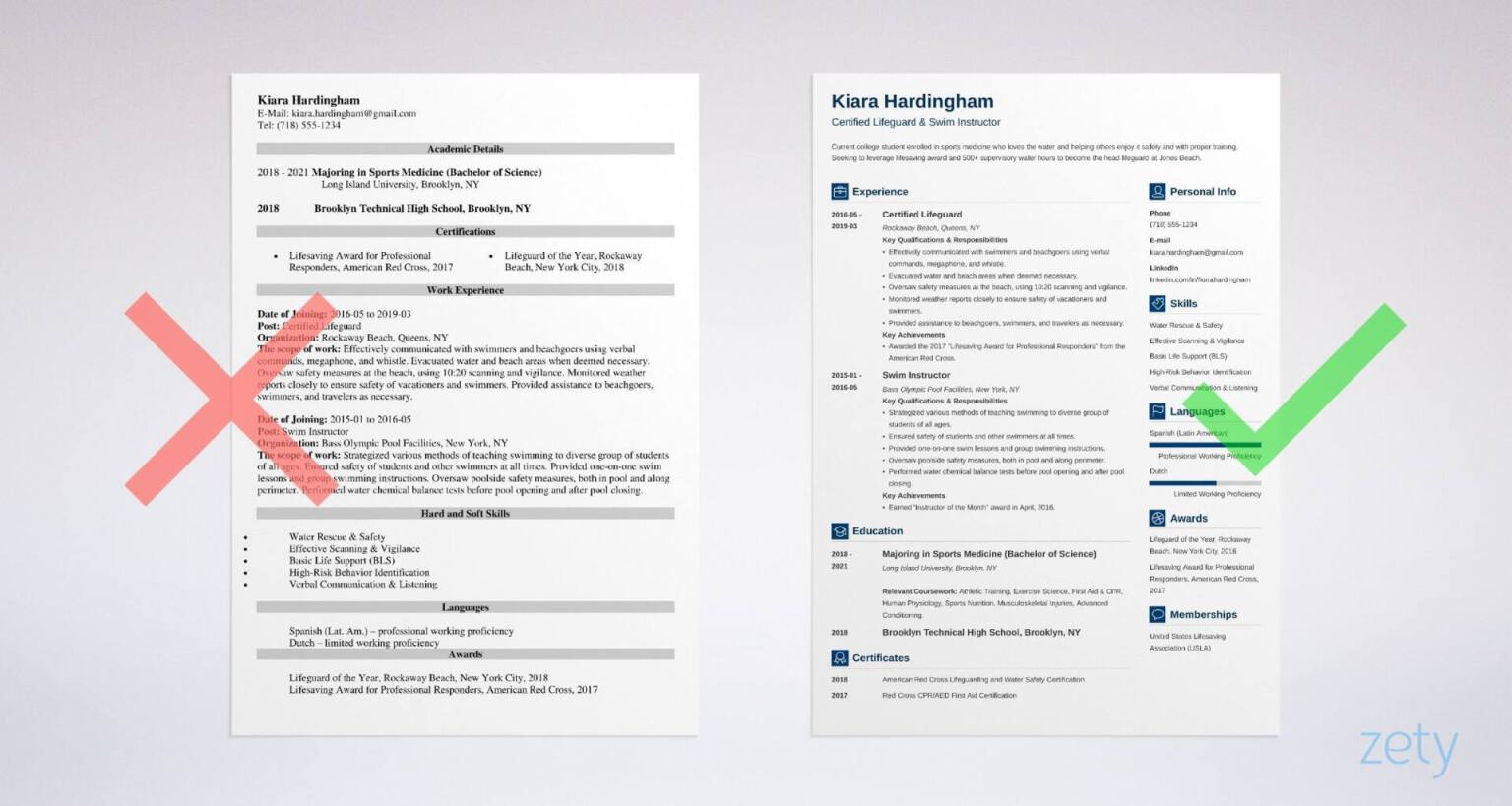 Sample Lifeguard Resume—See more resume samples here.
Check out other related resume guides:
Lifeguard Resume Sample
Kiara Hardingham
Certified Lifeguard & Swim Instructor
kiara.hardingham@gmail.com
(718) 555-1234
linkedin.com/in/kiarahardingham
Summary of Qualifications
Current college student enrolled in sports medicine who loves the water and helping others enjoy it safely and with proper training. Seeking to leverage lifesaving award and 500+ supervisory water hours to become the head lifeguard at Jones Beach.
Work Experience
Certified Lifeguard
May 2016–March 2019
Rockaway Beach, Queens, NY
Key Qualifications & Responsibilities
Effectively communicated with swimmers and beachgoers using verbal commands, megaphone, and whistle.
Evacuated water and beach areas when deemed necessary.
Oversaw safety measures at the beach, using 10:20 scanning and vigilance.
Monitored weather reports closely to ensure safety of vacationers and swimmers.
Provided assistance to beachgoers, swimmers, and travelers as necessary.
Key Achievements
Awarded the 2017 "Lifesaving Award for Professional Responders" from the American Red Cross.
Swim Instructor
January 2015–May 2016
Bass Olympic Pool Facilities, New York, NY
Key Qualifications & Responsibilities
Strategized various methods of teaching swimming to diverse group of students of all ages.
Ensured safety of students and other swimmers at all times.
Provided one-on-one swim lessons and group swimming instructions.
Oversaw poolside safety measures, both in pool and along perimeter.
Performed water chemical balance tests before pool opening and after pool closing.
Key Achievements
Earned "Instructor of the Month" award in April, 2016.
Education
Majoring in Sports Medicine (Bachelor of Science)
Long Island University, Brooklyn, NY
Expected Graduation: 2021
Relevant Coursework: Athletic Training, Exercise Science, First Aid & CPR, Human Physiology, Sports Nutrition, Musculoskeletal Injuries, Advanced Conditioning.
Brooklyn Technical High School, Brooklyn, NY
Graduated 2018
Key Skills
Water Rescue & Safety
Effective Scanning & Vigilance
Basic Life Support (BLS)
High-Risk Behavior Identification
Verbal Communication & Listening
Certifications
2018 American Red Cross Lifeguarding and Water Safety Certification
2017 Red Cross CPR/AED First Aid Certification
Awards
2018 Lifeguard of the Year, Rockaway Beach, New York City
2017 Lifesaving Award for Professional Responders, American Red Cross
Memberships
United States Lifesaving Association (USLA)
Languages
Spanish (Latin American): Professional Working Proficiency
Dutch: Limited Working Proficiency
Now here's how to write a lifeguard resume:
1. Choose the Best Format for Your Lifeguard Resume
Whether it's at Jeffrey's Bay or at the local natatorium, lifeguards have structure in place to keep fun-seekers protected.
It's the same here—
A great resume format keeps everything in order and easy to read.
So, follow these formatting rules:
Pro Tip: Pool lifeguarding is way less demanding than beach lifeguarding. If you are writing a no-experience resume, consider dipping your toes in by becoming a pool lifeguard, first.
2. Write a Lifeguard Resume Summary or Objective
A resume objective or summary is also called a resume profile.
This intro paragraph is 3–4 lines long. It gives beach or pool hiring managers a brief glimpse into your background, skills, experience, and goals.
Like a gray dorsal fin spotted in the water, it has to grab the hiring manager's attention from the start.
Choose the resume summary if you have over 2 years of lifeguard experience. This intro statement sums up your poolside skills and beach-adjacent experience. It also includes a key lifesaving win or lifeguard accomplishment with numbers to prove you're the gnarliest choice.
Choose the resume objective if you have little experience as a lifeguard. This one states your career goals, and it still gives an achievement to prove your competence.
Pro Tip: The resume heading statement goes at the top, of course, but it doesn't mean you have to write it first. Instead, save it for the end. It's hard to "sum up" your resume if you haven't written it yet!
When making a resume in our builder, drag & drop bullet points, skills, and auto-fill the boring stuff. Spell check? Check. Start building a professional resume template here for free.
When you're done, our professional resume builder will score your resume and our resume checker will tell you exactly how to make it better.
3. Create the Perfect Lifeguard Job Description for a Resume

Whether supervising toddlers at the local pool or keeping an eye on pro surfers in Oahu, the work experience section is crucial to get right.
So—
Here's how to nail your lifeguard resume description of the job:
Start with your current or most recent job. Follow that with the one before it, and so on.
Put your job title at the top, followed by dates worked, the company name, and up to 6 bullet points outlining your lifeguard responsibilities for resumes.
As you further back, reduce the number of job description bullet points you give and include only the most relevant accomplishments.
Begin each entry with an action word (e.g., initiated, implemented, etc.)
Show off quantifiable, measurable achievements, not just standard job duties and tasks.
Target each resume to the job. Don't write a generic resume to be spammed to all the local pools in the state.
Pro Tip: If you don't have lifeguarding experience, still list the most lifeguard-relevant job duties in your bullet points. Choose entries which showcase your physical fitness, water knowledge, safety training, etc.
4. Make Your Lifeguard Resume Education Section Shine
The education section on a lifeguard resume may seem like an afterthought.
Still—
A poor academic area may raise red flags (and not the beach safety variety).
Keep these rules in mind to get it right:
Over 5 years of lifeguard experience? Add only your degree, major, minors (if applicable), and college name.
New to lifeguarding? Include extra details such as academic achievements, extracurricular activities, relevant coursework, or favorite fields of study.
Completed university? Don't include high school on your resume.
Still working on uni? Add high school as a secondary entry.
Pro Tip: Relevant coursework for lifeguard jobs include anything to do with sports, physical fitness, medicine, physiology, and communication.
5. Highlight Your Lifeguard Skills
Show them your towelside manner is on point by listing the best lifeguard resume skills:
Lifeguard Resume Skills
10:20 System (Scanning)
Rescue Cans, Tubes, and Boards
Trauma Bags & Pre-Hospital Trauma Readiness
Beach Patrol (Inland Water & Ocean Beach)
Swimmer Identification (Passive Drowning, Active Drowning, Distressed, and Normal)
Rescue Buoys & Lifebuoys
Spinal Immobilization
Supplemental Oxygen
Communication with Flares, Whistles, Megaphones, and Two-Way Radios
Personal Watercraft & Off-Road Vehicles
Physical Fitness
Aquatic Safety
Quick-Thinking & Decision-Making Skills
Risk Assessment
Weather Forecasting
However—
Don't just copy-paste this list and call it a day.
Do this instead:
List all the job skills you have which relate to lifeguarding, including both soft skills and hard skills.
Pull out the job description where the lifeguard position was advertised.
Highlight lifeguard and first aid skills they seek from their job requirements. Those are the best resume keywords to use.
If one of your highlighted entries matches something on your list, add it to your resume!
Finally, placate the ATS.
Larger organizations, such as fitness center chains and governmental agencies, use applicant tracking systems to manage the tsunami of resumes they receive each day.
This software lets HR staff scan a lifeguard resume into the system, search for specific resume keywords, and spits out a score based on its match to the job description.
Poor match, no job!
Pro Tip: As a prospective lifeguard, your resume should focus on hard skills (water rescue, first aid, spinal injuries) rather than soft skills (time management, creative thinking).
6. Add Other Sections to Your Lifeguard Resume
You've written a bodacious bod in your lifeguard resume.
However—
All the other lifeguards have the same resume sections. Stand out by adding extra resume sections as unique and winning as your personality.
Here are some great additions to a resume for lifeguard jobs:
projects
licenses
memberships
7. Attach a Cover Letter to Your Lifeguard Resume

Don't skip the cover letter, as 53% of employers say a resume alone isn't enough.
So—
Whether it's poolside or beachside, inside or outside, you need a lifeguard cover letter alongside.
Here's how to write a cover letter for lifeguard jobs they'll love:
Also, we've got some great cover letter tips to help you along. Check them out!
Pro Tip: Don't forget to follow up on your job application. Shooting off a quick email or making a brief call might be the thing that gets you hired.
Plus, a great cover letter that matches your resume will give you an advantage over other candidates. You can write it in our cover letter builder here. Here's what it may look like: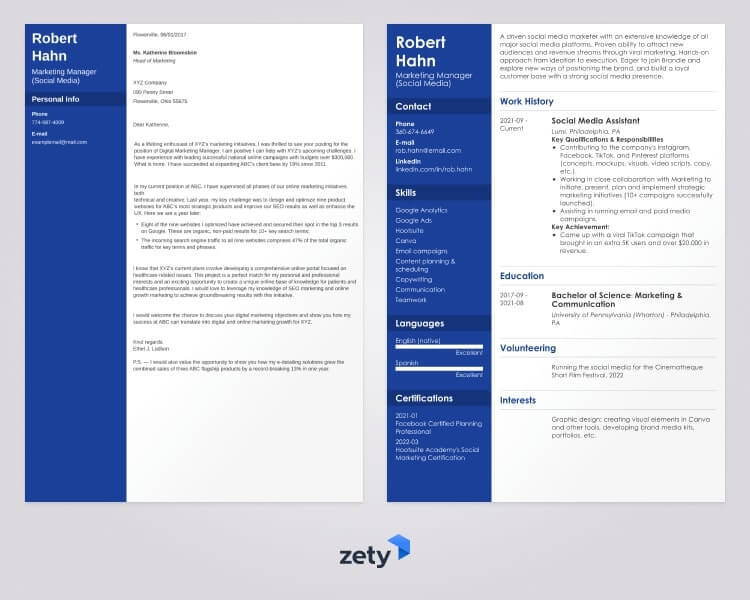 See more cover letter templates and start writing.
So, that's it—
Now THAT'S a resume for lifeguards that can save lives!


Got any questions on how to write a lifeguard resume? Not sure how to talk about first aid skills, swimming certifications, or lifeguarding achievements? Get at us in the comments below, and thanks for reading!
About Zety's Editorial Process
This article has been reviewed by our editorial team to make sure it follows Zety's editorial guidelines. We're committed to sharing our expertise and giving you trustworthy career advice tailored to your needs. High-quality content is what brings over 40 million readers to our site every year. But we don't stop there. Our team conducts original research to understand the job market better, and we pride ourselves on being quoted by top universities and prime media outlets from around the world.