How to Answer Tell Me Something That's Not on Your Resume
How do you answer tell me something that is not on your resume? It's tricky, but once you know why they're asking, it's a snap. See our tips, key steps, and example answers below.
Oh-oh. The interviewer just asked you to tell him something that's not on your resume. What does this mean? Are you about to have a George Costanza moment? Don't tell him about the time you saved a whale! Sounds like they're trying to make you nervous, doesn't it?
Don't panic!
You'll be okay. Knowing what to say when they ask that interview question is as easy as 1) knowing why they asked it and 2) knowing what they're looking for. Breathe easy, because it's simple to answer this question with flying colors in just a few seconds. And you don't have to look like a nervous wreck to do it.
Whew!
This guide will show you:
How to answer "Tell me something about yourself that's not on your resume."
What you shouldn't say in an interview.
What should not be included in a resume.
Several great examples of how to answer this tricky interview question.
Ready?
Want to save time and have your resume ready in 5 minutes? Try our resume builder. It's fast and easy to use. Plus, you'll get ready-made content to add with one click. See 20+ resume templates and create your resume here.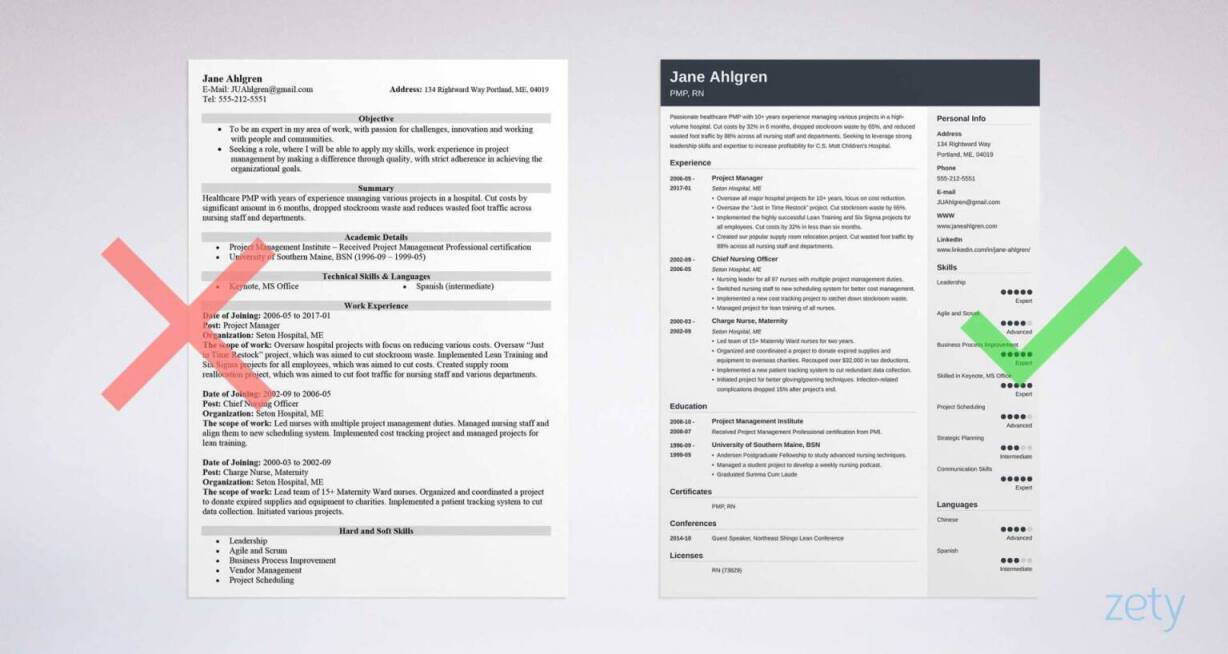 Sample resume made with our builder—See more resume examples here.
Want more interview question and answer examples? Here you go:
1. Why Do They Ask, "Tell Me Something That's Not on Your Resume?"
For the perfect answer, first know why they ask.
So—
Why do they ask, "Tell me something that is not on your resume?"
It's a variation of:
Tell me about yourself.
Describe yourself.
What makes you unique?
In other words, who are you as a person? Are you good to work with? If they hire you, will they regret it? They know you've got the skills, because they're in your resume. That's why you got the interview. But—
Will you be one of those employees who makes them breathe easy? Or will you be a load? A pain? A far-too-squeaky wheel? Will you complain a lot and show up late? Argue with other employees? Will you make their life a living hell? In short, how will you fit in?
Now that you know why they ask, here's how to answer right.
Pro Tip: What do optimism, resilience, creativity, and self-control all have in common? According to research, they're all key traits for success. Consider weaving one of them into your answer.
2. How to Answer "Tell Me Something That Is Not on Your Resume"
The perfect answer to the "tell me something about yourself not on your resume" interview question is short and positive. Avoid negatives or unrelated personal stories. Focus on your strengths, on why you want the job, or on something great about the company. Keep your answer under 30 seconds.
Here are a few options you can choose from:
1. Strengths.
Tell a quick story that shares a soft skill like communication or interpersonal skills. Include how it helped a previous employer.
2. Something great about the company.
Does the company have a cool training program or client list? Explain why that makes them a perfect fit for you.
3. Why you want the job.
Will the organization help you reach a personal goal? Explaining that makes a great answer to this interview question.
Want a list of things to leave off your resume? See our guide: What Should Not Be Included in a Resume?
When making a resume in our builder, drag & drop bullet points, skills, and auto-fill the boring stuff. Spell check? Check. Start building a professional resume template here for free.
When you're done, our easy resume builder will score your resume and our resume checker will tell you exactly how to make it better.
3. Examples of Top Answers
"Wow, that's a great answer. How soon can you start?"
Want that reaction? Start by looking at some great examples. Here are the best answers to the "tell me something that's not on your resume" interview question.
Detail Oriented Answer
I'm not only passionate about results, but also about being able to deliver them. When my company asked me to train 20 analysts, I signed up for a class in training to make sure I got it right. It paid off when the team raised their core KPIs by an average of 30% after my trainings.
Why it works:
That answer works because it links something in your resume to something they don't know. Namely, the reason behind your great results. They know you're not content to rely on your existing skills. They know you'll do what it takes to make sure the job gets done.
Interpersonal Skills Answer
My interpersonal skills are highly developed. You've seen the achievements on my resume, but the reason I've done all those things is how I relate to people. I get along well with clients, coworkers, direct reports, and managers because I care about the other stakeholders, and they feel it. When we were about to lose a key client last year, I took the time to find out why. Through working with our sales and development teams, I was able to find a solution that made everybody happy. The client signed on for 10% more business.
Why it works:
You've just shown a central strength that goes beyond your ability to perform job duties. You have an almost magical ability to interact with people that lets you do great things for your employers. Interpersonal skills are among the most powerful skills there are.
Communication Skills Answer
My last two employers commended my communication skills. That doesn't mean I communicate a lot. In fact, I make it a point not to waste time on too much communication, going for quality over quantity. I use solid active listening skills to understand my team members. Then I get the central points across in a very few words. My last employer often joked that I could read his mind.
Why it works:
It shows two highly valued skills—active listening and communication skills. Especially if the role relies on those two skills, this answer to the "Tell me something that's not on your resume" question shows you are the perfect person for the job.
Volunteer Work Answer
I'm very passionate about results. You saw on my resume that I volunteered to build a fundraising website for my local animal shelter, and my efforts increased their online donations by 200%. What's not on my resume is how much I enjoy seeing a goal and then working toward it. I read your writeup in TechCrunch about how you share top-level metrics with employees. That's incredibly exciting to me, since I'd be able to keep my eyes on the prize and ratchet up the team's success.
Why it works:
You just showed the hiring manager you're a great fit. The company shares their metrics with employees for a reason—because they want the employees to care. You've proven you care more than most. In fact, you may just be their most valued employee to date.
Company Fact Answer #1
I read about your company training program last week in the ABA Banking Journal. Your commitment to employee development is inspiring. To me, learning and growth are the real goals in life. My uncle lived to be 99 and stayed sharp for most of his life. He always said that to him, learning was the key to staying young. I'm excited about working for you because I'd have such a great opportunity to learn and grow year round.
Why it works:
That answer shows you value something they do. You're aligned! The hiring team will love you because they'll picture you staying a long time. They'll also imagine you growing into an ever-more-useful employee.
Company Fact Answer #2
Well you've seen on my resume that I increased website traffic by 45% in my last job. But in truth I owe a lot to the great team I worked with. I saw your talk on YouTube and I know you pay a lot of attention to design, research, and planning. That's very exciting to me because I know that level of attention to detail will set me up to succeed. So to me, it's not just about what I can achieve, but what we can do together as a team.
Why it works:
That answer shares something positive about the company that makes the hiring manager feel good. At the same time, it references your success. But it also shows you have strong teamwork skills they didn't know about from your resume.
Company Fact Answer #3
I know from your website that you work with clients like Sysco, U.S. Foods, and McLean. You've seen on my resume that I've worked with those clients as well. But what's not on my resume is why I love working with clients like that. I enjoy the energy, motivation, and scale of working with high volumes in a fast-paced atmosphere. It's a pleasure to use my relationship-building and organizational skills to deliver client success in that environment. That's why I was able to add 4 new clients worth $1.2M per year in my last role.
Why it works:
That answer to "tell me something that's not on your resume" works because it goes deeper than your resume. It shows that your resume achievements are grounded in relationship-building skills and organizational skills. Those are highly valued by employers.
Want a game changer?
By now you're getting the point—you can answer this interview question with any skill! If the job ad says the organization wants leadership, adaptability, or time management, show you have the right skill by telling a quick story.
Don't forget to follow up on that interview! See our guide: Follow-Up Email After an Interview: 10 Samples & Templates That Work
So what skill should you focus on in an interview? Here's how to choose:
What Are Some Good Skills to Say in an Interview?
To get the job, zero in on the skills from the job posting. The company told you the right list of skills to mention, right in their ad. Talk about a few soft skills and hard skills. Soft skills are transferable skills that work in any job. Hard skills and technical skills are job-specific.
Consider mentioning:
Interpersonal skills
Communication (verbal and written)
Listening
Adaptability
Teamwork
Want a couple more answers to synonym questions for "Tell me something that's not on your resume?" See below.
What Makes You Unique Sample Answer
It's my resourcefulness. When my manager asked me to help the team cut setup times by 10%, I wasn't sure how that could work. I reached out to a consultant who had helped other teams with setup reduction in the past. We ended up cutting our times by 40% and landing two new clients in the process.
Read more: What Makes You Unique? [Answer for the Interview Question]
Tell Me About Yourself Sample Answer
Clients appreciate my attention to detail. When my last employer asked me to spend a day creating pivot tables for our client accounts, I dug into it. My detail-oriented mindset drove me to get more in-depth than they asked. I was able to identify $100,000 in savings through building out the tables.
Read more: Tell Me About Yourself [How to Answer This Interview Question]
3. What Not to Say
"Ugh! I botched the interview!"
Nobody wants that. To keep the egg off your face, here are a few things to avoid talking about during a job interview.
What Should You Not Say in an Interview?
Don't ramble. Umms and ahhs are bad, but long, boring stories are even worse. Keep your answer short and to the point.
TMI. "Well this one time when I was out binge-drinking with my friends..." Nope. Stick to stories that show valued qualities and skills.
Don't read out your resume. When they say, "tell me something that is not on your resume," that's what they mean. You can reference it, but add key info.
Negatives. Don't say anything bad about your past employer. Stick to challenges you faced and how you overcame them.
Plus, a great cover letter that matches your resume will give you an advantage over other candidates. You can write it in our cover letter builder here. Here's what it may look like: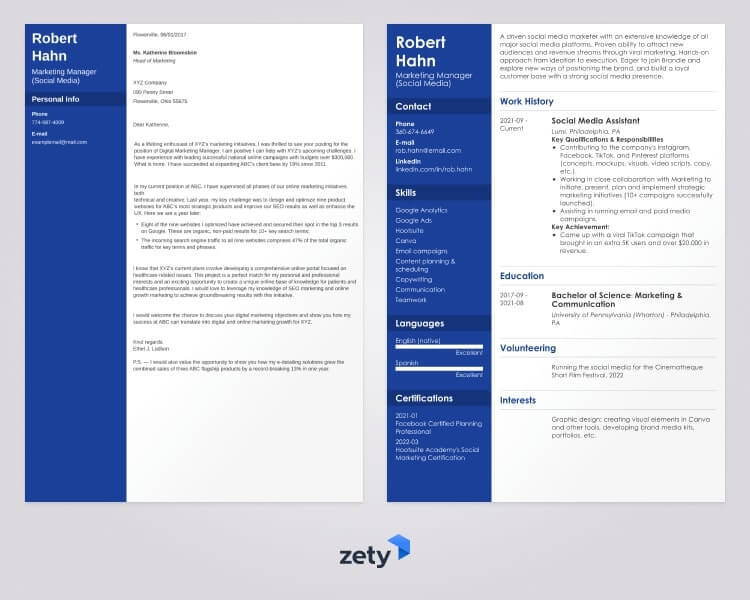 See more cover letter templates and start writing.
Key Takeaway
Here's how to answer tell me something that's not on your resume:
First know why interviewers ask this question. It's because they want to know who you are as a person—beyond performing job duties.
Next, look at the job ad to find out what skills matter most to this organization. Find your soft-skill superpower that has helped employers most.
Last, tell the story behind one of your resume achievements that shows how you used that skill to make things happen.
Don't have a story like that? Focus on something you love about the company, and how it fits with your personal story.
Thanks for reading! Do you have more questions on how to answer tell me something that is not on your resume? Glad to help! Give us a shout in the comments section!
About Zety's Editorial Process
This article has been reviewed by our editorial team to make sure it follows Zety's editorial guidelines. We're committed to sharing our expertise and giving you trustworthy career advice tailored to your needs. High-quality content is what brings over 40 million readers to our site every year. But we don't stop there. Our team conducts original research to understand the job market better, and we pride ourselves on being quoted by top universities and prime media outlets from around the world.
Sources