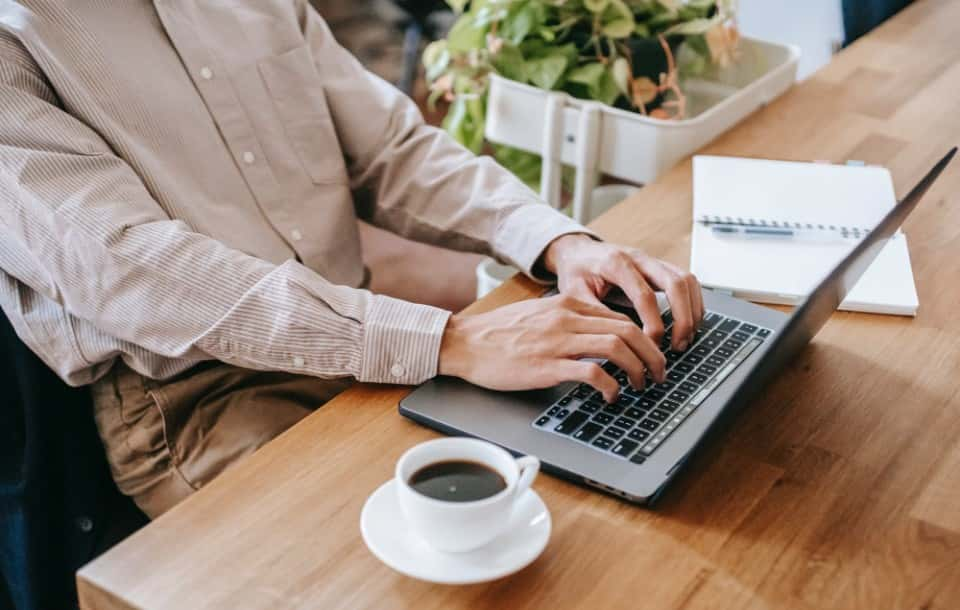 Statement of Qualifications (SOQ): Examples + Template
A good statement of qualifications can be a unique and high impact way of starting your resume. Read on for an easy formula to write your own.
How would you like to start your resume with a concentrated burst of professional brilliance. A brief introduction to your professional qualifications and achievements that'll hook the reader faster than you can say "you're hired."
Sounds pretty neat, doesn't it? Here's how you can do it. Write yourself a high impact statement of qualifications. It's the perfect way to whet the recruiter's appetite and make them hungry for more.
And writing it is a piece of cake, just read on and you'll get a statement of qualification template you can follow to write your own. You'll also get a selection of statement of qualifications examples that'll show you just how effective this way of introducing your resume can be. Now let's get down to writing that SOQ.
Want to save time and have your resume ready in 5 minutes? Try our resume builder. It's fast and easy to use. Plus, you'll get ready-made content to add with one click. See 20+ resume templates and create your resume here.
Sample resume made with our builder—See more resume examples here.
Looking for more resume writing tips? We've got you covered:
Resume Statement of Qualifications Example
Ernest Gutierrez
egutierrez_zety@gmail.com
202-555-0119
Statement of Qualifications
Highly efficient and accuracy focused clerical professional with 7+ years of experience supporting teams in challenging corporate environments.
Researched new storage systems and file naming conventions that boosted processing speeds by 15%.
Maintained a 99% plus accuracy rate for data entry tasks.
Collaborated with HR team to create a clerical onboarding pack that was used as the model for onboarding material for teams across the organization.
Won Newton Industries Employee of the Year Award 2020 for showing resilience and support for other team members during challenging times.
Work Experience
HR Support Clerk
Newton Industries, Chicago, IL
December 2017–Present
Maintained and updated personnel files for 2500+ employees.
Trained 8 new starters in administrative procedures and departmental policies.
Provided advice on administrative processes for holidays, sickness and health insurance to 200+ employees per month.
Supported payroll team in processing pay checks, taking personal responsibility for 50 employees.
Key Achievement: Boosted document processing speeds by 15% by researching new storage systems and file naming conventions.
Administrative Clerk
Coleco Inc., Chicago, IL
September 2013–December 2017
Accurately processed all incoming and outgoing correspondence, filed physical documents electronically and distributed to appropriate teams and individuals.
Used Oracle DB Management to input, update and retrieve customer data.
Generated reports and sales list via MS Excel and Google Sheets as requested by managerial staff.
Regulated $12,000+ in operations and financial budgets.
Education
High School Diploma
Lake Place High School, Chicago, IL
2013
Skills
75 wpm typing speed
Adaptability
Attention to detail
Cloud-based storage systems
Customer service
Data entry
Diary management
Multitasking
SAP accounting software
Time management
VOIP phone systems
Certifications
Professional Administrative Certification of Excellence (PACE)
International Association of Administrative Professionals (IAAP) associate
Languages
1. What is a Statement of Qualifications?
A statement of qualifications is an introductory resume section that's a brief outline of your relevant skills, experiences and achievements. It generally uses bullet points to show relevant qualifications tailored to the requirements of the job you're applying for.
It can also refer to a much longer document called a narrative statement of qualifications. It's often used to apply for civil service positions, particularly in the state of California.
The longer format consists of your answers to a series of questions or your written response on how you meet the qualifications of the job and it can be a page or more in length. We'll be focusing on the shorter statement of qualifications format used in a standard US resume.
Other types of resume introduction include a resume objective and resume summary. In contrast to an SOQ they're generally written as a short paragraph.
2. Who Can Use a Statement of Qualifications?
Don't let the name put you off. Yes, to use a statement of qualifications format for your resume you do need fairly extensive qualifications. And mostly that covers professional skills and experience.
But you can also include educational attainments and transferable skills in your SOQ too. So in fact it's a perfect resume introduction for anyone who wants a unique and compelling way of introducing themselves to the hiring manager.
Let's take a look at just how impactful a statement of qualifications can be.
Statement of Qualifications Example
Senior sales negotiator with 7+ years experience in B2B sales.
Maintained an 'A' pipeline of 115%+ of target in every quarter.
Scored an average of 96%+ in customer service satisfaction surveys.
Mentored trainee negotiators in sales best practice and corporate guidelines.
Spearheaded an intensive lead generating scheme that led to the creation of new customer accounts valued at $500,000+.
Now that just pops. It hits the hiring manager with an impressive list of qualifications from the get go. And when they read an introduction like that they'll be itching for more.
It's also going to be a winner with Applicant Tracking Software (ATS). That's because it's packed with resume keywords. So it gives both the human and algorithm-based gatekeepers everything they need to shift your resume over to the yes pile.
Let's compare that statement of qualifications sample with a traditional resume summary.
Senior sales negotiator with 7+ years of experience. Strong sales skills with a focus on delivering outstanding customer service. Natural leader with a knack for delivering successful B2B sales campaigns.
It's ok, but compared to the first example it falls a little flat. Think of it this way, why have a cheap sparkling wine when you can have the finest Champagne?
Now let's take a look at how you can pop that cork yourself.
When making a resume in our builder, drag & drop bullet points, skills, and auto-fill the boring stuff. Spell check? Check. Start building a professional resume template here for free.
When you're done, our easy resume builder will score your resume and our resume checker will tell you exactly how to make it better.
3. How to Write a Statement of Qualifications
Here's an easy way to define a statement of qualifications. Think of it as a greatest hits album. It's a compilation of all the good stuff in one place.
Now here's a statement of qualifications template to create your own career "best of."
Pick four or five of the strongest points from your resume. Delve into your work experience section and your skills section alike.
Start with your job title, experience and industry. You could even include this information as a separate resume headline.
Then write your bullet points, starting them off with resume action words and structuring them as numbered achievements written as accomplishment statements as much as possible.
Target your resume to the job description. Choose qualifications that are relevant and write a fresh SOQ for each new application.
Keep your bullet points short and sweet for maximum impact.
Number 4 on that list is absolutely crucial. You can't use the same statement of qualifications template for every job application. Always take the time to read the job ad, note the requirements mentioned, and choose your qualifications that are most relevant.
It's also known as "tailoring" your SOQ. And that explains it perfectly. You're altering it to create the perfect fit for each and every job you apply for. It's one of the most powerful resume tips out there.
Here's another example so you can see the formula in action.
Office Technician Statement of Qualifications Example
RIGHT
Detail-oriented office technician with 5+ years of experience delivering outstanding administrative support.
Processed invoices at a speed 30% higher than team average.
Generated $2,000 per annum in savings by renegotiating supplier for office refreshments.
Maintained a typing speed of 80 wpm.
Won plaudits from senior managers for reliability and efficiency in carrying out administrative tasks.
You can see why that example is a winner. We start off with a job title and experience then move on to a series of punchy, achievement-led and number-rich bullet points. That's exactly what hiring managers want. A statement of qualifications that proves your abilities and shows the contribution they can make to your prospective employer.
Contrast that with this statement of qualifications sample.
WRONG
Experienced office technician with skills in administrative support.
Responsible for invoice processing and data entry.
Managed supply of office refreshments.
Fast and accurate typing skills.
Commended for hard work.
Let's face it, this is not an A-grade statement of qualifications. It's barely even a pass. Listing duties without including numbers, achievements and other impressive details just falls flat.
Pro Tip: Unsure of what metrics and achievements are most important for your career. Go to O*NET, an amazingly detailed resource sponsored by the Department of Labor. On the home screen search for your job title in the occupation quick search bar at the top of the screen. Click on the corresponding result for your job and you'll get a ton of information to inspire you.
4. Statement of Qualifications for Entry Level Candidates
Once again, don't be put off by the name. Your SOQ doesn't have to only contain qualifications from your work history, you can leverage those impressive accomplishments from your resume education section too.
Statement of Qualifications Example for Students and Entry Level
Diligent law graduate with a specialization in international trade law.
JD from University of Chicago Law School with a GPA of 3.8.
Achieved Dean's Honors List in every semester of study.
Runner-up in Northern Moot Court Competition, 2018, 2019 and 2020.
Co-wrote a paper on the trade law implications of Brexit for US manufacturers that was cited by the Wall Street Journal.
Now that's impressive, much better than a stock standard resume objective which is the usual recommendation for a law student resume. Here are some more ideas on what you could include in a student statement of qualifications.
5. Statement of Qualifications for Career Changers
Writing a career change resume or making the military to civilian transition? You can benefit from an SOQ too, it's a real swiss army knife of a resume section. The key here is to make use of achievements that showcase transferable skills that are applicable to your new career.
Read the job requirements to create a tailored SOQ, and remember that some skills are considered universally desirable. These are some examples.
Now here's how it could look in an SOQ.
Statement of Qualifications Example for a Career Changer
Solution-driven army engineer with 15+ years of experience completing civil engineering and construction projects in challenging environments.
Led a team of 50+ officers and enlisted men in the United States Army Corps of Engineers (USACE) completing bridge, road and base repairs and construction.
Completed work in difficult geographical locations including arid regions of Iraq, mountainous regions of Afghanistan and more conventionally at home in the US.
Maintained a record of 90% plus ontime project completion, with factors causing overrun identified early and minimized for the remainder.
Developed a new materials sourcing strategy in collaboration with the logistics branch that reduced costs by an average of 10% per project.
Want some more insight into the skills employers want? Read more:Top Skills Employers Look For
Plus, a great cover letter that matches your resume will give you an advantage over other candidates. You can write it in our cover letter builder here. Here's what it may look like: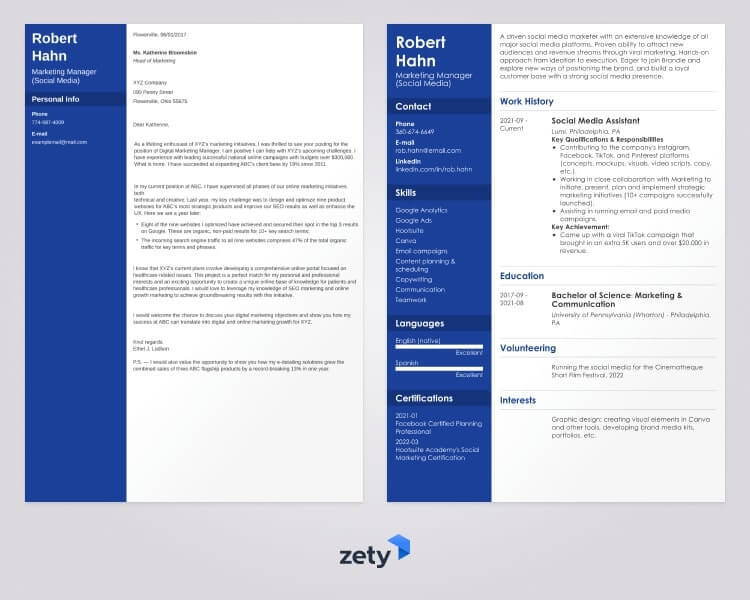 See more cover letter templates and start writing.
Key Takeaway
A statement of qualifications is a powerful way of introducing your resume, and a great alternative to standard resume starting strategies.
Its concentrated burst of skills and achievements is enough to impress even the most jaded hiring manager. That's because it gives them what they want right at the start of your resume in a brief and easily readable format.
Just follow our advice to give it maximum impact and you'll be all set to give your resume an instant boost of job-winning brilliance.
Thanks for reading, if you'd like to know more about writing your resume using the statement of qualifications format then please ask in the comments section and we'll be happy to help.
About Zety's Editorial Process
This article has been reviewed by our editorial team to make sure it follows Zety's editorial guidelines. We're committed to sharing our expertise and giving you trustworthy career advice tailored to your needs. High-quality content is what brings over 40 million readers to our site every year. But we don't stop there. Our team conducts original research to understand the job market better, and we pride ourselves on being quoted by top universities and prime media outlets from around the world.