Our customers have been hired by:
Like an alchemist who transforms random stones into gold, you take data and transform it into sales and revenue. But there's a target audience that's notoriously hard to crack: hiring managers.
What do they want to see in a resume? What makes them want to hire a specific candidate (preferably you)? We have the answers you desire! Just follow our guide for writing an irresistible market research resume.
This guide will show you:
A market research resume example better than 9 out of 10 other resumes.
How to write a market research resume that will land you more interviews.
Tips and examples of how to put skills and achievements on a market research resume.
How to describe your experience on a resume for a market research analyst to get any job you want.
Want to save time and have your resume ready in 5 minutes? Try our resume builder. It's fast and easy to use. Plus, you'll get ready-made content to add with one click. See 20+ resume templates and create your resume here.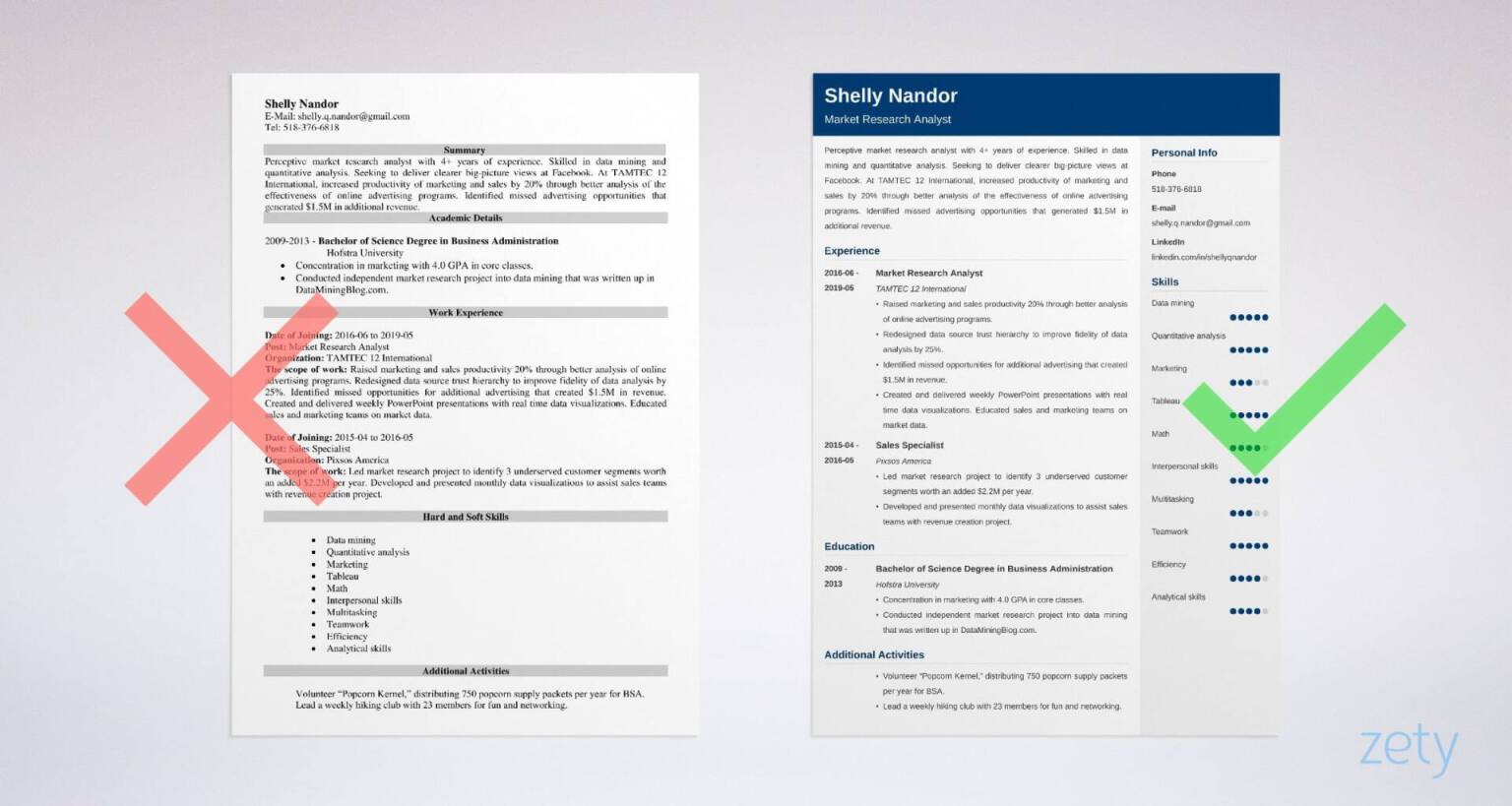 Sample resume made with our builder—See more resume examples here.
Are you sure you need a resume for market research jobs? See our other guides:
Market Research Resume Sample
Shelly Nandor, Market Research Analyst
shelly.q.nandor@gmail.com
linkedin.com/in/shellyqnandor
518-376-6818
Professional Summary
Perceptive market research analyst with 4+ years of experience. Skilled in data mining and quantitative analysis. Seeking to deliver clearer big-picture views at Facebook. At TAMTEC 12 International, increased productivity of marketing and sales by 20% through better analysis of the effectiveness of online advertising programs. Identified missed advertising opportunities that generated $1.5M in additional revenue.
Work Experience
Market Research Analyst
TAMTEC 12 International
June 2016–May 2019
Raised marketing and sales productivity 20% through better analysis of online advertising programs.
Redesigned data source trust hierarchy to improve fidelity of data analysis by 25%.
Identified missed opportunities for additional advertising that created $1.5M in revenue.
Created and delivered weekly PowerPoint presentations with real time data visualizations. Educated sales and marketing teams on market data.
Sales Specialist
Pixsos America
April 2015–May 2016
Led market research project to identify 3 underserved customer segments worth an added $2.2M per year.
Developed and presented monthly data visualizations to assist sales teams with revenue creation project.
Education
2009–2013 Hofstra University
Bachelor of Science Degree in Business Administration
Concentration in marketing with 4.0 GPA in core classes.
Conducted independent market research project into data mining that was written up in DataMiningBlog.com.
Skills
Technical Skills: Data mining, quantitative analysis, marketing, Tableau, math
Soft Skills: Interpersonal skills, multitasking, teamwork, efficiency, analytical skills
Activities
Volunteer "Popcorn Kernel," distributing 750 popcorn supply packets per year for BSA.
Lead a weekly hiking club with 23 members for fun and networking.
Here's how to write a market research resume that gets jobs:
1. Choose the Best Market Research Resume Format
Market research analysts mine and analyze data about consumers and businesses. They assess market conditions to help guide business strategy for new and existing products and services. A market research resume must show strong data analytics skills, organization, accuracy, and communication skills.
Badly-presented market research analyst resumes don't work.
So—
Use the best professional resume format. Which one works best?
Chronological resume formats are your closest friend. They're the best resume layout because they show your current skills at a glance.
Pro Tip: A PDF resume works best for most job applications. We say, "most" because some hiring teams will actually say, "No PDFs please" in the job ad.
2. Design a Market Research Resume Objective or Resume Summary
You're not the only fish in the sea.
Don't act like it.
Respect the hiring team with a good summary for your resume for market research analyst jobs.
It's called a "resume profile." Some say it's a one minute elevator pitch, but it's more like ten seconds.
Present it with:
One adjective (perceptive, insightful)
Title (Market Research Analyst)
Years of experience (4+, 7+)
Goal (deliver clearer big-picture views)
Proof of skills + numbers (increased productivity 20%)
But—
What if you're writing an entry-level resume?
Here's how to make a resume for your first job:
Pick all your achievements from school or projects.
Then put the best few in a market research resume objective.
To make resume objectives, follow the same steps above. But make your goal and skills the central issue.
Pro Tip: How long should your resume be for market research analyst positions? The same as any resume: one page unless you've got 50 stunning accomplishments.
3. Fit Your Resume to the Market Research Analyst Job Description
You'll wow them.
But not if you show just any experience on a resume for market research analyst jobs.
You must know how to tailor your resume for a job.
Write your business position titles so they match the online ad. If they want a "Media Market Research Analyst," don't say, "Market Research Analyst: Media Industry."
If you want the job, you need achievements in your resume that back up your skills. Add numbers like, "improved fidelity of data analysis by 25%."
Pro Top: Employ strong market research resume words like raised, redesigned, identified, created, led, and, developed. They do so much to show the scope of your achievements.
4. Fine-Tune Your Market Research Resume Education Section
Here's a technique that works:
In your resume education section don't just give your university's name, your degree, and your attendance years.
Also add more skills proof.
So if you scored high in marketing classes, list it.
Or if you did a market research project, show it.
Pro Tip: Can't show magna cum laude on a resume for market research jobs? Don't fret. If your GPA was low, you can leave it off.
5. List Market Research Skills in Your Resume
What are the best skills for a resume for market research jobs?
They're in the list below.
Market Research Resume Skills
Start with hard skills:
Data mining
Quantitative analysis
Data visualization
Marketing
Advertising
Assessing data sources
Research
Data science
Math
Statistics
Tableau
Google Keyword Planner
Then include some soft skills:
Multitasking
Efficiency
Confidence
Pro Tip: Not sure how to write technical skills in resumes for business analyst roles? Don't list all the skills. Add the few they mention in the job posting online.
When making a resume in our builder, drag & drop bullet points, skills, and auto-fill the boring stuff. Spell check? Check. Start building a professional resume template here for free.
When you're done, our professional resume builder will score your resume and our resume checker will tell you exactly how to make it better.
6. Add "Other" Sections to Your Market Research Resume
Stand out.
Do it by showing you're not one-dimensional.
These extra market research resume sections can help:
Activities
Classes
Association memberships like MRA
Kudos from clients or managers
Exercise
What are your interests? Adding some can prop up a weak market research analyst resume.
Pro Tip: Need advice for how to add volunteer work to a resume? If it proves lots of market research skills, add it to a separate section. If it proves one, file it under "activities."
7. Send a Cover Letter With Your Market Research Resume
How important is a cover letter for a market research resume?
Extremely.
But you can't blend in like unsorted data.
Use these example cover letter tips:
Don't forget to send a follow up email after your application. Send the first one in a few days. Space the others one week apart.
Plus, a great cover letter that matches your resume will give you an advantage over other candidates. You can write it in our cover letter builder here. Here's what it may look like: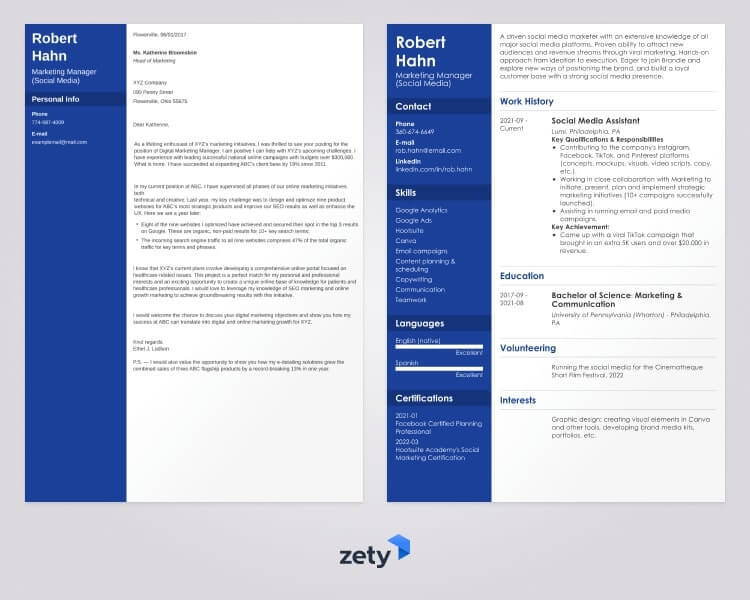 See more cover letter templates and start writing.
That's it!
That's how to write a market research resume.
What's the most annoying thing about your market research analyst resume? What's your biggest job accomplishment? Give us a shout in the comments. We'd love to talk!
About Zety's Editorial Process
This article has been reviewed by our editorial team to make sure it follows Zety's editorial guidelines. We're committed to sharing our expertise and giving you trustworthy career advice tailored to your needs. High-quality content is what brings over 40 million readers to our site every year. But we don't stop there. Our team conducts original research to understand the job market better, and we pride ourselves on being quoted by top universities and prime media outlets from around the world.
Sources