You're about to craft a brand ambassador resume and rep their company for a living. Educating consumers. Generating hype. Building awareness. You're the proxy who'll take their label to the next level.
But, before you represent their brand, you must first represent yourself as the best brand advocate for the job. No problem. Let us show you how to do it.
This brand ambassador resume guide will show you:
Brand manager resume examples better than 9 out of 10 other resumes.
How to write a brand ambassador resume that gets more interviews.
Tips on how to put skills and achievements on a brand representative resume.
How to describe your experience to get any brand ambassador jobs you want.
Want to save time and have your resume ready in 5 minutes? Try our resume builder. It's fast and easy to use. Plus, you'll get ready-made content to add with one click. See 20+ resume templates and create your resume here.
Sample resume made with our builder—See more resume samples here.
We also have guides for other marketing jobs:
Brand Ambasador Resume Example
Mark Matthews
Brand Ambassador
123-456-7890
markmatthews@email.com
linkedin.com/in/mark.matthews
Summary
Motivated Brand Ambassador with over 3 years of experience promoting and representing brands across various media platforms. Eager to support Synapse Innovations in extending its company reach and creating a positive image of its brand by creating innovative transmedia narratives. Successfully increased brand awareness by 40% for Brother & Brother Brewery within a year.
Experience
Brand Ambassador
Brother & Brother Brewery, Chandler, AZ
June 2017–Present
Key Qualifications & Responsibilities
Engaging with customers directly at promotional events, driving product understanding and sales.
Utilizing social media platforms to extend brand reach and interaction further.
Developing social media campaigns.
Designing the narrative of transmedia communications.
Key Achievement:
Created and implemented promotional campaigns that increased brand awareness by 40% within a year.
Brand Ambassador
Clothing 4 All, Chandler, AZ
January 2016–May 2017
Key Qualifications & Responsibilities
Represented the brand at various fashion events, increasing brand visibility.
Collaborated with the marketing team to develop compelling brand advertising strategies.
Regularly interacted with customers, enhancing customer loyalty and retention.
Key Achievement:
Nominated as 'Brand Ambassador of the Year' for excellent performance, exceeding engagement goals by 34%.
Education
Bachelor of Arts in Marketing
Arizona State University, Tempe, AZ
August 2012–January 2016
Relevant extracurricular activities
Active member of the Advertising Club.
Organized an annual event to promote local businesses.
Academic achievements
Graduated Cum Laude.
Awarded 'Best Marketing Project' in the final year.
Skills
Excellent communication skills
Proficient in social media marketing
Strong sales skills
Negotiation
Graphic design
Storytelling
Ability to form relationships with customers
Knowledge of current trends and pop culture
Certifications
Social Media Marketing Certification, Hootsuite Academy, 2016
Awards
2017, Brand Ambassador of the Year, Clothes 4 All
Memberships
Member of the American Marketing Association since 2018
Organized a successful panel discussion on 'Brand Storytelling in the Digital Age' during the 2019 AMA Conference, Phoenix, AZ.
Languages
English—Native
Spanish—Fluent
Interests
Keeping up with the latest trends in fashion and pop culture.
Volunteering at a local animal shelter.
Blogging about marketing strategies and brand promotion.
1
What's the Best Format for a Brand Ambassador Resume?
Humor me for a moment: what is a brand ambassador?
A brand ambassador is someone hired by a company to represent their products or services in a positive manner, improving its image and sales along the way.
Here's the point:
Before you promote a company's image, you have to promote The Brand Called You to the employer by choosing the best resume format out there.
Use the chronological format.
This resume format keeps your brand manager resume in line like a stringent set of branding guidelines. And, hiring managers and marketing agency directors love this simple, familiar format.
Here's how to arrange a brand ambassador resume:
Use legible, easy-to-read fonts, and use white space to help guide the hiring manager through the various resume components.
Never repped a brand before?
In your case, move your more-important education and certifications up above your less-relevant work experience.
Finally, the contact information resume section.
Usually, we advise not to include a photo for English-speaking countries. However, most event staffing agencies and account managers suggest a headshot—they want to see who they're considering to be the public face of their brand.
Oh, and make sure you're smiling!
Pro Tip: Save your brand promotion resume in the PDF format. The PDF ensures that the HR manager can read your resume no matter which device they open it with.
Not persuaded using the reverse-chronological format is right for your brand ambassador resume? There are other options. See our guide: Best Resume Format: What Resume Model to Choose? [+ Resume Format Examples]


2
Brand Ambassador Resume Objective or Summary?
The first part of any brand ambassador outing is to make a positive first impression.
Same on your resume.
Give them a great first impression by starting your brand ambassador resume with a powerful intro paragraph.
These heading statements come in two forms: a resume summary or a resume objective.
Drove the Wienermobile for Oscar Mayer before?
Use the resume summary.
This brief paragraph states your top skills, relevant duties, and a quantifiable achievement to show them you'll give their brand the boost they need.
Here's an example summary for brand ambassador jobs:
Brand Ambassador Resume Samples: Resume Summary
right
Outgoing college brand ambassador with 2+ years experience on university campus promoting energy drinks in dorms, fraternity houses, and in the cafeteria. Increased brand awareness and adoption rate by 35% in local bars and dining establishments.
wrong
I was a campus rep for over 2 years, slinging energy drinks to tired, grumpy, and hungover students. I would love to take that skill into becoming a brand ambassador for a large company, as my university time is coming to an end.
The second one above is wrong because it just lists some duties. No mention of how well you did them.
The right example, however, gives numbers to prove the value you added—
It's like a ringing celebrity endorsement.
Now, what if you've never been a brand ambassador before?
Use the resume objective.
The objective statement states your career goals to the employer up front. Like the summary, it also adds a key number or two to demonstrate your worth.
Here are two corporate ambassador resume sample objectives:
Brand Ambassador Resume Samples: Resume Objective
right
Creative copywriter with 3 years experience reviewing products and services for online blog. Seeking to leverage digital rolodex with 500+ industry contacts to help Flanders Fierce Fashion grow as the new clothing and fashion brand ambassador.
wrong
I've been a blogger for the last few years. I don't have experience being paid to promote a specific brand, but I am a quick learner and excited to try.
The wrong example is like trying to pass out free vodka in front of Alcoholics Anonymous—
Bad idea.
In the right example, you give relevant duties from your past job. And, to top it off, you call out the company by name.
That's how you do it!
Pro Tip: Your brand ambassador summary or objective goes on the top of your resume. However, write it last. This way, you'll have the rest of the resume to look back on when writing this crucial section.
Want more advice on writing a career summary or career objective on a resume for brand promotion jobs? Check out our guides: Professional Resume Summary Examples [20+ Resume Summary Statement Examples] and General Resume Objective Examples [20+Examples of Great Career Objectives]
When making a resume in our builder, drag & drop bullet points, skills, and auto-fill the boring stuff. Spell check? Check. Start building a professional resume template here for free.
When you're done, Zety's resume builder will score your resume and our resume checker will tell you exactly how to make it better.
3
How to Describe Your Brand Ambassador Resume Experience
According to the BLS, jobs for advertising, promotions, and marketing managers will increase by 10% between 2016–2026 in the US alone.
That's almost 24,000 candidates to compete against.
How to beat them to get this gig?
Write your work experience in a way that lights up your past accomplishments like the high beams on a Red Bull Mini Cooper.
Here are two resume brand experience examples:
Brand Ambassador Work Experience for Resume—Examples
right
Campus Brand Ambassador - Field Marketing Manager
January 2017–January 2019
Fannie's Flavorful Foods, New York, NY
Key Qualifications & Responsibilities
Promoted brand by providing students and faculty members with knowledge and insight on food and beverage products through facts, samples, and giveaways.
Organized events both on-campus and off-campus, including in dormitories, cafeterias, bars, and restaurants.
Acted as field liaison between regional retail sponsorship and promotion teams and marketing department.
Key Achievement
Experimented with various marketing promotions which eventually increased sales of the flagship energy drink by 75% in two years.
Successfully collected more than 100 leads for future outreach.
wrong
College Representative - Regional Marketing Manager
January 2015–December 2018
Fannie's Flavorful Foods, New York, NY
Key Responsibilities
Gave students free drinks.
Handed out coupons.
Organized brand events.
To become a brand ambassador, talk yourself up like the products you'll rep.
The wrong one doesn't do that.
The right one is just what they're looking for. You added relevant responsibilities and quantifiable achievements to prove you're the brand advocate they need.
Don't have any brand ambassador experience?
No worries.
List duties and accomplishments from past jobs which are relevant to being the best brand ambassador out there:
Brand Ambassador Resume Example—No Experience
right
Fashion Blogger & Editor
January 2016–December 2018
Finnegan's Fashion Blog, New York, NY
Key Qualifications & Responsibilities
Researched, wrote, and published fashion and lifestyle articles.
Reviewed dozens of fashion products and services from various top-of-the-market brands.
Promoted articles on various channels, including social media and email outreach.
Key Achievements
Built up a digital rolodex with more than 500 influential fashion industry contacts.
Wrote over 100 articles related to fashion and brands.
Here, you're changing careers from being a fashion blogger to a brand advocate. But, you did it in a way which highlights related branding experience and achievements—
It's every brand archetype they seek all rolled into one.
Pro Tip: Achievements with numbers prove how great you were at your last job(s). To come up with numbers, don't just think of percentages or item numbers. They can be dollar amounts, ranges, frequencies, dates, and other numerical figures.
Got no professional experience whatsoever? Don't worry! See this guide: First Resume with No Work Experience Examples
4
Is Your Education Section Underperforming? It Might Be
When you run out of cool swag to hand out, passersby immediately begin ignoring you.
Same on your brand ambassador resume—
Stop keeping them entertained, the hiring manager's interest in you is over.
Whether you're writing a clothing brand ambassador resume or a promo model resume, don't slack when it comes to your education section.
Brand Manager Resume Samples—Education Section
Here's how to add a completed degree on a BA resume:
BA in Marketing
New York University, New York, NY
Relevant Coursework: Marketing Strategy, Marketing Planning, Management and Research, Buyer Behavior Theory, Brand Marketing.
What if you're still finishing your college degree?
Add it like this:
Majoring in Marketing
Columbia University, New York, NY
Expected Graduation: 2021
Relevant Coursework: Advertising, Brand Promotion, Market Research, Consumer Behavior.
Only have high school for now?
Include it like this:
High School of Fashion Industries, New York, NY
Graduated 2017
Don't add a high school diploma if you've completed advanced education.
Also, if your education section is promotes you better than your work history, put it on top.
Pro Tip: Most entry-level brand ambassador jobs require only a high school diploma or its equivalent (GED). However, if you want to progress in this field of marketing, keep studying! Most brand manager positions require at least two years of university.
Got something other than these common educational scenarios? Check this guide out: Education Resume Section: How to List High School & College Education
5
How to Put Skills on a Brand Manager Resume
Imagine the rapt audience at the unveiling announcement of The Next Big Thing—
Your resume has to blow HR away just like that.
How?
Where a PR announcement prioritizes features, you'll give 'em your best resume skills.
But which brand ambassador skills?
First, make a basic list of skills for brand ambassadors, like ours below.
Include both soft skills and hard skills. Hard skills are ones you're able to quantify and learn (e.g., Google Docs), while soft skills are ones you build throughout life (e.g., analytical skills).
Brand Ambassador Skills for a Resume
Brand Ambassador Skills Resume

| | |
| --- | --- |
| Brand Manager Hard Skills | Brand Promotion Soft Skills |
| Specific Target Accounts | |
| Key Performance Indicators | |
| Marketing Tools | |
| Microsoft Excel | Collaboration & Teamwork |
| Product Demonstrations | |
| Sales & Expense Reporting | Interpersonal Skills |
| Smartphone & Tablet Computer | |
| Google Sheets | Compassion & Empathy |
However, don't just stuff all the brand manager skills onto your resume.
That's as pitiful as begging people to try your product on your hands and knees.
There's a better way—
First, go back to the brand ambassador job ad. Each job description tells you exactly which skills they're looking for in their new brand advocate.
Why make it any harder than you have to?
Here's a sample brand ambassador job description for resumes:
Proven ability to communicate information and ideas to others in an understandable manner.

[1]

Develop strong product knowledge by participating in all training classes prior to launch as needed.
Educate the customer about products and provide enthusiastic customer service and credible solutions to their needs through on-site training and store visits.

[2]

Perform demonstrations of products in a professional manner, demonstrating functionality of the products and answer retailer questions.

[3]
Reading the job ad carefully makes it a breeze to tailor your resume and include the right skills:
Brand Ambassador Resume Samples—Skills Section
right
Ability to communicate effectively [1]
Skilled at educating customers in an enthusiastic manner [2]
Effective at performing product demonstrations [3]
wrong
Holding signs for hours.
Handing out free samples.
Answering product questions.
See, those "wrong" skills are great abilities to have—
But not for this particular brand ambassador resume.
The right intangibles, however, fit the job like the ultimate brand harmonization.
Finally, remember the ATS.
An applicant tracking system is software which helps larger companies and marketing agencies handle the dozens of resumes they receive each day.
HR staff first scan a resume into the ATS program. Next, they select specific resume keywords to narrow down the applicant pool. Then, the program gives each candidate a score based on how well they match they position.
Use keywords listed in the brand manager job description word-for-word so the ATS easily scores you as the one to interview.
Pro Tip: Research the company and their product before you start writing your resume. Knowledge of the brand is a must, and you'll be able to tailor your brand ambassador resume better once you understand the service or product you'll be promoting.
Want more tips for writing the skills section for product promoter resumes? See our guide: 99 Key Skills for a Resume (All Types of Professional Skills with Examples Included!)
6
How to Add Other Sections for an Effective Brand Management Resume
Imagine this: You're standing next to a rival brand ambassador working the street. You wouldn't copy all their shticks and spiels to promote your product, right?
Same here on your brand marketing resume.
To set yourself apart, show you're unique with additional resume sections.
Here are great choices to supplement your personal brand image:
Brand Ambassador Examples: Extra Resume Sections
Certifications are the best way to strengthen your brand ambassador resume. Many of the courses are free and taken online:
TIPS (Training for Intervention ProcedureS) Certification
Field Marketing Certification (Repsly)
Graduate Certificate in Marketing & Brand Management (GWU)
Certificate In Marketing and Branding (GSU)
Brand Management Certificate (UCLA)
Marketing Management Certification (AMA)
Graduate Certificate in Brand and Product Marketing (Walden)
Certificate in Branding (HOW Design University)
Many first-time brand ambassadorships and advocacy jobs are volunteer and unpaid activities. However, that experience looks great on a resume!
Proficiency in a second language is often preferred for brand ambassador jobs, especially Spanish in the United States. If you have some knowledge of another language, add it!
We've got a great guide on the best things to add to a resume and a tutorial on resume sections and categories. Check them out!
Pro Tip: Differentiation is the process of researching, identifying, and marketing unique characteristics of a the brand. Do the same on your resume with the extra sections by choosing those which the job ad suggests.
7
How About a Brand Ambassador Cover Letter?
A resume without a cover letter is like a brand without a positioning statement—
Worthless.
You need a cover letter, because more than 50% of employers say the resume alone isn't sufficient. That's true whether you're applying to be a promotional model, in-store demonstrator, or a full-fledged field manager.
Here's how to write a brand manager cover letter they'll go nuts about:
Start your brand advocate cover letter with a compelling introduction paragraph.
Write about how you are the best brand ambassador they could possibly find.
Show them why their company and brand are the perfect fit for you.
End it with a strong closing statement and a call to action.
You're the market leader in the pool of brand ambassador applicants—
Prove that in your cover letter for brand ambassadors.
Pro Tip: Before you represent another brand, you had better make sure your own is polished and shining. Use Grammarly to check both your cover letter and resume for errors. And, always get a friend to proofread it before you send it off.
Want to know more cover letter tricks that always work? See these articles: 35+ Professional Cover Letter Tips, Advice & Guidelines and Perfect Cover Letter (Examples)
Plus, a great cover letter that matches your resume will give you an advantage over other candidates. You can write it in our cover letter builder here. Here's what it may look like: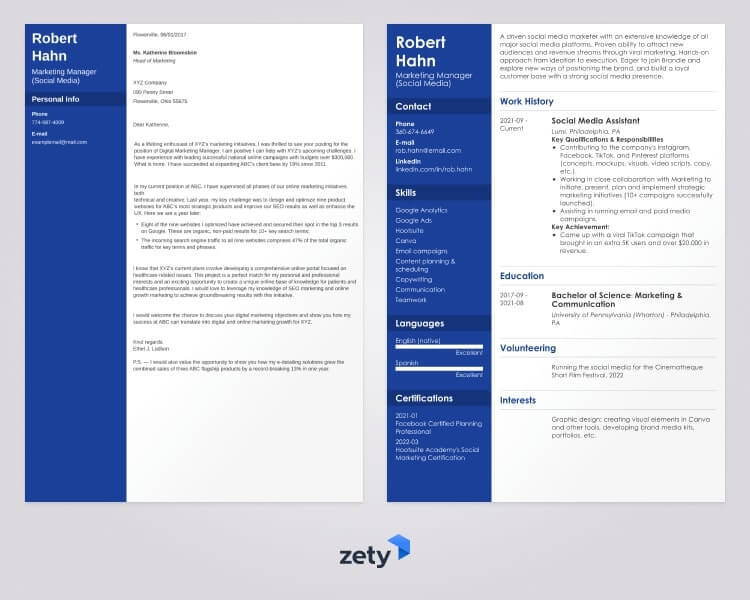 See more cover letter templates and start writing.
Key Takeaway
Let's summarize.
Here's how to write a brand ambassador resume:
Use the reverse-chronological format to organize your brand manager resume.
Start with an irresistible brand advertising resume objective or summary.
Add quantifiable achievements to your work experience resume section.
List brand ambassador skills using the job description as a guide.
Highlight your eligibility with your education section and relevant coursework.
Include other resume sections to stand out from the other candidates.
Attach a cover letter that promotes the best in you before you send it off.
Now THAT'S a brand manager resume that manages your brand right!
Got any questions on how to write a promotional brand ambassador resume? Not sure how to talk about branding skills or advertising achievements? Get at us in the comments below, and thanks for reading!
About Zety's Editorial Process
This article has been reviewed by our editorial team to make sure it follows Zety's editorial guidelines. We're committed to sharing our expertise and giving you trustworthy career advice tailored to your needs. High-quality content is what brings over 40 million readers to our site every year. But we don't stop there. Our team conducts original research to understand the job market better, and we pride ourselves on being quoted by top universities and prime media outlets from around the world.