Our customers have been hired by:
You have a journalism resume to write, and the deadline is tighter than an editor's purse strings. But don't fret, wordsmith! Our guide is here to help you craft a resume that'll make hiring managers more eager than a newsroom on election night.
Let's turn your job application into a headline-worthy scoop and land you that coveted journalism gig.
Want to save time and have your resume ready in 5 minutes? Try our resume builder. It's fast and easy to use. Plus, you'll get ready-made content to add with one click. See 20+ resume templates and create your resume here.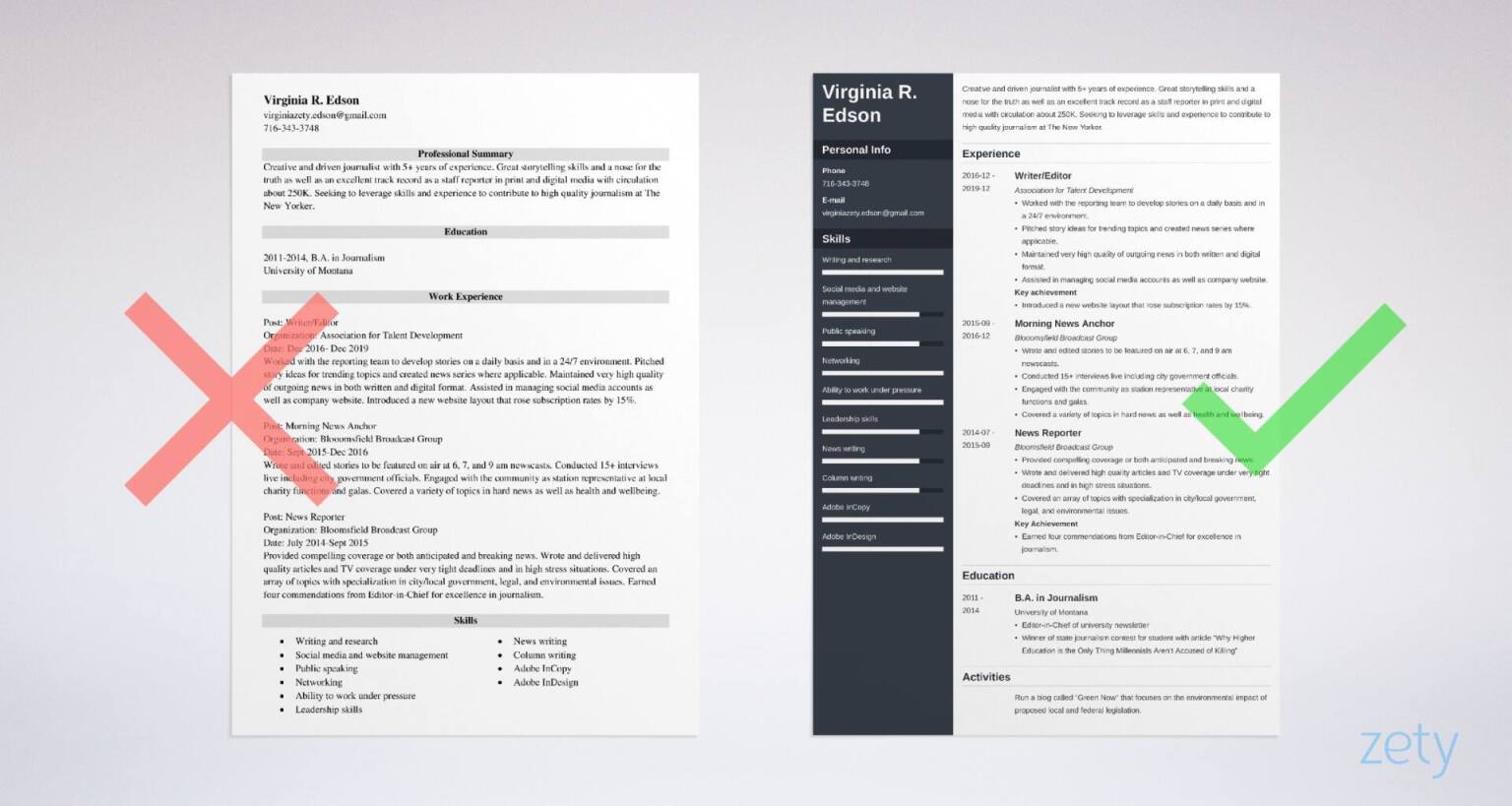 Sample resume made with our builder—See more resume examples here.
Check out our other resume examples for writing jobs:
Journalism Resume Example
Virginia R. Edson
virginiazety.edson@gmail.com
716-343-3748
Professional Summary
Creative and driven journalist with 5+ years of experience. Great storytelling skills and a nose for the truth as well as an excellent track record as a staff reporter in print and digital media with circulation about 250K. Seeking to leverage skills and experience to contribute to high quality journalism at The New Yorker.
Work Experience
Writer/Editor
Association for Talent Development
Dec 2016- Dec 2019
Worked with the reporting team to develop stories on a daily basis and in a 24/7 environment.
Pitched story ideas for trending topics and created news series where applicable.
Maintained very high quality of outgoing news in both written and digital format.
Assisted in managing social media accounts as well as company website.
Key achievement
Introduced a new website layout that rose subscription rates by 15%.
Morning News Anchor
Blooomsfield Broadcast Group
Sept 2015-Dec 2016
Wrote and edited stories to be featured on air at 6, 7, and 9 am newscasts.
Conducted 15+ interviews live including city government officials.
Engaged with the community as station representative at local charity functions and galas.
Covered a variety of topics in hard news as well as health and wellbeing.
News Reporter
Bloomsfield Broadcast Group
July 2014-Sept 2015
Provided compelling coverage or both anticipated and breaking news.
Wrote and delivered high quality articles and TV coverage under very tight deadlines and in high stress situations.
Covered an array of topics with specialization in city/local government, legal, and environmental issues.
Key Achievement
Earned four commendations from Editor-in-Chief for excellence in journalism.
Education
2011-2014, B.A. in Journalism
University of Montana
Editor-in-Chief of university newsletter
Winner of state journalism contest for student with article "Why Higher Education is the Only Thing Millennials Aren't Accused of Killing"
Skills
Writing and research
Social media and website management
Public speaking
Networking
Ability to work under pressure
Leadership skills
News writing
Column writing
Adobe InCopy
Adobe InDesign
Activities
Run a blog called "Green Now" that focuses on the environmental impact of proposed local and federal legislation.
This is how to write a job-winning journalism resume:
1. Use the Best Format for Your Journalism Resume
Journalists are the world's storytellers, reporting on everything that goes on around us from politics to sports to social issues to entertainment. You name it, a journalist can write about it.
The purpose of your journalism resume is to show that you have the skills and experience it takes to bring people the news they want.
But journalism is a wide field. And that means a lot of competition.
To top it off, you have less time than it takes to display poll numbers to impress the recruiter with your resume.
To get the recruiter hooked on what you have to say, you need to create a clean resume template:
At this point you might also be wondering how long your resume should be. If you have several years in journalism under your belt, go for two pages. Otherwise, one-page resume template should do the trick.
OK, so let's do a fact check, section by section.
2. Write a Journalism Resume Objective or Resume Summary
Introduce yourself through your resume profile, or more specifically, a resume objective or summary.
It's a short and sweet paragraph at the top of your journalist resume that lays down the groundwork of why you're the person for the job. Think of it as the attention-grabbing headline of your application.
Use a career summary if you've been learning the journalism ropes for more than a couple of years:
First jot down the key points in your experience and journalism skills as well as accomplishments.
Then choose 3-4 leads and add those into your journalist resume summary section.
If you're an entry level journalist or writing a journalism internship resume, opt for the career objective:
Underline the knowledge and skills you've gathered to date and how well you'd fit in.
Think of transferable skills and quantifiable achievements from other gigs you've had.
There's no need to drown this section in a ton of information. Keep it 3-4 sentences long max and tailor it to the job description of the position you're applying for.
Use resume keywords to pass the ATS scan. Check: What are Resume Keywords?
3. Create the Perfect Journalism Resume Job Description
Plain and simple, your resume experience section needs to be shouting "Extra! Extra! Read all about it!":
List your most current position and then just go back in time with previous positions.
Make sure each entry includes: job titles, company name, dates of employment, and no more than 6 bullet points.
Limit the number of bullet points as you go back in time with your experience. Have up to 3 for positions far in the past.
Start each bullet point with an action verb.
This isn't the place for happy talk. Focus on quantifiable achievements and not just a laundry list of duties.
Tailor your journalism experience section to match the position you're gunning for.
It's a little like stacking—there's no room for irrelevant info here.
4. Make Your Journalism Resume Education Section Shine
Who cares about your education? Well, actually a lot of people do and it could make or break your chances of getting to the cutting room floor.
Here's how to nail your education section:
If you have several years of job experience opt for only listing the following: college/university name and location, years you studied, degree, major and minors.
Have limited experience? Sprinkle your education resume section with achievements from your college days. Make sure to keep them relevant to the job description and list no more than 4-6 items.
If you're a graduate hot off the presses, consider putting your work experience below your education section. It'll help you start off your resume with no experience with a bang.
Studied abroad? Check how to put it on your journalist resume: Studying Abroad on a Resume
5. Highlight Your Journalism Skills
This is where you go tight on the media skills that make you an excellent journalist so you need to get it right:
Create a master list of all the job skills you have— this means soft skills and hard skills, technical skills, and any other relevant skills you've got in your pocket.
Pick the journalist skills that are most relevant by using the job ad as a guide. Include them in your journalist resume. Get extra brownie points if you can mention skills that your education and experience sections can prove.
Journalism Resume Skills
Ethics & Integrity
Shorthand
Basic coding
Newsgathering
Editing skills
Storytelling
When making a resume in our builder, drag & drop bullet points, skills, and auto-fill the boring stuff. Spell check? Check. Start building a professional resume template here for free.
When you're done, our professional resume builder will score your resume and our resume checker will tell you exactly how to make it better.
6. Add Extra Sections to Your Journalist Resume
The hiring manager may be tuning in, but you're not out of the woods just yet. Show them that you're the candidate to watch. Think of this resume section as a kicker and make sure it's exactly that.
Pro Tip: The internet really makes things easier than back in the day. There are tons of opportunities to rack up exp points by blogging or submitting articles to platforms such as Medium or HubPages. Showing up for an entry-level position with nothing at all in your journalism portfolio makes you dead in the water before you even get your swimsuit on.
7. Attach a Cover Letter to Your Journalism Resume
If you're thinking if you should include a cover letter, then let's make it super clear—yes, you do.
Write the best journalism cover letter this side of Rupert Murdoch with the following tips:
It's easy to, but don't go overboard and write a novel. The ideal length of an effective cover letter should have a TRT of 1-2 pages.
Read more: Journalism Cover Letter Example
Plus, a great cover letter that matches your resume will give you an advantage over other candidates. You can write it in our cover letter builder here. Here's what it may look like: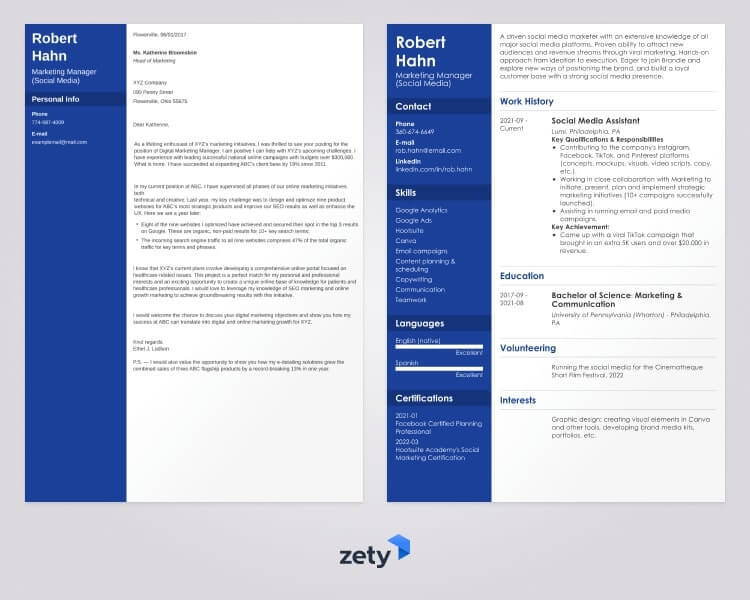 See more cover letter templates and start writing.
And once you have all that sent, remember to follow up on your job application! If you're going to sit there and wait for things to happen then how will they believe you have what it takes to find and report breaking news?!
That's the rundown of a successful journalism resume.
Thanks for reading. Have any insider tips or tricks to share about creating the perfect journalism resume? Share them in the comments below!
About Zety's Editorial Process
This article has been reviewed by our editorial team to make sure it follows Zety's editorial guidelines. We're committed to sharing our expertise and giving you trustworthy career advice tailored to your needs. High-quality content is what brings over 40 million readers to our site every year. But we don't stop there. Our team conducts original research to understand the job market better, and we pride ourselves on being quoted by top universities and prime media outlets from around the world.
Sources